Accommodations for Remote Classes-- UPDATED 4/7/2020
Faculty are expected to be aware of students' accommodation plans and to plan for them accordingly. CARDS is able to consult individually with faculty if they have questions regarding implementing accommodations in their courses.
Please see below for some guidance regarding making online courses accessible for students with disabilities. Barnard and Columbia faculty members are able to view students' accommodation plans within CARDS's AIM Faculty Portal. Within the Faculty Portal, faculty members are also able to download an Excel file with all of their students' specific accommodations available in a single spreadsheet by clicking the below link (circled in red):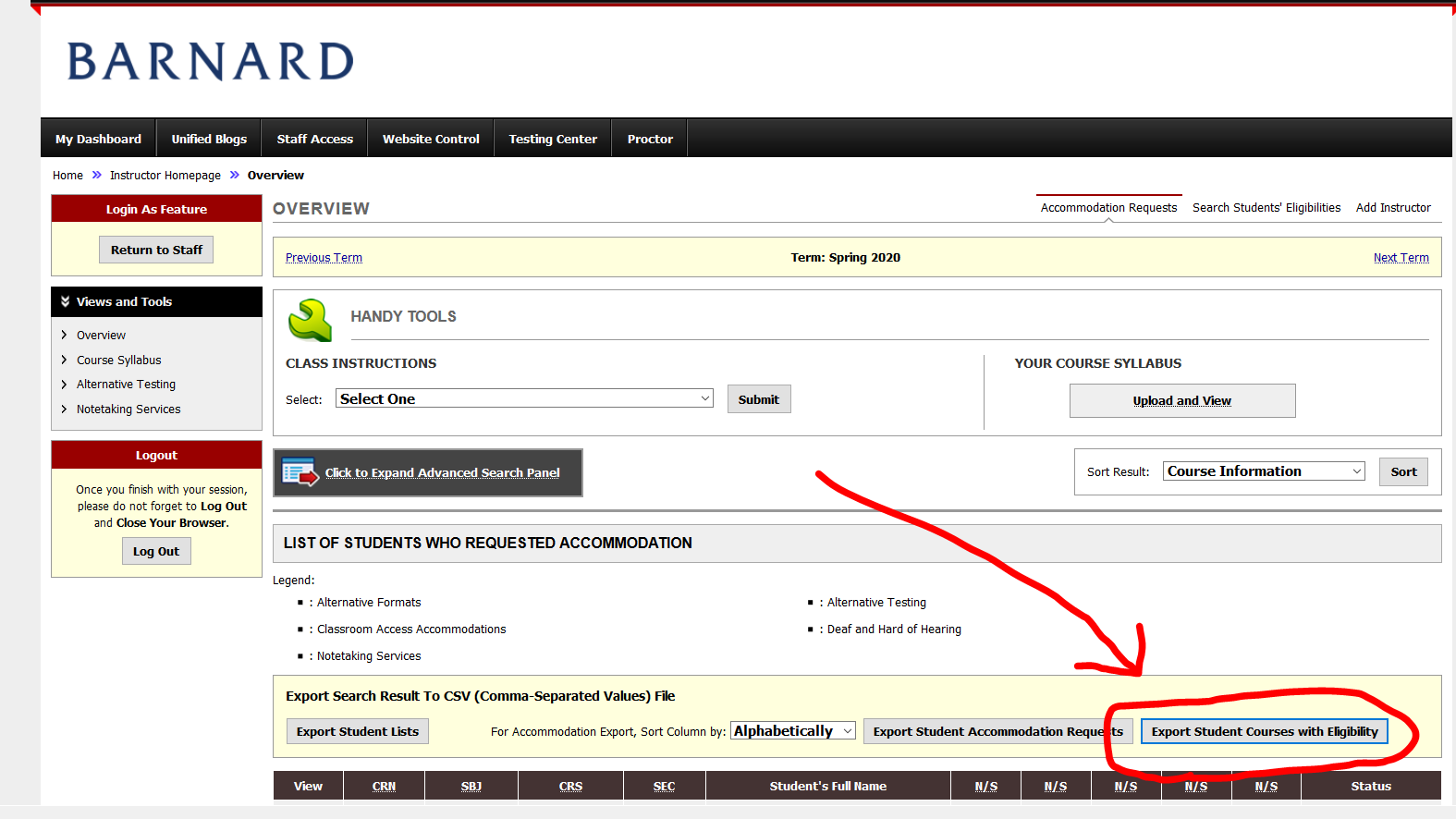 Remote Testing Accommodations
CARDS requires that eligible students are offered accommodations for any online timed testing. As you're setting up any online exams through Canvas or Courseworks, please note that you will need to create separate embedded exam(s) for CARDS students who receive extended time and/or rest break accommodations based on the amount of extended and/or rest break time the student receives. To allow for extended time on a Speedgrader exam or quiz, please refer to the below linked instructions. We recommend that you cross-reference students' specific accommodation plan information in the AIM Faculty Portal as you're setting this up.
Take Home Exams
In general, testing accommodations are not needed when students are given take home exams to be completed over a few days. However, please consider that students who are ill or have a disability may need additional time to complete take home exams. Have a plan for extension requests.
If you've set a time limit on Canvas for turning in an exam/assignment, be sure to communicate with students who have extension accommodations regarding how they can turn in the assignment with their extended deadline (e.g. offering them the option to do this via email). Here are additional suggestions:
Other Recommended Accommodations for Remote Instruction
Accessibility for Online Course Content
Please contact CARDS (

cards@barnard.edu

) if you have questions about a student's specific accommodation plan and how to implement it. 
Revised Accommodation Letter Process for Spring 2020 Remote Classes:
During the virtual student intake meeting or check-in, CARDS staff will email a Faculty Notification Letter to the faculty member to notify the faculty member of the accommodations the student is eligible to receive. The Faculty Notification Letter will also be available in the AIM Faculty Portal. (To learn more about how to use the Faculty Portal:  https://barnard.edu/disabilityservices/information-faculty/AIM)
Students have been asked to email their faculty members (cc:ing CARDS) in order to inform their professor that they have an accommodation plan. If you have any concerns about the implementation of the accommodation plan after reviewing it, please raise them with CARDS, not with the student.
Please REPLY ALL to the student's email to indicate that you are aware of their accommodations and agree to provide them. This acknowledgement will mean that the student's accommodation plan is considered active. Please note:  if you receive a Faculty Notification Letter, but the student has not contacted you (either in person or via email) regarding signing their accommodation agreement form within one week of your receipt of this letter, please contact the student's CARDS coordinator and we will follow up with the student to discuss options.  

For accommodation questions or concerns:
CARDS understands that not all accommodations will be applicable to every course. We encourage you to reach out to CARDS if you have questions regarding how to successfully implement a listed accommodation for your course. Depending on the structure of your course, we may work with you to determine a suitable modification that will still accommodate the student. Due to the variance in the work required and the way classes are structured, the student may elect not to use an accommodation if it is not needed or appropriate for your particular class. In addition, it may be appropriate for CARDS to revisit accommodations at some point. We do not expect you to change your course guidelines or standards. Our goal is to make the student as independent as possible, while, at the same time, to provide an educational opportunity equal to that of other students. 
Syllabus Statement:
The Committee on Instruction (COI) has approved the below syllabus statement as of Fall 2019:
Center for Accessibility Resources and Disability Services Statement
If you believe you may encounter barriers to the academic environment due to a documented disability or emerging health challenges, please feel free to contact me and/or the Center for Accessibility Resources & Disability Services (CARDS). Any student with approved academic accommodations is encouraged to contact me during office hours or via email. If you have questions regarding registering a disability or receiving accommodations for the semester, please contact CARDS at (212) 854-4634, cards@barnard.edu, or learn more at barnard.edu/disabilityservices. CARDS is located in 101 Altschul Hall.
Using the Faculty Portal in AIM (Accessible Information Management System)
CARDS has implemented exciting new improvements of our online Accessible Information Management System (AIM). Beginning Fall term 2019, we will have a Faculty Portal that faculty can access to view students' accommodation letters and fill out their alternative testing agreements. To learn more about how to navigate and access this Faculty Portal, please click here:  https://barnard.edu/disabilityservices/information-faculty/AIM
Faculty Portal Features & Benefits:
Allows faculty and teaching fellows to see an overview of and process all received accommodation requests in a course. 

Provides you with an overview of all accommodation requests made by students in all of your courses, including quick access to see all Faculty Notification Letters in one place. (This allows you to not have to solely rely on the emailed Faculty Notification Letters for individual students.)
Shows a summary table on the dashboard for the most frequently requested accommodations (exam accommodations, peer note-takers, and attendance/deadline modifications).

Allows instructors to coordinate exam accommodation requests. These features include:

Submitting Alternative Testing Agreements.
Modifying an Alternative Testing Agreement.
Copying an Alternative Testing Agreement to other course sections.
Uploading exam materials.

Allows instructors to submit specific Class Instructions for Attendance Accommodation Agreement proposals.
Includes an "exam upload" feature for Instructors to easily and securely submit exam materials. This new process meets all Barnard College information security standards.
Includes the ability to add Teaching Fellows as an additional or replacement instructor, providing flexibility for departments in how accommodation requests are managed in common courses.
Allows faculty to upload their syllabus to the portal for CARDS staff to verify exam dates and other course requirements.
Testing Accommodations at CARDS (applicable for in-person classes only):
**Please note that for virtual classes, faculty members are expected to provide testing accommodations directly for students. Please see above information for instructions.**
For in-person classes:  CARDS has an online management system to help us manage the large volume of students taking their exams with accommodations from CARDS. Faculty will receive a link in the student's Faculty Notification Letter with instructions on how to fill out test proctoring information via our Alternative Testing Contract. 
It's important that you fill out this Alternative Testing Contract within one week of receiving the email so that students can schedule their exams with CARDS. You only need to fill out the Alternative Testing Contract once per semester for each course section that you teach. For any additional questions, please feel free to contact us!
Faculty Consultation:
The Center for Accessibility Resources & Disability Services is available to consult with individual faculty members and departments. Topics can include an overview of the Center and our processes; developing universally designed courses; managing complex student needs; or any specifically requested presentation related to disability services in higher education.
Frequently Asked Questions
We understand that not all accommodations will be applicable in every context, given the variety in course design and content. If you have specific questions about how to accommodate a student within the context of your course, please contact CARDS staff so we can work together to find the most applicable accommodation(s) given the student's specific situation.
Disability information is confidential. Therefore, CARDS staff are not able to disclose the type of disability that the student has registered for without written permission from the student. However, we can discuss the accommodation plan and work together to discuss options regarding implementing various accommodations in your classroom.
Students are required to self-identify to and register with CARDS in order to be eligible for accommodations. We engage in an interactive process with the student-- which includes both their self-report of what they experience as a result of their disability as well as reviewing and evaluating documentation provided by their medical provider-- in order to determine what accommodations will help reduce the barriers the student experiences. Please note that faculty are not required to provide accommodations to a student until they receive a Faculty Notification Letter, which formally notifies them of the accommodations the student is eligible for.
We administer all tests and make sure test papers are under direct supervision or locked in a secure location at all times. Center staff may check in on students with or without knocking. Under no circumstances are the students allowed backpacks, mobile phones, or personal technology (such as iWatches) in the testing spaces or while a test is in process.
Students are expected to abide by the Barnard Honor Code. Any student suspected of cheating may be questioned by our staff or the professor. Should a student be caught cheating, all materials in the testing room will be confiscated, including the materials being used to cheat. The professor, the Director of Accessibility Resources & Disability Services, and the Dean of Studies will be notified. All evidence will be submitted to the professor with a report from the proctor who observed the student.
If a student discloses a disability to you without providing you with a Faculty Notification Letter, it is imperative that you both inform the student that they need to register with the Center for Accessibility Resources & Disability Services first to seek formal accommodations and contact CARDS to inform them that you have made a referral about a particular student.
Faculty should not ask a student what type of disability they have, but we encourage you to have a conversation with either the student or CARDS about how the accommodations on the student's Faculty Notification Letter can be applied within the course content.
We appreciate your caution and consideration! Here are some things to keep in mind:
Faculty should never ask a student about their disability or accommodations in front of other students in the course. This can in essence "out" the student with a disability to their peers and is not appropriate.
Don't tell a student that you're not able to provide a specific accommodation until you've had a conversation with CARDS about your concerns.