The difference that Barnard's Center for Toddler Development makes with parents and toddlers who experience it firsthand is immediate; however, the Center's impact reaches far beyond its location on the fourth floor of Milbank Hall. From a small cluster of rooms, 46 years of careful research, practice, and teaching radiates out into New York City, across the country, and around the world, improving outcomes for thousands of kids through shared expertise with program providers and conference planners alike. Here's a snapshot of this valued resource's many achievements and spheres of influence.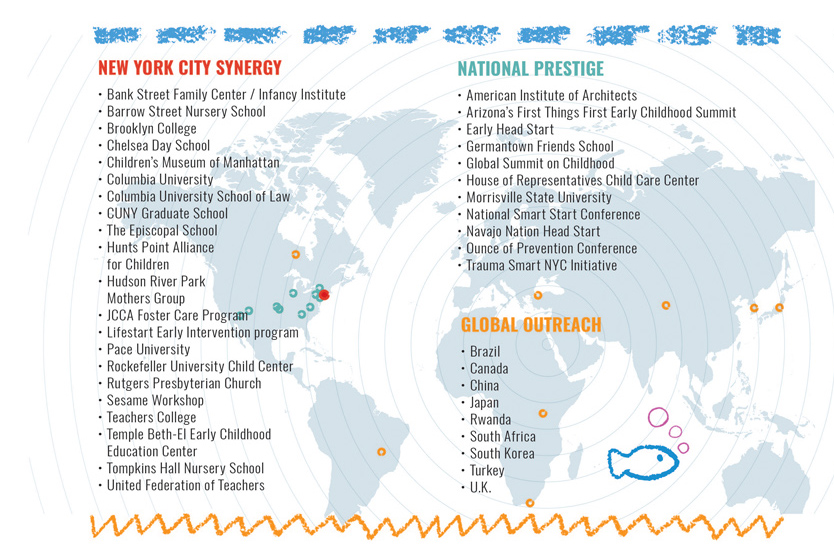 Expert Advice
Media organizations routinely ask the Toddler Center to weigh in. Here's a very short list of the many outlets that have featured the Center and its experts:

Students, by the Numbers
The Toddler Center offers students the opportunity to study toddlers in real time. In just the past decade, hundreds of college students, young children, and their families have reaped the benefits: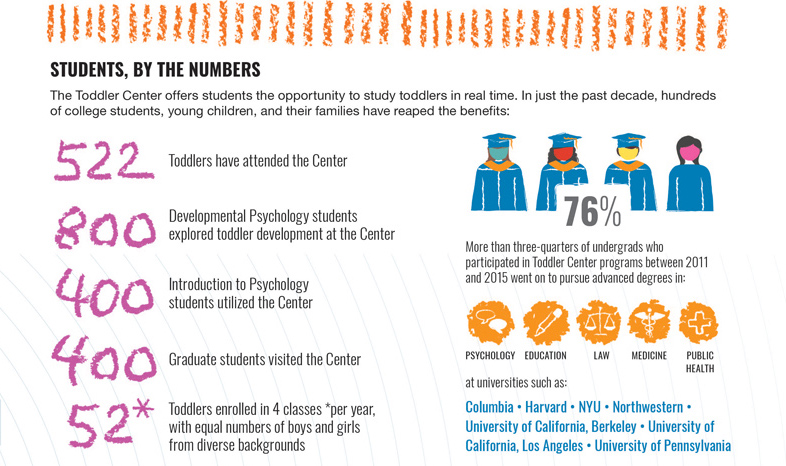 Resources
The Toddler Center's founding teacher and associate director, Part Shimm, and its current director, Tovah Klein, have produced resources for parents and researchers alike.

All in the Family
Since its founding in 1973, the Center has welcomed all children, including some whose parents are boldface names (Sarah Jessica Parker, Jerry Seinfeld, Annie Leibovitz), as well as those who were once either toddlers in its care or college students doing research there. Him Tottenham, an expert in developmental neuropsychology and Klein's current research counterpart at Columbia, did her senior thesis in the Center during Klein's first year at Barnard.

— Infographic by Haisam Hussein
Photo of Sarah Jessica Parker, Tovah Klein, and President Block by Asiya Khaki '09