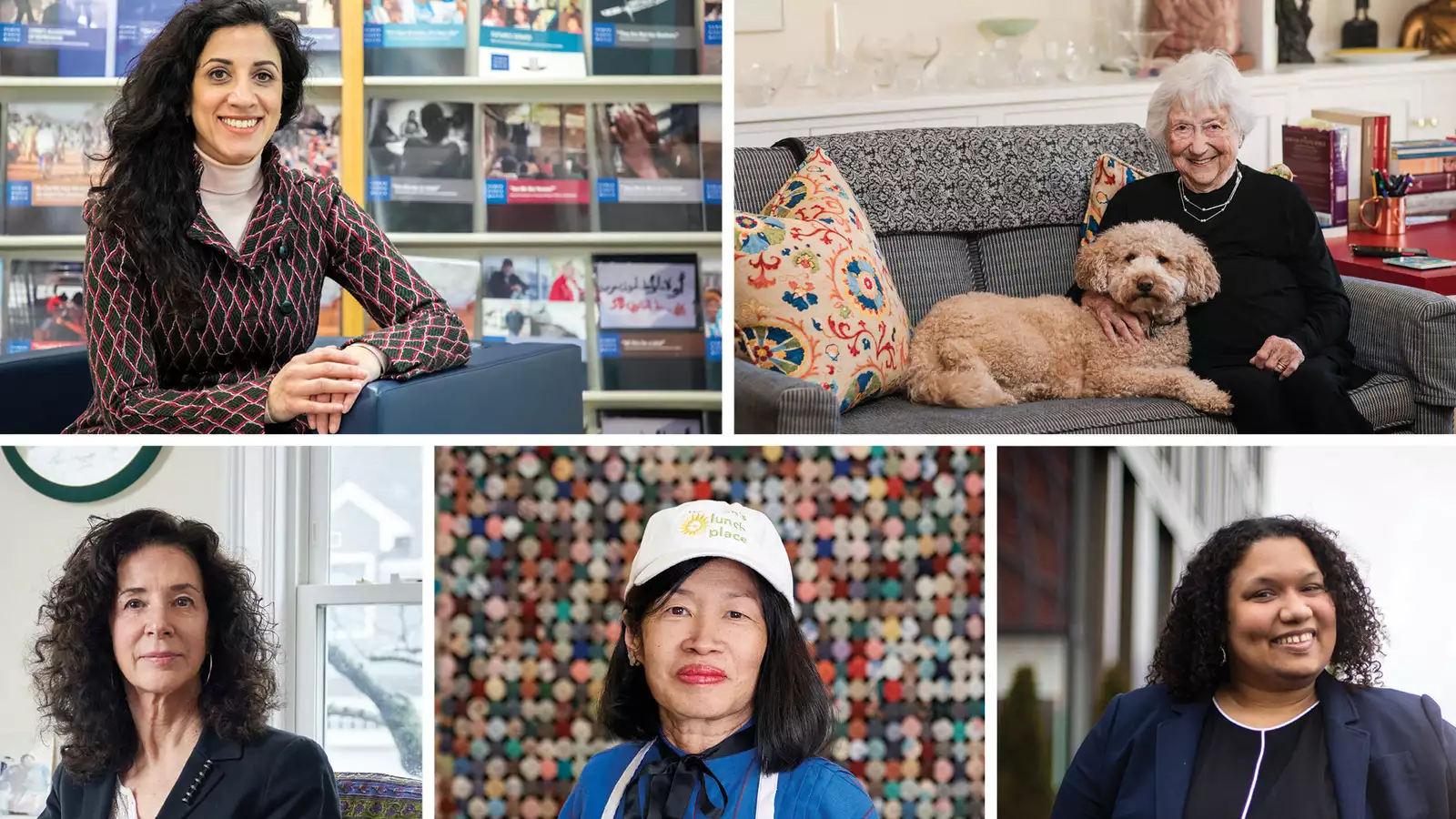 Exercise isn't the only way to get healthy. Research shows that volunteering can reduce stress, improve blood pressure, and maybe even help you live longer. And of course it can nourish your soul, strengthen your connections, improve your marketable skills, and make you see the world in new ways. Meet five Barnard grads — Vivien Li '75, Zuhirah Khaldun-Diarra '96, Miriam Scharfman Zadek '50, Farah Kathwari '96, and Susan Chapnick '78 — who share why they love donating their time to charitable causes, ranging from environmental conservation to human rights advocacy.

 
Vivien Li '75
Food Pantry Volunteer

"What I'm doing now veers away from what I've done professionally, and that's deliberate," Vivien Li '75 says. After two-plus decades at The Boston Harbor Association, followed by several years as president and CEO of Pittsburgh's Riverlife, she decided to come back to Boston in 2018. "People assumed I'd do what I'd always done: work on waterfront access and climate change," she recalls. Instead, Li's taking what she calls Gap Year 2.0. "I'm taking time to think about what's next," she says. "I enjoy travel and a good meal, but there has to be more to life than that."

Her focus is on helping people with food insecurity. "I'd volunteered at Women's Lunch Place going back to 1990, when I was a young mother here in Boston," she says. The organization serves meals and helps with housing, job training, and more. "Sometimes someone comes to do makeup; sometimes there's live music at lunchtime — it's the gamut of getting people services and bringing them joy. It's all about respect and dignity," she explains. "We don't ask anyone for ID; we don't care if they're here legally or not. You're in need. We're there to help."

Li also volunteers with a Friday night supper program at Arlington Street Church and at a food pantry at the Church of the Covenant, both in close proximity to Chinatown. The clients are primarily Chinese and "tend to be older, some in senior and affordable housing," she says. "I speak Cantonese, and I'll help them pack their bags. And the clients always say what a good girl I am!" She laughs.

Helping out at these different organizations gives Li plenty of food for thought. "People in need can't get healthy food, and yet in a country as rich as ours, so much food is wasted," she says. "Corporations throw out food because it's not beautiful or because the expiration date is in a day or two. What I'm thinking about, but haven't quite developed yet, is how to lessen food waste in general."

And Li loves the work. "I want the opportunity to work with the guests being served by the program, loading the dishwasher, running back to get the vegetarian option," she says. "It isn't glamorous; it doesn't require a degree from Barnard or a master's from Princeton. But it opens your eyes to the fact that bad things can happen to good people. I'm grateful I can make people's day a bit better in a small way, with a little banter, a moment to make them feel welcome."
Zuhirah Khaldun-Diarra '96
Cultural Educator

The need to give back was instilled in Zuhirah Khaldun-Diarra '96 at an early age. "I remember my very first volunteer experience," she says. "I used to go up to Harlem with my family — my father is co-founder of the Harlem Children's Zone, and my mother is the former secretary of education of Bermuda — to feed the hungry on Christmas," she recalls. "It was a great reminder of the dignity and autonomy of all people, regardless of their current condition or position."

As an adult, Khaldun-Diarra, who is the brand marketing director at UNICEF, has continued this family tradition, melding her personal interests with community engagement. At Barnard, she majored in economics, but the arts were always vital to her. She was the director of WBAR and hosted Strange Fruit, which she describes as "a multicultural open-mic night monthly where people of color had a platform to share their artistic expression."

From Barnard onward, she's been involved in a number of projects that are at the nexus of culture and education. She was the founding board member of the Hip-Hop Education Center at NYU, an institute that "focused on how hip-hop can be used to empower marginalized communities, influence the field of education to be more inclusive and culturally responsive, and improve educational outcomes," she says. "Then, I became a host committee member for what was then called the Block Party — a pun on 'prison block' — which supported the Horticultural Society of New York, providing green jobs training and horticultural therapy for people detained in a facility."

This year, she and some friends decided to do a benefit to support the National Association for Women Artists. The funds raised would go to providing gallery space across the country. The inaugural event honored Shaniqwa Jarvis, an African American woman photographer.

"It's interesting to come full circle," she reflects. "What motivated me earlier in my life was providing spaces for marginalized groups to share their voices. Today, the internet has democratized the distribution of music, but fine art is still so dependent on having galleries to show work." For Khaldun-Diarra, there is still more important work to be done, and she's up for the challenge.
Miriam Scharfman Zadek '50
Communication Advocate

Since 1975, Miriam Scharfman Zadek '50 has been helping people who face communication challenges. She started nearly 46 years ago at the Hearing and Speech Agency of Baltimore, and, well, she's essentially never left.

"I got a call from the director of the agency saying they'd gotten a federal grant to develop a model of intervention for children with communicative disorders," Zadek recalls, "and they needed someone to develop a social work counseling program for families. Would I be interested?" She wound up saying yes, and over the past four-plus decades, she's been hard at work: She founded the organization's Centralized Interpreter Referral Service (the first American Sign Language interpreting agency in Baltimore), served on their executive board, and is now on the president's advisory council.

For Zadek, this professional calling was personal. She grew up with two deaf sisters and always felt she straddled different worlds. "I was part of the deaf community and the hearing community," she says. "I could understand communication and separation between groups as well as methods of bringing them together." At Barnard, she majored in sociology and went on to get a degree from Columbia's School of Social Work. She's devoted herself to helping people with hearing and speech disorders ever since. In 2017, Zadek received the Maryland Governor's Service Lifetime Achievement Award for her many years of service to the community.

She has no intention of quitting. "I was 91 this month and spent yesterday at the office because there is a new small agency in Baltimore that provides pro bono psychiatric and social work counseling, which thrilled me, and I wanted to see how to integrate that into our other programs," she says. "They're developing a new research grant, and I've been asked to give input. I like doing [these] things! I know what a grievous loss I'd feel if I could no longer engage in this way."

Volunteering is a family affair for the Zadeks; after her husband retired as an orthopedic surgeon, he spent 15 years teaching literacy and math to adults. "Part of living is the opportunity to give and share and learn," she says. "And it's fun! Get that across!"

Zadek wouldn't know how to stop volunteering anyway, she says: "I don't know another way to be."
Farah Kathwari '96
Human Rights Activist

"I've always seesawed between design and human-rights-related stuff," Farah Kathwari '96 says, laughing. "I was meant to go to art school, and at the last minute I didn't and went to Barnard. And then I went to Parsons, where I studied interior design." Along the way, she got a master's in Middle East studies and worked for Ethan Allen. But through volunteering, she's been able to pursue her passion for human rights advocacy.

She's currently a board member of two organizations — Refugees International and Westchester County Human Rights Commission — that focus on a range of issues, from improving the lives of displaced people around the world to protecting local residents from discrimination in housing and employment.

Kathwari's parents, who grew up in Kashmir, worked hard to make sure she knew how fortunate she was. "Coming from a place of conflict gives you a different perspective," she says. The Kathwaris established a family foundation, and their children were involved in both charitable giving and volunteering. So when Kathwari was asked to join the committee for the New York office of Human Rights Watch, she quickly said yes. That was 10 years ago, and now, she's on the executive committee.

One of her causes was ending child marriage in New York. Until recently, New York was one of only three states in which a 14-year-old could be married without parental permission. "If you look at countries where women have the worst standards of living, it correlates with child marriage," Kathwari points out. "We needed to help with that at home first." Despite pushback from some religious groups, a judge in 2017 raised the marriage age to 18, or 17 with both parental and court consent.

Kathwari is now fighting another battle: ending solitary confinement. "There are internationally accepted norms about how long a person can be in solitary confinement and how it's used, but in New York they've been keeping prisoners in solitary for years. It's literally torture."

Kathwari initially called her disparate interests in human rights and design "right brain/left brain" but then acknowledged that perhaps her passions are related after all. "In my design work, what I love most is things that are handmade by people, that reflect their culture. To me, it shows their humanity. And it ties in with my volunteering because both are from a place of love. I know that sounds cheesy. But it's about being human."
Susan Chapnick '78
Environmental Conservationist

Susan Chapnick '78 is an environmental chemist who runs New Environmental Horizons, a consulting firm, which helps with the cleanup of contaminated sites. In her volunteer work, she leverages her scientific background to advocate for climate change resiliency in her community. She's the chair of the conservation commission in her town of Arlington, Massachusetts, and serves on the science advisory board of the Massachusetts Department of Environmental Protection's Bureau of Waste Site Cleanup, among other environmentalism focused volunteer gigs.

"Scientists have gotten a bad reputation as elitist lately," Chapnick notes. "But I feel it's critically important to base decisions on data rather than intuition. Climate change is caused by human intervention. And policies being made now will be in place for years to come."

She has three grandchildren and thinks a lot about the planet they'll inherit. Back when she was at Barnard, climate change advocacy wasn't yet a thing. "We forget, but there were days in NYC you were advised not to go outside because the air was so bad. Then the Clean Air Act was put in place, which really helped improve air quality. Now we take it for granted."

Today, many of us feel hopeless about climate change. Taking action, Chapnick says, helps a lot. Several years ago, there was a huge oil tanker spill on a local highway; thousands of gallons of oil flowed into the Mystic River. "The accident made us say, 'What can we do to improve this area and make it more resilient?'" She swiftly volunteered to help the conservation commission with the cleanup and secured a National Resource Damage Assessment and Restoration Program grant, which allowed them to add flood storage, fix a broken outfall, and create infrastructure to improve water quality and take care of storm water. They also built a small riparian habitat and enlisted students at the local elementary school to help with planting. "We said we hoped they'd come back to help take care of the plants, and we gave them each a wetland plant to put in their garden. You have to engage the next generation to care."

Plus, she notes, environmental volunteerism can have a great ripple effect. "After I helped the town put in place these regulations for climate change around wetlands, the regulations were adopted by the town of Brookline, and some were adopted by the city of Boston," she says. "It's spreading out!"
---
Looking for a cause closer to home? Visit barnardconnect.barnard.edu to help students gain skills and experience for life after college.