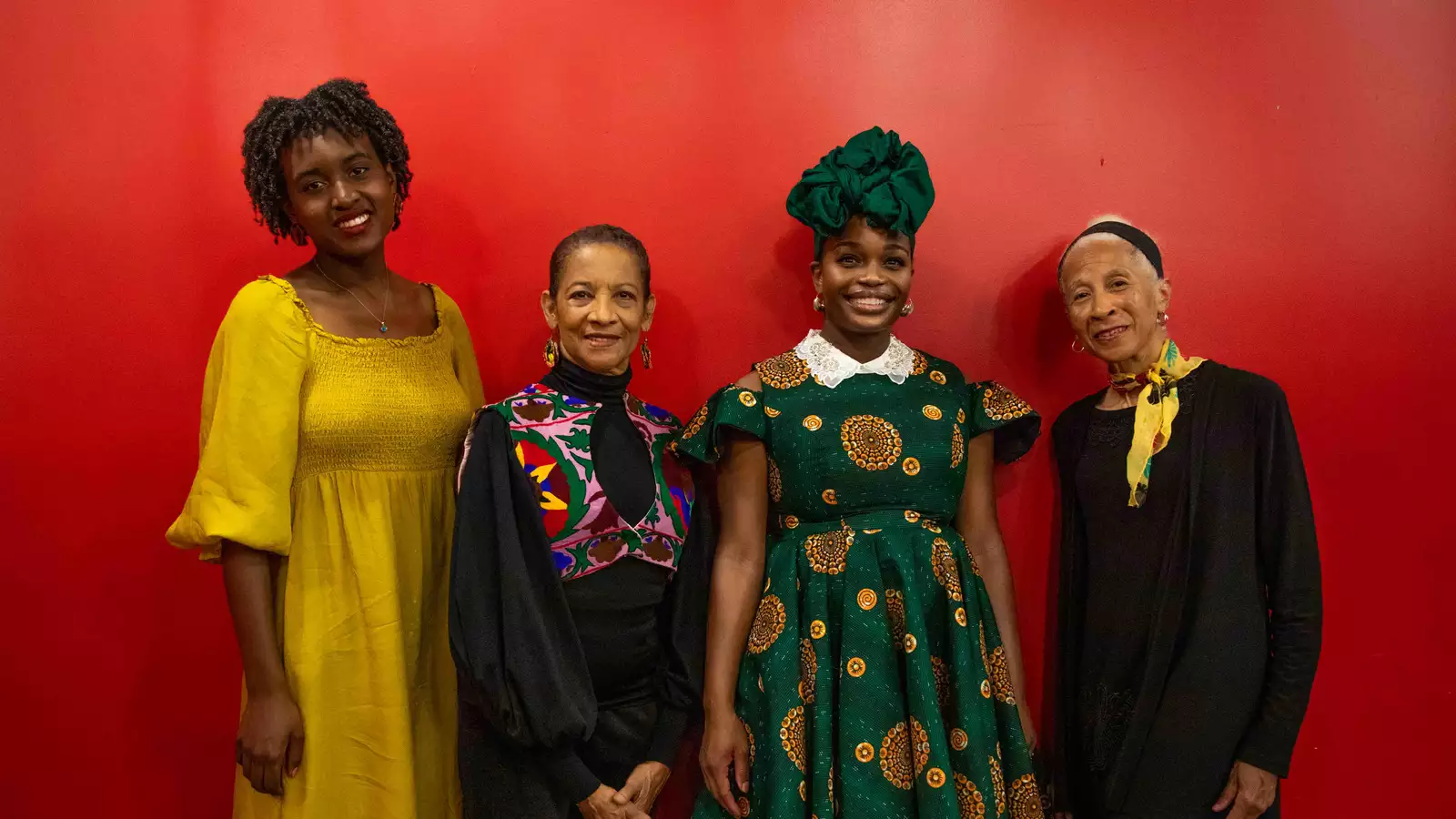 On October 13, members of the Barnard and New York theatrical communities gathered on campus to celebrate the inaugural Ntozake Shange Social Justice Theater Residency, an initiative from the Barnard Center for Research on Women (BCRW), the Public Theater, and the Ntozake Shange Literary Trust. The rotating two-year residency, conceived by inaugural playwright Erika Dickerson-Despenza, honors the legacy of trailblazing Public Theater artist and Barnard alumna Ntozake Shange '70. It will provide funding and support to a distinguished woman, femme, trans, or nonbinary playwright of the African Diaspora as they develop their theatrical work.
"We are thrilled about this historic partnership between Barnard, the Public, and the Ntozake Shange Literary Trust, which uplifts Black women playwrights — giving them visibility, a platform to share their craft, and an opportunity to pass on their knowledge and expertise to the next generation," said professor of history Premilla Nadasen, who also serves as the co-director of BCRW.
Through this residency, BCRW, the Literary Trust, and the Public pay tribute to Shange's pivotal contribution to both Barnard College and American theatre. The project is an expansion of the preservation of Shange's legacy that began with the College's acquisition of her archival materials in 2016.
Professor of English Kim F. Hall, who was instrumental in the collection's acquisition and the creation of the Digital Shange Project, said, "Ntozake wanted her archive to be a space of infinite possibility at Barnard. [It] would encourage us to live and create innovatively and purposefully."
The Public Theater illustrated some of Shange's infinite possibilities when they staged the premiere of her celebrated choreopoem for colored girls who have considered suicide / when the rainbow is enuf in 1976 and again, with a critically acclaimed revival, in 2019.
The evening's celebration began with a welcome message and tribute to Shange by Nadasen, who acknowledged the late alumna — who died in 2018 — as "a brilliant performer, poet, playwright, and dancer, who gifted us with a wealth of knowledge and culture, connecting past and present, trauma and joy." Kaiama L. Glover, the evening's master of ceremonies and Barnard's Ann Whitney Olin Professor of French and Africana Studies and Faculty Director of the Digital Humanities Center, introduced speeches from President Sian Leah Beilock, Public Theater artistic director Oskar Eustis, and Donald Sutton, director of the Ntozake Shange Literary Trust.
"The Residency will inspire a current generation of creators and knowledge makers well into the future," said President Beilock.
Eustis spoke glowingly of Shange's artistry and activism and of Dickerson-Despenza's continuation of that legacy. "Universities and theatres can work together to say we will make it possible for playwrights to live a dignified life in the theatre, to get healthcare, to get pensions, to know that they have a paycheck, so that they don't have to be starving artists," he said.
Sutton also looked to a brighter future for artists, quoting Shange: "I write for young girls of color, for girls who don't even exist yet, so that there is something there for them when they arrive."
Other highlights of the evening included a speech by Shange's brother Paul T. Williams, Jr., who spoke of his sister's intelligence, strength, bravery, and talent. Multihyphenate artist-performers and Shange collaborators Dianne McIntyre and Seret Scott performed an extended acting and movement piece inspired by some of Shange's work. They were followed by a reading from upcoming playwright Phanésia Pharel '21.
Dickerson-Despenza took the stage, in front of a portrait of Shange, to address her goals for the role as the resident playwright. "When you're in the presence of legends, you take your shoes off," she said, slipping off her own shoes.
In a speech laden with humor and emotion, the playwright spoke of her struggles as a young artist and the invaluable role Shange played in her career, as well as her hope that the residency will honor the struggles of her ancestors and support upcoming generations. "I will not die having left another generation of Black women, femmes, and nonbinary people believing that we must buy into the myth of scarcity," Dickerson-Despenza said.
The Diana Event Oval was filled with echoes of laughter, moments of rejoicing, and even some tears — fittingly so, for a residency that Dickerson-Despenza described as "about life."
There was a hum of hopefulness in the air, as speaker after speaker described something bigger than simply an arts grant. "It is about opening the sky of Black women, femmes, and nonbinary people's imagination," said Dickerson-Despenza. "[This is] so that we may touch the rest of the room, if not pull it down and make heaven on earth right now."