Every April, the Barnard community recognizes Sexual Assault Awareness Month (SAAM) by engaging in difficult conversations about consent in our communities and being committed to ongoing training in bystander intervention. This year, Being Barnard, the College's sexual violence education program, in collaboration with Columbia's Sexual Violence Response (SVR), is hosting several events on campus throughout the month to help raise awareness among the community. The national theme, "I ask," encompasses what we wish to see in violence prevention and response, such as asking for consent, for support, to assist with bystander intervention, or to expand involvement in our communities.
On April 11, sex-positive advocate Dr. Ruthie Neustifter, an assistant professor at the University of Guelph's Couple and Family Therapy Program, will lead a workshop on Healing and Pleasure After Trauma. From April 15 to 30, Altschul Gallery will host an interactive exhibit that asks students, faculty, and staff to think about how they incorporate consent into their daily lives. On April 16, experts from Being Barnard and Barnard's Title IX office will meet with students in The Diana Center to share resources, such as information for public safety, health, and bystander information. And on April 24, the College will observe Denim Day. 
To learn how we can raise awareness about sexual assault, we spoke with Cristen Kennedy, Being Barnard's program coordinator for prevention education, for a Break This Down: Q&A.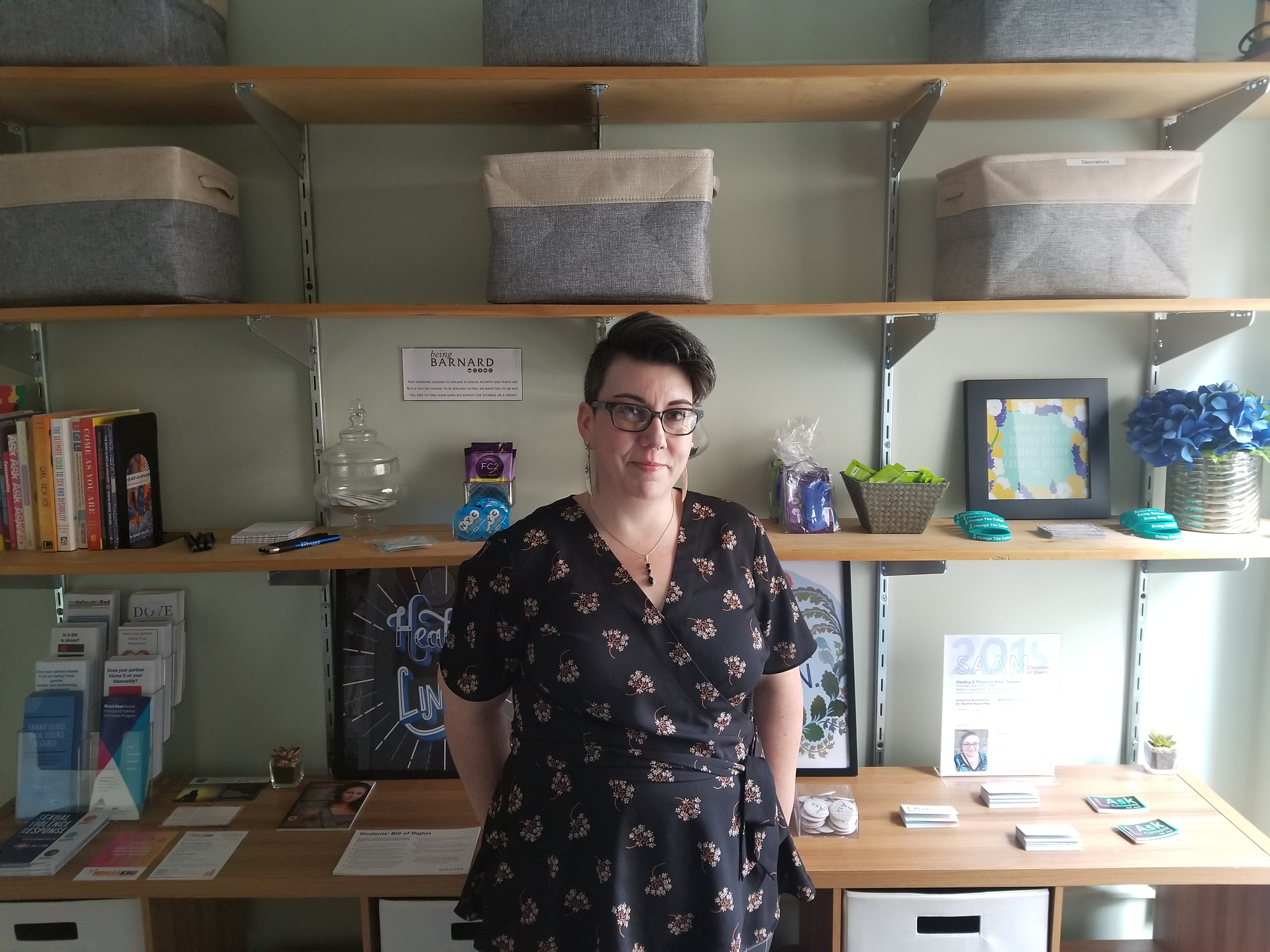 How will the different SAAM events planned at Barnard address sexual violence prevention?
One of the ways that I look at sexual violence prevention is by thinking about how we can create a society in which consent is woven into everything that we do, every interaction that we have, every relationship that we maintain —  whether that relationship is platonic, familial, or sexual. I think consent is often viewed as something that is only necessary for sexual interactions, and beyond that people don't think much about it. If we want to reduce sexual violence, we have to make consent intentional and commonplace in every aspect of our lives. It has to be the norm.
With that in mind, Being Barnard is doing our second annual Vision Wall in the Altschul Gallery. The Vision Wall asks students, faculty, and staff to think about how they practice consent in their everyday lives. This could mean that they ask their friends before posting a photo on social media, or they let their children decide who they hug and who they don't. There will be a table set up with pens, crayons, sticky notes, and paper. Our goal is to engage the community in an artistic conversation about what consent can look like. People can also engage with the program online by taking a photo — if there are people in the photo, remember to get consent first — and using #BeingBarnardVisionWall and tagging @BeingBarnard.
Other events throughout the month will focus on support and healing after trauma. Often in sexual violence work we talk about prevention and response, but we don't talk about what happens with life after. Dr. Neustifter's workshop will focus on reconnecting to one's body and sexuality after experiencing trauma —sexual, intimate partner, or medical. This will be a skills-based workshop discussing the mind/body connection, boundary setting, intimacy, and other topics. 
What should we keep in mind when considering sexual assault awareness?
It's important to remember that sexual violence exists on a spectrum. I talked about a culture of consent, but the opposite of that is rape culture. There is a graphic that I use when I conduct trainings, from 11th Principle: Consent! called the Rape Culture Pyramid, that shows the spectrum of violence. At the bottom it talks about "normalization," with things like unequal pay, sexist attitudes, and victim blaming. This sets the stage for violence and normalizes the idea of violence. (Read: Distinguished scholar Daniel Hamermesh, on the gender pay gap, on CNBC.)  From there it moves to "degradation," with behaviors like street harassment/catcalling, stalking, and unsolicited photos. "Removal of autonomy" comes next, with coercion, stealthing (covert removal of condoms), and groping. And finally, we have "explicit violence," with rape, murder, and so on, which is what I think most people envision when they hear the term sexual violence. It is important to know, however, that any of these things can be sexual violence.
To gain more awareness around the issue, students, faculty, and staff can always attend a Being Barnard event, request specific training for their department or organization, or speak to me one-on-one. SVR is an amazing educational resource, as they do programming throughout the year, both at Barnard and Columbia. The National Sexual Violence Resource Center has a website full of information for survivors, friends and family, advocates and educators, and media. One of my favorite resources, Hollaback, is an organization that does phenomenal work around ending street and online harassment and is a good place to look for specific bystander intervention training in that area.
If a person has experienced sexual violence, what should they do? 
First and foremost, it is important for them to know that it is not their fault. Sexual violence happens because a perpetrator has chosen to perpetrate sexual violence, not because of anything a survivor has done or not done. 
As for what a person should do, my advice is always that a survivor should do what makes them feel safest and most supported at any given time, and that will look different for everybody. My greatest hope is that members of our community reach out to a resource here on campus for support. For some, that means reaching out to a therapist in Rosemary Furman Counseling Center, a provider in Primary Care, or an advocate at SVR. For others, that means reaching out to Title IX. We have a wealth of different resources here on campus to help. 
Anyone can come talk about their experience, learn about support and accommodation options, talk through what an investigation might look like if they choose to go that route, or just sit quietly with someone. The people who work in the resource offices on campus are here to support survivors and work with them in their healing journey.
— N. JAMIYLA CHISHOLM
---
SAAM Artwork and Being Barnard Resources:
[page-element:slideshow]
---