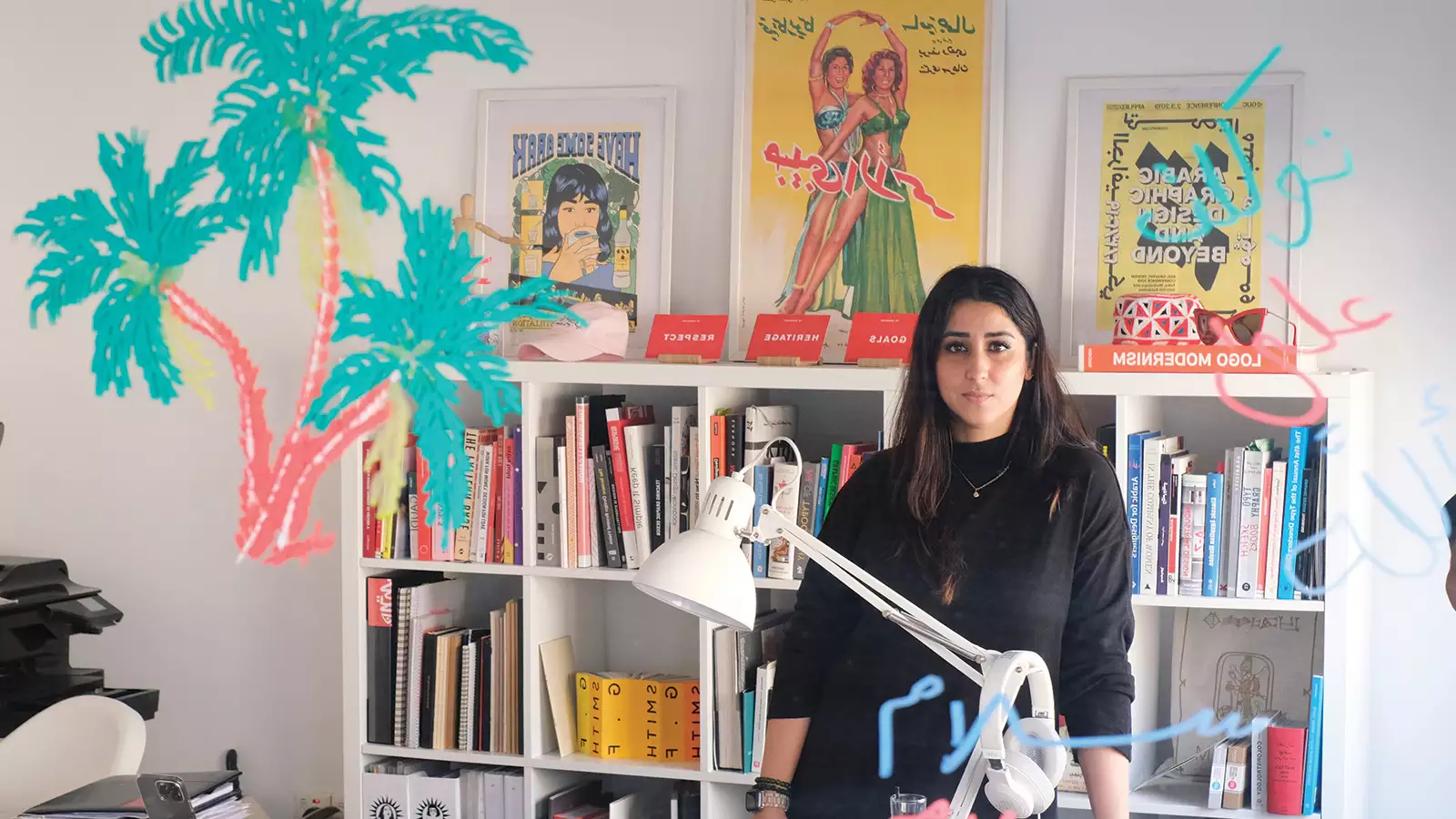 The United States is a country overflowing with cultures, and the month of April is when National Arab American Heritage Month is celebrated, thanks to the brand-new Proclamation by President Joe Biden. "This Arab American Heritage Month, let us all strive to honor our fundamental values and advance equity and opportunity for all people, affirming once again that diversity is our country's greatest strength," wrote President Biden. 
In recognition of this cultural diversity, which Barnard mirrors (the Class of 2026 represents 40 states and territories and 33 countries), the College is highlighting Khadijah Abdul-Nabi '08, an alumna whose design studio helps to amplify the creative voices of women in Iraq, in the spring issue of Barnard Magazine.
Read a preview of her story below and see some of her studio's work.
---
There's a sentence on the Ya Khadijah design studio website that has raised eyebrows. It reads: "Habibti [rough translation: "My darling"], we help you get your shit together." The owner of the studio, Khadijah Abdul-Nabi '08, stands by every word.
"It's a little tongue-in-cheek," says Abdul-Nabi, who established the business in 2017. "This consultant from Deloitte wrote to me and was like, 'You know, I really love your studio and everything, but you have to understand [the sentence] is not professional.' [But] the biggest paying clients I've had have always started with 'Khadijah, so great to meet you. I love that line on your website.' So it resonates with the people that I want."
Bold, brash, Bronx-born-and-raised Abdul-Nabi believes in the power of knowing her audience. She is driven by intellectual curiosity and an iron will, which led her to establish Ya Khadijah, a women-led design studio in Iraq, despite daunting obstacles and a circuitous path.
When Abdul-Nabi came to Barnard in 2004, she was planning to pursue engineering or pre-med. But as she began her studies, she had a calling that caused her to change course.
"I fell in love with Middle Eastern studies and anthropology," says Abdul-Nabi. Her parents were less than thrilled to know their daughter was eschewing engineering, a discipline in which she naturally excelled, to study a world they'd left behind. Her father moved to the U.S. from Baghdad in the 1980s, around the same time her mother emigrated from Tunisia.
"It was hard for them to wrap their heads around it, but the professors and the courses changed my life," says Abdul-Nabi. "It really intrigued me to understand how history creates arguments, how we see ourselves through the lens of identity, how ambiguous it could be, how there are so many different layers."
Despite her enthusiasm, Abdul-Nabi often felt overwhelmed navigating the logistics of career decisions by herself and became depressed. She zeroed in on work and says that the focus on her studies opened her to a reliable respite that continues to inform her art.
"I chose something that brought life and hope to me, which I'm really glad to do," she said. 
Check out the rest of Abdul-Nabi's story when it publishes online in Barnard Magazine on May 19.