I think that pretty much everybody who comes out of Barnard feels that way — that they have really learned how to learn.
In the 30 years since she founded Martha Stewart Living in 1990, Martha Stewart '63 P'87 has become one of the most iconic names in lifestyle content. Stewart reaches 100 million fans on a monthly basis by tapping into various platforms: She is an Emmy Award-winning television show host of Martha Stewart Living and Martha, the bestselling author of 96 lifestyle books, and the founder of the first multi-channel lifestyle company, Martha Stewart Living Omnimedia.
On June 18, the Barnard alumna joined President Sian Leah Beilock in conversation for an exclusive online event, presented by Beyond Barnard, that was geared toward students and alumnae. The talk, attended by an audience of almost 600, was the second installment of the new "Insights: Powered by Barnard" series. The first event in May featured Stacey Abrams.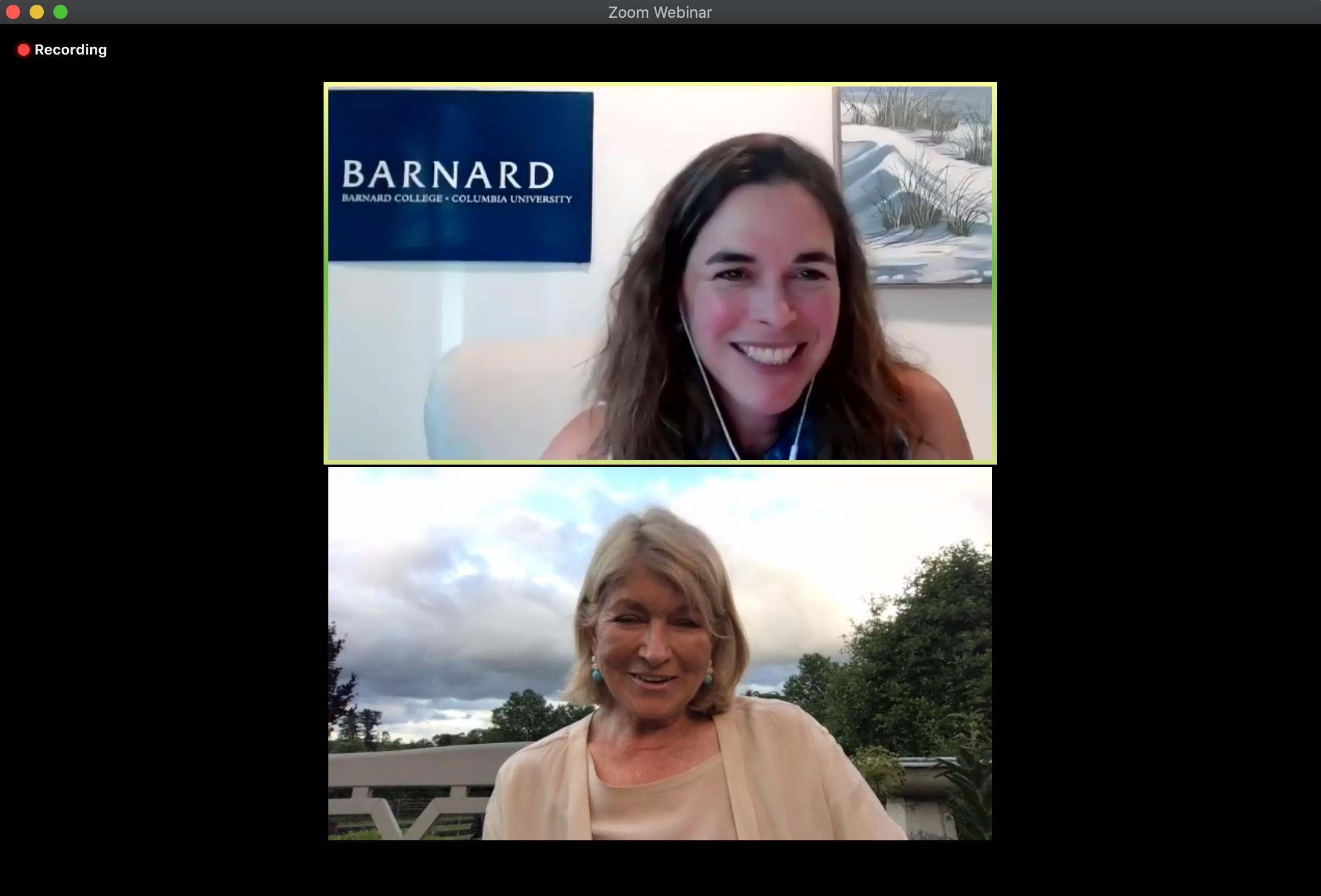 In their conversation, Stewart and Beilock discussed the post-pandemic job market, being a lifelong learner, and Stewart's 158-year-old sourdough starter.
"I love this theme that you talk about, about being a continual learner," Beilock said to Stewart. "We tend to think of you as a master of so many things, but you really are always learning, and that seems to be what allows you to have this impact, to change course. It's inspiring to hear."
Read key insights from Stewart below:
On how attending Barnard impacted her career:
"My Barnard education has been one of the most important foundations in my life because it taught me how to learn. It taught me, also, how to teach, and it taught me what made a good teacher because I had great professors. It was an extraordinary experience. [It gives students] a clarity of vision about what you are focusing on. That clarity really comes from good instruction and good inspiration and good teachers. And that is so important, and I think that pretty much everybody who comes out of Barnard feels that way — that they have really learned how to learn."
On being a lifelong learner:
"Most of my friends say my most important characteristic is that I am curious. And I am curious about everything. I have learned how to cook from the greatest chefs just by watching. I try to sit next to them or across from them. When Nobu is making sushi, I watch every move, and I can make sushi now very nicely. And having a daily television show helped me a lot, too, because there I could really invite all the experts whom I really wanted to learn from on the show. So I have a vast knowledge of lots and lots of different things, just by learning from the experts."
On advice to students graduating into the post-pandemic job market:
"[For] students who don't know what they're going to do — because the job market is at a standstill right now — I say worry about the future, but don't worry so much that you forget to think about the future. [Ask yourself]: What is going to really make sense in the future? What kinds of businesses are going to be important to work in? There's a lot to think about. There are many opportunities, and I think our students should not get discouraged."
On how to know when it's time for a career change:
"One of my favorite mottos is, 'When you're through changing, you're through.' Change is good, change might be frightening, it might be difficult, but it's really good in the long run if you have that entrepreneurial spirit and you're a real hard worker. This pandemic has really taught a lot of people new skills. I think the biggest trend is sourdough bread making. I have my starters in the refrigerator — I have one from 1862 from my niece, who started a whole bread-baking business now because of the COVID-19 crisis, and she would never have done that [otherwise]. People are finding new ways to build businesses and new ways to think about old businesses: How can they be improved, how can they be enhanced, how can you really do something a little bit different and make a new world for yourself or for others?"
On how to combat procrastination:
"Find the time of day that's best for you for writing. Find the time of day that's best for you to do your emails. Find the time of day that's best to do your reading. All of that is very important. You have to find your body clock, I think. And if you need a nap, take a nap."
On how she stays optimistic:
"I live in a beautiful place, and to see a sunset and the sunrise, to hear the chickens making their noises and the peacocks screaming in the neighborhood — I'm lucky. I have a really nice place to be, so that also engenders optimism. And you know what, I'm an adult, I am a founder of a company — I better be optimistic. I better set a good example for most of the people around me. It's my duty. And I think many of us should take that as a responsibility. We can't moan and groan and kvetch and complain and whine. We can't! We have to do our stuff."
*Responses have been condensed for length and clarity.
---
Watch the full conversation between Stewart and Beilock:
—VERONICA SUCHODOLSKI '19