Barnard Health Ambassadors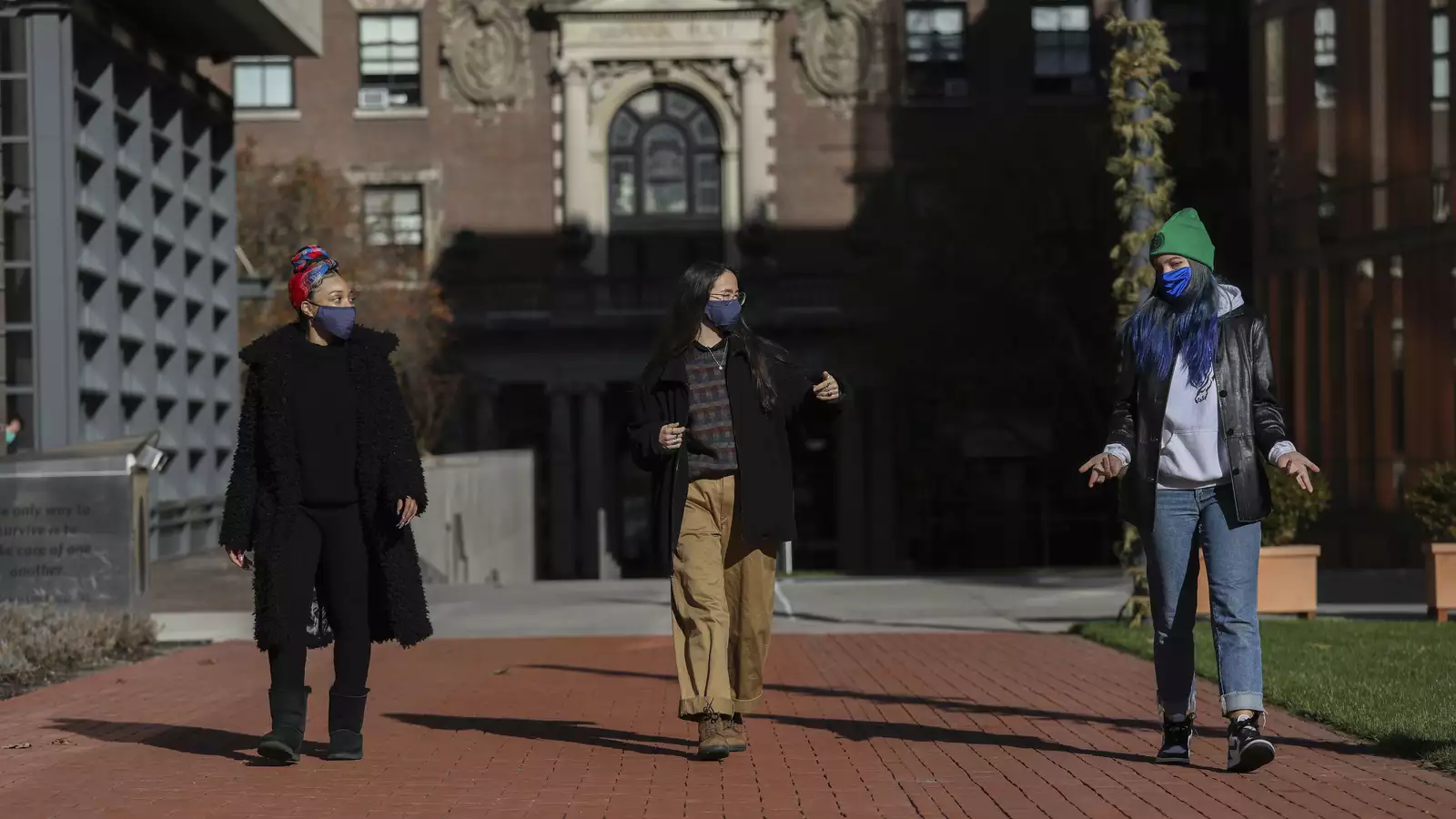 [Main image: L-R, Naomi Jones '23, Tamia Lewis '24, and Auden Barbour '22]
When the COVID-19 pandemic struck last spring, Barnard sprung into action, with many alumnae, students, faculty, and staff generously lending their talents, time, and expertise to support and protect the Barnard community, as well as their local communities. Some got creative by launching new business ventures, while others stepped up as frontline workers and volunteers for meal services. 
For the campus community, Barnard implemented various initiatives to promote health and safety at the College level, including the Health Ambassador Program. Launched virtually in September 2020, the program currently consists of six students, three faculty, and 17 staff members who aim to cultivate community, educate their peers, and ensure a healthy campus experience for all. 
While classes were remote last semester, the Barnard Health Ambassadors (BHAs) kept everyone updated through email and newsletters. They also harnessed the power of social media to promote fun initiatives, share resources on safety protocols, and provide updates, including Barnard/Columbia case numbers. Now that students are back on campus, the BHAs provide in-person resources, such as masks and hand sanitizers. And despite the 6-foot degree of separation, they are creating opportunities to connect. Visit their Instagram page @bhabarnard for more information and updates.
Our student health ambassadors and staff members, below, discuss their work on campus and share some important tips and reminders with the community. #FeelWellDoWell #MaskUpBarnard
STUDENTS
Auden Barbour '22
"Being a Barnard Health Ambassador has allowed me to continue to connect to the community in a meaningful way, even though we're not all on campus together. Being part of a team of young, creative women who are working together to establish new forms of community and encourage healthy behavior has been so rewarding for me this semester. It has also encouraged me to stay more informed on the state of COVID on campus, in New York, and all over the country and world. Please reach out with any questions or concerns. We are always here and happy to help in any capacity."
Naomi Jones '23
"I appreciate my time as a student health ambassador because it gives me a chance to look out for my peers by sharing important information with them. It's not only about protecting students against coronavirus, it's also about protecting their well-being in general. As a health ambassador, I want students to feel like they are not alone in this pandemic: Your thoughts and feelings matter, and we want to hear your concerns! Feel free to DM us with any suggestions for events that we should host or something that we should bring awareness to. Also, if you recognize me or my green beanie on campus, don't be shy to say hello. Ask me a question about health and safety on campus, and get a free, not to mention super cute, mask."
Tamia Lewis '24
"I have been a Barnard Health Ambassador since the fall of 2020, and it has helped me connect with the Barnard community and stay informed about how to be safe and well during the pandemic in a way that few other jobs would. I am grateful to have had the opportunity to work on wonderful projects, such as our Healthy Halloweek and Secret Snowflake initiatives, which have linked the entire College community together in a very positive way. I continue to wear a mask because I want to do my part in keeping my community safe and healthy. I hope to have as positive an impact on the Morningside Heights and Harlem community as possible, as well as everyone else accessing the College's campus!"
Janelle Matias '24
"Alongside my team, my job as a Barnard Health Ambassador is to be a peer educator and ensure that we're all taking care of ourselves during these unprecedented times. We are a team of reimaginers, redefiners, and reinventors aiming to promote and maintain wellness on and off campus. Yes, I know we are all tired of COVID-19. We are tired of social distancing. We are tired of masks. But as a community, it has always been our collective responsibility to keep ourselves and the people around us safe. Please don't be hard on yourself, and remember it's okay to give yourself grace, especially now."
Gabriella Ortiz '21
"Being a Barnard Health Ambassador is all about helping to inform the Barnard community and ensuring we keep Barnard, Morningside Heights, and Harlem safe. We keep up with any local updates surrounding COVID and help to plan virtual activities that can help students de-stress. The pandemic has definitely led to feelings of isolation and loneliness, so one of our goals is to help foster an inclusive and inviting home for students at Barnard. If there's anything specific that you would like to see from the Barnard Health Ambassadors, message us on our Instagram @bhabarnard. Wishing everyone a safe and healthy rest of the semester!"
Evelyn Van Ness '24
"Starting college during a pandemic was definitely a unique experience. Working as a BHA this past semester has helped me to feel not only part of the Barnard community but also active in researching, self-educating, and creating content that will help the community come together. Grappling with a new normal is hard, and working with a group that wants to have the conversations and do the work that will help us all adjust has been amazing. Creating a virtual community has been central to my motivation. Making engaging social media content that will hopefully connect us all has been one of my responsibilities so far. I can't wait to [creatively] bridge that 6-foot gap even more the coming semester."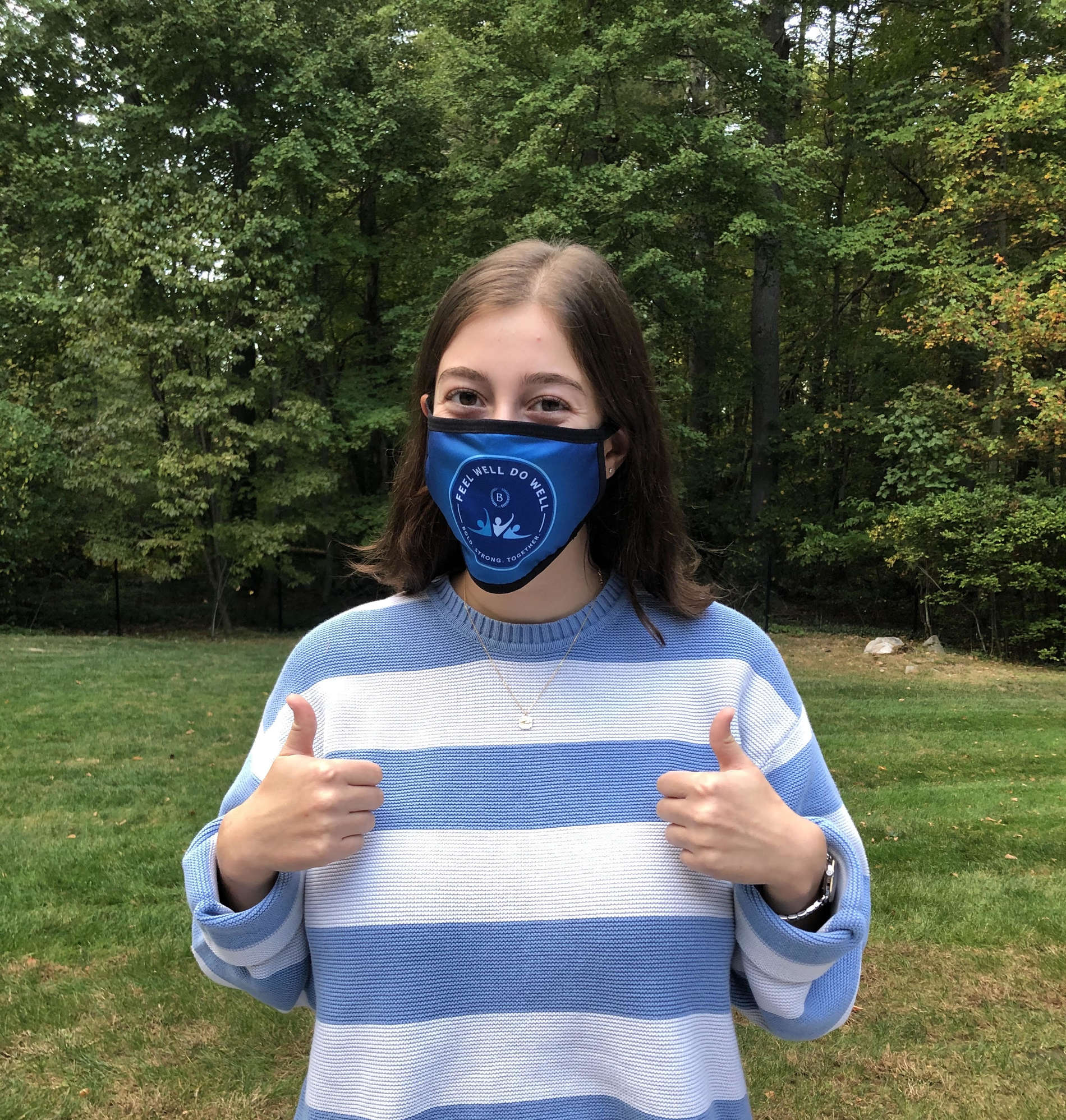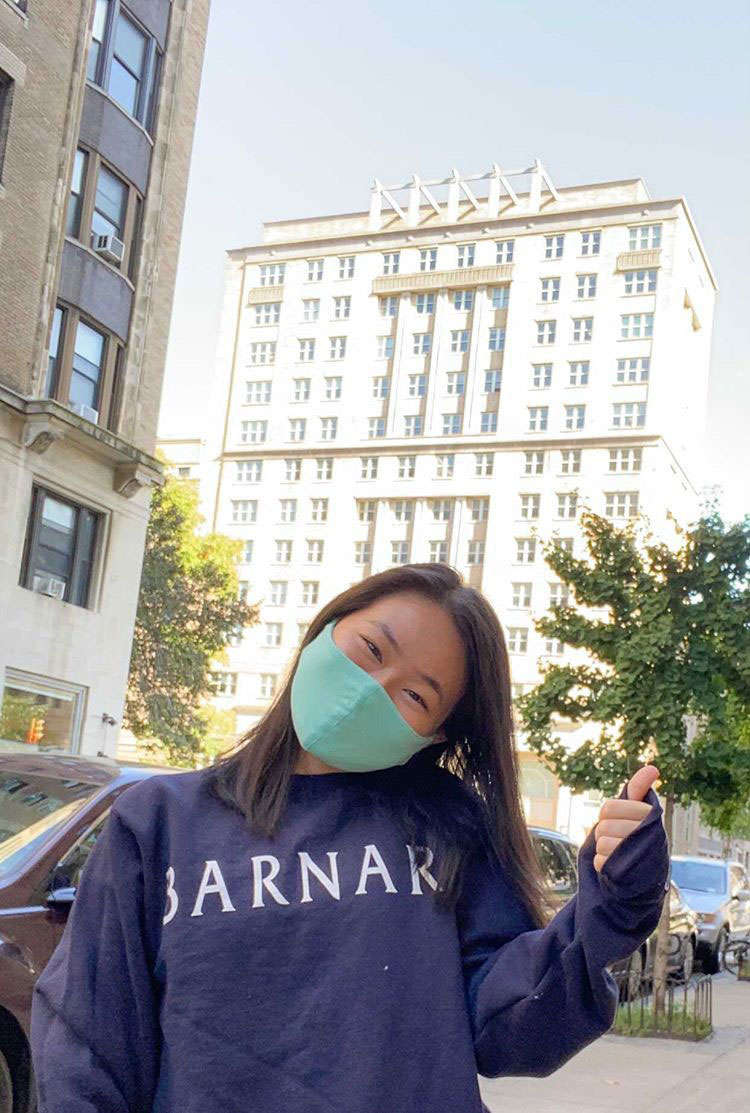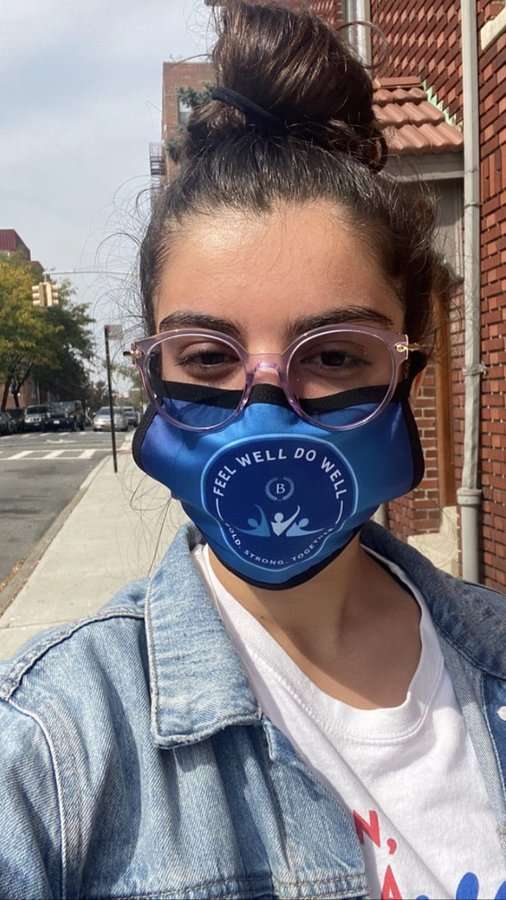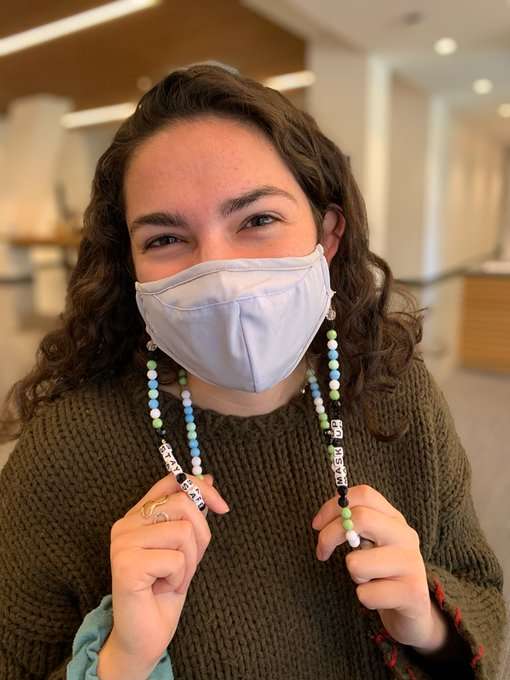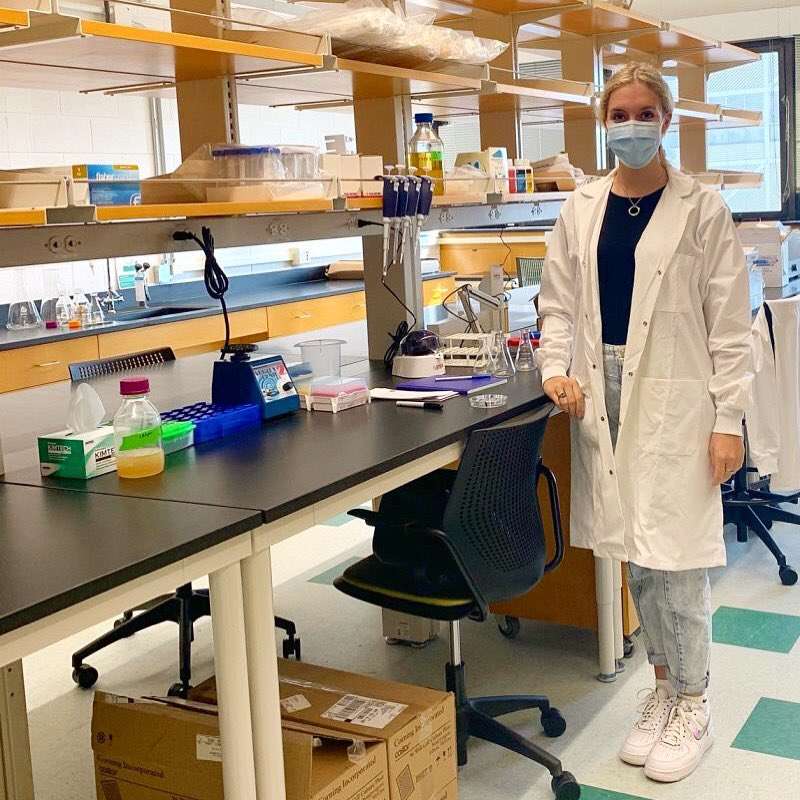 "I wear a mask because I care about the people around me." —Abby Ganz '24
"Wearing a mask is a civic duty in my opinion. It's more about protecting others than myself." —Lauren Zhou '24
"I wear a mask because it is an individual contribution towards a global strive for health and normalcy." —Yeliz Sezgin '21 
"I love wearing my mask chain around because I get to send a message to everyone I pass that I wear a mask to keep our entire community safe! Stay safe and #MaskUpBarnard!" —Veronica Leifer '21
"I'm so thankful to Barnard and Columbia for ensuring that undergraduate research can continue in a safe environment." —Hannah Prensky '22
STAFF
Sarah de Freitas, Associate Director, Human Resources 
"It has been amazing for me to have the opportunity to collaborate with students, staff, and faculty across Barnard through the Health Ambassador Program. Through this effort, we can work together to keep our campus safe with the help and support of everyone. The Barnard Health Ambassadors cultivate community. They educate their peers and promote a healthy and safe environment for all by actively engaging our community members in person and through social media. I am reminded of why I am proud to be part of Barnard when I see our collective commitment to the Barnard Community Pledge and the enormous outpouring from staff, faculty, and students to assist the Barnard Health Ambassador Program."
 
De Freitas is the co-sponsor of the BHA program at Barnard in the Office of Human Resources. She manages the staff BHAs, branding, and the BHA website, and conducts faculty and staff training.
Allie Emmerich, Program Director for Arts Education 
"Deshawn Cook [assistant dean for Student Life] and I were given the role of student BHA coordinators towards the end of August 2020 and tasked with designing the program to match the goals of the College in a way that would be appealing to students. It's been exciting to invent the program and to see how the BHAs are community driven. Our student BHAs come up with great ways to engage the community by designing fun activities that are remote alternatives to in-person gatherings. They're truly committed to showing that being safe and separate doesn't mean the community can't come together in meaningful ways!"
Haley Schoeck, Chief of Staff to the Provost 
"Barnard faculty serve as mentors and role models for our students in so many different ways. It's fitting that they also take on this role of modeling healthy behavior and helping to educate members of our community as we begin our gradual, yet much anticipated, return to campus." 
Schoeck oversees the faculty health ambassadors.
---
Additional staff health ambassadors include Lindsay Antolino, April Autry, Eli Balin, Devin Cerise, Sue Dodson, Liz Evans, Jennifer Fondiller, Amanda Gates-Elston, Ken Kim, Deanna Kowal, Cindy Krumholtz, Jeff Manning, Ife Meadows, Shay Parsons, Maisha Rahman, Joshua Rotbert, and Cynthia Yang.
 
Faculty health ambassadors include assistant professor of history Angelo Caglioti, senior lecturer in French Laurie Postlewate, and associate professor in the Department of Economics Homa Zarghamee.
---
Stay up-to-date on health and wellness with the Barnard Health Ambassadors' Instagram page.