From the first day that Barnard College opened its doors nearly 130 years ago in the fall of 1889, the College has cultivated and nurtured students and alumnae who are passionate about equality. This International Women's Day (March 8), the College looks back over the past 13 decades to honor the activists who helped improve our lives — from pursuing higher education at a time when women were excluded to standing up for those with HIV to advocating for children's rights. 
1889 – 1899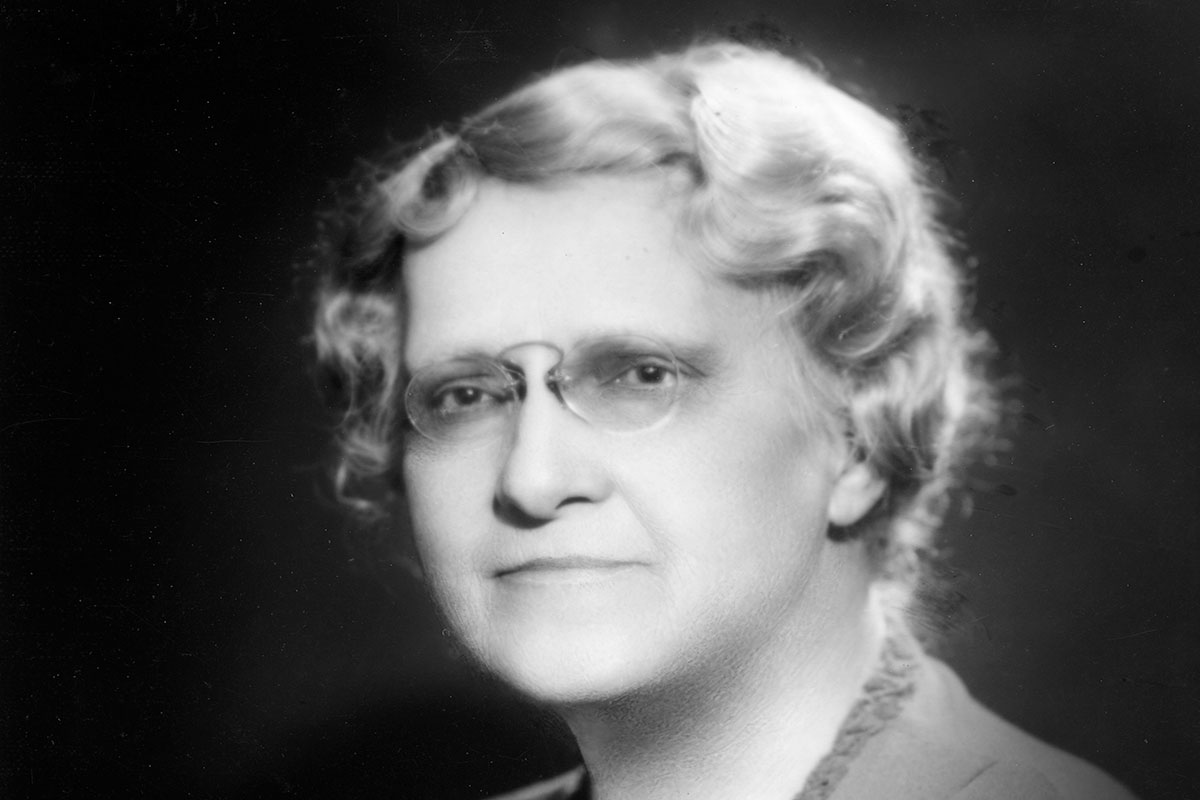 The founding of Barnard College (1889) is largely due to the rallying efforts of Annie Nathan Meyer, a student and writer, who was dissatisfied with Columbia University's exclusion of women. Meyer joined forces with a small group of peers to petition the University Trustees for an affiliated self-sustaining liberal arts women's college. The rest is history.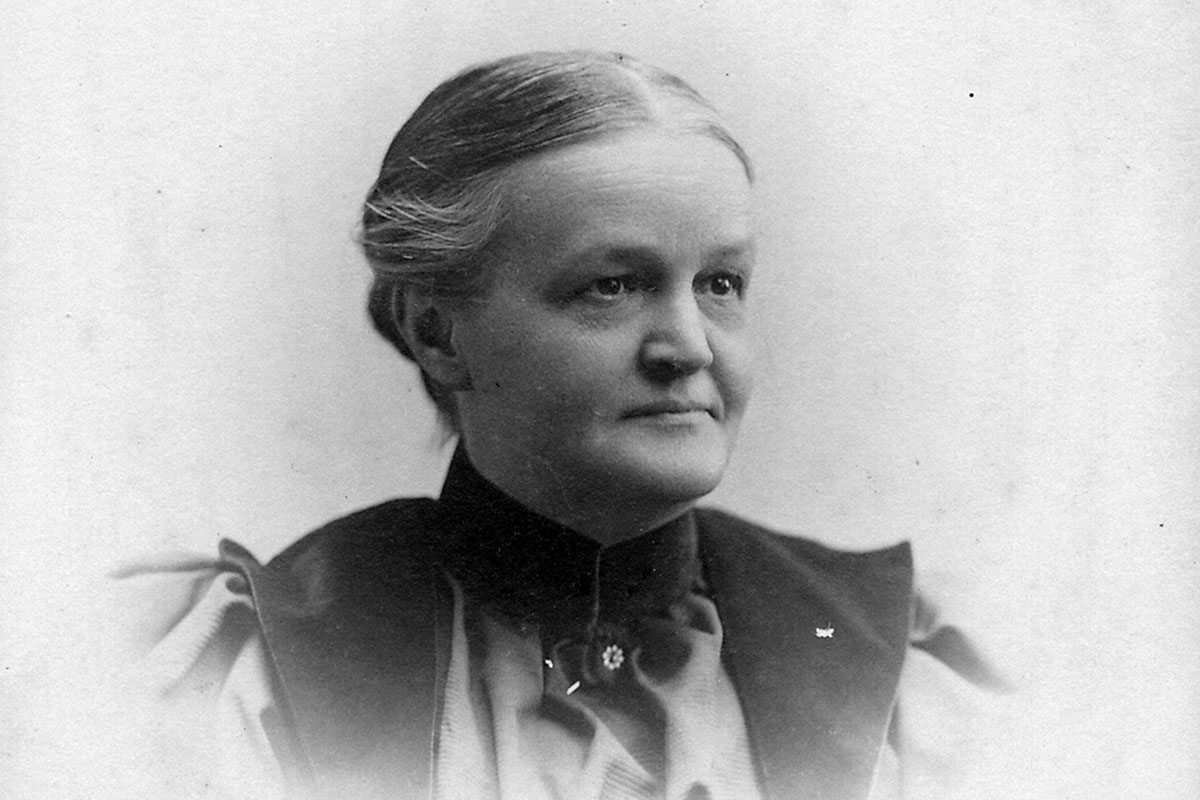 Emily L. Gregory was hired in 1890 as the College's first full-time faculty member when no one at Columbia was available to teach botany. Gregory taught at Barnard until her death in 1897.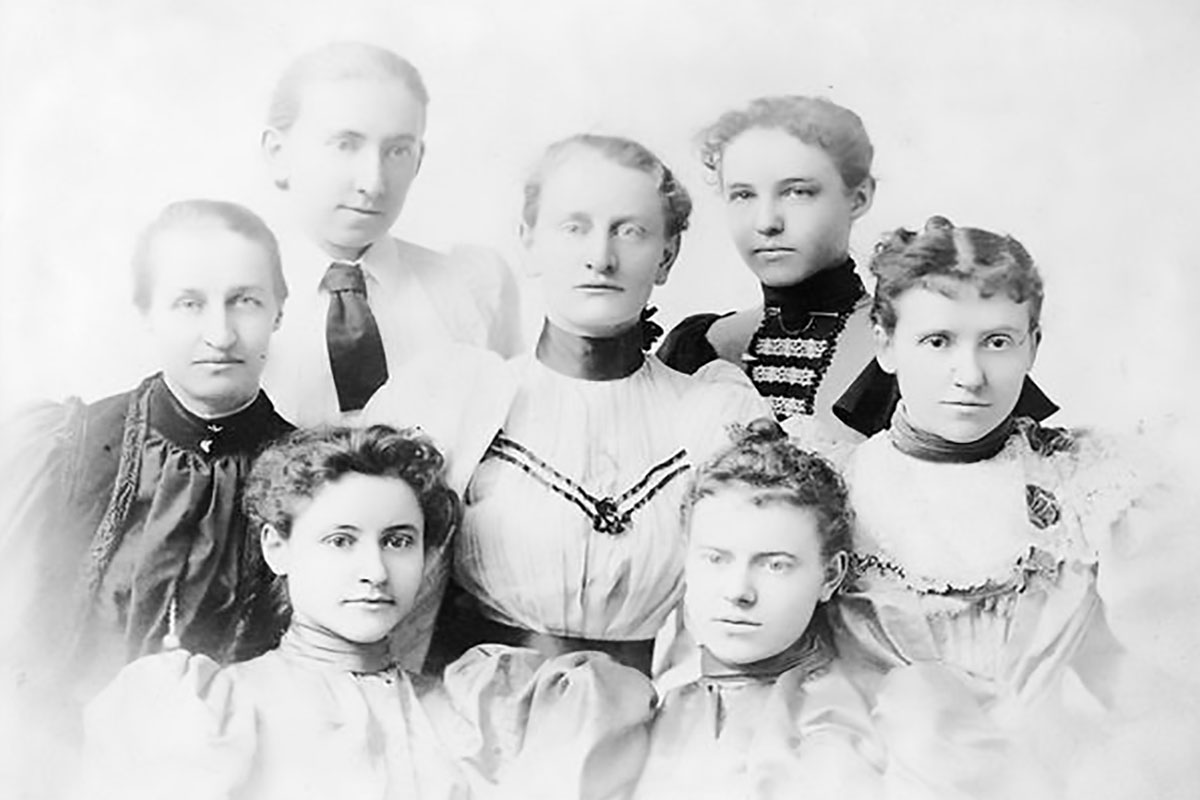 The first year of Barnard's founding (1889-90), fourteen students registered as regular degree students, with another 22 entering as non-degree-pursuing "Specials," doing special work in science.
1900 – 1910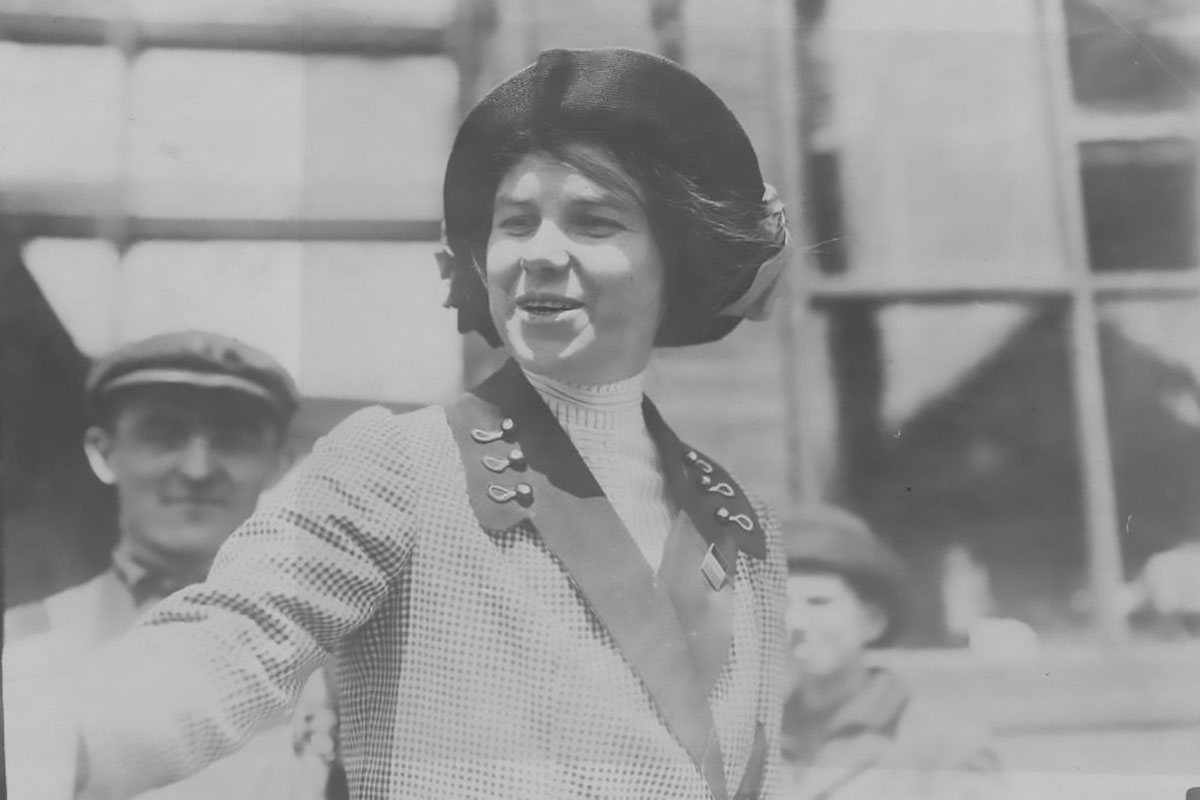 Caroline Lexow Babcock '1904 was an American pacifist and suffragist, co-founder of the Women's Peace Union, and Executive Secretary of the National Women's Party from 1938 to 1946. [Photo credit: Nyack Library Local History Room]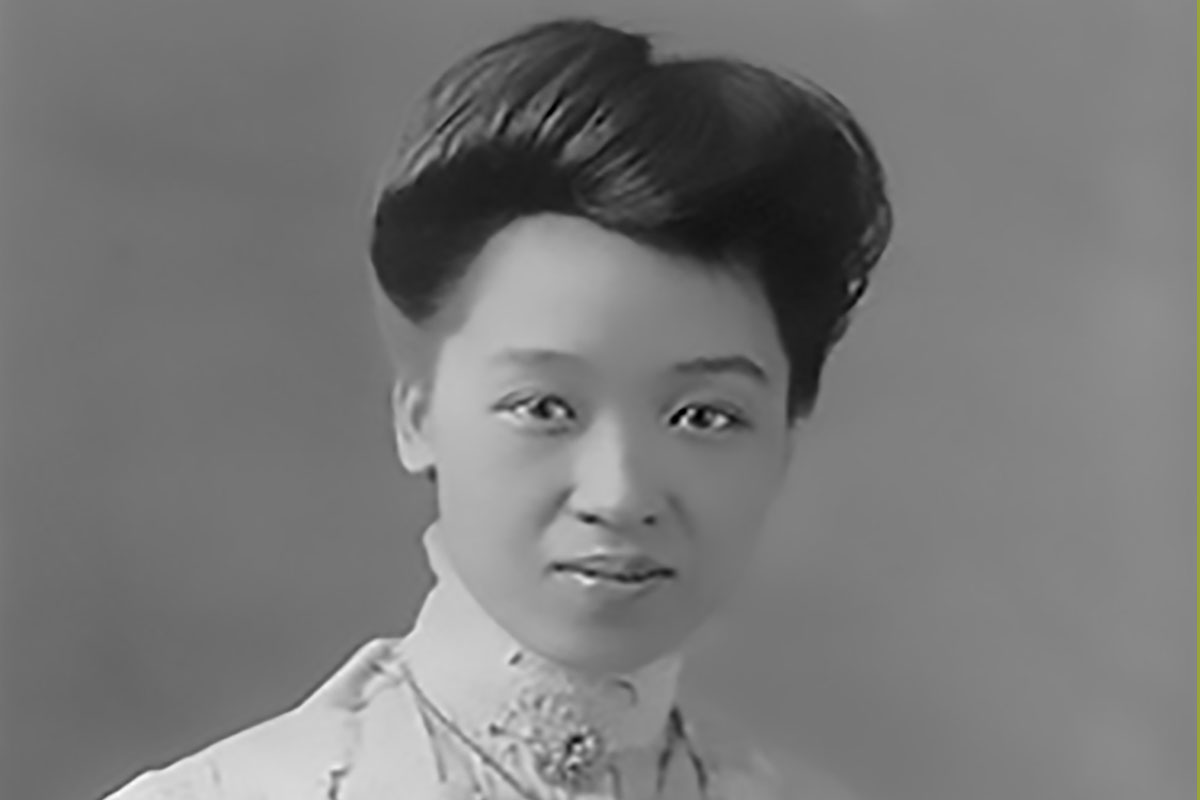 Kang Tongbi '1909 (whose name was originally Tung Pih) was an activist for women's rights in China. Following her arrival in the United States in 1903, Tongbi founded a women's branch of the Chinese Empire Reform Society in Tacoma, Washington. She matriculated at Barnard in 1907, becoming the College's first Asian student. After Barnard, Tongbi returned to China and became an editor and contributor for Nüxuebao, one of China's first women's journals, and later was jailed during the Cultural Revolution.
1911 – 1921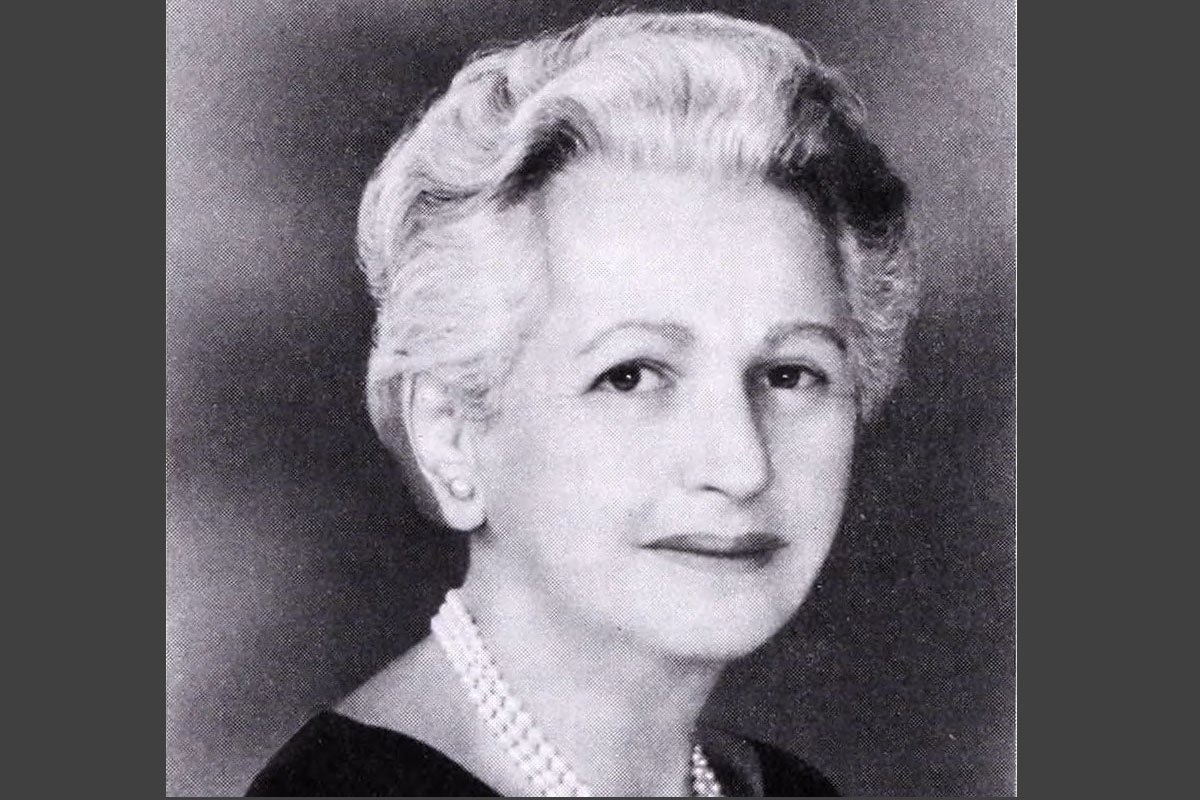 As the daughter, wife, mother, and grandmother of four publishers of The New York Times, Iphigene Ochs Sulzberger '1914 was said to secretly encourage many stories with social justice and community service themes. She credited her commitment to social causes, which often revolved around educational institutions, to her Barnard education, which included volunteering at the Henry Street Settlement while a student. Sulzberger served on the board of Barnard College from 1937 to 1968 and raised funds for the construction of Wollman library.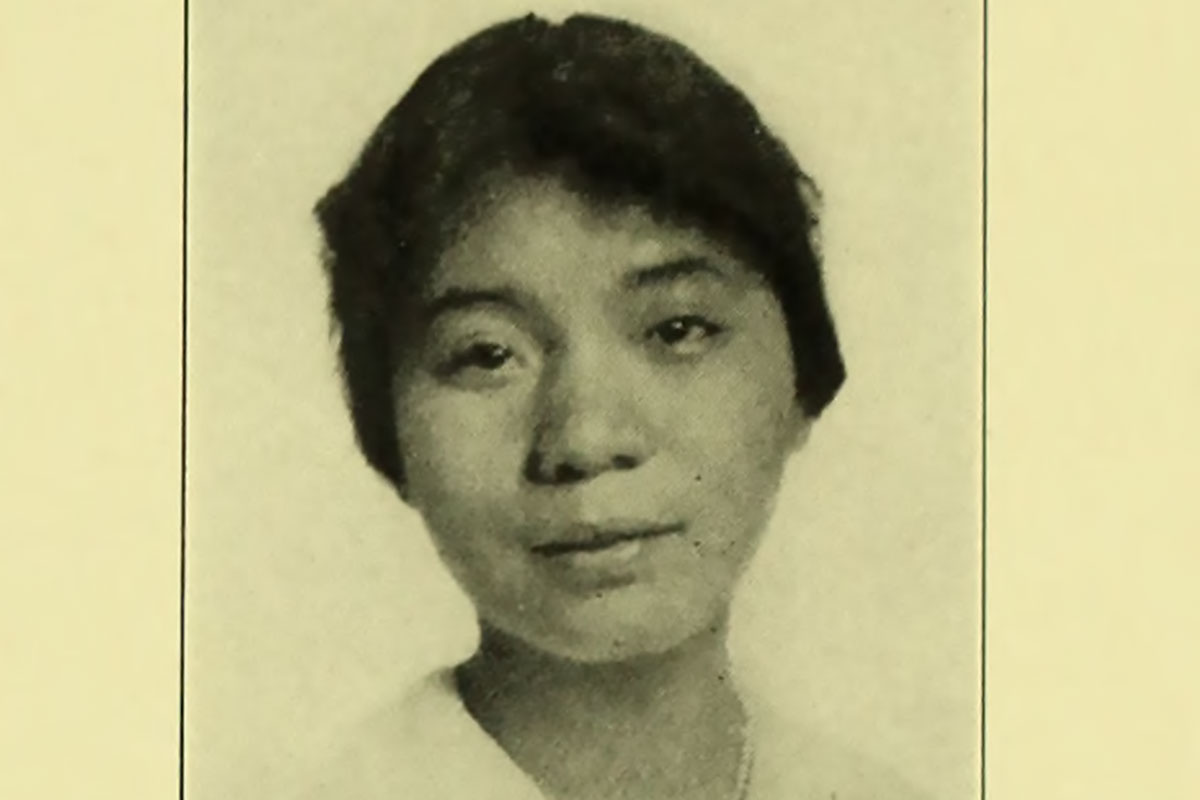 A Chinese advocate for women's suffrage in the United States, Mabel Ping-Hua Lee '1916 was a member of the Women's Political Equality League, and the head of the First Chinese Baptist Church in New York's Chinatown, for more than 40 years. In 1912, when Lee was 16, she played a pivotal role in the historic New York City parade for women's suffrage. Ten thousand people attended the parade; Lee, on horseback, helped lead it. In December 2018, the United States Postal Service dedicated Manhattan's Chinatown Post Office in her name.
1922 – 1932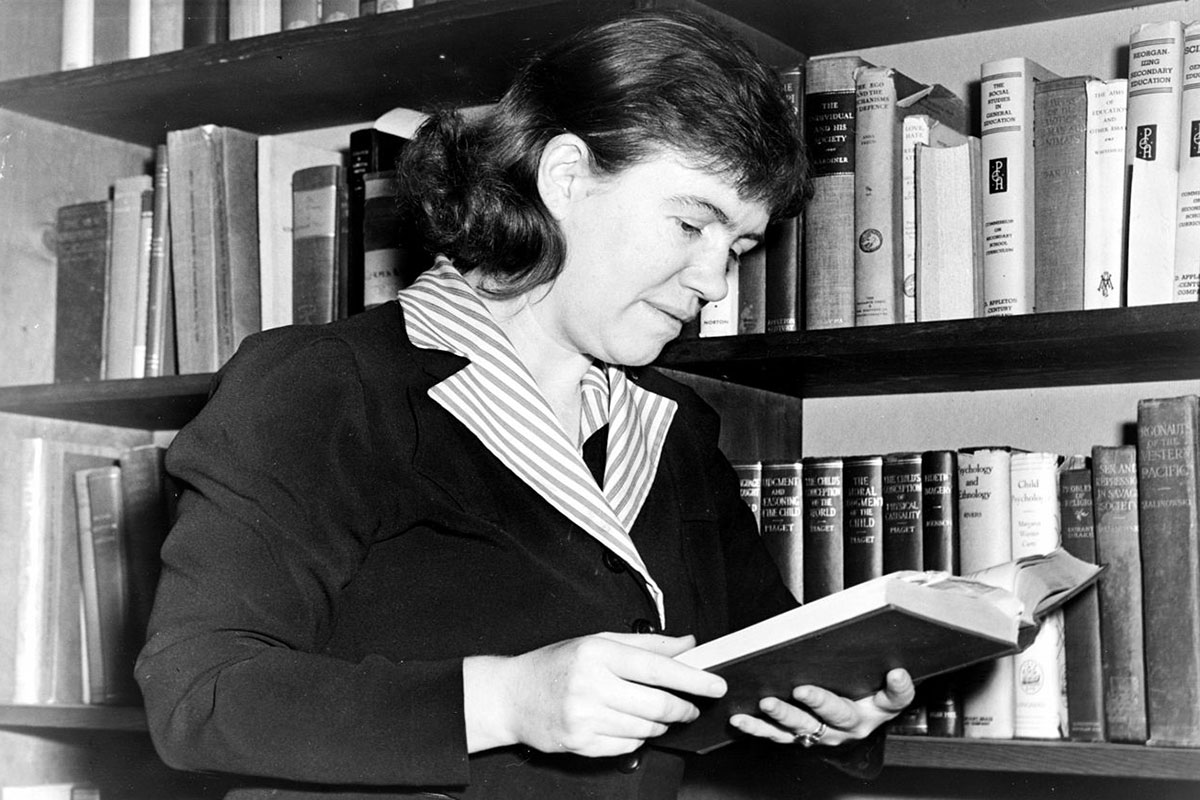 Margaret Mead '1923 was an anthropologist, writer, and educator who changed the way we study human cultures. After she earned her Doctorate in Philosophy from Columbia University in 1929, Mead studied the development of girls in Samoan society and published the results in the influential Coming of Age in Samoa. She received Barnard's Distinguished Alumnae Award in 1971. [Photo credit: Library of Congress Prints and Photographs Division, New York World-Telegram and the Sun Newspaper Photograph Collection.]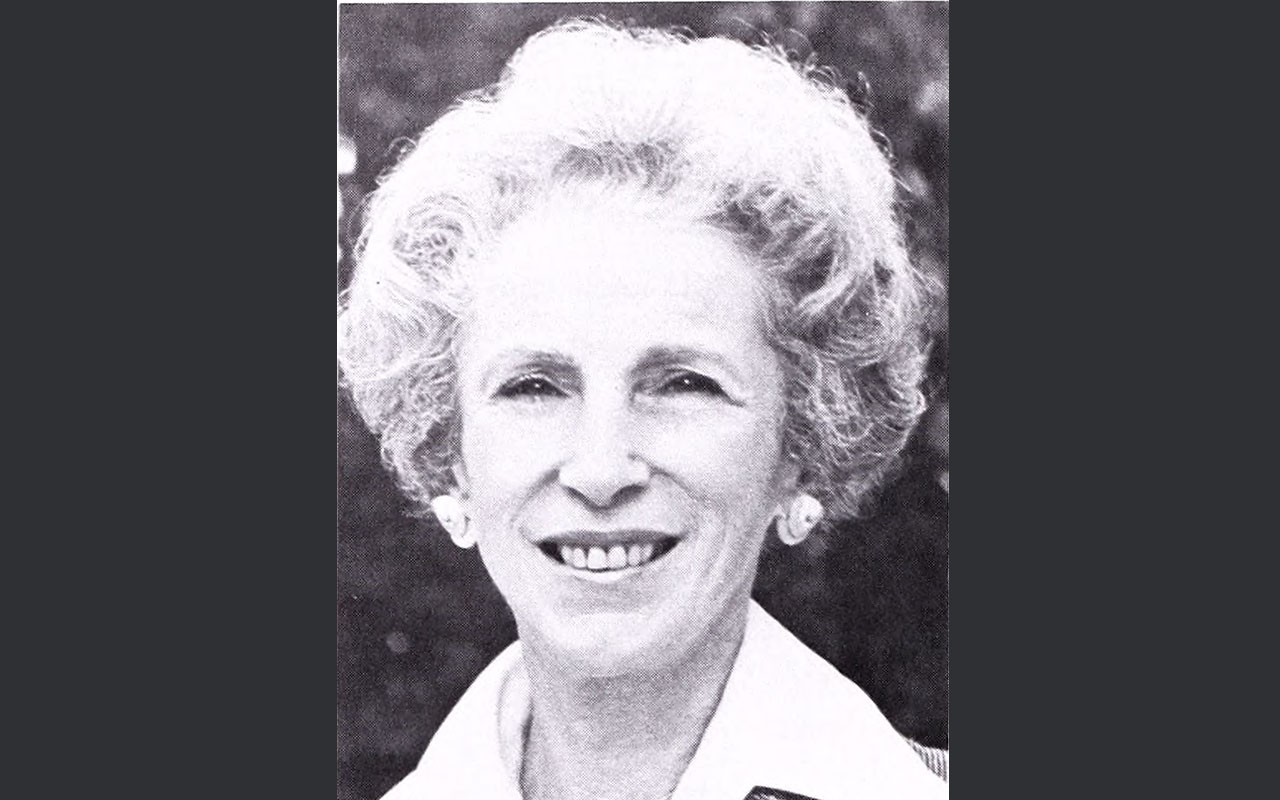 Edith Spivack '1929 was a pioneer as a woman working in law. After graduating from Barnard at age 19, and then Columbia University Law School at 22, Spivack struggled to land a job as a Jewish woman in the midst of the Depression. Two years later, when civil service exams replaced political appointments, Spivack was appointed to the City's Law Department where she worked as an unpaid volunteer for a year and then was hired at half the salary of her male counterparts. Spivak received the Distinguished Alumna Award in 1984. 
1933 – 1943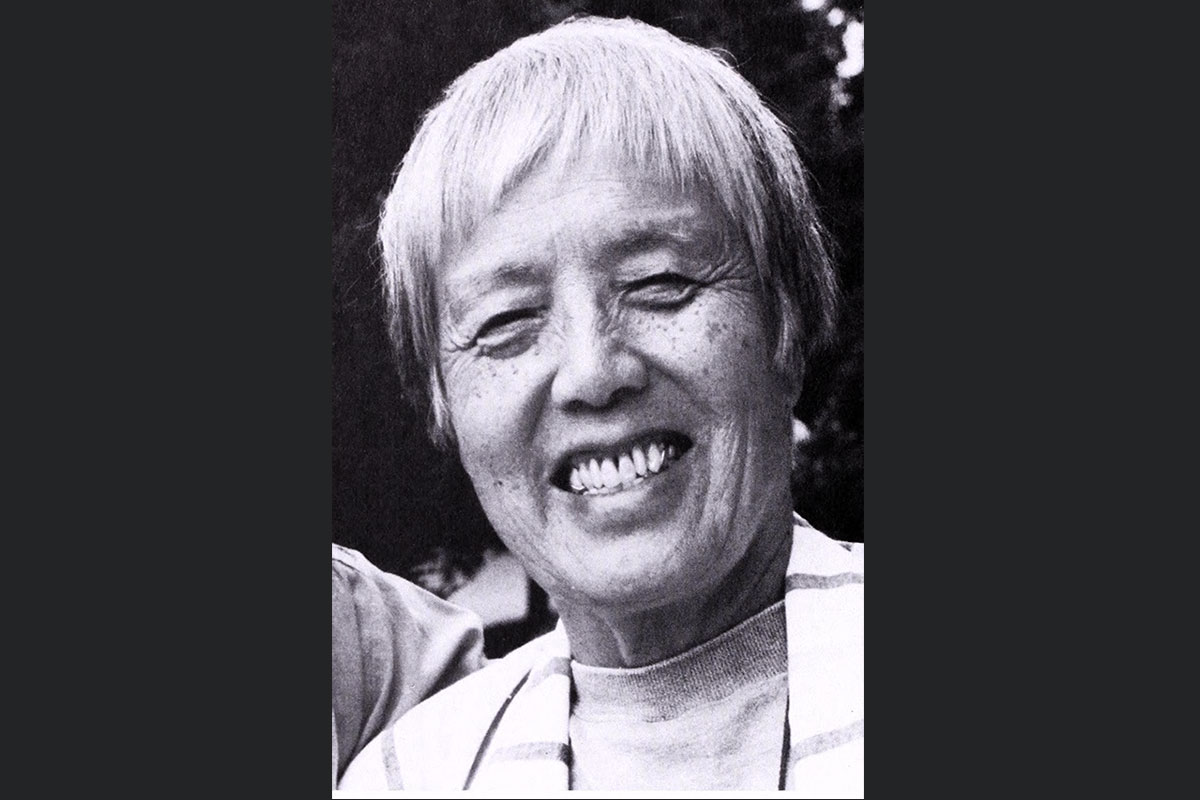 Grace Lee Boggs '35, whose parents were Chinese immigrants, was an activist in the labor, civil rights, and Black Power movements. Boggs won a scholarship to attend Barnard and received a Doctorate in Philosophy from Bryn Mawr College in 1940. She and husband James Boggs wrote books together and founded Detroit Summer, a multicultural intergenerational youth program. Boggs was awarded Barnard's Distinguished Alumna Award in 2000. A movie about her life and work, American Revolutionary: The Evolution of Grace Lee Boggs, was screened at the 2014 Athena Film Festival, where Boggs spoke and took audience questions. Each year, the Office of Student Life commemorates Boggs's activism with its Barnard Bold event that recognizes students and student organizations dedicated to community service.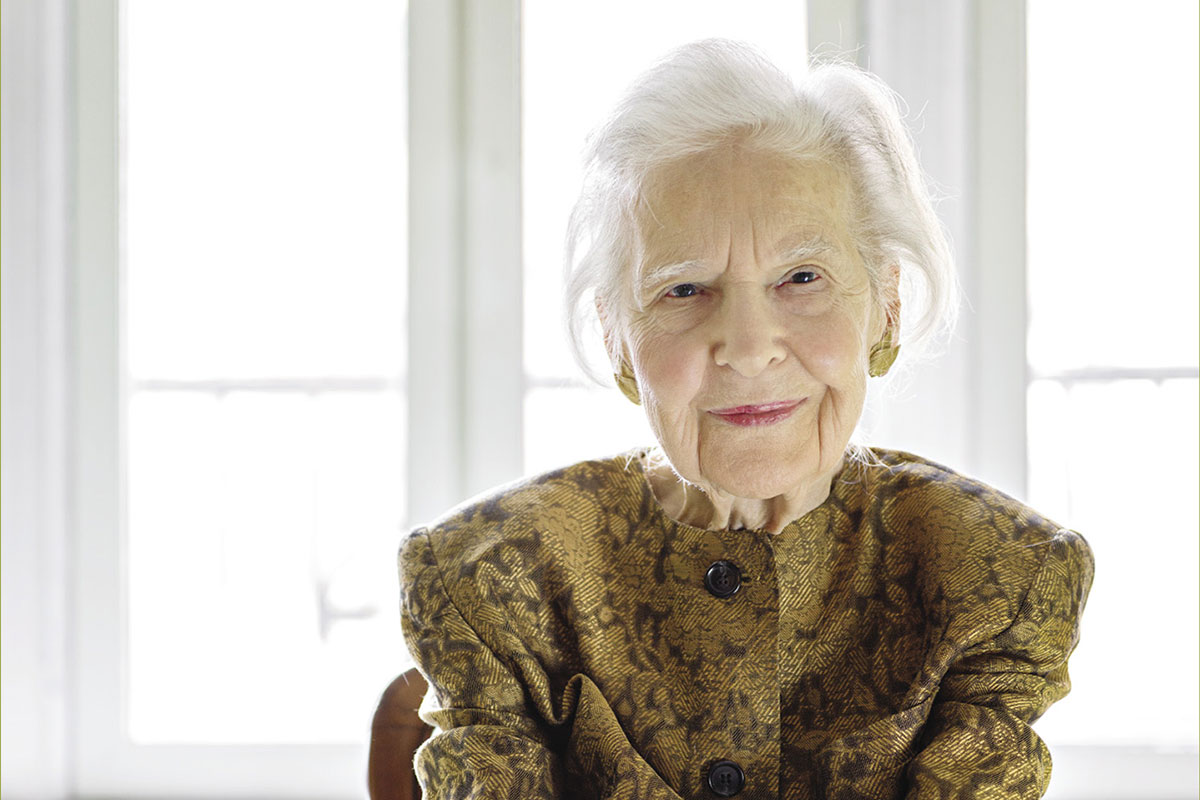 Pioneering lawyer Shirley Adelson Siegel '37 laid the foundations for some of the country's most basic civil rights protections, including the Supreme Court case on Japanese internment camps. A boundary-breaker in many ways, Adelson Siegel was the only woman in the Yale Law School class of 1941 and the first person to lead the New York State Attorney's Civil Rights Bureau in 1959. She advocated for fair hiring for all minority groups in trade unions and airlines and passed a law banning sex discrimination through the state legislature. From 1984 to 2004, she trained law students at Columbia, Cardozo, and Fordham. In her 90s, Adelson Siegel became a pro bono housing rights lawyer and took on foreclosure cases through the City Bar Justice Center. [Photo credit: Dorothy Hong]
1944 – 1954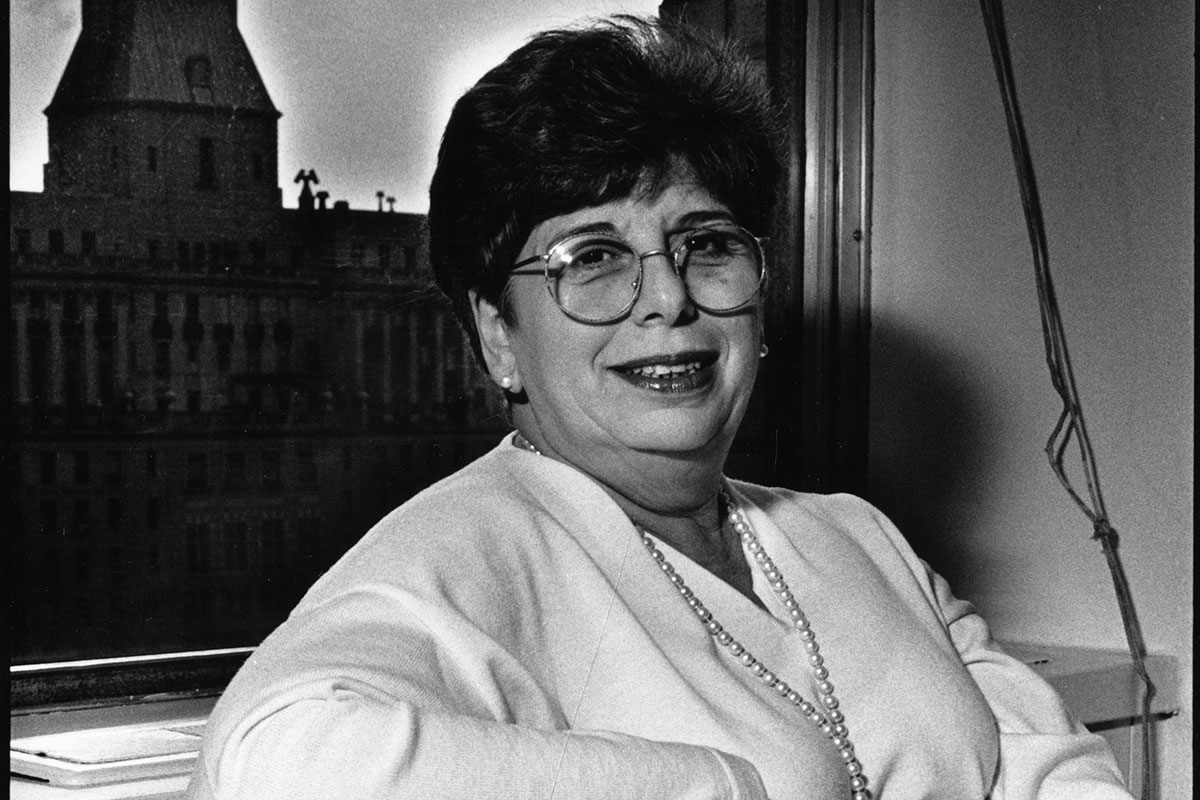 Ronnie Eldridge '52 has fought for women's rights in various ways: She focused on health as Special Assistant to the late New York Mayor John Lindsay; as Deputy City Administrator, she worked to make changes in maternity leave and benefit programs for women; and as the first Director of the Division for Women, she continued to advocate for women in state government. Eldridge also sponsored legislation to regulate child care, safeguard ATM users, protect domestic violence victims, and help those who both provide and need reproductive health care. She also co-chaired the Women and AIDS Project and served as the first executive director of the Ms. Foundation for Women. Today, Eldridge hosts the local CUNY-TV show "Eldridge & Co."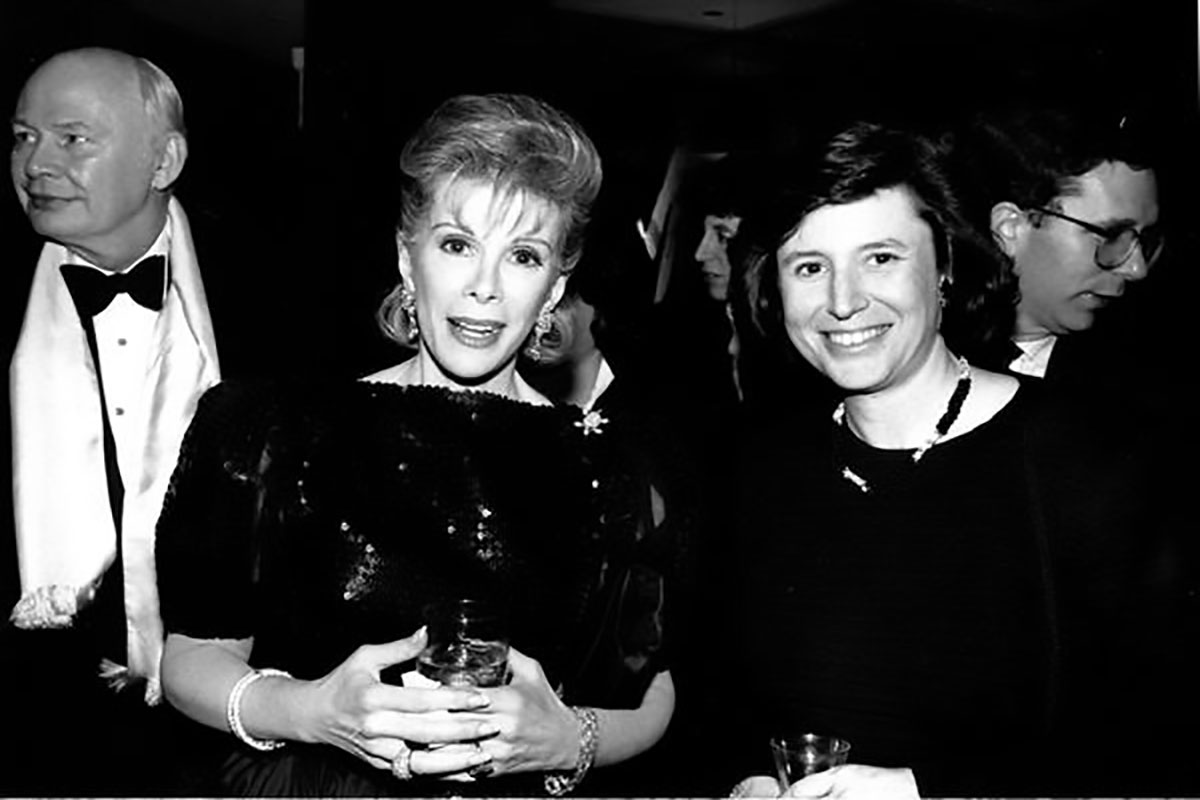 An unapologetic stand-up comedian who opened doors for younger women comics who followed, Joan Rivers '54 leveraged her fame to become an unapologetic AIDS activist in the mid-1980s, at a time when people with AIDS were ostracized. Rivers launched her activism in early 1985 as AmFar's first celebrity fundraising partner. After Rivers won Celebrity Apprentice in 2009, she donated all her earnings to God's Love We Deliver, a non-profit organization that delivers food to people with HIV/AIDS in New York City. The donation reportedly underwrote 56,000 meals. The New York Times called Rivers, who died in 2014, "one of America's first successful female stand-up comics in an aggressive vein that had been almost exclusively the province of men."
1955 – 1965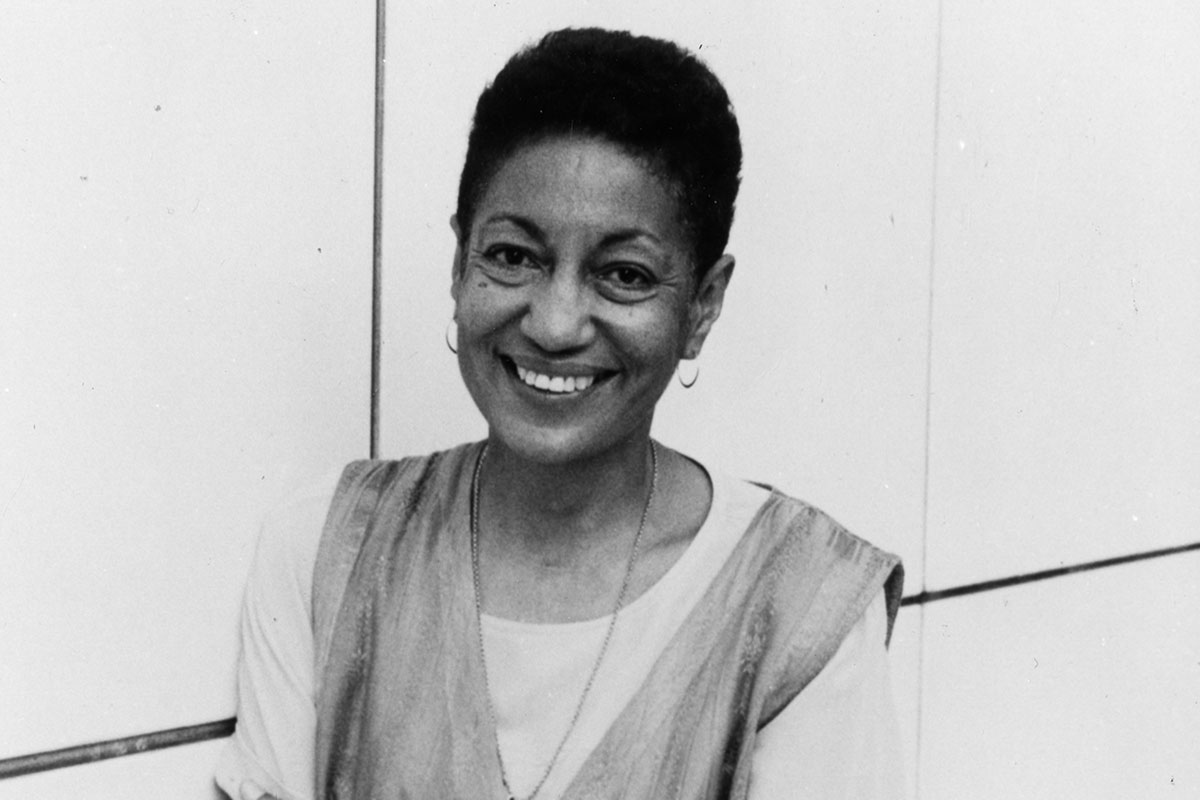 Poet June Jordan '57 was as famous for her words as she was for her activism. In addition to writing 27 volumes of poems, essays, plays, and works for children, Jordan was engaged with civil rights, women's rights, and sexual freedom. Jordan's poetry is acclaimed for its autobiographical lens and immediacy while her activism is recognized for its radical focus on global solidarity among the marginalized and oppressed.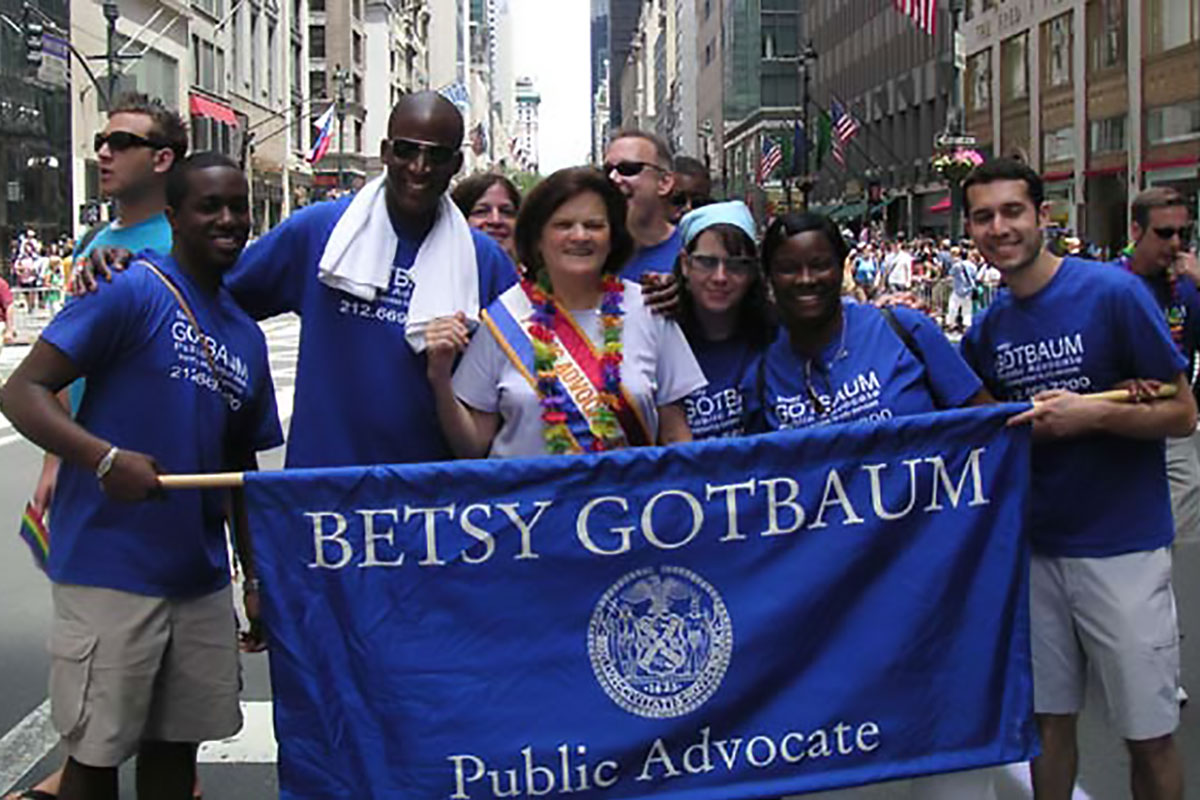 Betsy Gotbaum '60 has long been involved in the civic life of New York City. She worked with Mayors Abraham Beame and David Dinkins, ran the New York Police Foundation, was the first woman Commissioner of the New York City Department of Parks and Recreation, and served as President of the New York Historical Society. In 2001, Gotbaum was elected New York City Public Advocate, serving for eight years. [Photo credit: Public domain]
1966 – 1976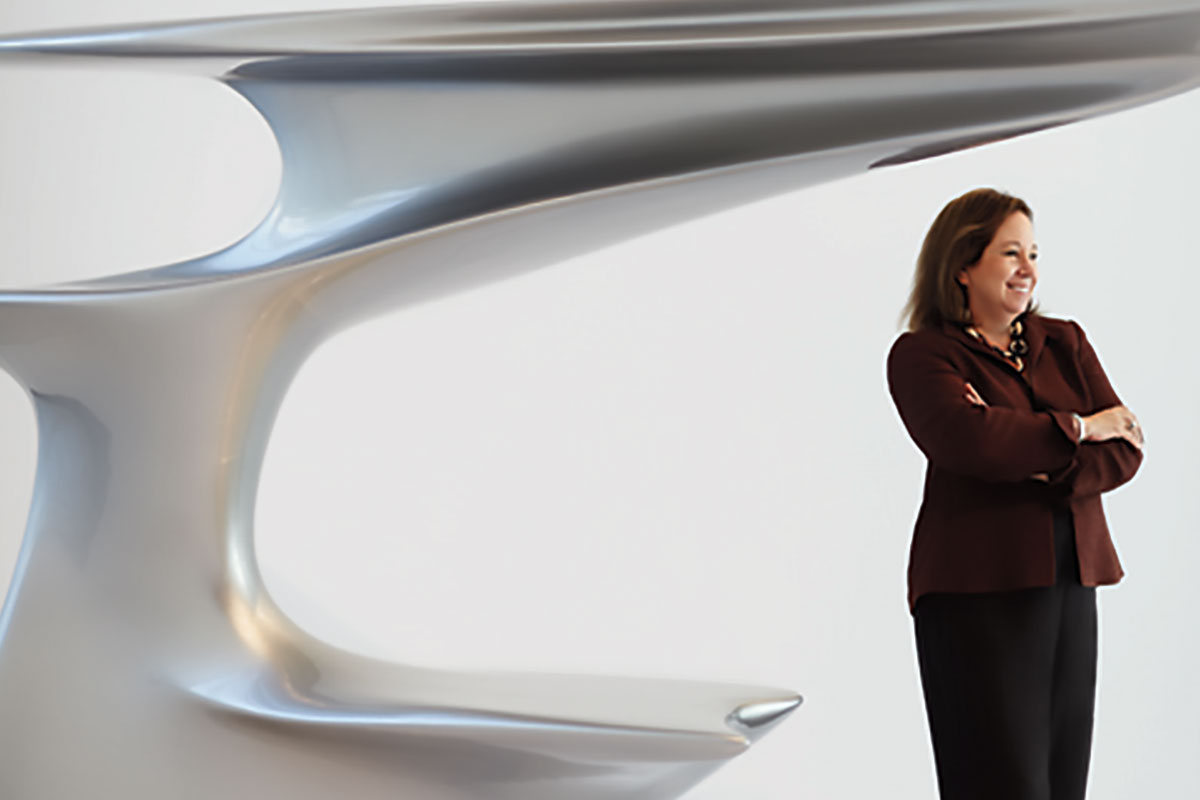 Constance Hess Williams '66, the first Democrat to represent her district in the Pennsylvania State Senate from 2001 to 2009, worked on behalf of children, families, and the environment. She is particularly known for authoring a law that allows women to publicly breastfeed their children. Williams served as a Barnard Trustee from 1989 until 2000, received the Barnard Distinguished Alumna Award in 2006, and the Frederick A.P. Barnard Award in 2014. In 2001, she endowed the Constance Hess Williams '66 directorship of Barnard's Athena Center for Leadership.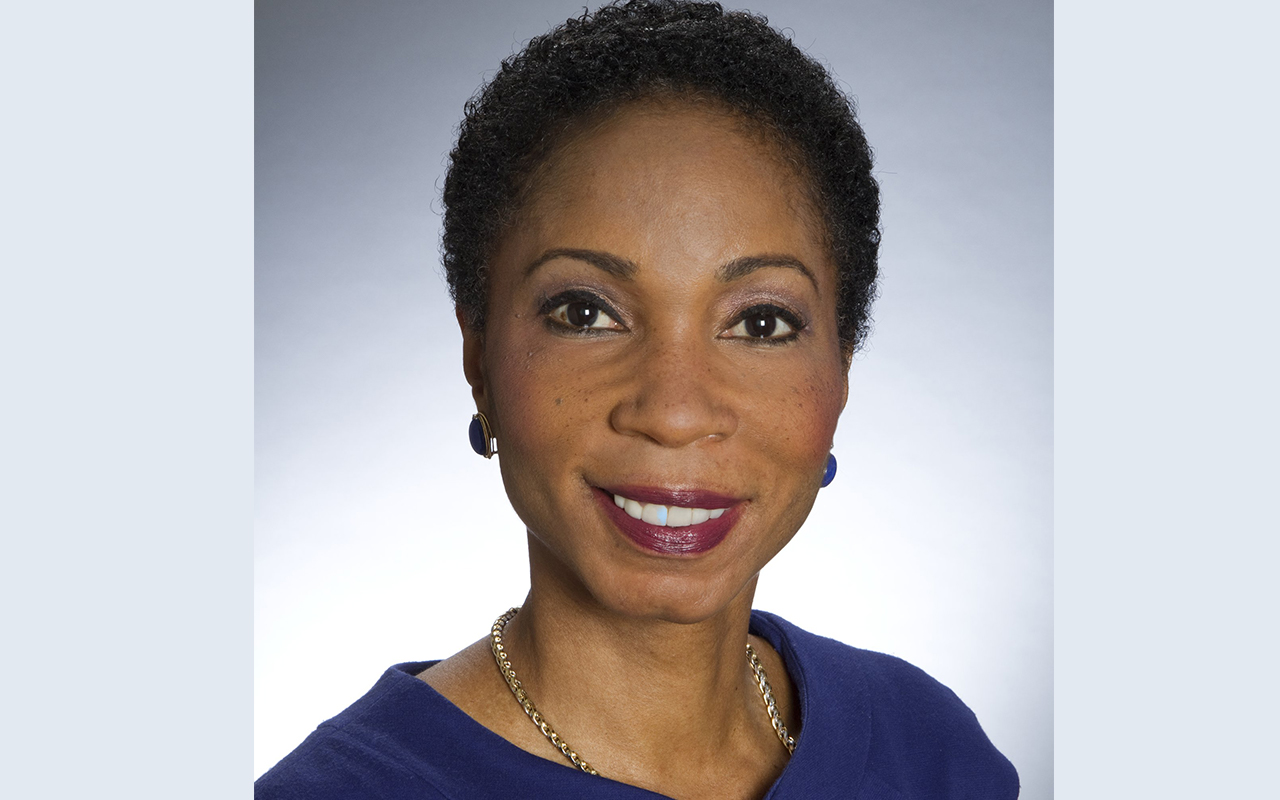 Currently president and CEO of the Chicago Community Trust, a civic and philanthropic engagement foundation dedicated to improving the region, Dr. Helene D. Gayle '76 has also led the international humanitarian organization CARE USA. Following her residency in pediatric medicine, Gayle joined the Epidemic Intelligence Service at the Centers for Disease Control and Prevention where she studied malnutrition in children, evaluated and implemented survival programs in Africa, and worked on HIV/AIDS research, policy, and programs. Gayle received Barnard's Woman of Achievement Award in 2001 and the College's highest honor, the Barnard Medal of Distinction, in 2012. 
1977 – 1987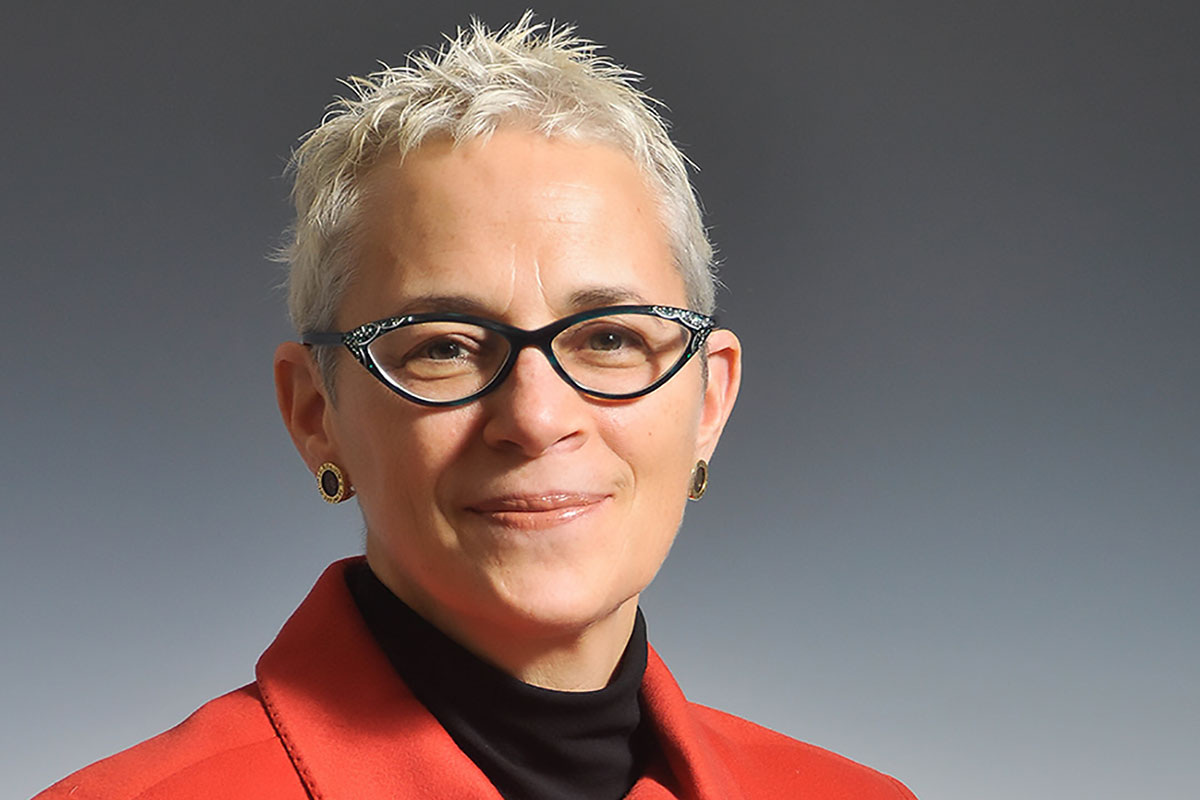 Two years after graduating from Barnard, chef, entrepreneur, and food trailblazer Liz Neumark '77 hired struggling New York City actors for her private parties business Great Performances: Artists as Waitresses. The company also operates restaurants in hotels and event spaces, supplies organic produce to farmers' markets, and donates to anti-hunger organizations. In 2019, the New York Post announced Great Performances will move to a newly renovated complex in the Bronx, where the Sylvia Center, a non-profit that educates neighborhood young people on how to cook nutritional meals, will be a neighbor. Neumark serves on the Governor's Food Policy Council and on the board of The Athena Center for Leadership. In 2012, she was presented with Barnard's Woman of Achievement Award.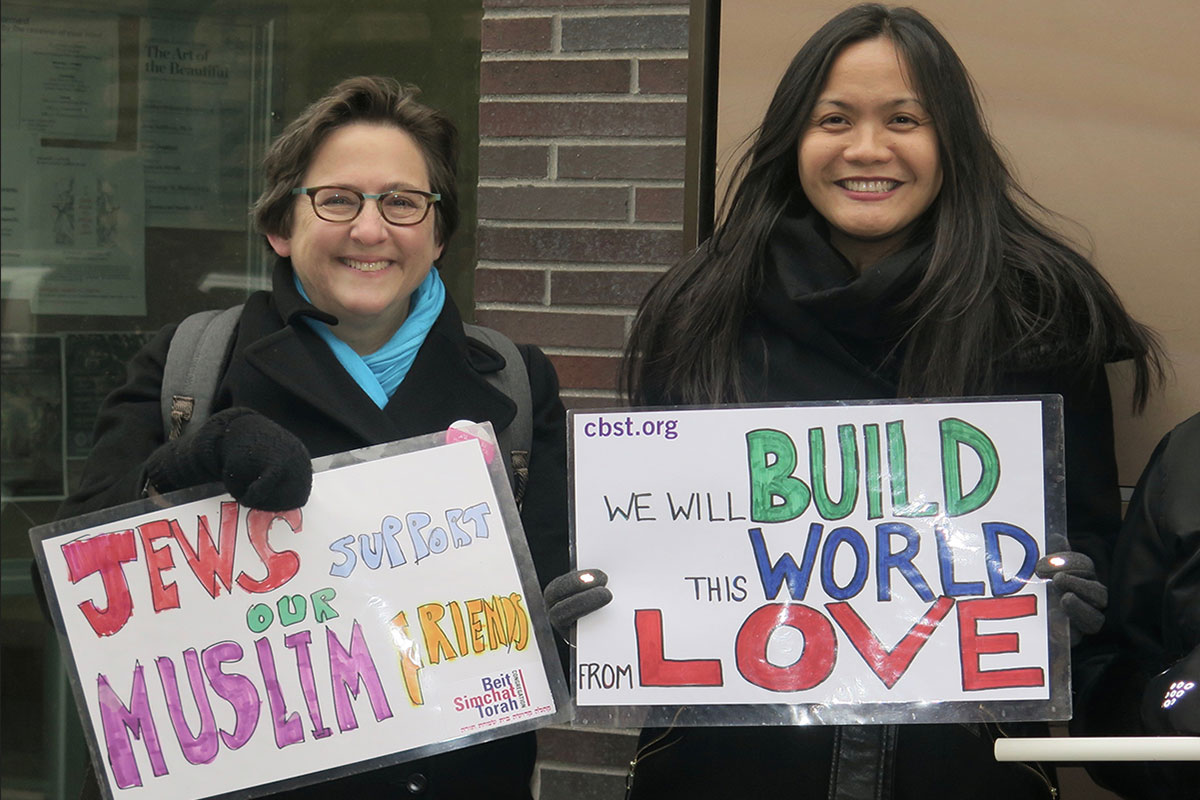 Rabbi Sharon Kleinbaum '81 has been arrested, jailed, and praised for her human rights advocacy work, which began in her first year at Barnard when she led protests against the College's investments in South Africa and against the proliferation of nuclear weapons. In 1992, Kleinbaum became rabbi of Congregation Beit Simchat Torah, the world's largest LGBTQ synagogue. Kleinbaum has also been involved in various citywide commissions and committees on LGBTQ runaway and homeless youth and human rights issues. Newsweek has called her one of the "50 most influential rabbis in America," and one of "150 women who shake the world." [Photo credit: Congregation Beit Simchat Torah]
1988 – 1998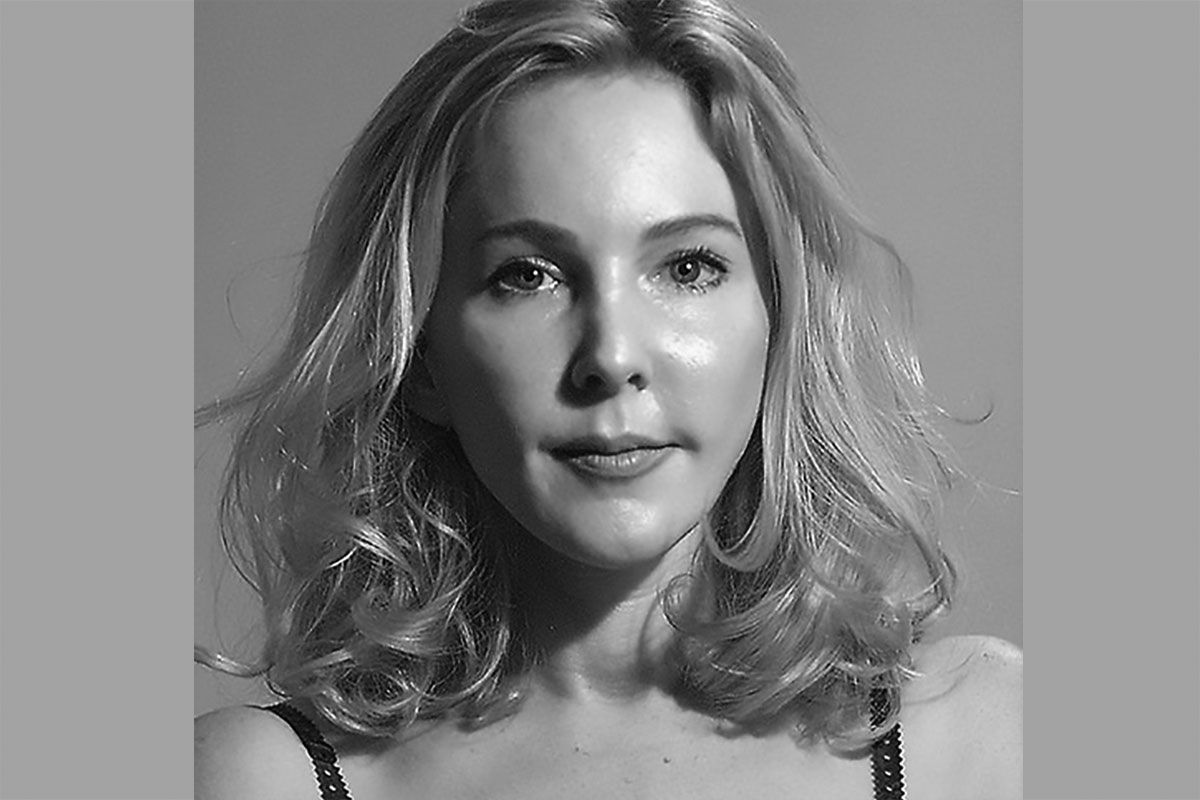 As a reporter for The Washington Post, Katherine Boo '88 won a Pulitzer Prize for Public Service for her series on neglect and abuse in group homes for the intellectually disabled. Her work led officials to begin reforms. In 2012, she won the National Book Award for Nonfiction for her first book, Behind the Beautiful Forevers: Life, Death and Hope in a Mumbai Undercity, which she wrote after living in the slums of Mumbai.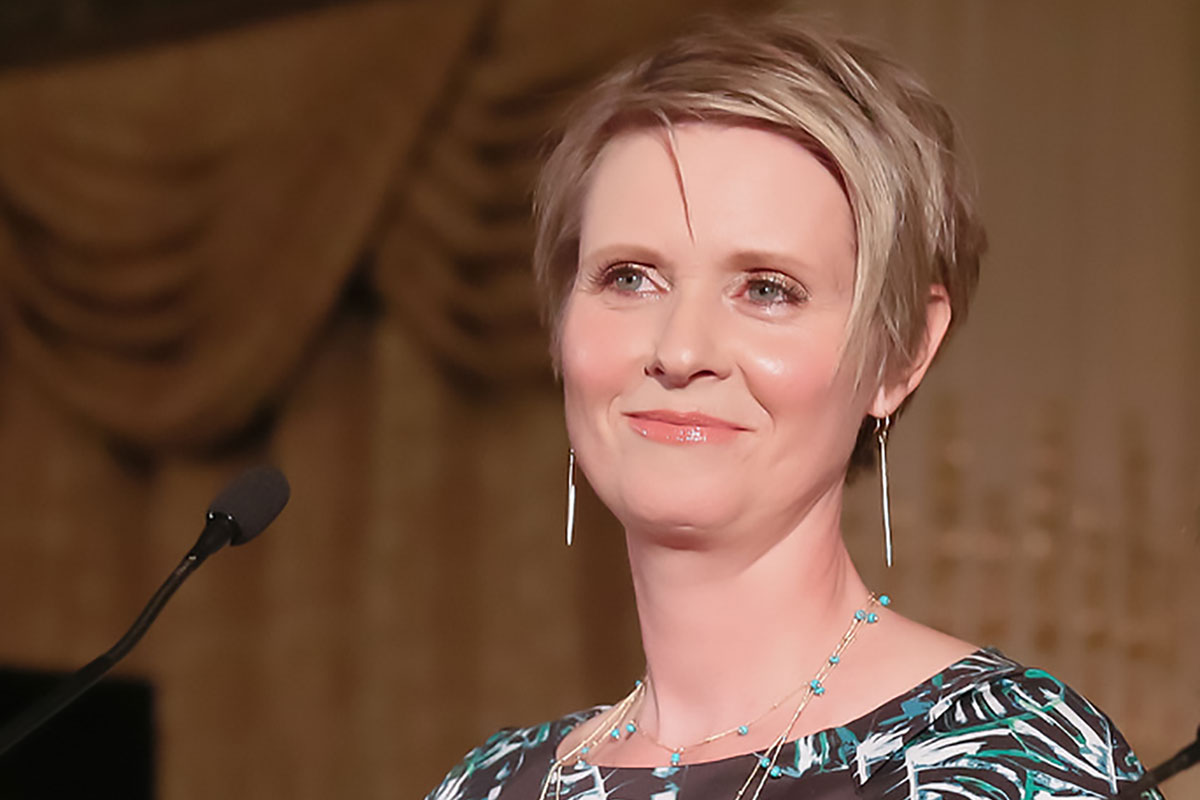 Actor and activist Cynthia Nixon '88 is most famous for her role on the hit TV series "Sex and the City," but she's also a long-time advocate for public education and a spokesperson for New York's Alliance for Quality Education, a public education fairness advocacy organization. In September 2018, Nixon ran a primary race against incumbent New York governor Andrew Cuomo for the Democratic nomination under a progressive ticket and argued for single-payer health care, new funding for public schools, universal rent control, and an overhaul of the City's subway system.
1999 – 2009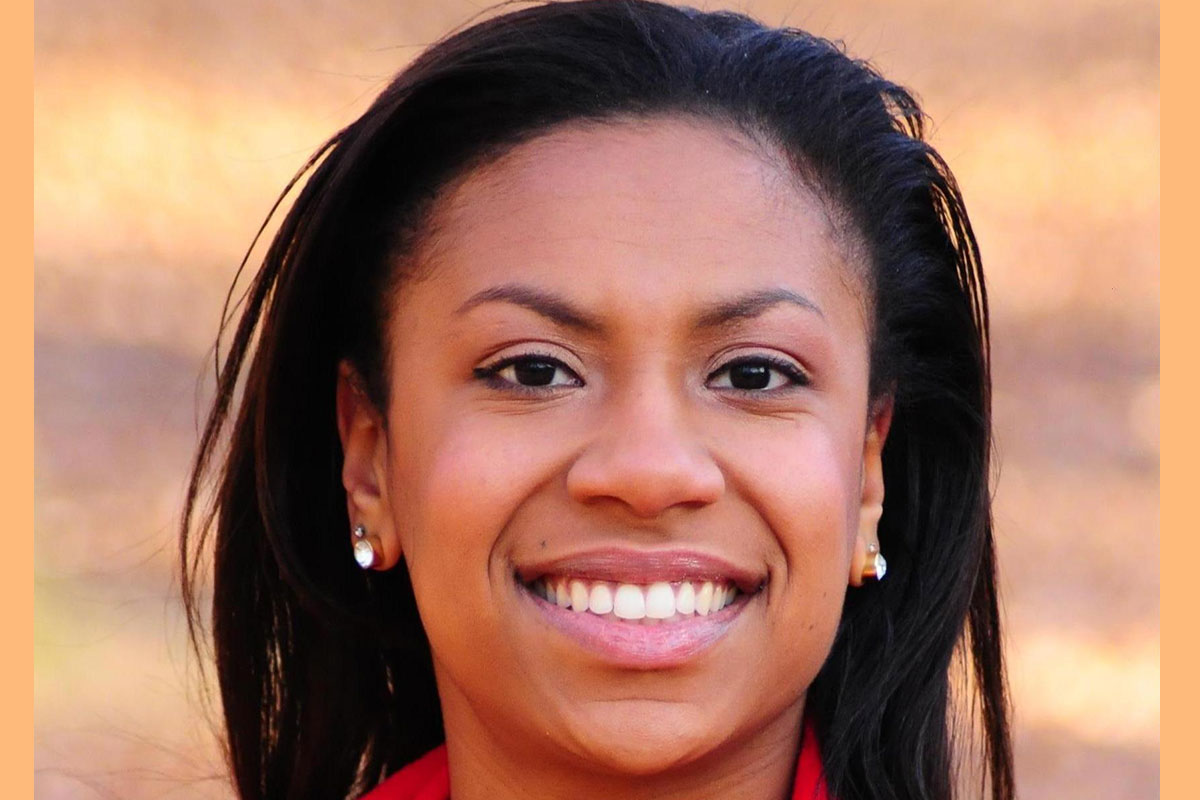 Award winning artist-activist and educator ​​Sydnie L. Mosley​ '07 creates work that is artistically sound and socially aware. ​She produces experiential dance performances with her all-women company SLMDances, which works in communities to organize for gender and racial justice. Mosley is also BCRW's first Alumna Fellow.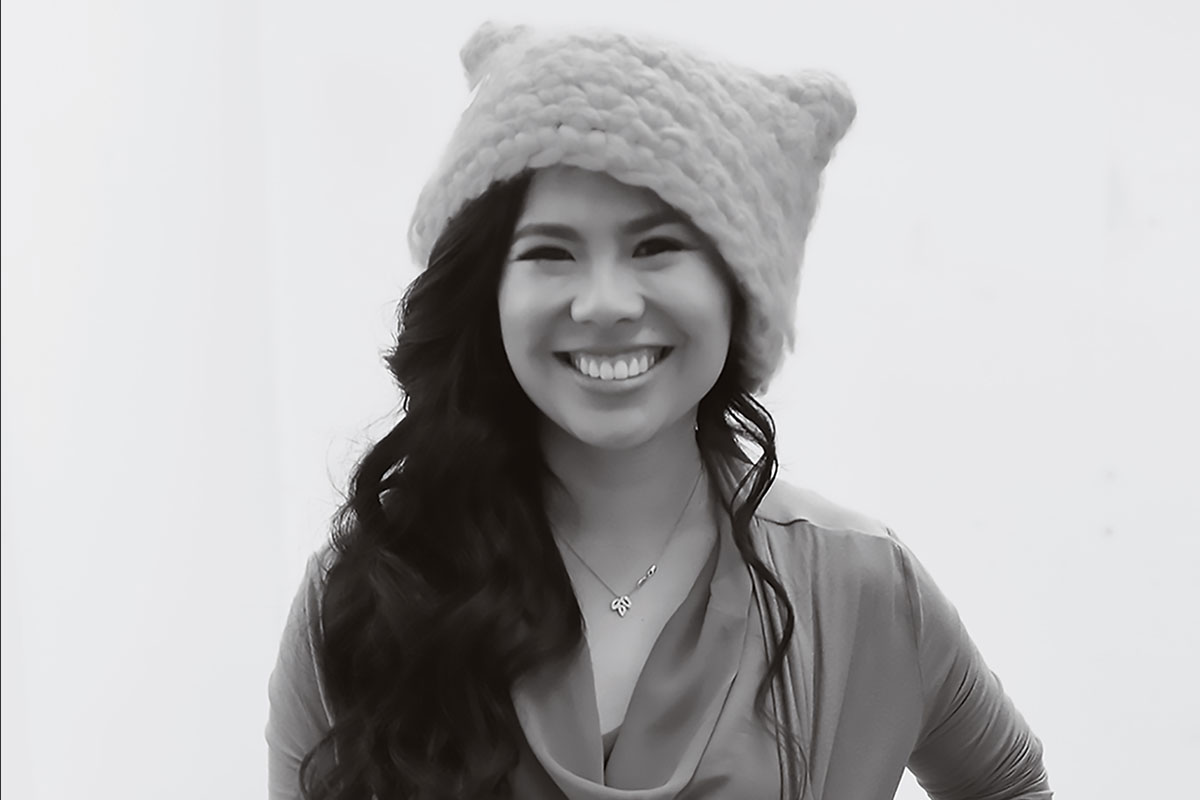 As cofounder of the 2016 Pussyhat Project, screenwriter Krista Suh '09 was a catalyst for the sea of hand-knit, hot-pink, cat-ear hats worn by millions across the globe at the Women's Marches on January 21, 2017. Today, as a piece of feminist history, a pussyhat can be found in London's Victoria and Albert Museum and in the permanent collection of the Michigan State University Museum.    
2010 – 2019
In 2017, Charlie Gillette '13 (director), Alicia Serrani '13 (producer), Isabella Serrani '16 (vocalist and performer), and Gabrielle Beans '14CC (assistant director and choreographer) launched the DIY social activism project #GETBEHINDUS via Teen Vogue. Aimed to encourage people to become more active, the video campaign featured a dozen diverse performers who wore patches on their clothing promoting a cause they support (Planned Parenthood, Black Lives Matter, Gender Equality, Marriage Equality, LGBTQIA Rights, March for Science, Religious Tolerance, Immigration Rights and Refugee Rights). The collective has also appeared in ElleUK and Bustle and they're currently working to create activism-based projects that lead up to the 2020 presidential elections. [Photo credit: #GETBEHINDUS]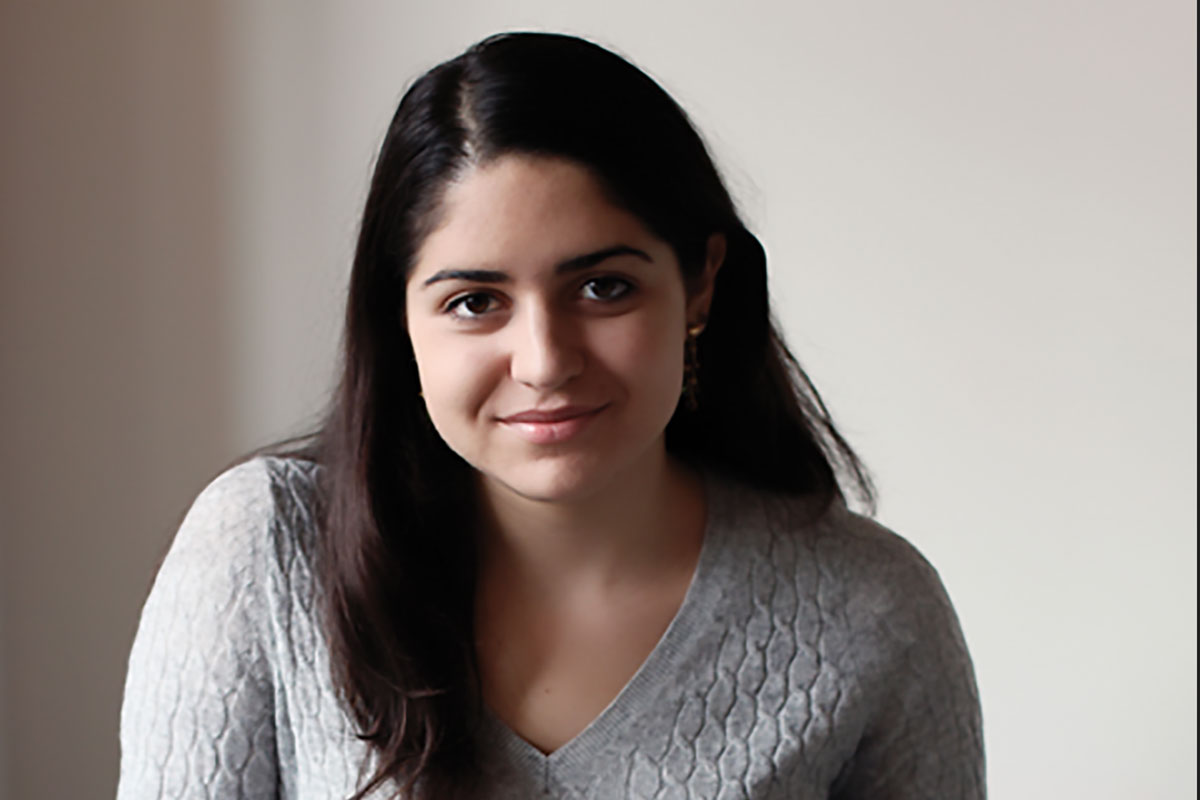 Julie Zeilinger '15 is a writer, activist, and the founder and editor of the feminist blog The FBomb, which partnered with the Women's Media Center in 2014. Newsweek has named her among "150 Women Who Shake the World" and More Magazine called her one of the "New Feminists You Need To Know." While at Barnard, Zeilinger published two books, including 2012's A Little F'd Up: Why Feminism is Not a Dirty Word.
---
For more on Barnard's amazing alumnae, visit:
---
*A special thank you for archival photo research assistance: Shannon O'Neill, director of Archives and Special Collections and personal librarian to the History Department; Martha Tenney, associate director of Archives and Special Collections and personal librarian to the American Studies Program; and Sarah Barlow-Ochshorn '20 and Tamsin Ramjit '19, archives assistants. All uncredited photos are courtesy of the Barnard Archives and Special Collections.