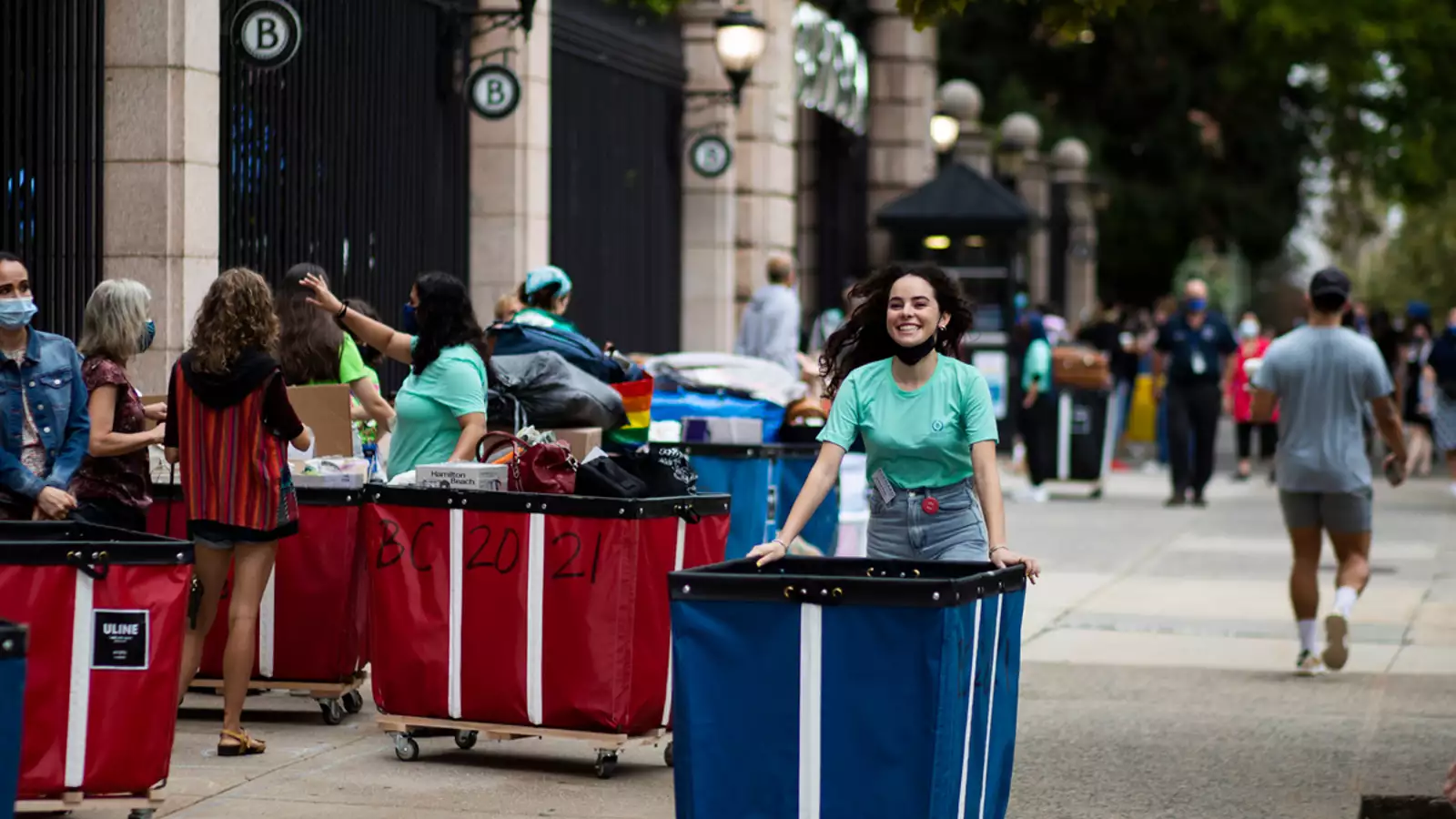 At the start of every academic year, Barnard's New Student Orientation Program (NSOP) welcomes first-year and transfer students to campus with programming designed to settle them into the community and the City. 
Although returning students don't usually require a reintroduction to the College, the interruptions caused by the COVID-19 pandemic made fall 2021 a little different. To address the needs of students who have been away from campus for over a year, Barnard created Welcome Home, Welcome Back Week (WHWBW), a weeklong program designed to reacquaint sophomores, juniors, and seniors with campus, while also welcoming new students. 
Lizeth Jaramillo, director of Residential Life and Housing, and Allie Emmerich, program director for Arts Education, designed and led WHWBW. Working in collaboration with the office of Residential Life and Housing and the office for Student Experience and Engagement, they organized events with each specific class year in mind, to give all students the full Barnard experience.
"Because the past year and a half has been challenging for all of us, we wanted to address the needs of the campus as a whole and remind students of the rich offerings available on campus," said Emmerich. 
"WHWBW hopes to bring together multiple class years and reorient students to the Barnard community they call home," Jaramillo added. Programming included ice-cream trucks during move-in, information sessions with campus clubs, and discussions and lectures on how to self-advocate and take initiative at Barnard. 
With September in full swing and the focus turning toward classes, many students have already participated in several WHWBW events to set a tone for their new year. After attending an in-person WHWBW event put on by Lift Up Barnard, Paulina Rodriguez '24 realized that even after a full year of classes, "that meeting was my first time in a real Barnard classroom." Rodriguez attended events specifically intended to empower sophomores in the classroom — such as Speaking Up in Class for Sophomores — and called the in-person events exciting. "It's just a totally different experience to be able to access the rest of the campus and actually see people," she said. 
Isabella Pechaty '23 said that even after being away for a year, picking up where she left off came naturally. "Coming back to campus reminded me why I worked so hard to get here in the first place," Pechaty said. "We can't get any of that lost time back, but I really appreciate how much thought the College has put into helping us readjust."
For senior Solby Lim '22, the ability to reconnect with other class years on campus is important. "It means a lot for incoming and continuing students to be in a community together on campus," said Lim. "I've really enjoyed being able to meet up with my friends, especially because we haven't seen each other in a long time. Hanging out with everyone has been amazing, and I'm excited to start senior year together."
Jaramillo and Emmerich hope that the events of the past week will enable the returning student body to remember the many benefits of their academic home. "We are hoping to kick off this semester in a positive way," Emmerich said, "with a strong sense of the supportive community that is Barnard."