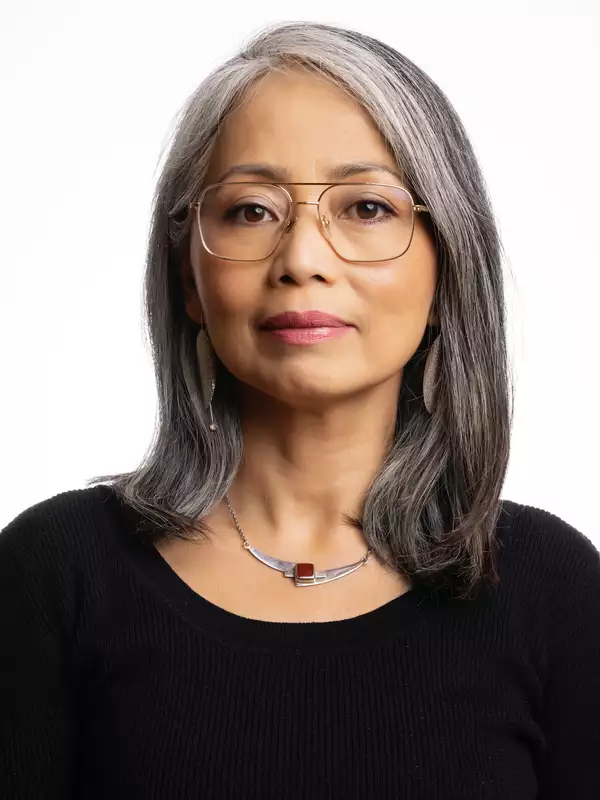 Neferti X. M. Tadiar
Professor of Women's, Gender & Sexuality Studies
Department
Women's, Gender and Sexuality Studies
Office
Contact
Neferti Xina M. Tadiar is Professor of Women's, Gender, and Sexuality Studies at Barnard College. She is the author of: Things Fall Away: Philippine Historical Experience and the Makings of Globalization (2009), and Fantasy-Production: Sexual Economies and Other Philippine Consequences for the New World Order(2004), which was awarded the Philippine National Book Award in Cultural Criticism for 2005. She is also co-editor of Beyond the Frame: Women of Color and Visual Representation (with Angela Y. Davis). Her most recent book Remaindered Life (Duke University Press, 2022), is a meditation on the disposability and surplus of life-making under contemporary conditions of the global empire of capital.
Professor Tadiar joined the faculty of Barnard in 2006, after teaching in the Department of History of Consciousness at the University of California, Santa Cruz for nine years, and before that, at the University of the Philippines, Diliman, Quezon City, Philippines. Her academic interests include transnational and third world feminisms; postcolonial and Marxist theory; critical theories of race and subjectivity; literary and social theory; cultural studies of the Asia Pacific region; Southeast Asia and Philippine studies.
Professor Tadiar's work examines the role of cultural practice and social imagination in the production of wealth, power, marginality, and liberatory movements in the context of global relations. Her research focuses on contemporary as well as historical Philippine and Filipino cultures and their relation to political and economic change, while addressing broader issues of gender, race, and sexuality in the discourses and material practices of colonialism, nationalism, transnationalism, and globalization.
BA, English & Comp. Lit., University of Philippines (1985)
MA, Comparative Literature, University of Minnesota (1991)
PhD, Literature, Duke University (1996)
Critical Social and Cultural Theory
Transnational and Third World Feminisms
Postcolonial Theory
Philippine/Filipinx culture and political economy
Asia Pacific Studies
Professor Tadiar's teaching includes such courses as "Critical Approaches in Social and Cultural Theory," "Gender, Globalization, Empire," "Feminist Postcolonial Theory," "Studies in U.S. Imperialism," "Labor and Life," "Genealogies of Feminism: Politics in the Wake of the Human."
Selected Publications
"The New Global Political Economy: Life-Times Lived and Expended (A Talk)", The Global Condition, Vol. 1, No. 1 (February 2018)
"By the Waysides, or, Bypass and Splendor", in "Scale and Form; or, What was Global Modernism?" ed. Thomas S. Davis and Nathan K. Hensley, Modernism/Modernity, January 2, 2018
"City Everywhere", Theory, Culture, and Society, Vol. 33 (7-8) (2016): 57-83.
"Ground Zero," GLQ, vol. 22, no. 2 (April 2016): 173-181.
"Decolonization, 'Race,' and Remaindered Life Under Empire," Qui Parle 23:2 (Spring/Summer 2015): 135-160. Republished in Critical Ethnic Studies: A Reader, ed. Nada Elia et al. (Durham, NC: Duke University Press, 2016)
"Life-Times of Disposability in Global Neoliberalism," Social Text 115, Vol. 31, No. 2 (Summer 2013): 19-47.
"Uneven Times, Times of Inequity," "Gender, Justice, and Neoliberal Transformations," Guest ed. Elizabeth Bernstein and Janet Jakobsen, The Scholar and the Feminist Online, 11.1-11.2 (Fall 2012/Spring 2013)
"Life-Times in Fate Playing," The South Atlantic Quarterly 111:4 (Fall 2012): 783-802.
"Life-Times in Becoming Human," Occasion: Interdisciplinary Studies in the Humanities v. 3 (March 15, 2012)
"Remaindered Life of Citizen-Man, Medium of Democracy," Southeast Asian Studies, Vol. 49, No. 3 (December 2011): 118-148.
"Unreconciled Lives" in Susan Gubar, ed. True Confessions: Feminist Professors Tell Stories Out of School(W.W. Norton, 2011)
"Empire," "Collective History: Thirty Years of Social Text," Special Issue of Social Text, Volume 27, Number 3 100, Fall 2009: 112-117.empire.pdf
"If Not Mere Metaphor…Sexual Economies Revisited," Special Issue of The Scholar and the Feminist Online, Issue 7.3 (Summer 2009)
"Borders on Belonging: Gender and Immigration," guest editor, Special Issue of The Scholar and Feminist Online (Summer 2008).
"Popular Laments: Affective Literacies of Democratization and War," Cultural Studies Cultural Studies , Volume 23, Number 1 (January 2009): 1-26 .
"By The Waysides of the Globopolis," Ctrl+P Journal of Contemporary Art, 5 (January 2007) [Part of the International documenta 12 magazines project]. Translated into Spanish and republished in Filipinas: Arte, Identidad y Discurso Poscolonial, ed. Juan Guardiola (Ministerio de Cultural, Gobierno de España, 2009). bythewaysides.pdf
"Cultural Revolution Internationale?" with J. L. Beller, "And Now China?" A Special Issue of Ctrl+P Journal of Contemporary Art, No. 11 (March 2008). ctrlp_issue11.pdf
"Metropolitan Life and Uncivil Death," PMLA Journal of the Modern Language Association of America Vol. 122, No.1 (January 2007): 1–9. metropolitanlifeuncivildeath.pdf
"Filipinas 'Living in a Time of War," Body Politics: Essays on Cultural Representations of Women's Bodies, O. Ma. de Guzman ed. (Quezon City: Center for Women's Studies, University of the Philippines, 2002). Reprinted in M. L. de Jesus, Pinay Power (Routledge, 2005).
"Challenges for Cultural Studies Under the Rule of Global War," Kritika KulturaNo. 4 (March 2004): 34–47. challengesforculturalstudies.pdf
"In the Face of Whiteness as Value: Fall-out of Metropolitan Humanness," Qui Parle Vol. 13, No. 2 (Spring/Summer 2003): 143-182. inthefaceofwhiteness.pdf
"Himala [Miracle]: The Heretical Power of Nora Aunor's Star Power," Signs: A Journal of Women and Culture Vol. 27, No. 3 (Spring 2002): 703741.
"The War To Be Human / Becoming Human in a Time of War," (translated into Portugese) Revista Estudos Feministas Vol. 9, No. 2 (December 2001): 360-366. Reprinted in The Color of Violence, A. Smith ed. (South End Press, 2006).
"Personal Diaspora," Diaspora and Immigration, V. Y. Mudimbe with S. Engel eds., and South Atlantic Quarterly Vol. 98, No. 1 (Winter 1999). personaldiasporasaq.pdf
"Prostituted Filipinas and the Crisis of Philippine Culture," Millennium: Journal of International Studies Vol. 27, No. 4 (1998): 927–954.
"Domestic Bodies of the Philippines," Sojourn: Journal of Social Issues in Southeast Asia, special issue on Southeast Asian Diasporas, V. L. Rafael and I. Abraham ed., Vol. 12, No. 2 (October 1997): 153–191.
"Manila's Assaults," Polygraph 8 (Summer1996).
"The Dreamwork of Modernity: The Sentimental Education of Imperial France,"boundary 2: an international journal of literature and culture Vol. 22, No. 1(1995): 143–183.
"Manila's New Metropolitan Form," differences: a journal of feminist cultural studies Vol. 5, No. 3 (1993): 154–178.
"Walter Benjamin and Emergent Literature," University of the Philippines Journal of English and Comparative Studies Vol. 1, No. 2 (1993): 43-60.
"Sexual Economies in the Asia-Pacific Community," What's In A Rim?, A. Dirlik ed. (Boulder, Colorado: Westview Press, 1993). 2nd ed. published by Rowman & Littlefield Publishers, Inc., 1998.
To celebrate Women's History Month (March), all month long we are highlighting select lists of Barnard's dedicated faculty who have been previously recognized with teaching and leadership awards.
March 29, 2021