Barnard Bold Conference 2023
Image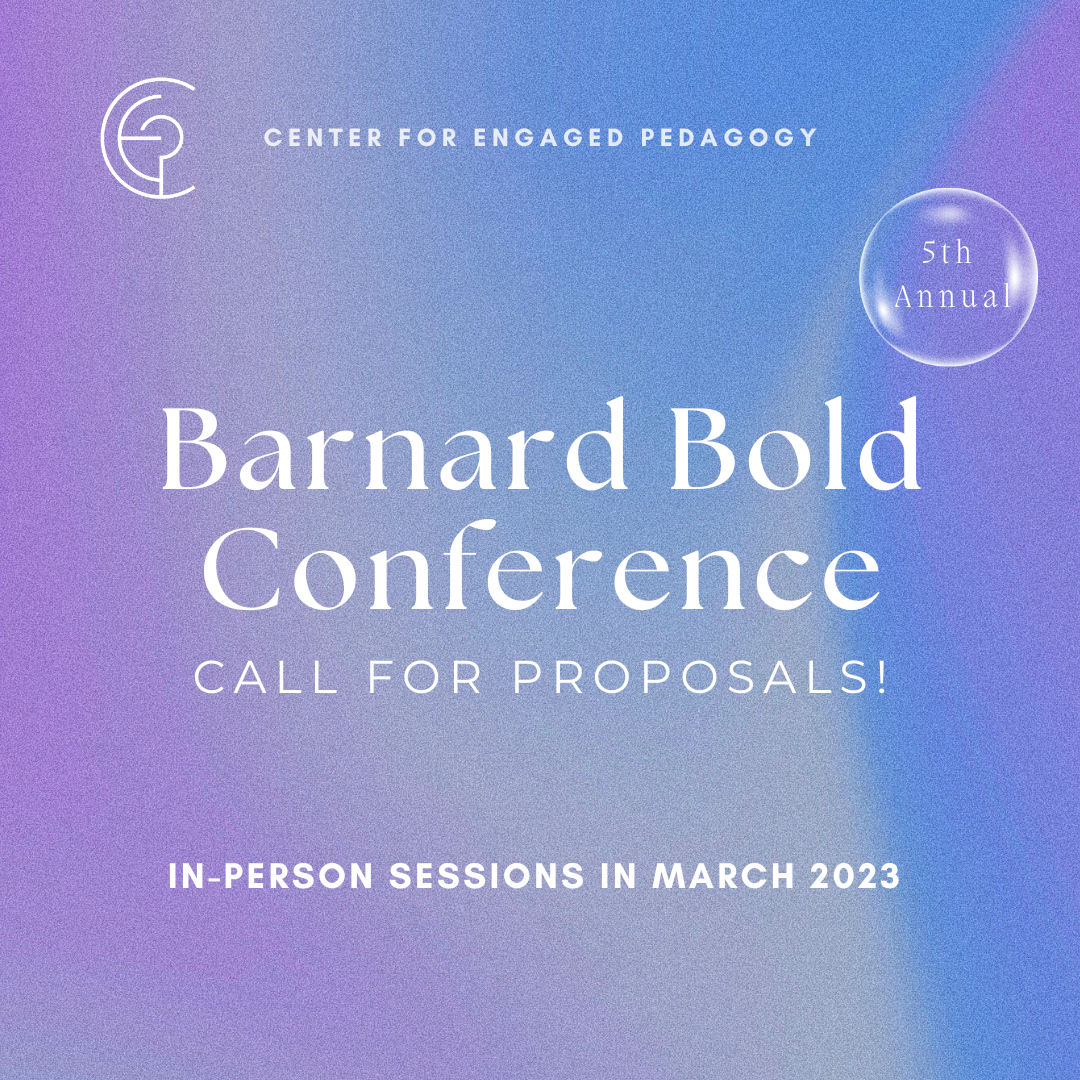 Since 2019, the CEP has supported students in the organization of the Barnard Bold Conference. The Barnard Bold Conference, first created in 2018 by Barnard alum Shreya Sunderram BC '19, is an annual event intended to facilitate conversations between faculty, staff, and students. The Conference is designed to strengthen teaching and learning at Barnard College by focusing on pedagogical themes and topics that are timely and important to the College community.  
In celebration of the 5th anniversary of the Bold Conference, the CEP invites Barnard students, faculty, and staff to  participate in pedagogical exploration, collaboration, and discussion. The conference will cover topics such as teaching during trauma, inclusive and accessible approaches, sustaining student engagement, and more. 
The Barnard Bold Conference will take place on Friday, March 31st.  and will consist of multiple sessions that engage with specific topics related to teaching and learning. We intend to develop sessions of various formats and length based on community needs and interests. We invite all Barnard students, faculty, and staff to submit a proposal to present at or facilitate a session. 
Call for Proposals
We welcome students, faculty, and staff to submit brief proposals (250 words) for sessions of interest. We highly encourage interdisciplinary collaborations between faculty and staff in addition to individual proposals. Please find further submission guidelines and suggestions for session topics and formats below. 
The deadline to submit a proposal is Friday January 27, 2023. Submit your proposal here.
Registration for the Conference will open in Spring 2023 and the conference will take place in March 2023. The Conference will consist of non-concurrent sessions that will take place in person on Barnard's campus.  Location to be announced. Please reach out to pedagogy@barnard.edu with any questions.
Conference Topic Areas and Session Formats
Proposals should plan for a 30-75 min long session (depending on your preference). Possible topics of interest and session formats are listed below, but submissions are not limited to these suggestions. 
Possible Topic Areas
Best practices for active learning

Teaching with compassion

Building community in the classroom

Sustaining student engagement in the classroom

Wellness and the classroom 

Grading and feedback

Alternative approaches to grading and assessment

Adapting assessments and feedback 

Thesis/Capstone

Anti-oppressive pedagogical frameworks for:

Trans inclusion

Reproductive justice

Climate 

Creating a more accessible classroom, from course design to space
Possible Session Formats
Roundtable Discussion: 

Round table discussions are organized conversations that encourage all people to speak collaboratively. 

Panel Presentation: 

A panel presentation consists of a group of people gathered to discuss a topic with participation from the audience. 

Individual Presentation on Research

: 

Individuals are encouraged to present their research. At the end of the presentation, a Q&A session may be held for more specialized questions and audience engagement. 

Collective Brainstorming & Problem-Solving

: 

This session format involves identifying an educational problem and collectively brainstorming ways in which it may be addressed. 

Workshop

: 

A workshop session involves leading an interactive learning session that may consist of hands-on exercises. This model encourages the audience to be creative and responsible in their own learning.

Tutorial Presentation

: 

A tutorial presentation provides methodological approach of how to use a particular tool or learning approach in the classroom. This may look like a session on creating community agreements in the classroom or navigating Canvas. 

Flash Conversation

: 

A flash conversation is a series of short,  moderated discussions around a series of questions.

Unconventional spaces: 

Sessions are welcomed to be held in unconventional spaces such as the Movement Lab, or outside spaces such as Futter field. 
Submission Guidelines for Proposals
Link to Submit a Proposal: Proposal Submission Form
A brief description (no more than 250 words) of your proposed session

The names and affiliations of all applicants

Your preferred session format

A list of 2-4 goals for your session

Any additional support or resources you may need from the CEP
Event Recap
Marking its momentous 5th anniversary, the Barnard Bold Conference celebrated its growth and impact over the years with a full day of exciting events and sessions. As the founder of the first Bold Conference, Shreya Sunderram, BC '19, delivered the keynote address. She shared her inspiring journey, from conceiving the idea for the conference as a Barnard student to her current role as an educator teaching social studies and civics at a New York City high school while also enrolled in a PhD program at the City University of New York's Graduate Center. Together, members of the Barnard community gathered for a diverse range of engaging sessions, delving into topics like confronting procrastination, addressing climate anxiety in the classroom, and exploring the introduction of generative AI within higher education.