Welcome back! We hope the information below will help smooth your transition back to life at Barnard. Please review these details carefully and ensure you complete all of the required steps. 
We understand that adjusting to life after study abroad can be a challenge. If you'd like to discuss your experience further or have suggestions for improving the process for future students, please don't hesitate to get in touch by booking an appointment below or emailing studyabroad@barnard.edu.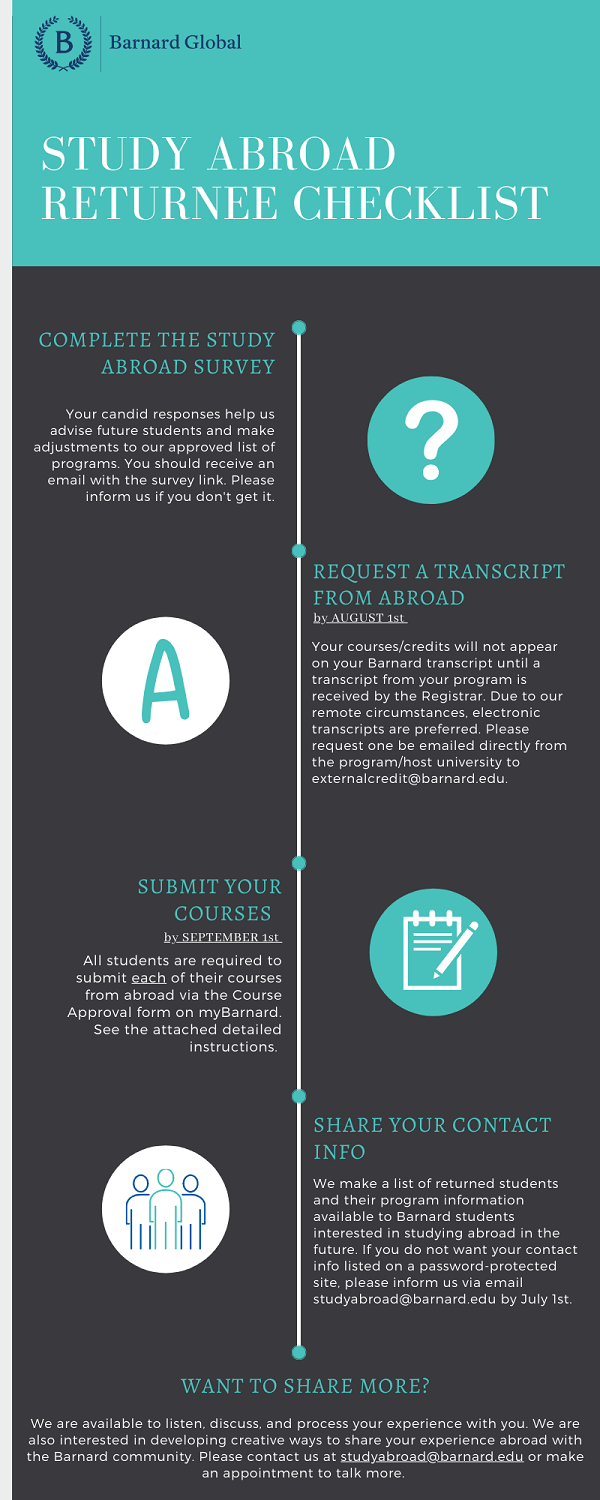 The grading policy for study abroad was amended for students abroad during the Spring 2020 semester due to the disruption caused by COVID-19. Students were informed of this policy change via email on March 27, 2020. Please note the policy outlined below applies to students who studied abroad during the Spring 2020 semester only. Review the regular study abroad grading policy here.
Spring 2020 Study Abroad Grading Policy
The offices of the Provost, Dean of Studies, and the Registrar have worked closely with Columbia University to make the following determination uniquely for this semester:
No course grades from abroad will be posted to the Barnard transcript, with the exception of students on Columbia-led programs, for whom courses appear as if on-campus, and so the Pass/Fail grading policy applies.

Titles of approved study abroad courses will be posted to your Barnard transcript alongside the number of credits the College awards for each.

Any course graded W, D, or F, will not be transferred to the Barnard transcript and no credit will be awarded.

Please keep in mind that Barnard has no say over the grading policy of our international partners, and the grades you receive on your host institution's transcript are effectively a part of your overall academic profile, even if they will not be appearing on the Barnard transcript.
Some additional ramifications of this policy to note:
If your program or host university allows for the posting of Pass/Fail grades, you are free to opt for this.

Courses from abroad with a passing grade can be used to satisfy major, minor, and general education requirements, if you received approval for the courses to satisfy those requirements.

Grades from abroad for this semester will not be factored into major GPA calculations or used to calculate Latin Honors.

Remember that you are still expected to be enrolled in the equivalent of 12 Barnard credits for the semester. If you are unsure of how your host university's credit system converts to US credits, please reach out to us for clarification. For those of you who are supplementing your credit from abroad with Barnard condensed courses, independent studies, or SIPA short courses, please note that the on-campus Pass/Fail policy applies in these cases.
Review the course approval process here. Follow step by step instructions on submitting courses via myBarnard here.
For students who attended Columbia-led programs, course forms need only be submitted for courses you wish to be evaluated for major, minor, or General Education requirements.
*Spring 2020 study abroad students should submit all course forms by September 1, 2020.