The Lida Orzeck '68 Poster Session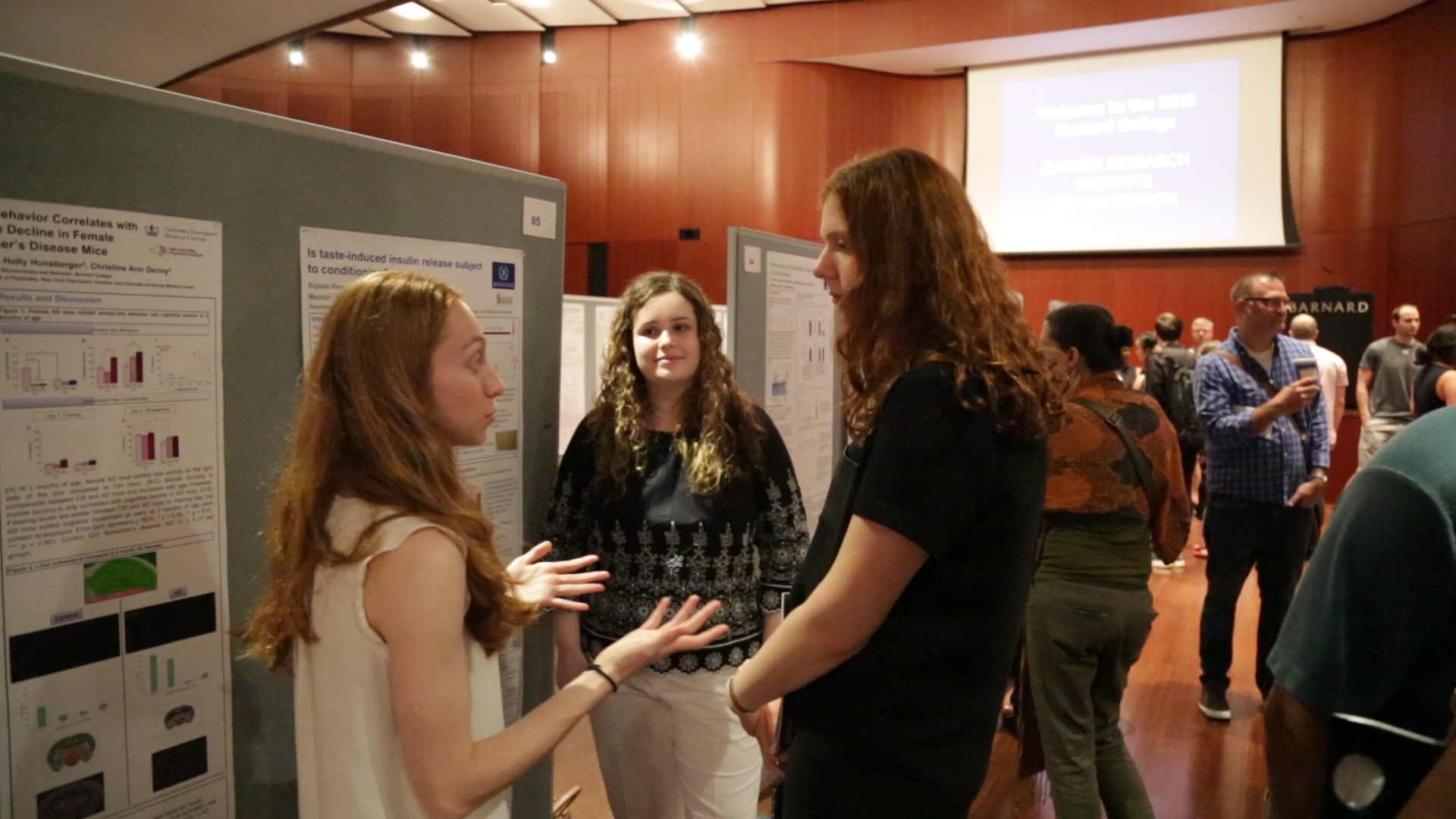 The 2022 Lida Orzeck '68 SRI Poster Session: Logistical Details and Important Links
We are so excited to welcome guests back to an in-person Poster Session. This year's event takes place on August 3 from 1-3PM in the Diana Center on Barnard's Campus.
Throughout the event, please feel free to ask questions of staff stationed at information desks on the first and second floors, and on Lower Level 2 (outside the Glicker-Milstein Theater). Staff will also be monitoring sri@barnard.edu if you would prefer to send quick questions via email.
Please review the below materials to help you navigate the event:
Quick Guide, with a full event schedule and list of posters arranged alphabetically by student last name (LINKED HERE)
List of posters, alphabetical by student participant last name (LINKED HERE)
This year's Poster Session "Year Book," featuring photos, acknowledgements of philanthropic supporters, and a timeline of the 8-year history of SRI (LINKED HERE)
Opening Remarks by Provost & Dean of the Faculty Linda Bell and SRI Co-Director Professor Koleen McCrink at 1:00PM in the Diana Event Oval (Lower Level 1).
Students with Odd-Numbered Posters will be asked to present their work from 1:00PM - 2:00PM (Group A).
Students with Even-Numbered Posters will be asked to present their work from 2:00PM - 3:00PM
Posters are located in several venues throughout Diana Hall:
Neuroscience & Behavior (Posters 1-86): Diana Event Oval and Diana LL1 Lobby
Psychology (Posters 87-112): Diana Event Oval
Biology (Posters 113-171): Glicker-Milstein Theater (Room LL200)
Physics (Posters 172-185): LL2 Lobby
Chemistry (Posters 186-219): Student Dining Room (Second Floor)
Computer Science (Posters 220-233): Student Dining Room (Second Floor)
Environmental Science (Posters 234-258): Second Floor Lobby
About the Lida Orzeck '68 Poster Session
At the Summer Research Institute's capstone event, the Lida Orzeck '68 Poster Session, students present their final research. As of 2019, it is supported by the generosity of alumna Lida Orzeck '68. The event is open to members of the Barnard community and participants in SRI, including faculty, students, staff, parents, alumnae, and other SRI guests. (Family are encouraged to attend!)
Held each year in the Diana Center's Event Oval, the Poster Session hosts almost 200 students who present their final research and receive feedback from faculty advisors who have been mentoring them throughout the summer. The public is also welcome to attend in support of one of New York City's largest gatherings dedicated to young women scientists. Questions can be sent to sri@barnard.edu.
Previous Poster Sessions