When Isadora Ruyter-Harcourt '16 was growing up in Mongomery, Ala., and later Chicago, her father would come home from his job as a defense lawyer and discuss the clients he represented, some of them inmates on death row. Ruyter-Harcourt even attended court sessions to watch her father's oral arguments.
"I was blessed to have grown up aware of these issues," says Ruyter-Harcourt, who developed a passion for public interest law. She has served as an intern for the Bronx Defenders, which provides legal services to the poor, and at the Southern Center for Human Rights in Atlanta. This summer, she will return to the Southern Center for Human Rights as a Liman Fellow, one of 11 Barnard students who have prestigious summer fellowships in criminal justice and public interest law.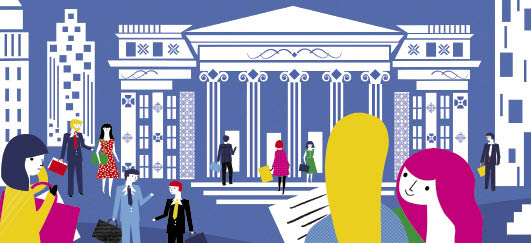 Three students have been selected for the Judith Kaye-Arthur Liman Public Interest Yale Law School Summer Fellowship, which comes with a $4,000 stipend. Kaye '58 was the first woman to serve as chief judge of the State of New York. Eight students received the Daniel and Florence Guggenheim Foundation Oscar S. Straus II Fellowship in Criminal Justice, with funding of up to $4,500 through Princeton University.
"There's so little money for students to do public interest," says Abigail Lewis, associate dean for pre-professional advising, which makes these fellowships especially critical.
Barnard's Liman Fellows have worked at the Legal Aid Society and Harlem Legal Services. Guggenheim Fellows have worked at Bronx Defender Services and the Correctional Association of New York. They also participate in a biweekly seminar on the Barnard campus.
Evan Zavidow '17 has been a Guggenheim Fellow and is a Liman Fellow this summer. She is interested in prison reform, particularly the intersection of incarceration and sexual politics. She worked at the Vera Institute of Justice last summer on a project that helps provide access to higher education for those who are incarcerated or were formerly incarcerated.
Liman Fellow Marielle Greenblatt '17 hopes to work on issues that affect Latino communities: "I want to engage with those who are negatively impacted by their interactions with the justice system."
Many alumnae who serve as fellows pursue criminal justice and public interest law after they graduate from Barnard.
Gabrielle Fromer '14, currently in her second year at Georgetown University Law Center, is spending the summer at the Manhattan district attorney's office. As a Liman Fellow, she worked at the Legal Aid Society in Manhattan, helping locate and interview witnesses and attending family court. Liman Fellows also participate in a spring colloquium at Yale Law School, at which, says Fromer, "I met students who were passionate about justice. It was an inspiring place to be."