On April 25, 2022 — after two years of virtual events — alumnae, students, family, and friends joyously gathered in person at New York City's American Museum of Natural History (AMNH), under the giant whale in the Milstein Family Hall of Ocean Life — for the College's Annual Gala. Each year, proceeds from the Annual Gala help to underwrite student financial aid at Barnard — which nearly half the student body receives — sustaining the College's unwavering commitment as a need-blind institution that provides an unparalleled education to extraordinary young women, regardless of their financial means.
Co-chaired by Barnard Trustees Karlie Kloss and Caroline Bliss Spencer '09, the Gala raised nearly $2.6 million, ensuring that current and future generations of Barnard women continue to receive a world-class education.
This year's Annual Gala, which also featured a prerecorded virtual program that included a live Zoom discussion with six of the evening's honorees, celebrated the Barnard Year of Science and honored all Barnard alumnae and current faculty who are members of the National Academies of Science, Engineering, and Medicine. The honorees included various women history-makers from the fields of mathematics, academia, genetics, and medicine; they include chemists, cancer researchers, humanitarians, behavioral scientists, health economists, and more.
"Tonight's Gala honorees are mission-driven leaders who have dedicated their lives to deepening our understanding of some of the most complex topics in the world," Bliss Spencer said. "It's clearly not easy to achieve this level of recognition," Kloss added, "especially for women in fields historically dominated by men, but a remarkable 22 members of the Barnard community have been selected."
The AMNH setting was chosen this year to highlight the College's eminence in the sciences and its commitment to support students with the knowledge and skills needed to become leaders in the fields of their choice. As a critical component of the liberal arts, STEM (science, technology, engineering, and math) is fundamental in helping students develop the intellectual resources to explore different opportunities as new fields, ideas, and technologies emerge.
In her remarks, President Sian Leah Beilock expressed her gratitude to alumna Diana Vagelos '55 and Dr. P. Roy Vagelos '54VP&S, who have committed $55 million to fund the renovation and expansion of Altschul Hall into the Roy and Diana Vagelos Science Center, a modern center for scientific education and research. The gift, more than double the size of any previous single donation in Barnard's history, will secure the College's prominence in the field and further elevate it as a leader in preparing young women and underrepresented voices for careers in STEM fields.
"Developing an understanding of STEM fields is a critical component of a liberal arts education," said President Beilock. "We rely on innovative ways of marrying the creative with the quantitative in order to address the complex challenges of today's world. At its core, that's what the Barnard Year of Science is all about. Even the Gala proves to be a testament to our mission. Technology is what has brought us together, and creativity is what helps us feel connected even while we're miles apart."
Speaking to the nearly 600 attendees — the largest audience ever for a Barnard Annual Gala — Cheryl Glicker Milstein '82, P'14, chair of the Barnard Board of Trustees, remarked about the importance of donor engagement and how exciting it was to see so many fresh faces mixing with seasoned Gala supporters.
Video tributes of the 22 recipients of the 2022 Joan Rivers '54 Trailblazer Award were presented by four extraordinary students — biochemistry major and first-time recipient of the Golden Family Scholarship Mahniz Reza '23; STEAM Fellow Izzy Lapidus '24, who is majoring in computing, design, and pedagogy; Summer Research Institute and Barnard's Science Pathways Scholars Program participant Daniela Hikari Yano '23, who studies the space between blazers using gamma-ray telescopes alongside Professor Reshmi Mukherjee; and Michaela Davis-Pedlar '23, a pre-med, neuroscience and behavior major.
Pamela Wiznitzer '07 set the mood at the Gala by creating and serving a science-themed cocktail, "The Variable." Bacchantae performed an uplifting closing performance of "Defying Gravity," and solo pianist Sarah Senior '24 complemented the spectacular event with performances throughout the evening.
On April 26 and 27, the College also hosted regional Watch Parties — in London and Los Angeles, respectively— for local Barnard alumnae, parents, and students to watch the virtual Gala prerecorded program together.
This year's Gala reinforced Barnard's standing in the sciences and its mission to prepare young women and underrepresented voices for careers in STEM and all fields.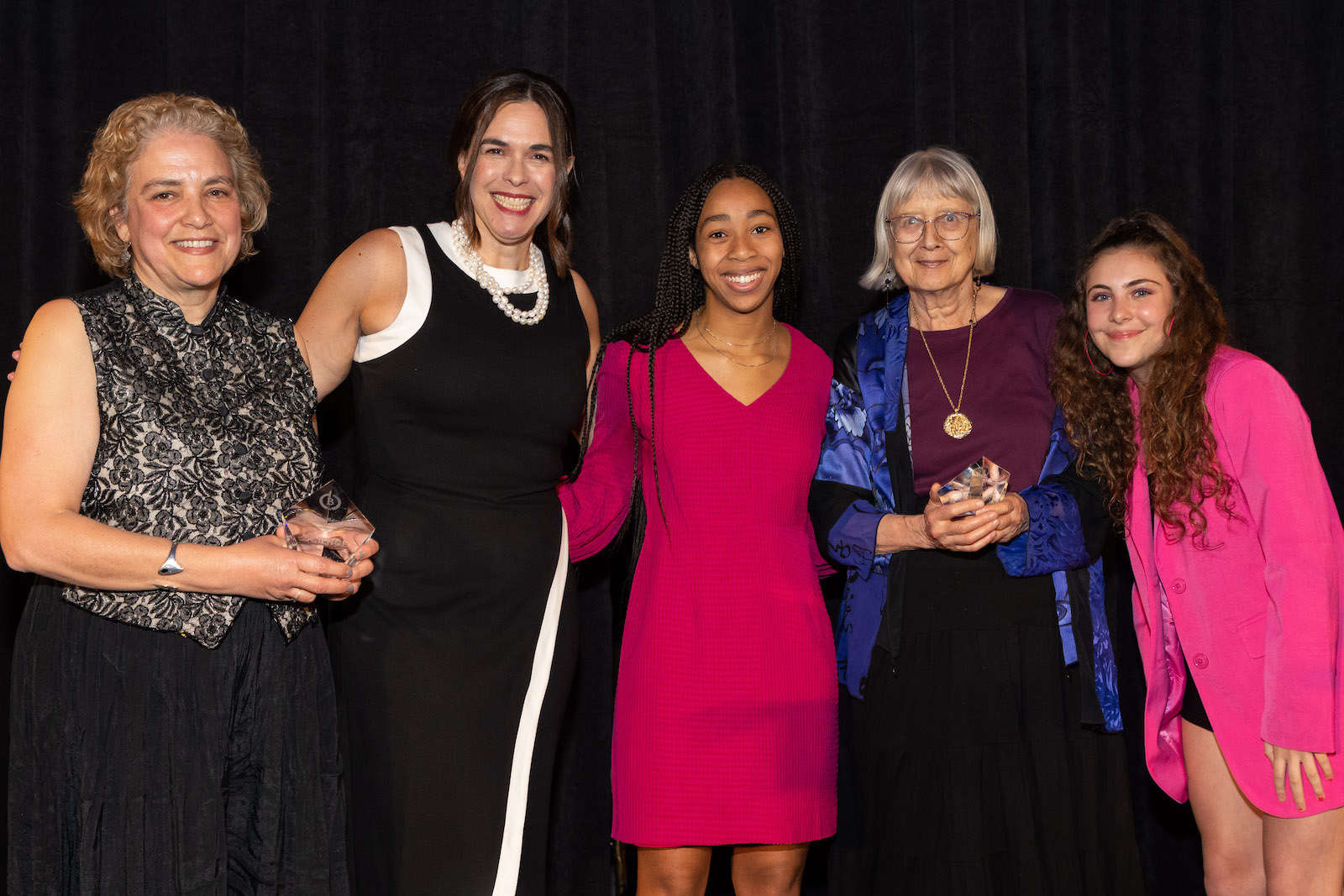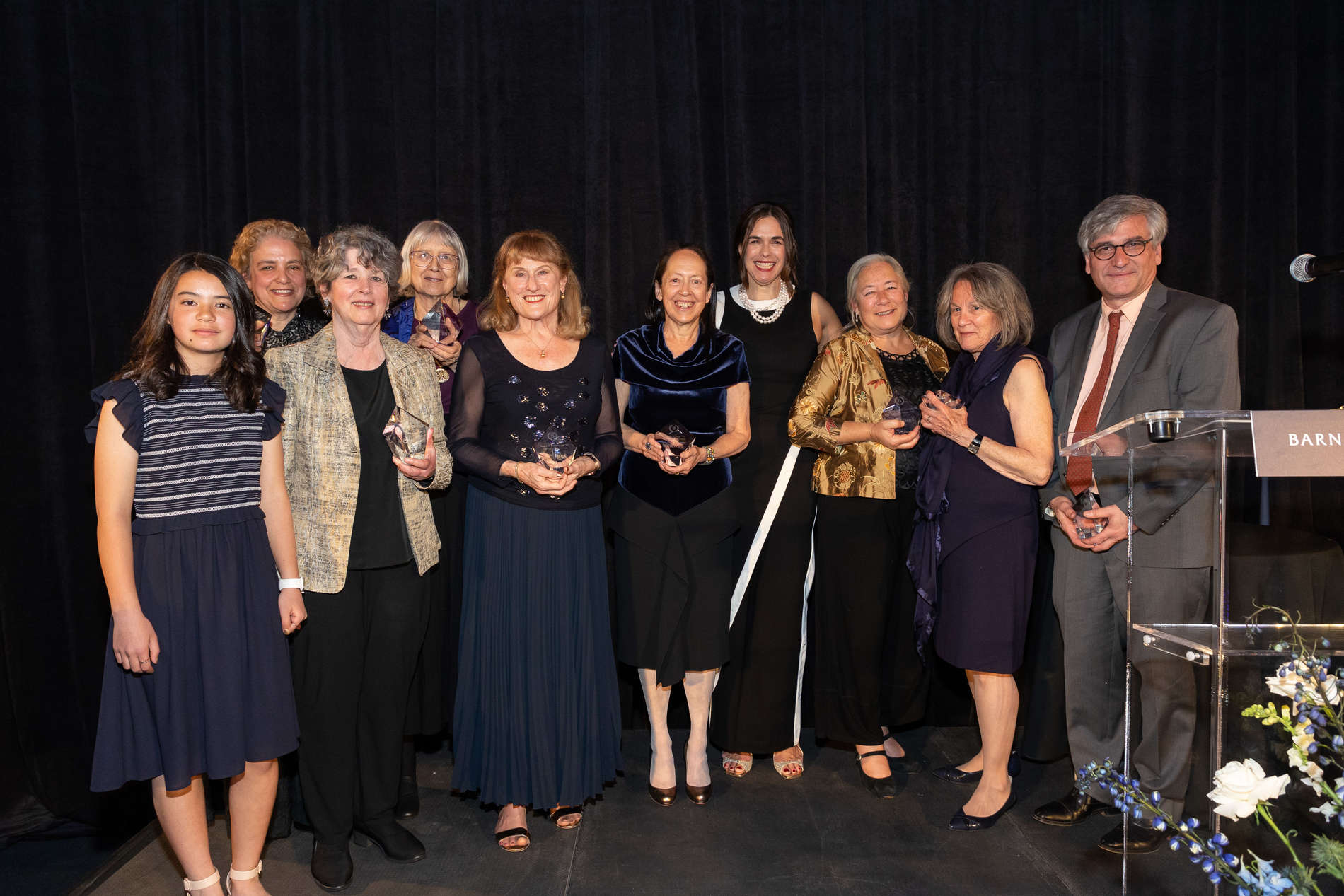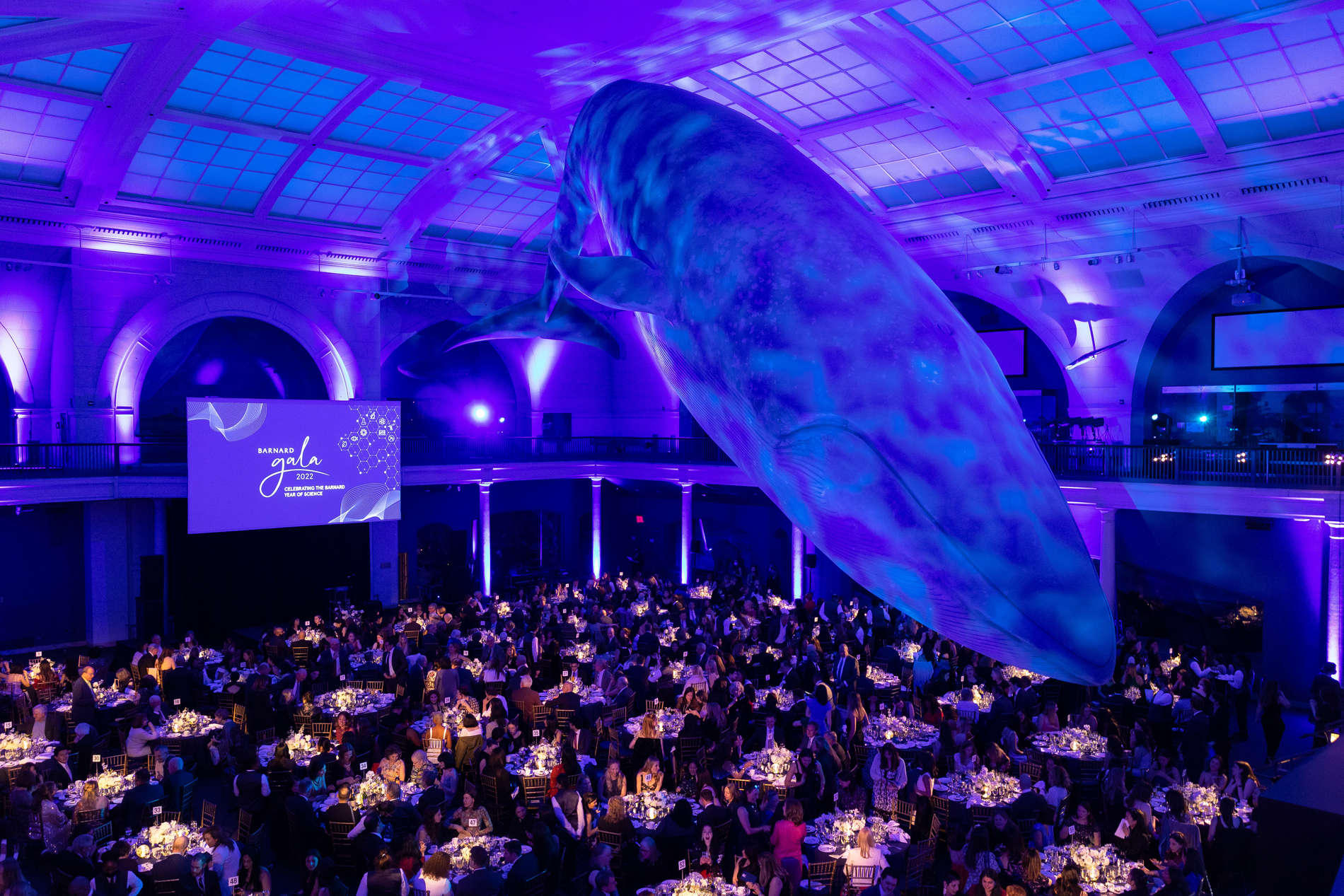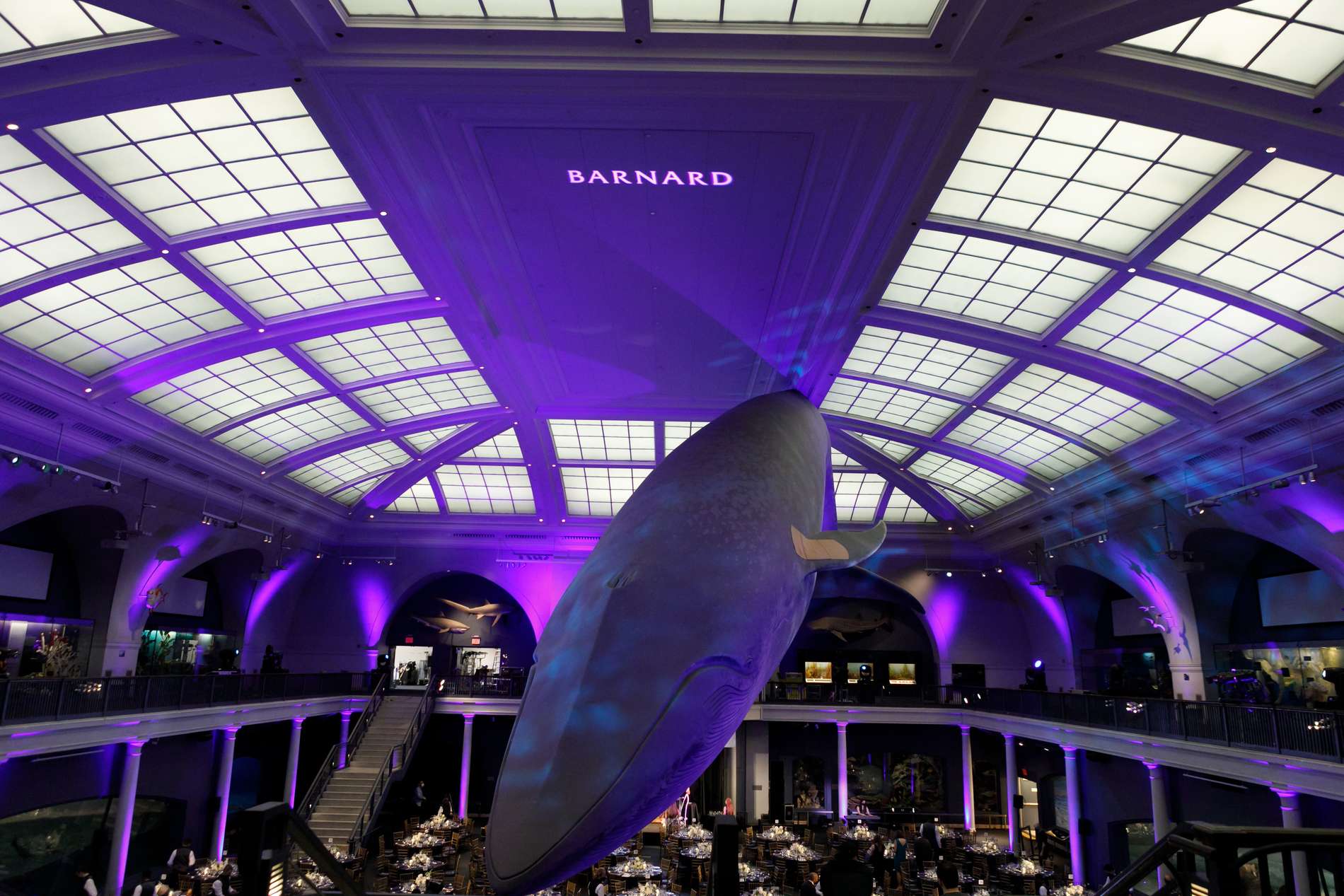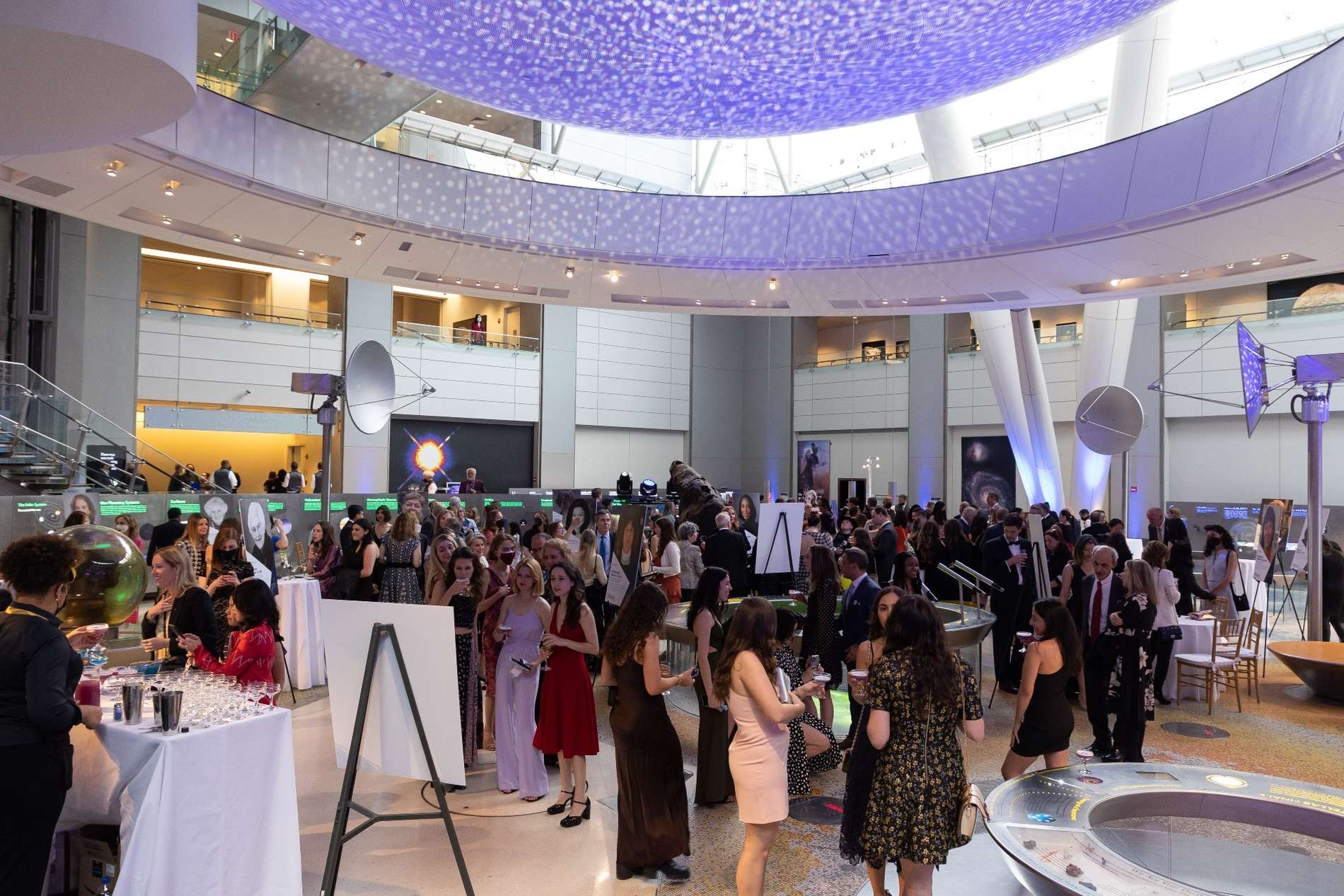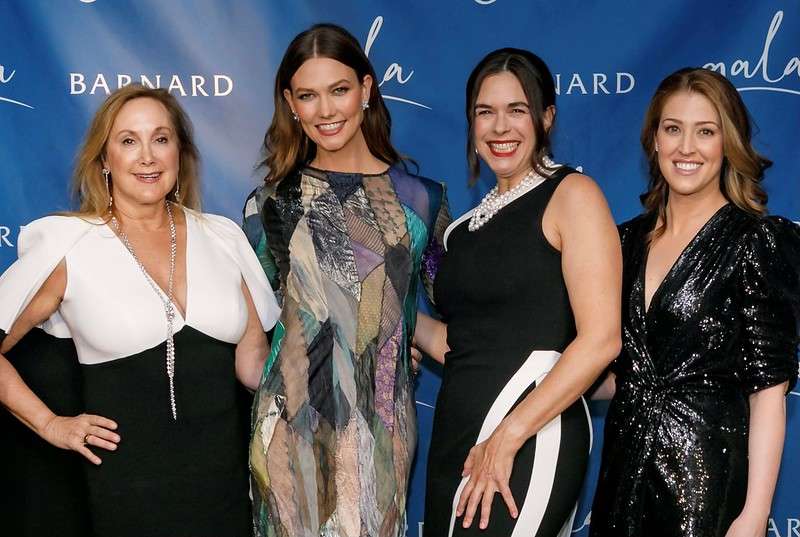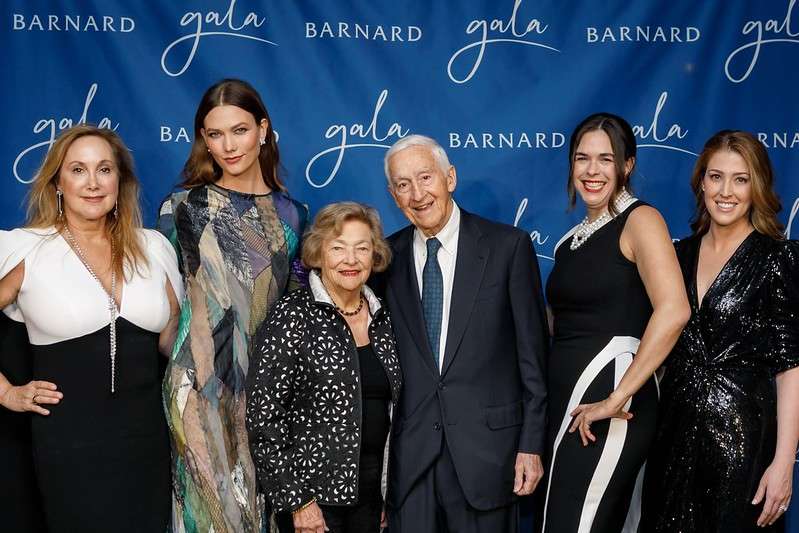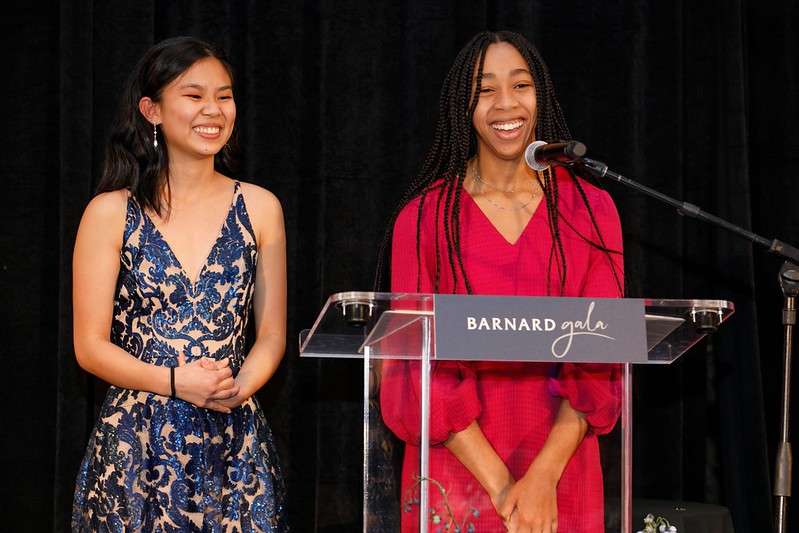 (L to R) Honoree Karen I. Goldberg '83, P'22, President Sian Leah Beilock, Michaela Davis-Pedlar '23, Honoree Professor Dusa McDuff, Izzy Lapidus '24
The Gala honored 22 alumnae and current faculty members of the National Academies of Science, Engineering, and Medicine. Pictured are the alumnae, faculty, and a few of the family members of honorees who attended in person.
Barnard College Annual Gala at the American Museum of Natural History in the Milstein Family Hall of Ocean Life 
Barnard College Annual Gala at the American Museum of Natural History in the Milstein Family Hall of Ocean Life 
Barnard Gala cocktail reception in the American Museum of Natural History's Cullman Hall of the Universe
(L to R) Chair of Board Trustees Cheryl Glicker Milstein '82, P'14; Barnard Trustee and Gala co-chair Karlie Kloss; President Sian Leah Beilock; Barnard Trustee and Gala co-chair Caroline Bliss Spencer '09
(L to R) Chair of Board Trustees Cheryl Glicker Milstein '82, P'14; Barnard Trustee and Gala co-chair Karlie Kloss; Diana Vagelos '55; Dr. P. Roy Vagelos '54VP&S; President Sian Leah Beilock; Barnard Trustee and Gala co-chair Caroline Bliss Spencer '09
(L to R) Students Daniela Hikari Yano '23 and Michaela Davis Pedlar '23