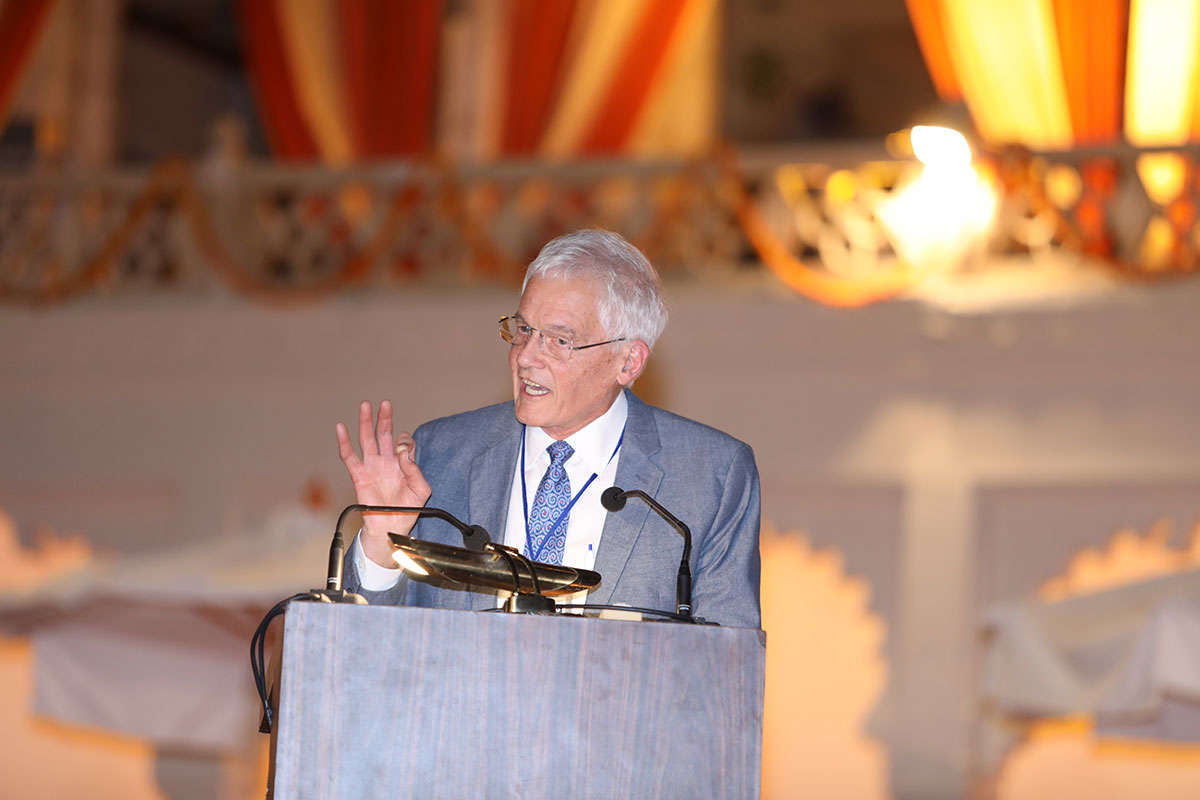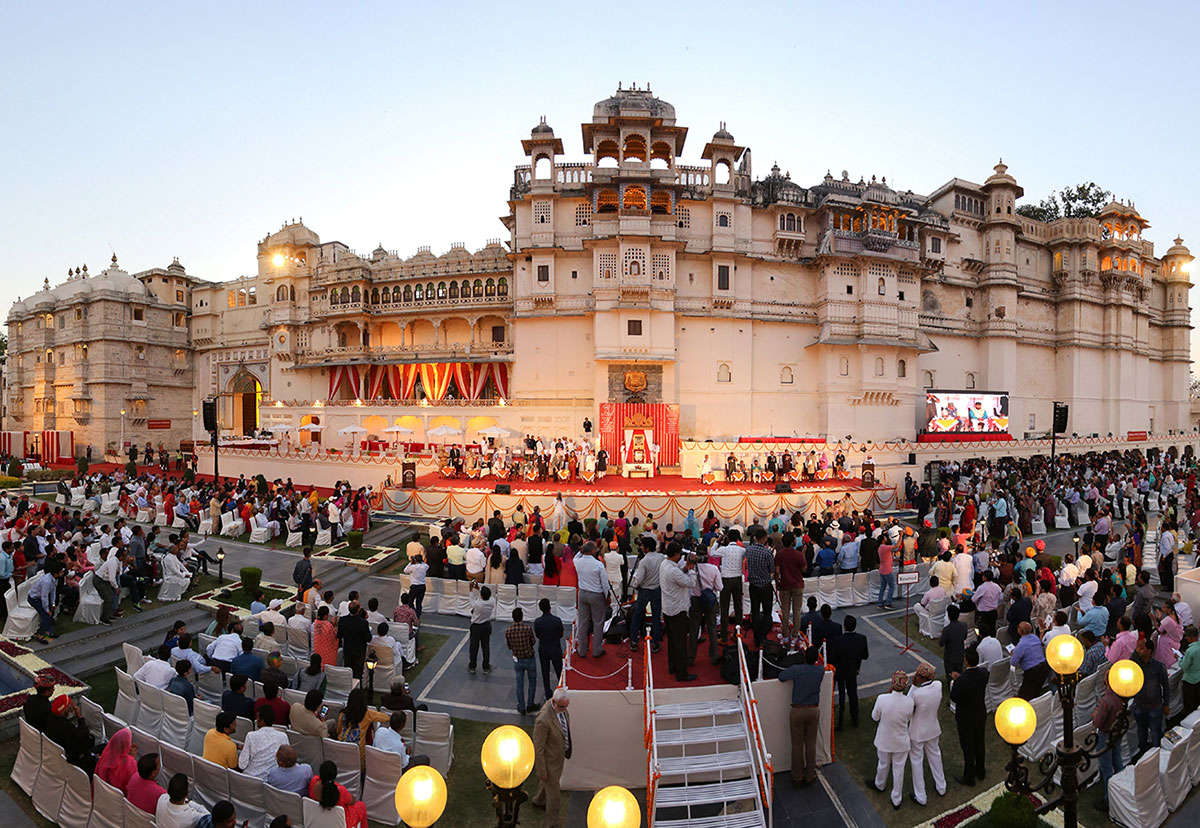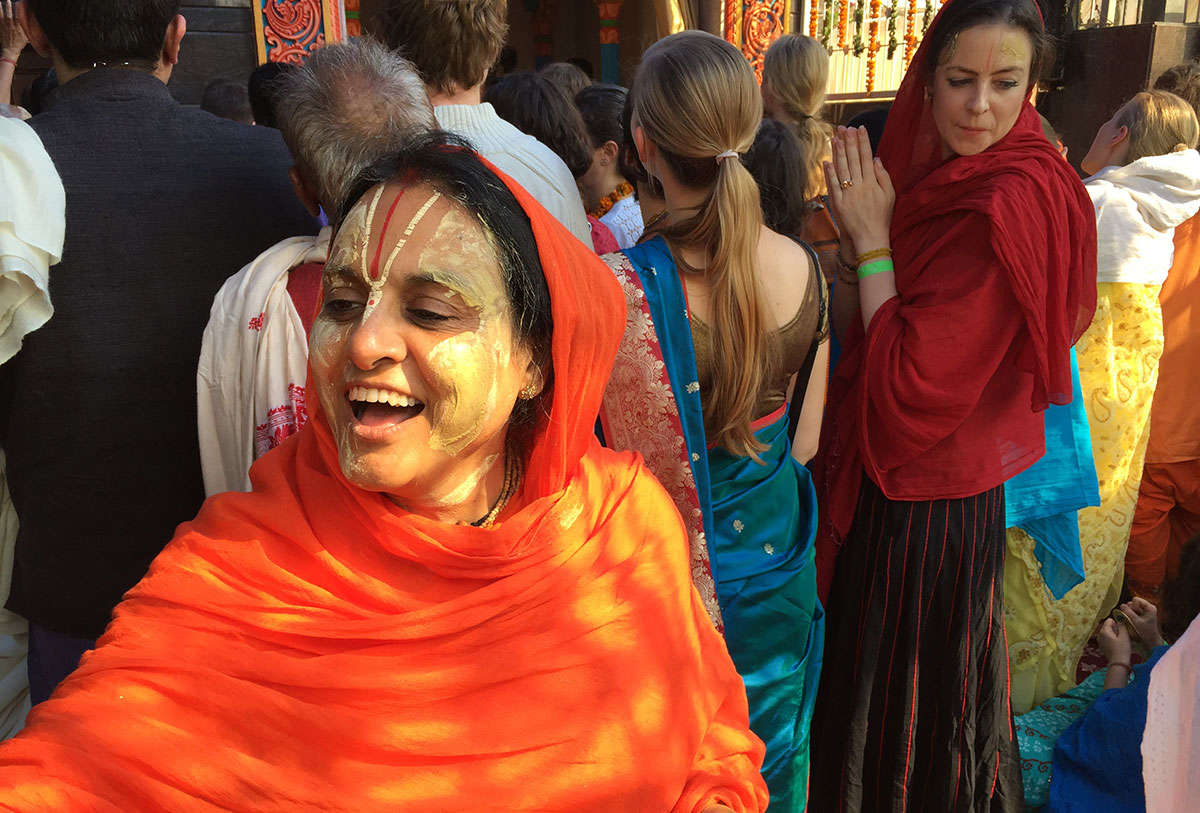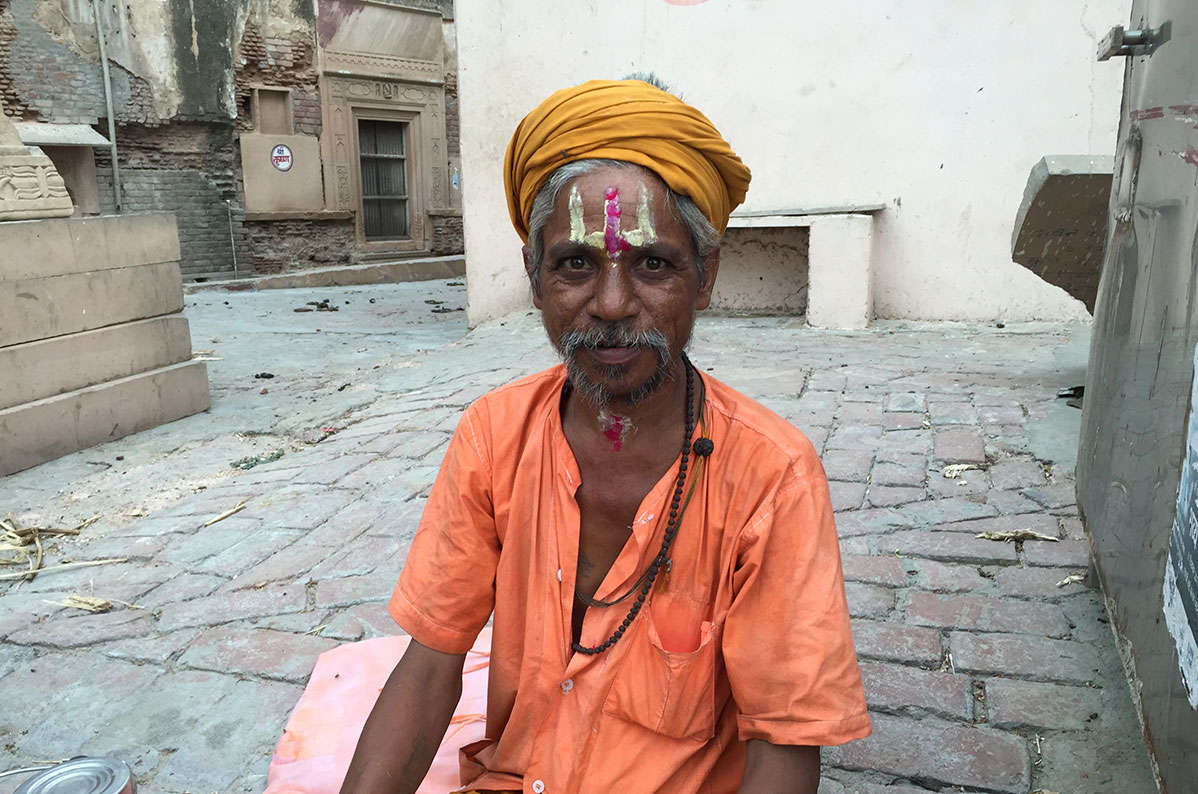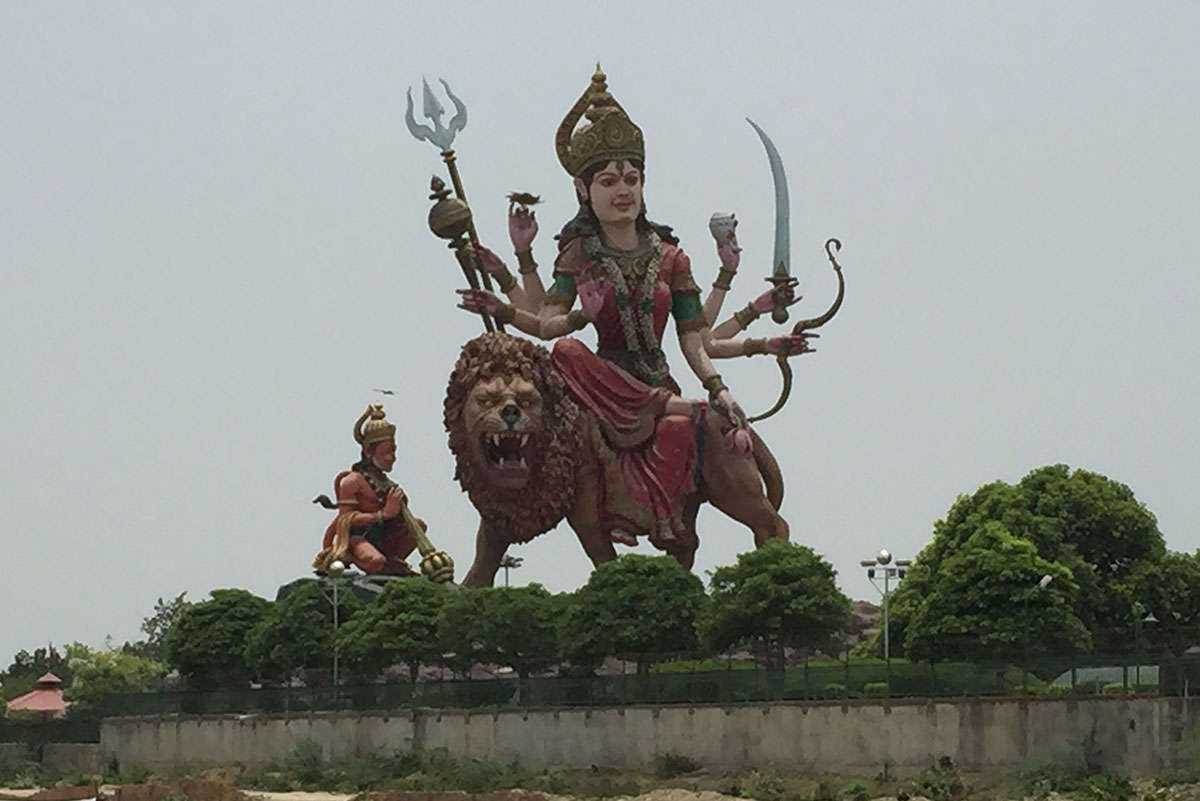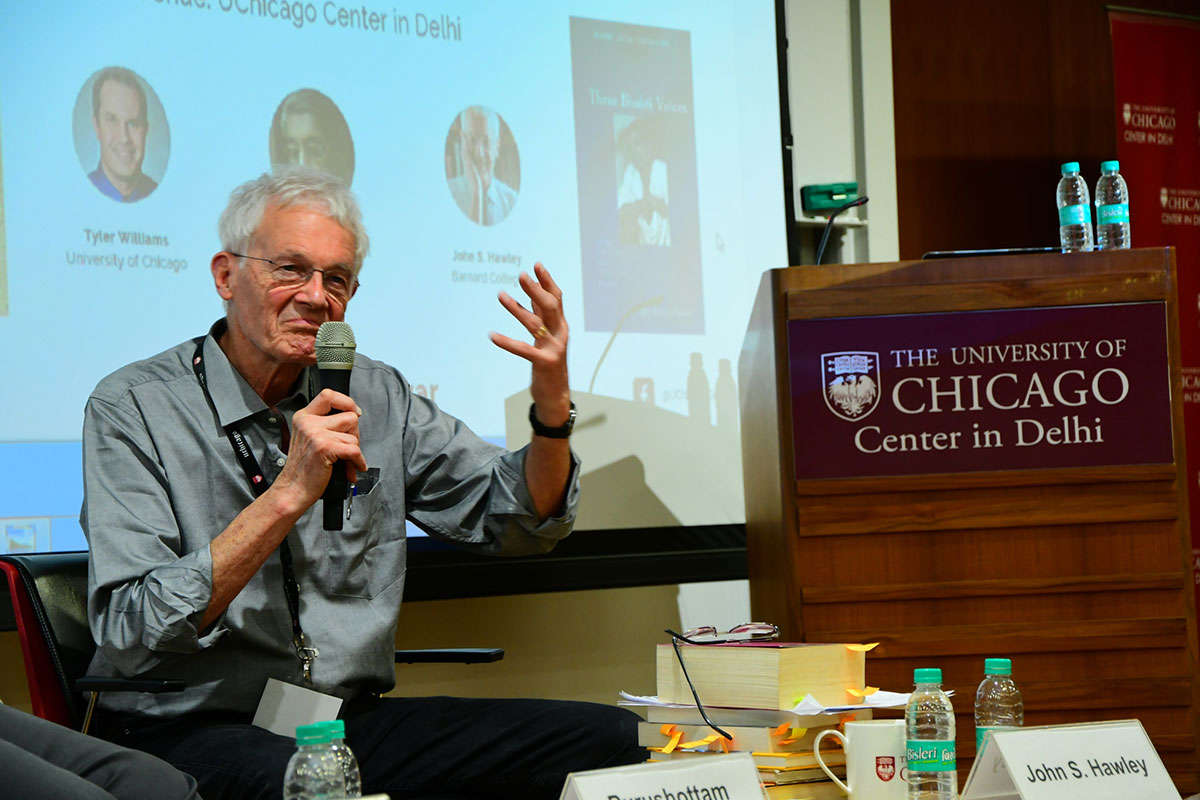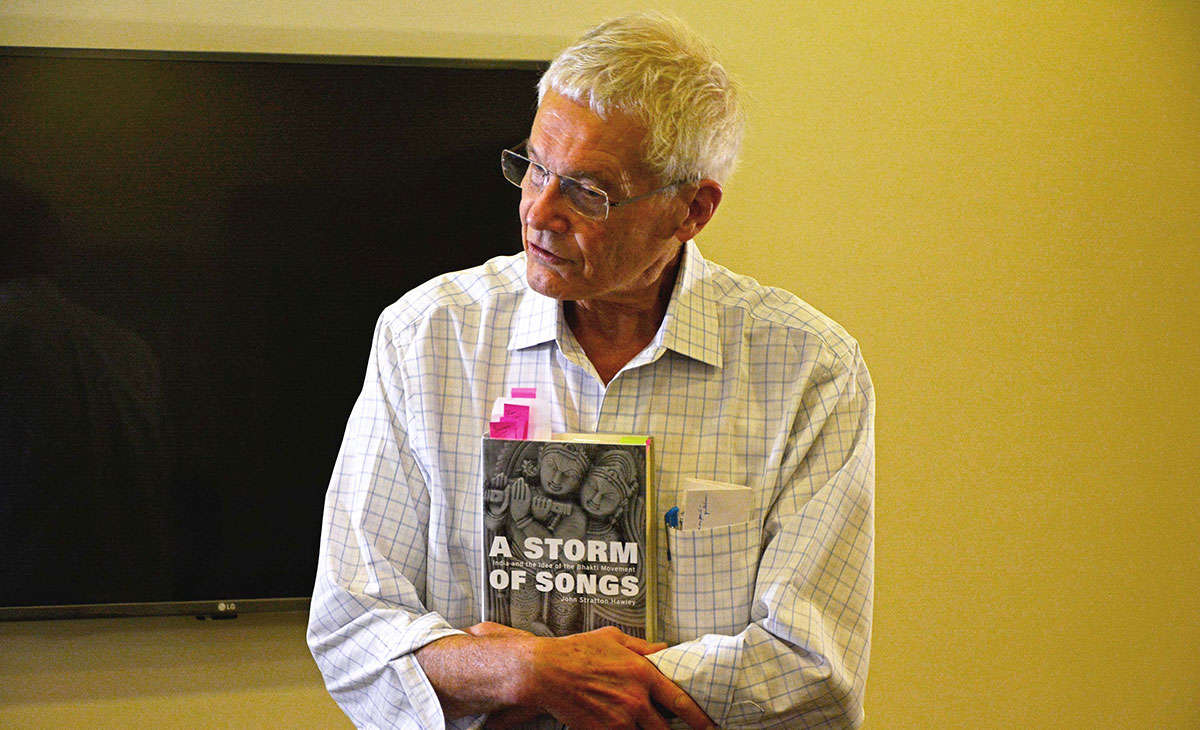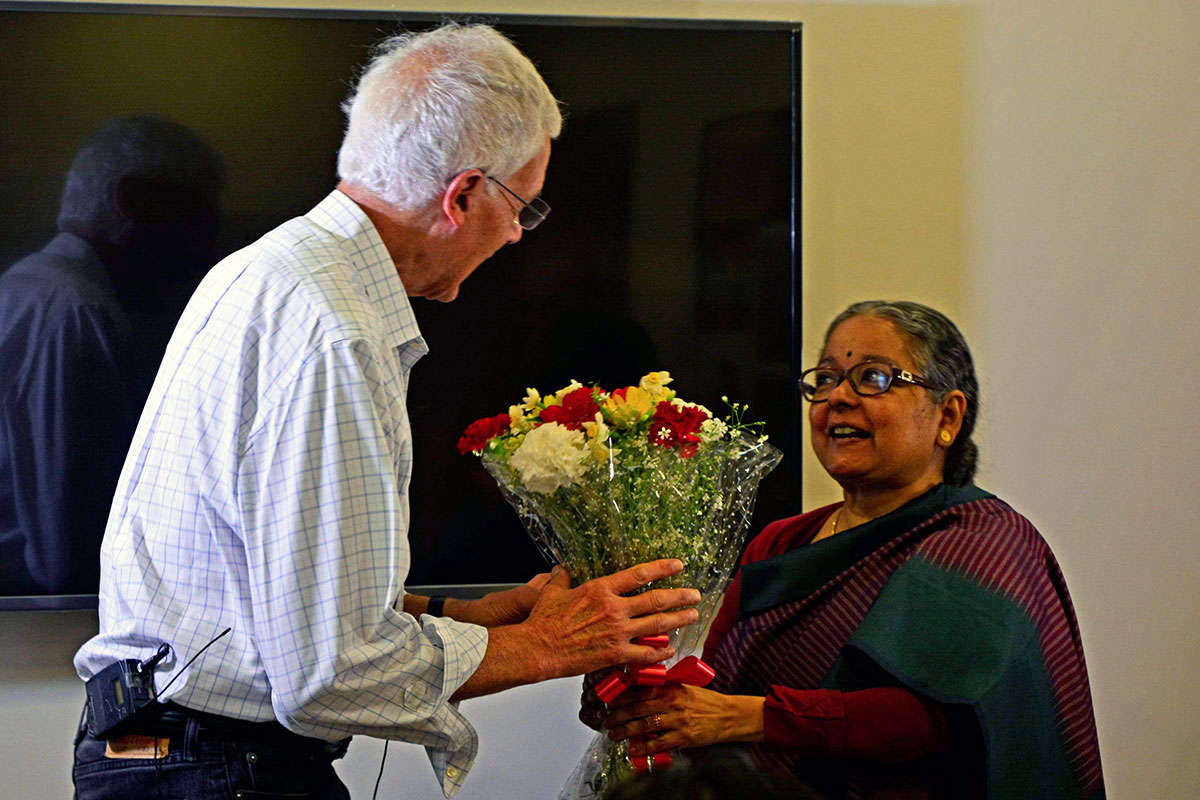 Hawley speaks at the Colonel James Tod Award in Udaipur last year.
Udaipur City Palace where Hawley received his award.
Worshippers at a temple inauguration Vrindavan/Braj. 
On Keshi Ghat, Vrindavan.
The Goddess Vaishno Devi, Vrindavan.
Hawley at the release of the Hindi version of his book Three Bhakti Voices, in spring. 
Hawley giving a talk at Sahapedia in Delhi.
Hawley at Sahapedia in Delhi.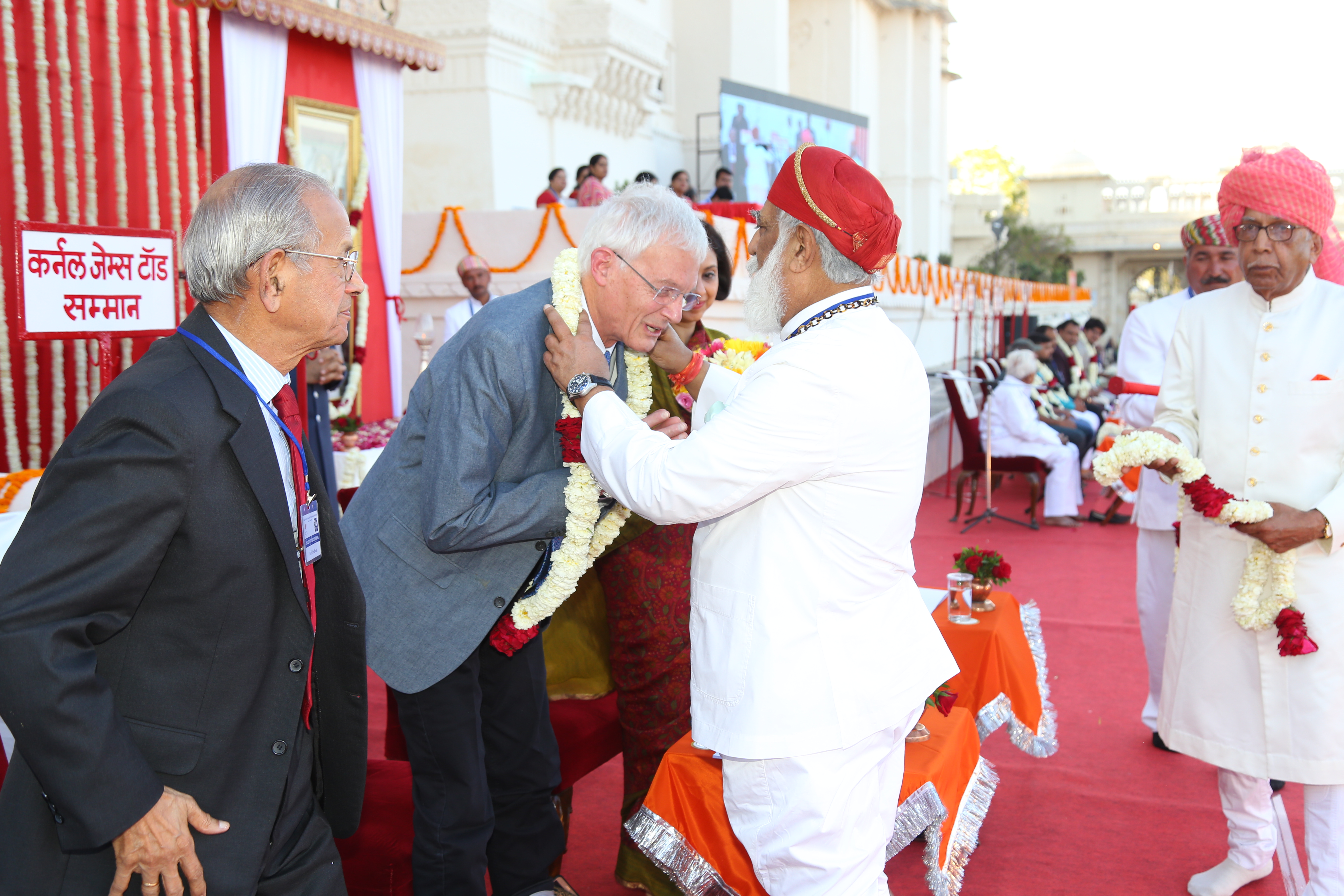 Hawley being honored with the Colonel James Tod award, from the King of Mewar, in Udaipur, in 2018.
Claire Tow Professor of Religion Jack Hawley's lifelong focus on India's religions and culture complements his research involving the concept of bhakti, a Sanskrit-derived word literally meaning "devotion" or "love." His own academic devotion has long been appreciated by Barnard  and more: In March 2018, he received the Colonel James Tod Award in the northwestern state of Rajasthan (pictured, left) and, in April 2019, a local newspaper dubbed him an honorary citizen of the Braj region of North India. Bhakti embodies both a personal sense of commitment and a public call to participation.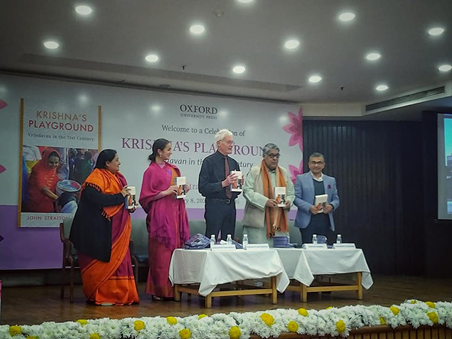 Hawley has published some 25 books, including Bhakti and Power: Debating India's Religion of the Heart (May 2019), which he co-edited, and Krishna's Playground: Vrindavan in the 21st Century (March 2020). On January 9, 2020, the book was launched in the presence of Purushottam Agrawal — writer and former professor at the Jawaharlal Nehru University in New Delhi (left). Since Krishna's Playground launched, it has received much media recognition, from outlets such as Business Today, India Today, and Yahoo! India News, to name a few.
The recipient of numerous awards and honors for his research, including multiple grants from the National Endowment for the Humanities and the American Institute of Indian Studies, Hawley was named a Guggenheim Fellow and a Fulbright-Nehru Fellow (2016-17), and is a member of the American Academy of Arts and Sciences. At Barnard, Hawley has the basic course on Hinduism, as well as Bhakti Texts, Hinduism Here, Krishna, Religious Worlds of New York, and The Bhakti Movement.
In this Break This Down interview, Hawley explains bhakti and speaks about how it became part of his life's work.  
When did you first encounter the concept of bhakti? What about it inspired you to devote your research to it?
I [was] the ripe old age of 30 by the time the word bhakti made its way to my ears. I was in the Ph.D. program in comparative religion at Harvard and learning about Indian religion for the first time. The word bhakti came with a few blasts of the trumpet. "This word is really important," my books and teachers all said.
True it was. Bhakti is the heart side of religion, the musical side, the communal side, the part about relationships, but at the same time a conduit for personal prayer. Wow, I thought, this word means everything! Everything except the philosophical, nondual perspectives I was actually seeking out in Hindu approaches to religion. These, I hoped, would release me from the limitations of the theistic Christian tradition in which I was raised, providing a theology of the Self, not of God. 
Bhakti complicated things. Suddenly God (or Gods) was back in the picture. But with a very different sort of perspective, it turned out. Bhakti is less insistent on the object of devotion than on the process. Bhakti felt closer to home for me than normative Christian terms like belief or creed or even faith.
When teaching about bhakti, how do you get students to think about the topic in a way that doesn't romanticize or exoticize it?
I love this question. Behind it, I sense the suspicion that what happens in Western religion classrooms is apt to airbrush the harder realities of Indian life, all in the name of "spiritual India."
In my classes, I try not to go there — or at least not only there. We read the Bhagavad Gita, of course — lots of talk about bhakti there, and it's dramatized in a real-life narrative. We talk about what Gandhi took away from the Gita, or Thoreau, or the nationalist leader Tilak. We ask whether bhakti implies nonviolence (as Gandhi would have it) or retreat (Thoreau) or blood (Tilak). We think about Indian politics today, where you have name-calling battles between devotees of the reigning Bharatiya Janata Party (BJP), who call Congress-type people "sickularists," and Congress-types who look down their noses at the "bhakti" of the BJP. Here, bhakti is a swear word. This, too, belongs in a religion classroom. And the most important thing for my introductory Hinduism class: Early on, we take trips to places of worship where bhakti is actually practiced, such as to Hindu temples here in New York. 
I've just co-edited a book called Bhakti & Power, which is intended to provide readers with a sense for the range of things bhakti can mean in real life.
Has your research ever influenced your personal worldview?
Of course! Is it possible for research — in whatever field — not to do that? Recently, my wife and I have started going to the Bachfest in Leipzig. For 10 days every June, you can hear Bach played and sung at just about every waking hour. Here, the line between music, feeling, and faith gets very blurry. That's the blur that bhakti points to so clearly.
Bach brought the two of us together — in music. Was this "Bachti" really a version of bhakti? Can nonbelievers be bhaktas? Can bhaktas be nonbelievers
How does the need for translators affect your research process?
Translating is anything but mechanical, no matter what Google says, and a good chunk of my working life has gone into translation. I don't regret it at all. It's probably the most challenging thing I do.
The other day, I got an email from a gentleman living in Gujarat. He wondered if I'd correctly rendered a particular word in a 16th-century poem by the great religious poet Surdas, or Sur, for short. This new friend, halfway around the world, delved into the language of the poem to make his point, comparing the Hindi that's on one page of Sur's Ocean, a book I co-authored, with the English that faces it on the next. What could be more rewarding than this search for linguistic truth and the dive into Sur's own sensibility that it requires? Translation is one of the deep things of life. We do it every day in a thousand ways.
What was your reaction to becoming a Brajbasi and receiving an honorary North Indian citizenship earlier this year? 
Well, let's remember that this was hardly an official award. Imagine having someone say this about you: that you really belong where you've ended up, regardless of the color of your skin and the language you were born into. But the fact of its being so unofficial is part of the pleasure. 
—ASHA MEAGHER '21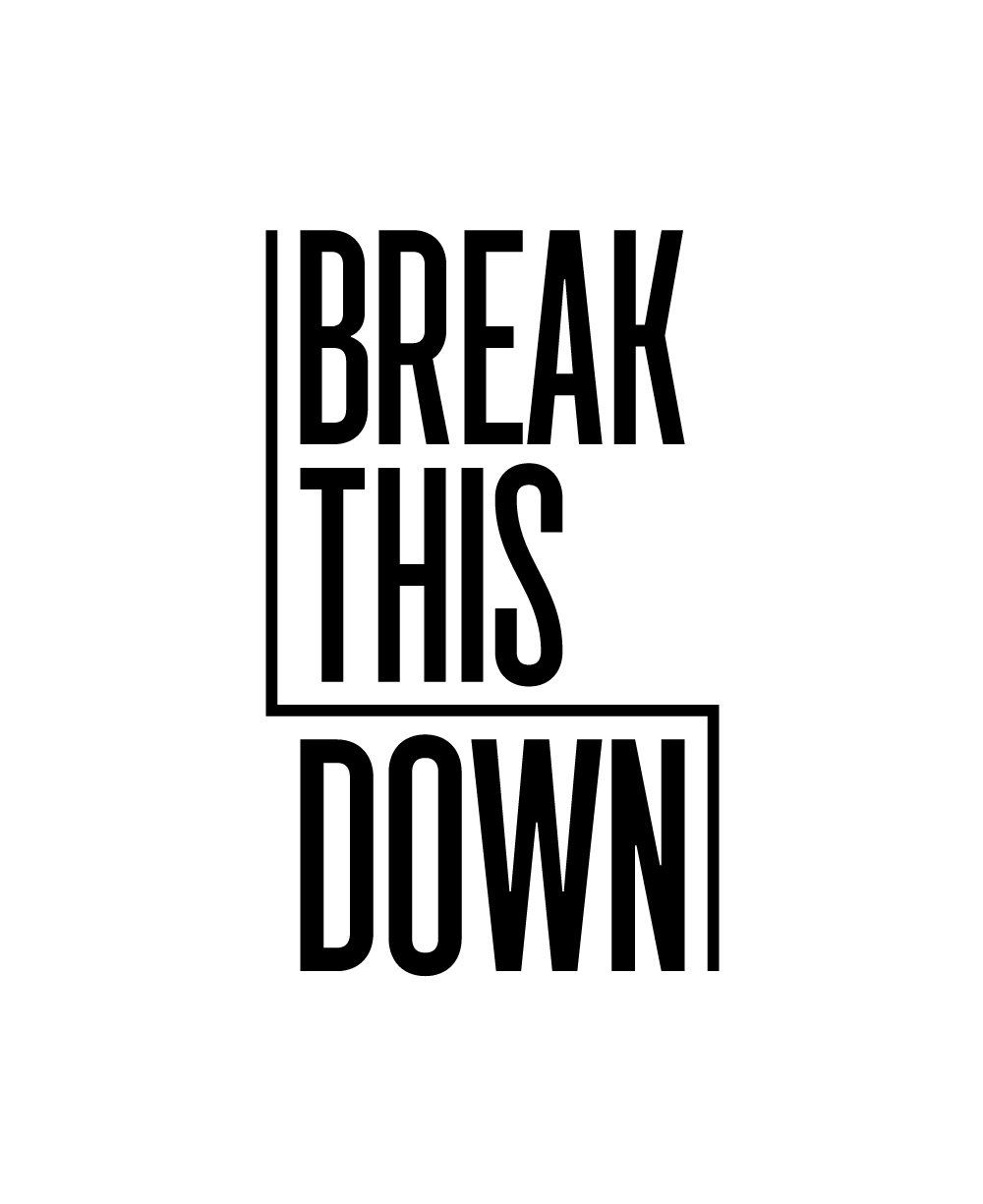 Barnard experts explain.