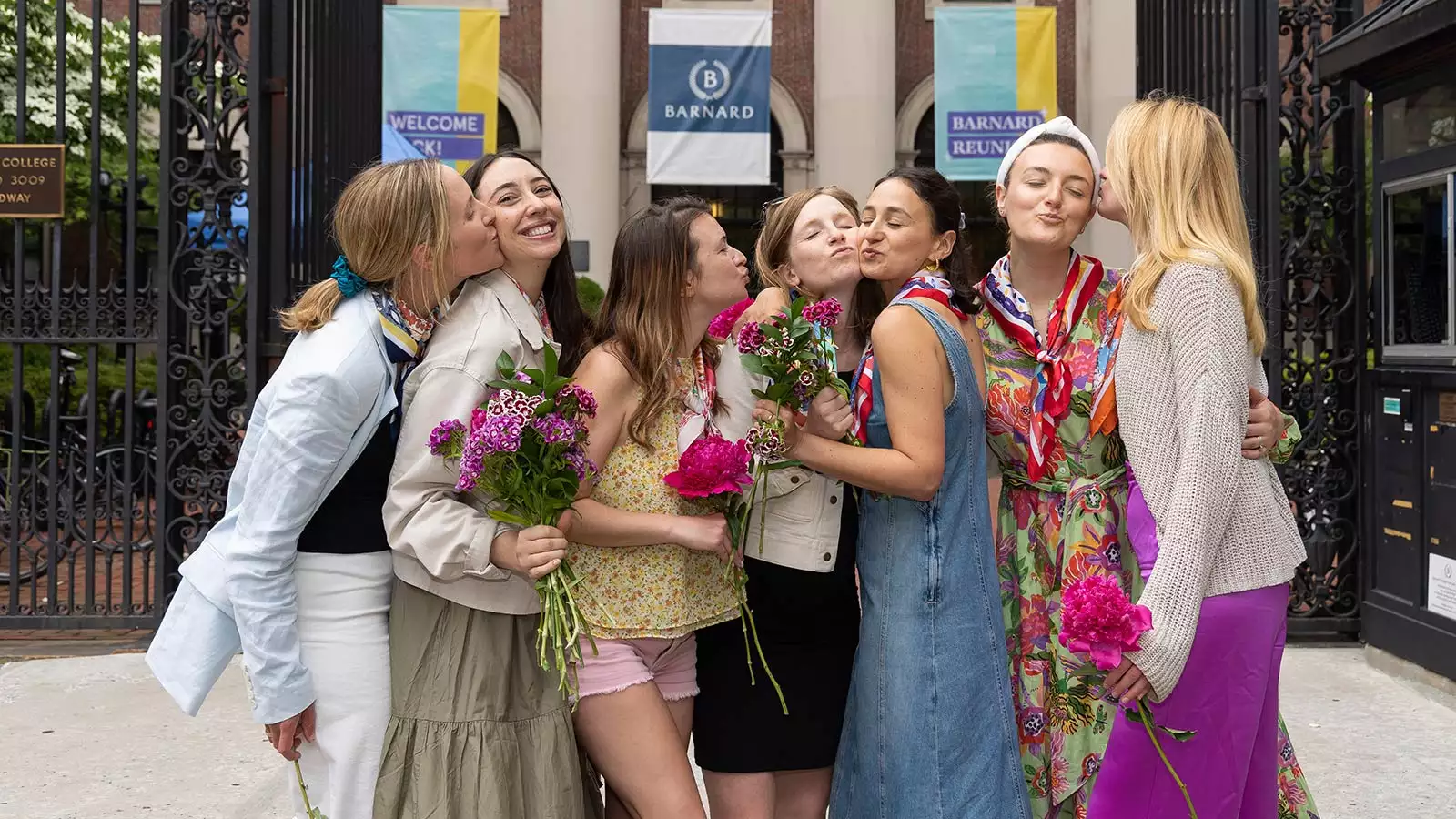 More than 1,000 alumnae arrived on campus on June 1 for Barnard's Reunion. There were familiar and new faces and lots of catching up to do. 
Flo Low '03, one of five speakers for the beloved Moth storytelling event, was happy to be back in the place that reminds her of promise and possibility. One of her first pit stops was at the dance studio where she used to take classes. She also had a joyous and tearful reunion with Claudia Cherry from Dining Services, who has worked at Barnard for 39 years. "I moved here from Missouri, and every morning when I went to get my breakfast she smiled at me and asked how I was doing," said Low. "That kind of care lasts." 
Others had the opportunity to forge new connections. Ronnie Braunstein Budge '63 and Pat Mallon '63 never crossed paths while at Barnard and were meeting for the first time 60 years after graduating. They bonded over their mutual connection to Seattle, where Budge now lives and Mallon plans to move to be closer to her son. "We may become long-term friends," said Mallon. 
After years away, many were surprised by the physical changes in and around campus. Friends Stephanie O'Brien Kodweis '87 and Anna Lundgren '87 reminisced on time spent in Lehman Hall (now the Milstein Center) — where they would bring stockpiles of Starburst candy to help fuel them while studying — trips to McIntosh (now the Diana Center), and nights out grabbing pizza at Koronet. 
But while certain parts of campus looked different, others remained familiar. Ilana Breitman '13 felt like campus was exactly how she had left it. "The key to the costume shop was still where it was hidden 10 years ago," she joked.
The weekend officially kicked off with alumnae gathering at more than a dozen cocktail parties held around the City and a variety of other intimate events. From a "noshwalk" in Washington Heights to a tour of MoMA, the Class of '73 kicked off their 50th anniversary, while the Class of '98 indulged at the Grand Central Oyster Bar. The following morning, alumnae awoke to a menu of lectures, open houses, tours, and, of course, more conversations. 
By 11 a.m., most of the alumnae had arrived at the Diana Center for a unique event: President Sian Leah Beilock in conversation with President-elect Laura Rosenbury. President Beilock shared a brief yet sweeping review of her six-year tenure and then introduced Barnard's incoming president, who spoke on her background in law and life. When asked what she was most looking forward to about Barnard, President-elect Rosenbury smiled and said without hesitation that it was getting to know the students and seeing their zest for change. 
"Meeting with the students just reminded me of the passion, vision, and hopes of undergraduate students. I've missed that at law school — sometimes the students are a bit jaded," she said to laughter. "Whereas the students I met at Barnard are so committed to making the world a better place, and that's what I'm so excited to learn about." 
She then nodded to the audience of alumnae and said she also looked forward to learning how they took their Barnard degrees and changed the world over the past few decades. 
In true Barnard fashion, there were plenty of opportunities to engage in meaningful conversations throughout the weekend. The Class of 1983, led by Shoshana Botnick '83, organized a special panel for Saturday morning featuring journalists Susan Leibowitz '83, West Coast senior producer for Dateline; Donatella Lorch '83, an international reporter; Judy Maltz '83, senior writer for Haaretz; and Elizabeth Rich '83, opinion editor for Education Week. 
The seasoned journalists shared insights into their work in the field, responded to questions about objectivity and bias in reporting, and considered the shifting tides in the industry ushered in by social media and remote work. "I think it's people of our generation that need to be considering what do we have to do and how can we change the landscape to support people," said Rich.
Alumnae who love to binge and talk shop about media, theatre, and film were happy to find this year's alumnae panel had an artistic bent. "Stealing the Show: How Barnard Was the Ticket to a Successful Career in Entertainment," hosted by Gina Borden '14, featured all-star cast of alumnae who have built successful careers in the business. They included Jamie Babbit '93, P'26, a director and executive producer known for her work on popular shows like Only Murders in the Building; Jessica Alpert '03, a producer and founder of the audio content creation company Rococo Punch; and Camille Bernier-Green '13, a director of documentaries at the Walt Disney Company's Onyx Collective who is passionate about all things social justice. 
Panelists discussed how opportunities at Barnard primed them to navigate male-dominated spaces, what the writers' strike and streaming mean for the future of TV and film, and the importance of translating the female experience onto the screen. "It is important that we fight on every level as women to get our stories told," said Babbit.
"The Moth," a long-standing traditional event at Barnard, returned for its 19th year. This year's edition, dubbed "The ABCs of NYC: A Special Event with The Moth," brought five audacious speakers to the stage to share tales of friendship, family, and self-discovery, all set against the backdrop of New York City. There were tributes to Fairway Market, dazzling adventures behind the scenes of the Metropolitan Opera, and more. Storytellers included Camilla Trinchieri '63, Irene Sawchyn '73, Heidi Levitt '83, Flo Low '03, and Lisa Campbell '13.
After the day's many events, lectures, and cups of coffee, crowds of different affinity groups fanned out across the Barnard and Columbia campuses to rev up before the All-Class Cocktail Reception and Reunion Closing Dinner and Awards Ceremony. 
At the LGBTQ+ reception, streams of alums from Barnard and Columbia filtered through the doors of the atrium of Altschul Hall and were greeted by Dylan Kapit '16, LGBTQ+ Outreach Coordinator for the College. Dylan said they have stayed involved with Barnard since they graduated seven years ago and acknowledged the changes they have witnessed over the past decade as attitudes toward gender and queer identities have changed on campus. 
"I think we are making steps in the right direction, but institutional progress is really slow," they said. "I'm trying to foster communication with students [so] that we are moving in the right direction. We're in a 134-year-old institution, and they're only here for four years."
Dylan's advice? Stay involved.  
"We've changed in so many ways since I got here," said Dylan. "You've just got to stick around and be part of the community and see the way that it changes." 
While the LGBTQ+ community mingled, high above campus in the Faculty Salon of the Milstein Center, alumnae with disabilities enjoyed spectacular views of the Columbia and Barnard campuses at a reception hosted by the Center for Accessibility Resources & Disability Services (CARDS). 
Class president Julia Betancourt '21 said that when she arrived on campus as an amputee the summer of her first year, she did not expect the warm welcome she received or that she'd become so involved with CARDS, which sprang from the Office of Disability Services in 2019. At CARDS, she found mentors, and later mentees, who were encouraged to advocate for themselves. She said it was there that she began to develop an identity as a disabled person. 
"Before Barnard, I was always encouraged to ignore my disability. I was told, 'You're not really disabled,' even though my disability is very visible. I mean, I don't have a left hand, it's something people notice pretty easily," Betancourt said. "Interacting with students at CARDS was a wonderful opportunity to be able to acknowledge my disability identity in a way that fit with the life I was expecting to have and be able to say, 'I'm going to college, and I'm a woman with a disability, and I don't need to ignore my identity." 
Betancourt said that she plans on continuing to stay involved with Barnard and was delighted to see that her efforts to organize the College's first disabilities affinity reception paid off.
While being recorded for a social media post, she was asked her reaction on seeing the room, with its majestic view of both campuses. 
"It's surreal," she said, smiling.
Many of the events online and hybrid events, such as "The Zora Neale Hurston Centennial Reading and Conversation," were recorded and can be viewed here.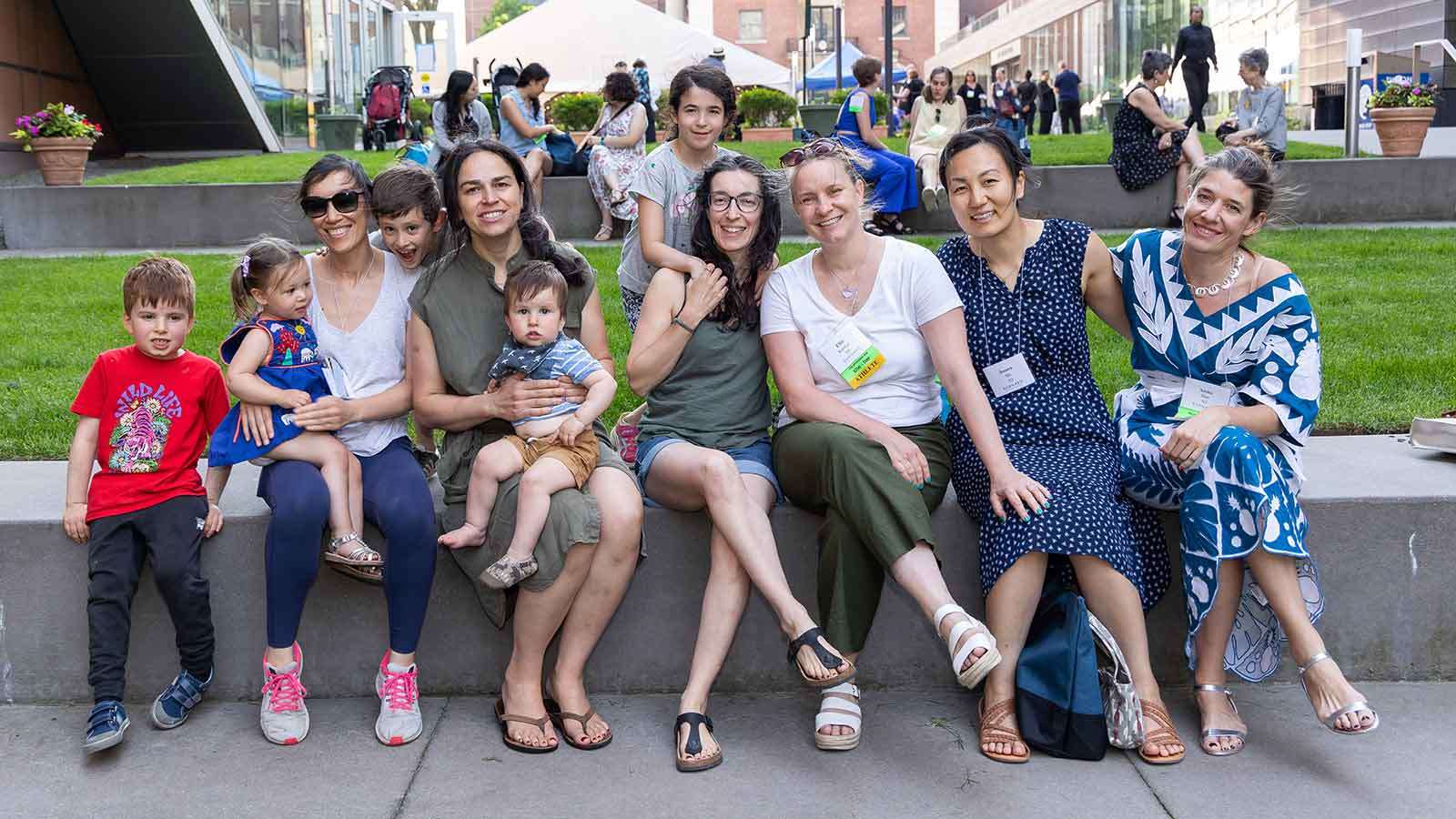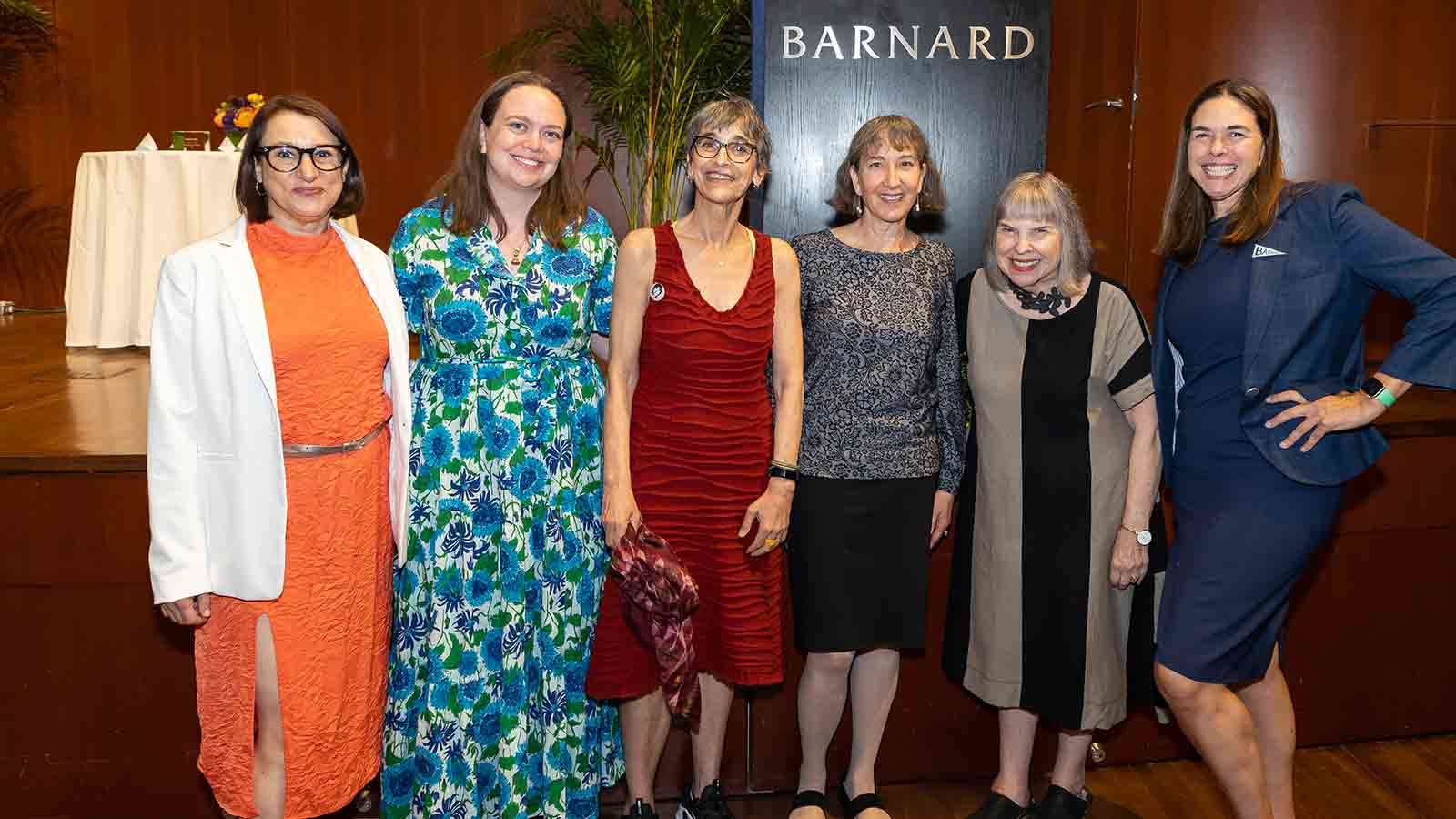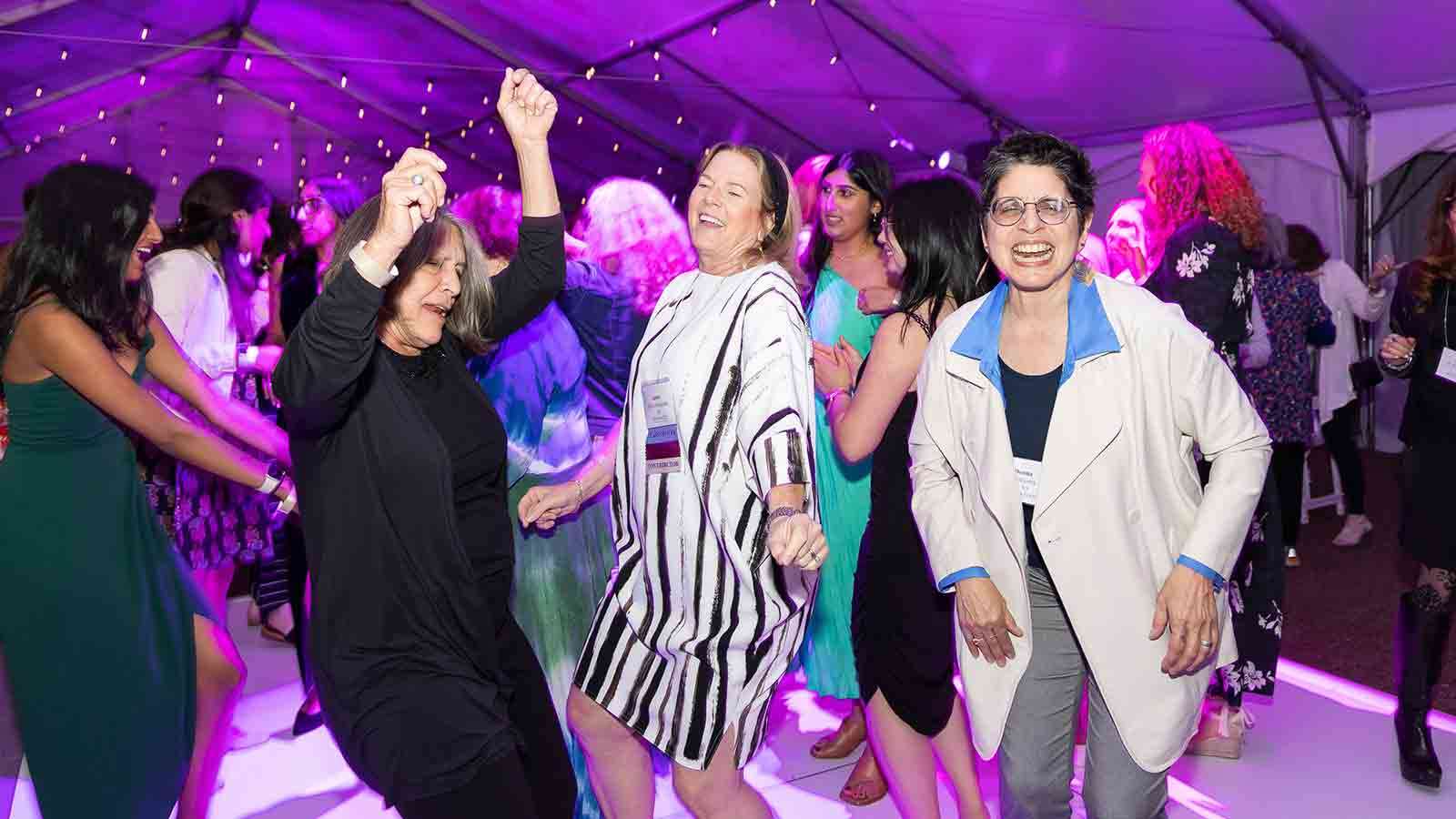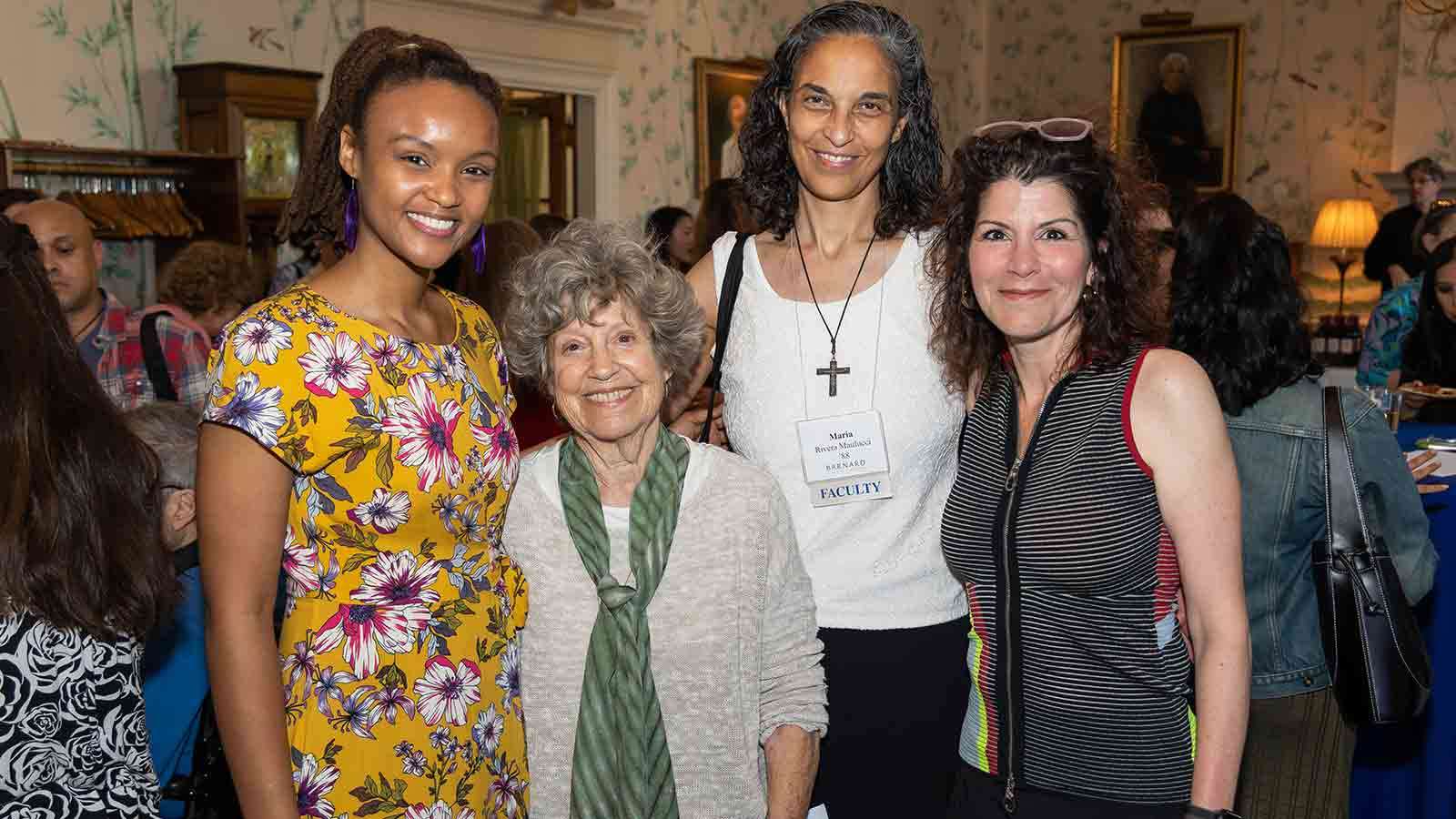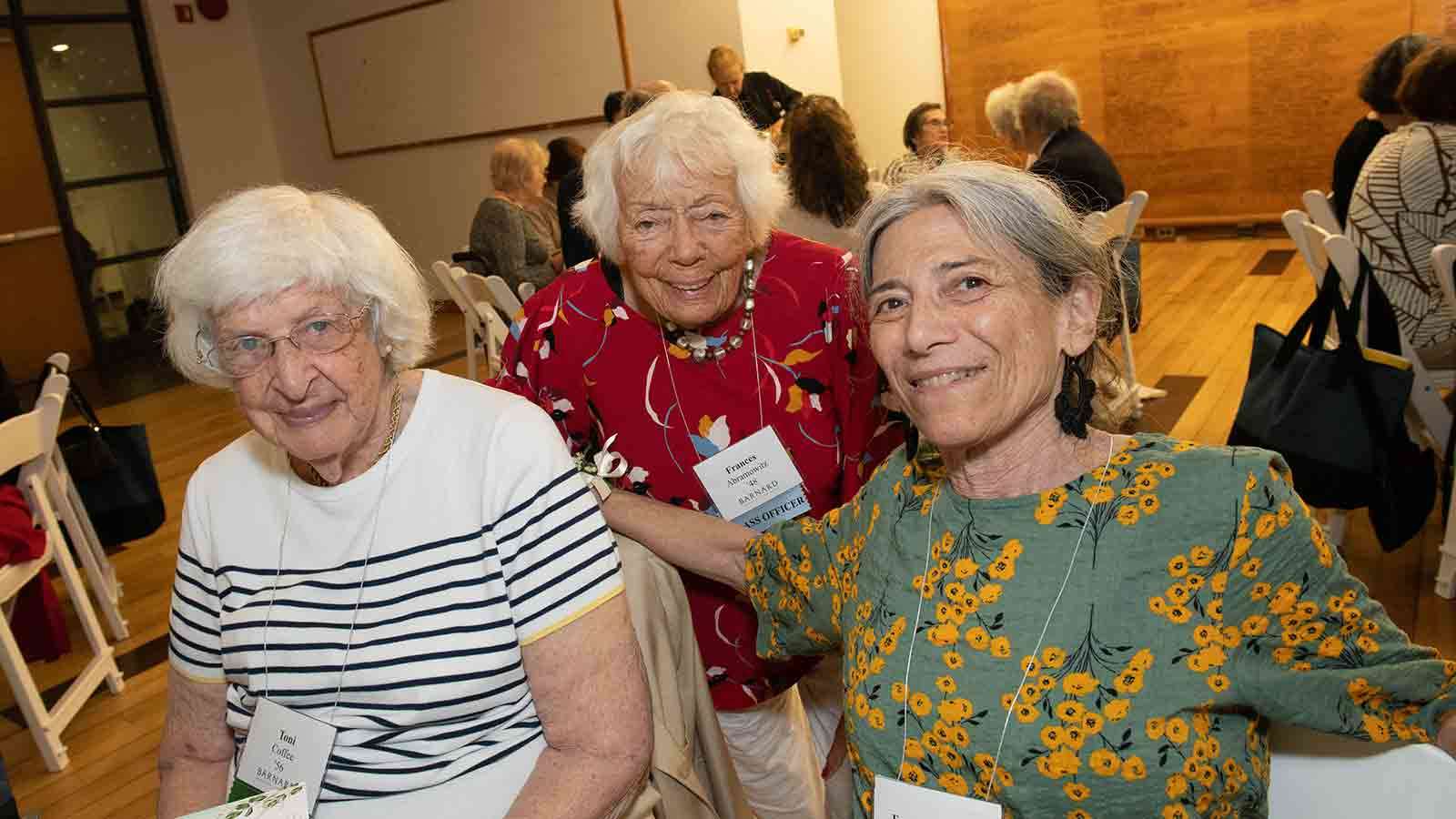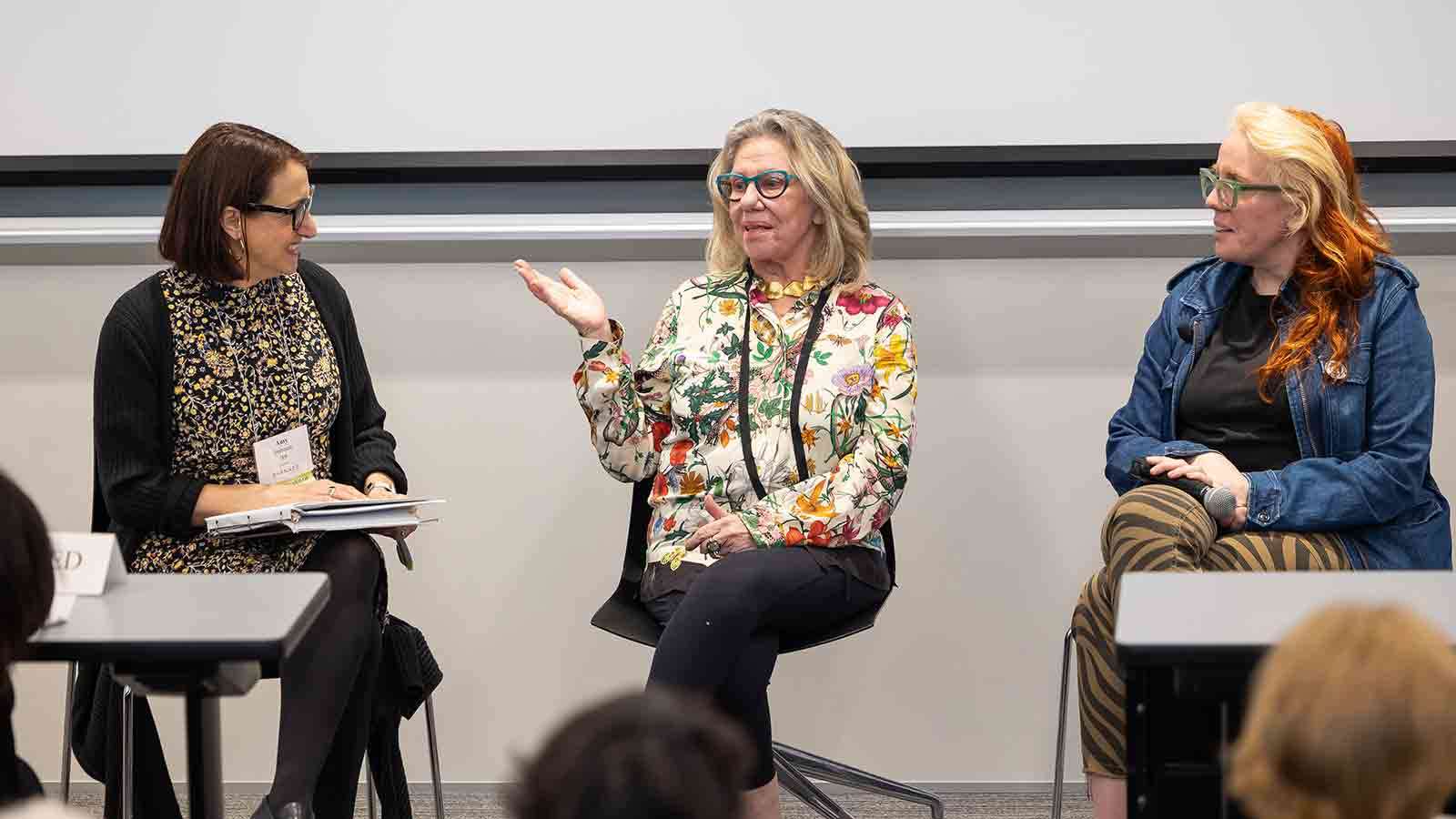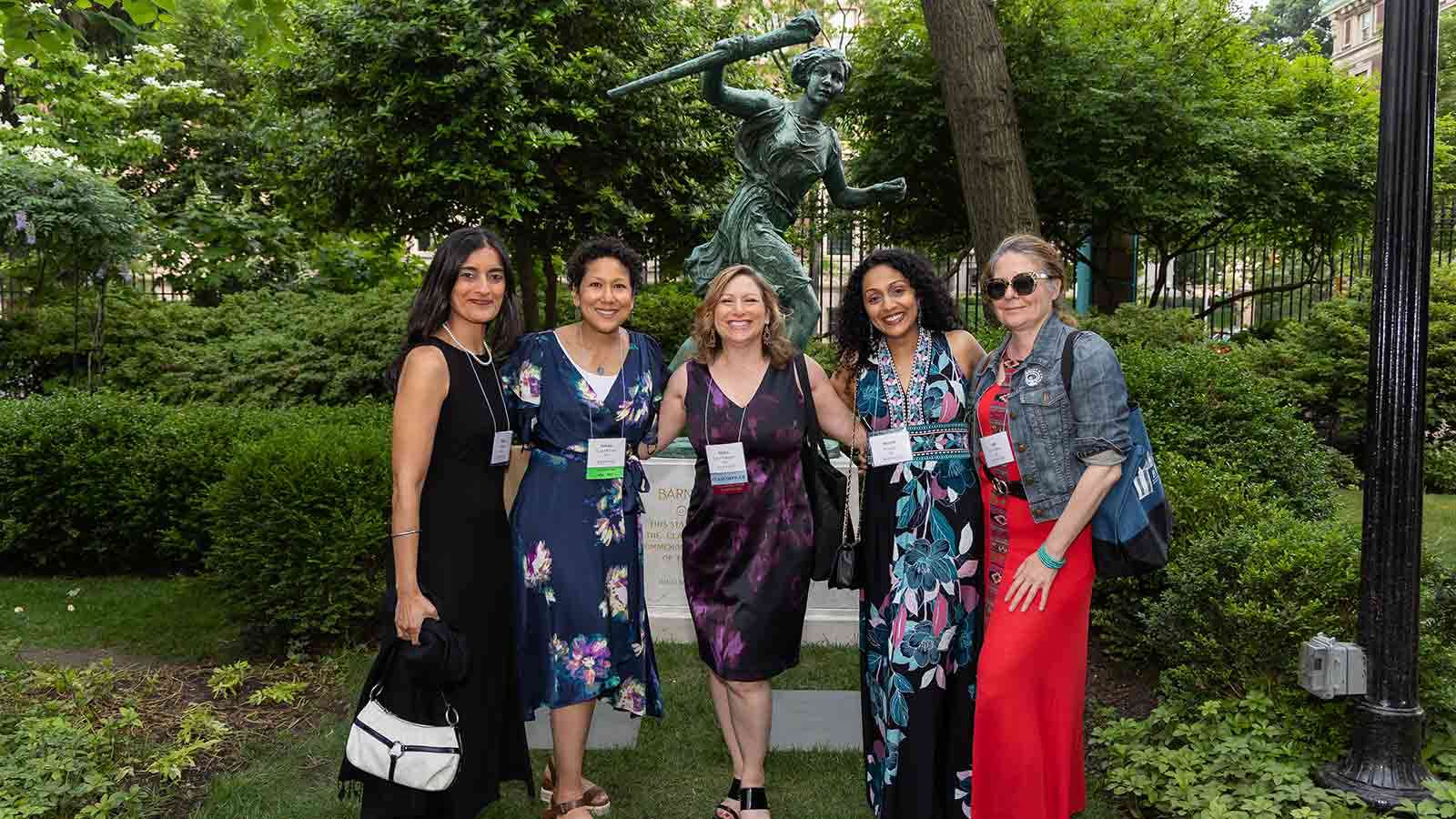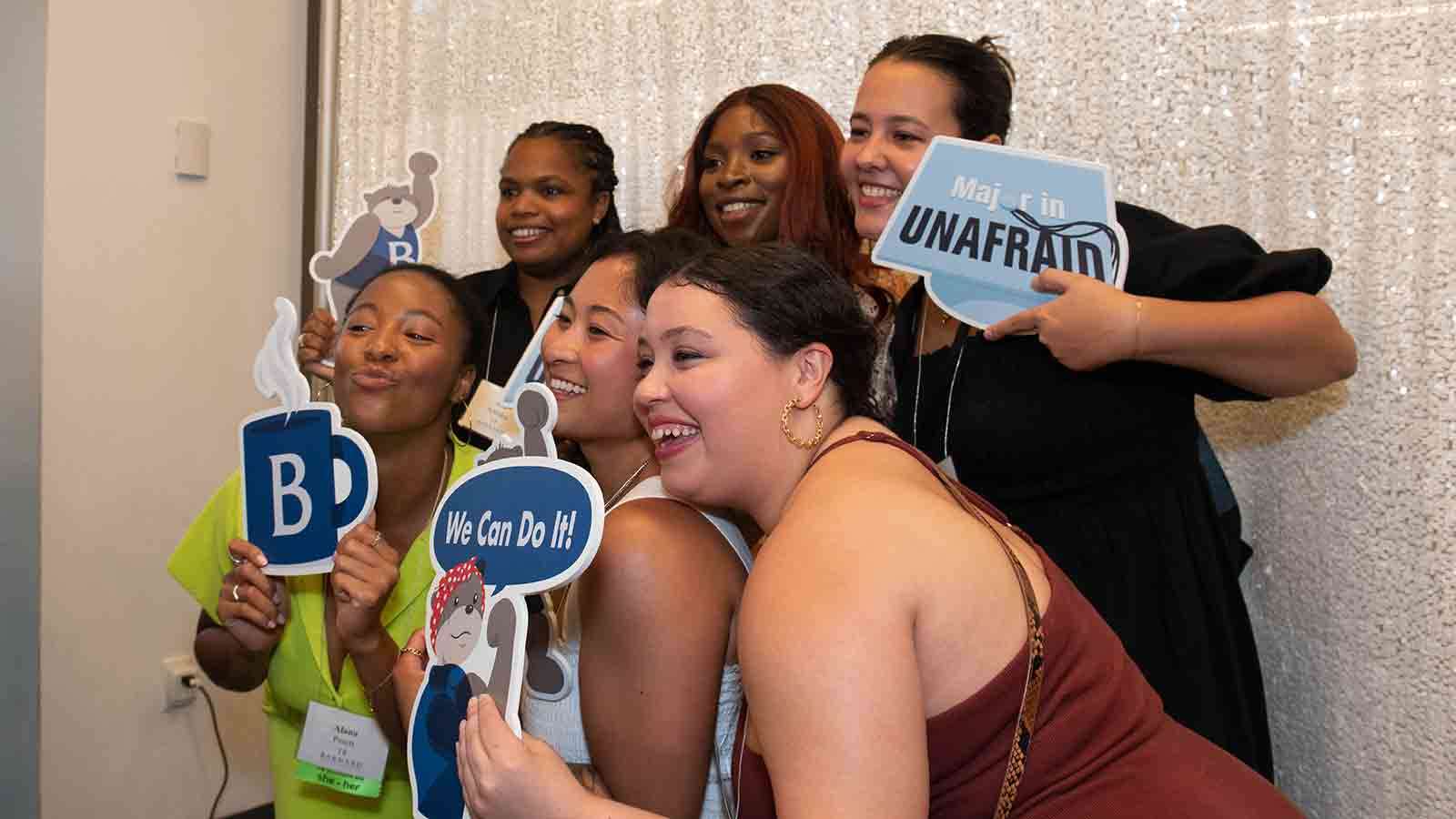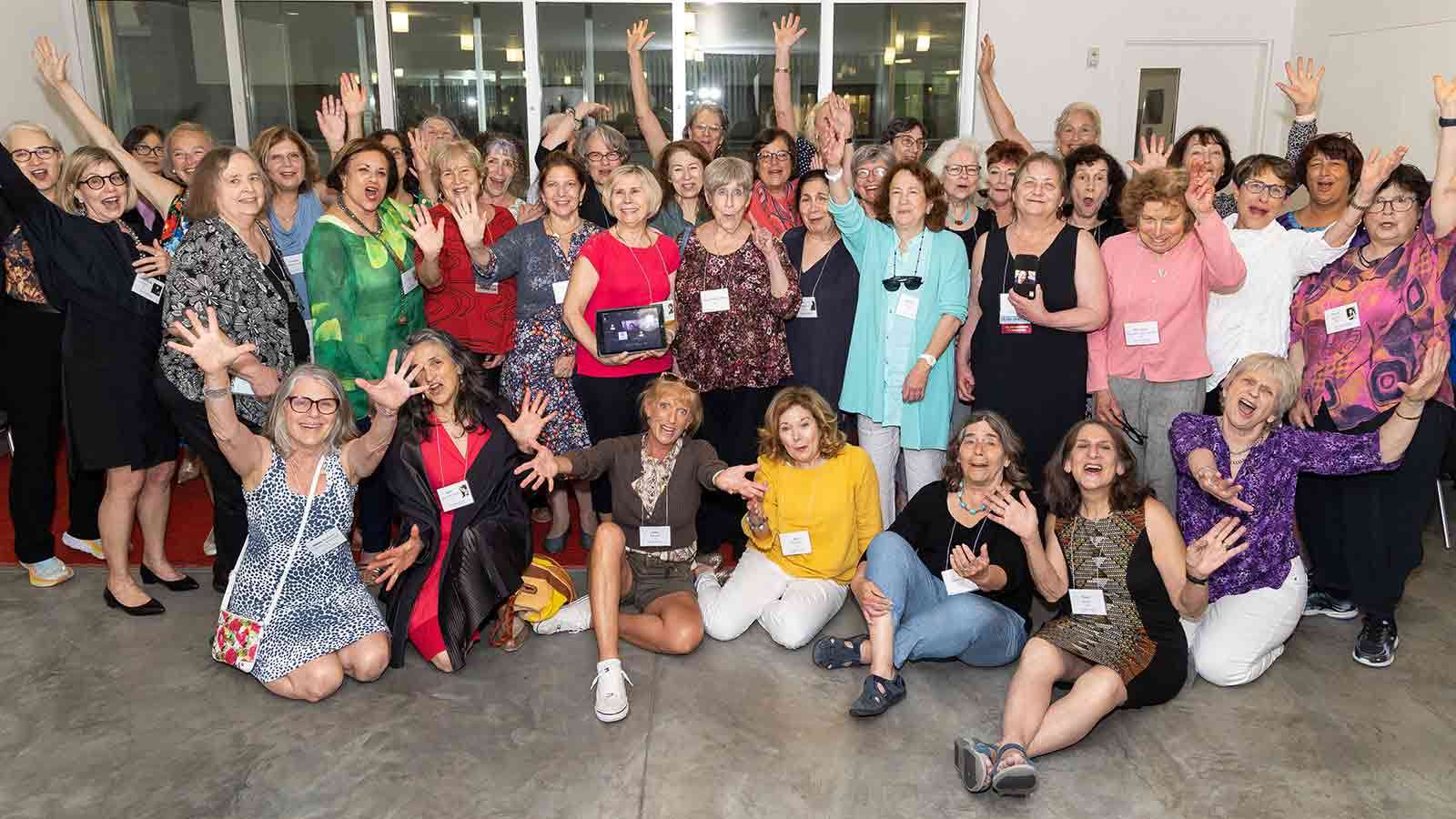 AABC Awardees Jessica T. Cannon '03, Naomi Goldberg Haas '83, Lisa Najavits '83, and Linda Sweet '63 with AABC President Amy Veltman '89 (left) and President Beilock (right)
Alumnae dance the night away!
Celebrating the 30th anniversary of Barnard's Writing Fellows Program
Early classes gather for afternoon tea and to meet and greet the president and president-elect. 
Embracing at the Alumnae of Color Dinner
Erica Jong '63 discusses her book Fear of Flying.
Members of the Class of 1993 with the Spirit of the Greek Games statue
Members of the Class of 2018 in the Reunion photo booth
The Class of 1973 celebrating their 50th Reunion