Making her first public appearance this morning as Barnard's leader, President Laura Rosenbury joined a delegation of hundreds of Barnard and Columbia volunteers to clean up Broadway during the Great Broadway Sweep — a historic citywide event. Columbia University President Minouche Shafik, Columbia's Teachers College President Thomas Bailey, and NYC Council member Shaun Abreu also helped to rally the Morningside Heights and West Harlem community partners, neighbors, and other volunteers.
Organized by the City's nonprofit Sanitation Foundation and We Love NYC, the Great Broadway Sweep is a five-day comprehensive scouring of New York City's most iconic street that's been dubbed "the biggest volunteer cleanup the city has ever seen."
"Barnard has a vibrant connection to the life of this City, and we're thrilled to serve as an organizing ambassador for this fun and important cleanup," said President Rosenbury. "It's a great opportunity for us to stand with Columbia University President Shafik, Teachers College President Bailey, the Columbia community, and our Morningside Heights and Harlem neighbors to demonstrate Barnard's commitment to sustainability and community service."
Taking place over nine cleanup sessions, from September 18 to September 22, the Great Broadway Sweep began at the northern and southern ends of Manhattan, progressing closer each day toward Times Square, one of NYC's most famous landmarks. There, it will culminate in a big, star-studded celebratory event, hosted by talk show host Andy Cohen.
 
Today Barnard and Columbia led the way, which began with opening remarks from both presidents.
"We are New York, and we look forward to building even more intense collaborations with Harlem, with Morningside Heights, [and] with all of our other neighbors," said President Rosenbury. "We stand together in this effort to clean up our neighborhoods and blocks."
President Sharif spoke about the broad reach of the avenue as a central artery in the City that deserves attention. "Our participation in this event today represents the pride that we feel as part of this [cleanup], and it's also part of our larger commitment to sustainability and [to] the environment," she said.
 
Campus leaders, Barnard's Board of Trustees, students, members of the Morningside Heights and Harlem community, and City officials proudly came together for two hours of trash collecting and literal street sweeping of discarded water bottles, papers, cans, greasy pizza boxes, and more.
It wasn't lost on many at Barnard that the scheduled cleanup coincided with Climate Week NYC (September 17 – September 22). Sweeping the streets is a symbolic commitment among the City's many communities to work together for the preservation and care of its local neighborhoods.
Engaging in the community and civic life of NYC is a hallmark of a Barnard education," said Barnard's lead organizer Mary Rocco, director of engaged scholarship in the Office of Community Engagement and Inclusion (CEI) and affiliated faculty member of the Urban Studies program. "Community engagements prepare students to [be involved] in the local world around them. This event underscores that sustainability and climate are collective endeavors and require all of us to participate."
Barnard's Sustainability Army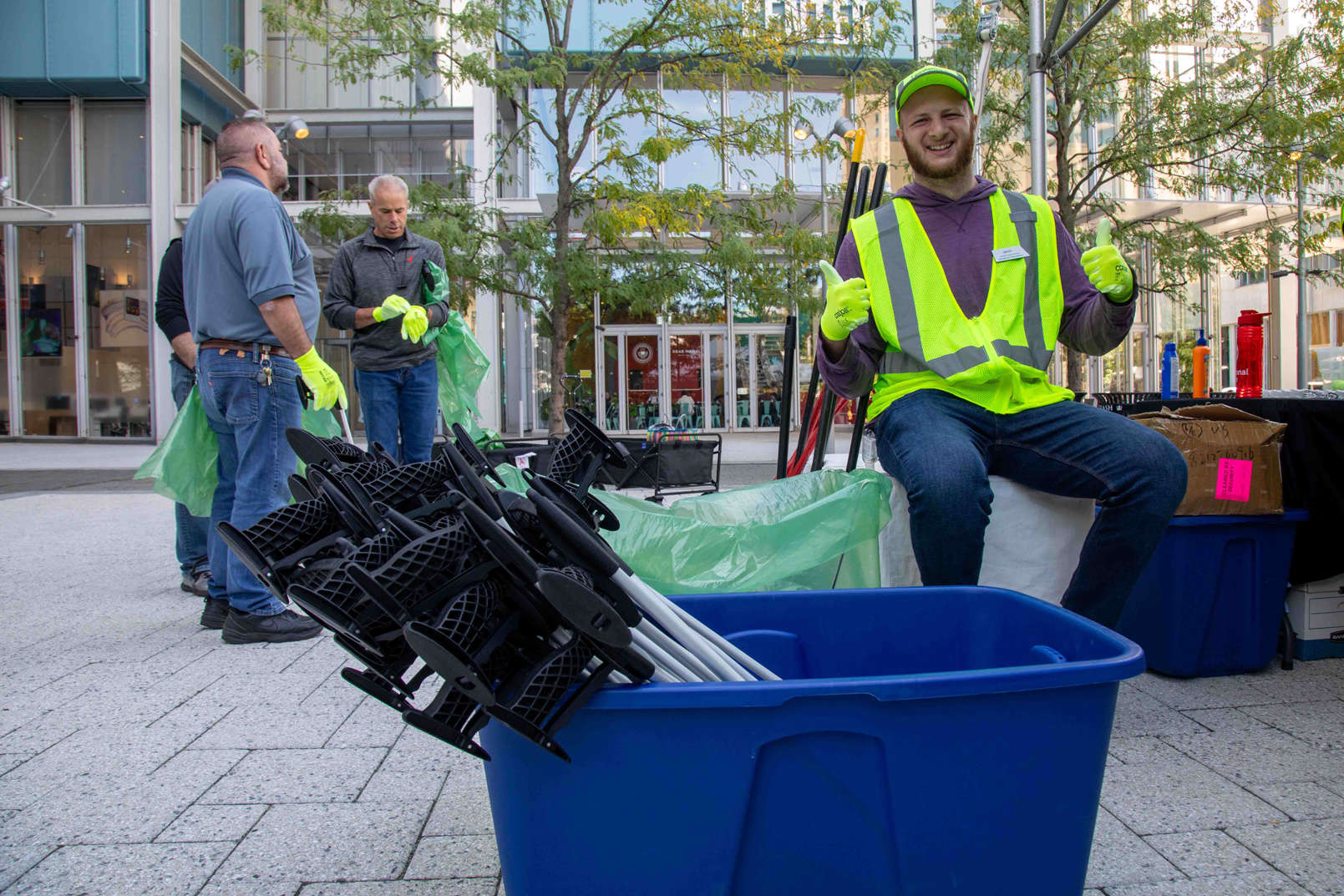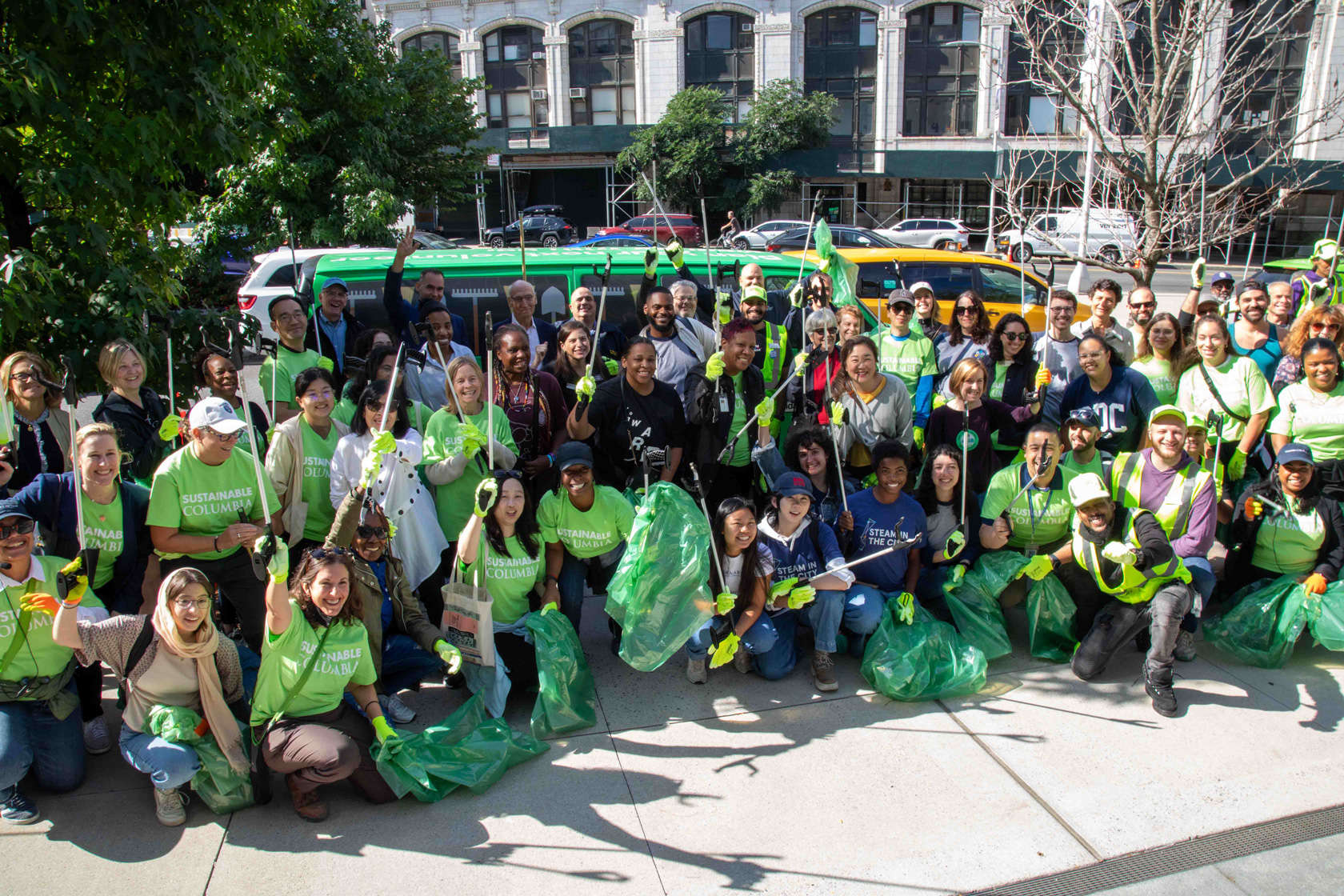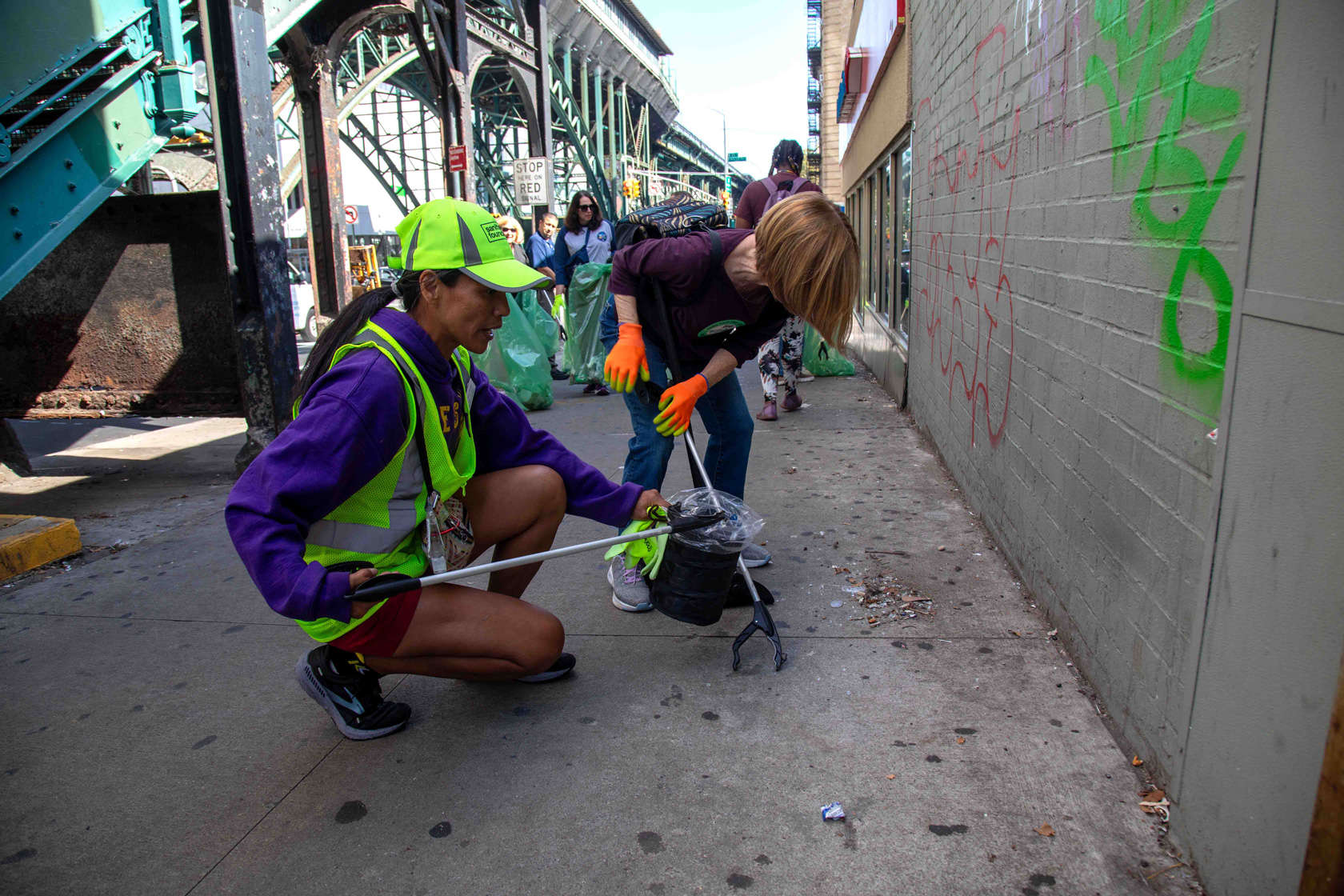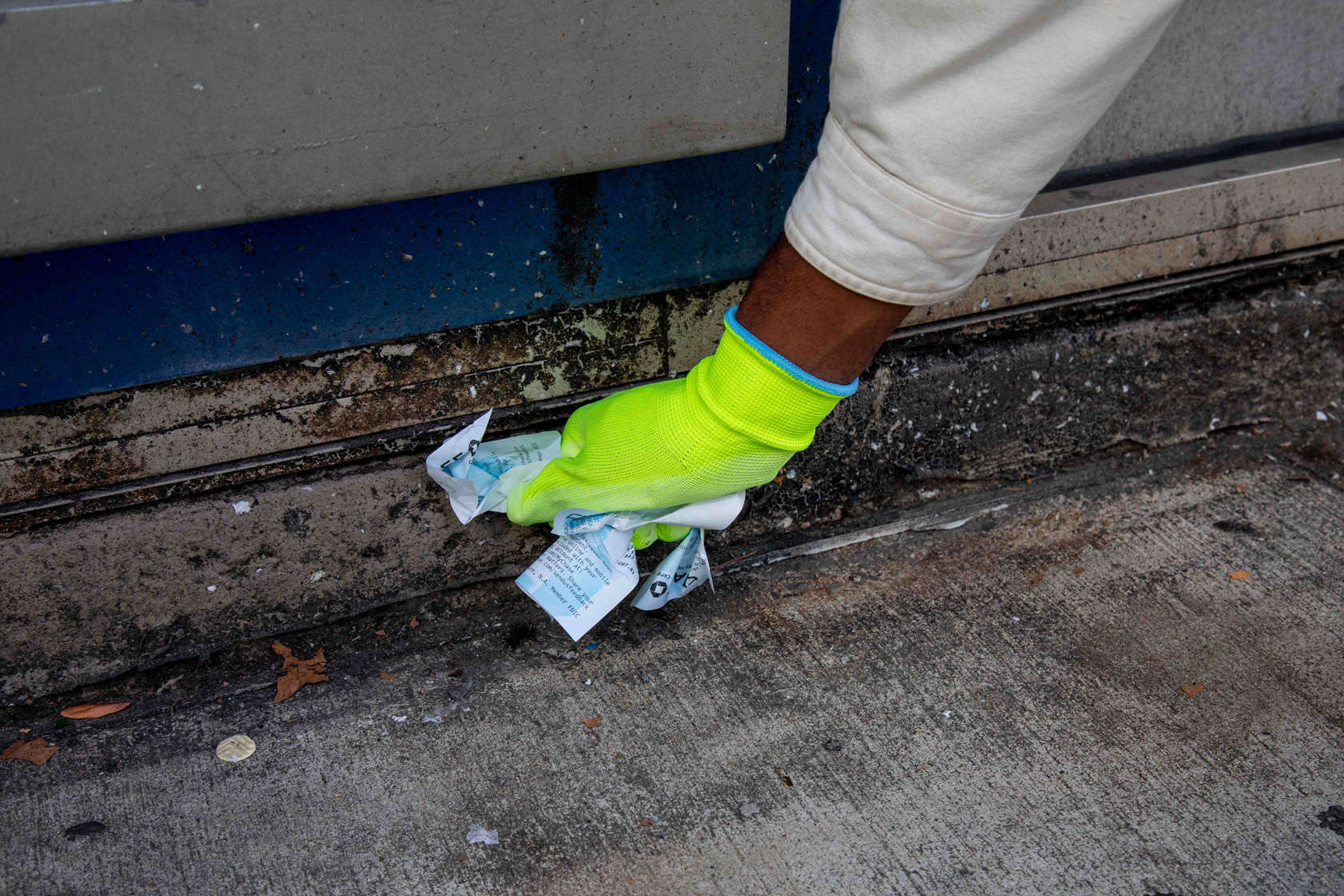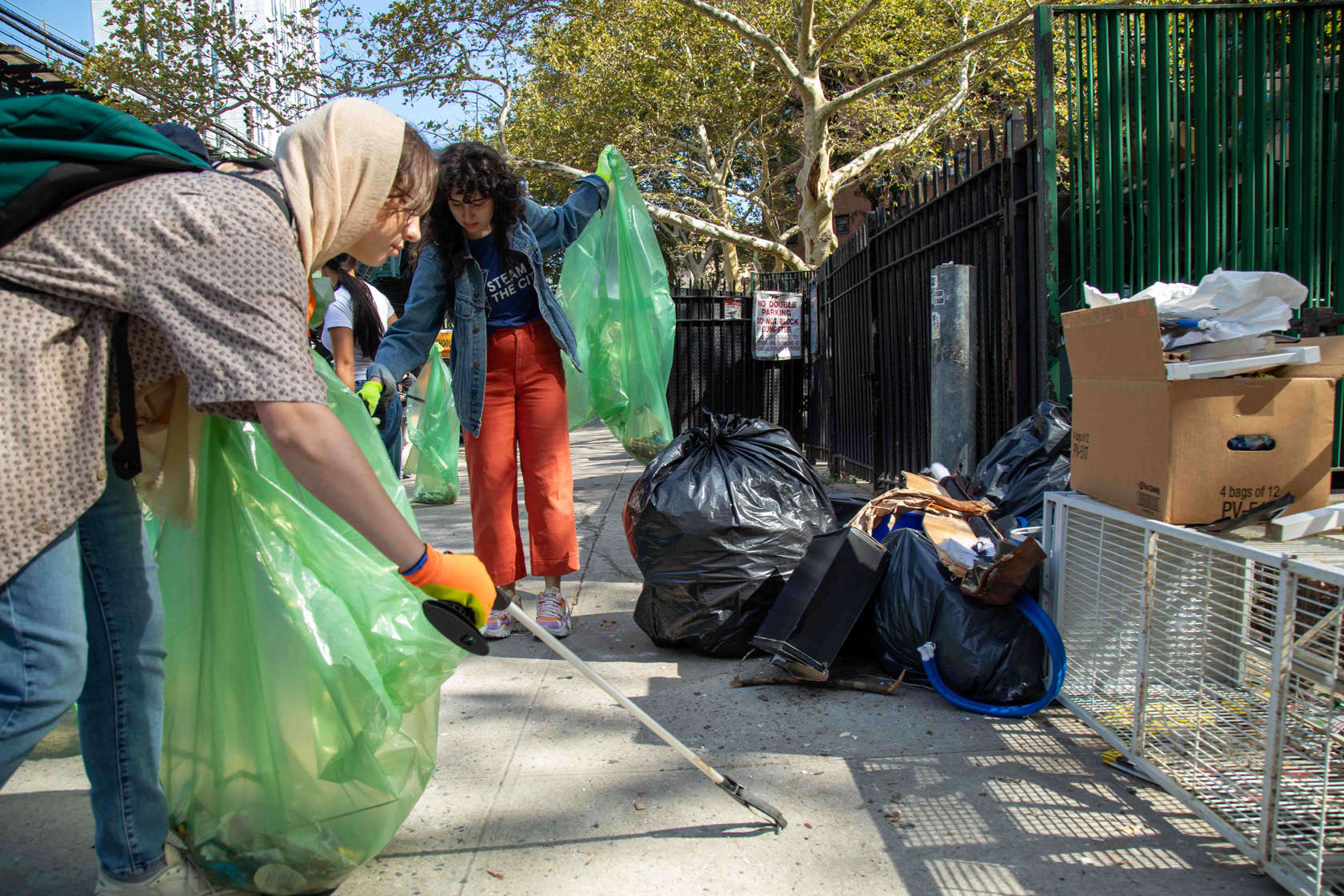 Sandra Goldmark, Barnard's director of campus sustainability and climate action — who performs neighborhood cleanups with her children every year in Inwood, where she lives — couldn't agree more. "I am personally very excited about the Broadway sweep," she said. "I think spending time together, and quite literally taking care of the place where you live, is an important practice. It's a concrete way to take action, right now, and to show that you care about your home, your City, and your neighbors."
Goldmark, who is also the senior assistant dean for interdisciplinary engagement at Columbia Climate School, continued: "It's a step on the path to larger commitments and larger changes — and it feels good to see your neighborhood look nicer!"
 
At the heart of Barnard's participation in the Great Broadway Sweep is the College's strong connection to the City, Columbia, the surrounding community, and sustainability. 
 
"[Barnard has] taken multiple steps to reduce waste and promote reuse through our efforts to build a Circular Campus, [and] our Give and Go Green initiative diverted nearly 25,000 pounds of material from landfills last year," President Rosenbury told participants.  
 
The many students on "Team Barnard" who helped to collect the trash — all of whom practiced sustainable circularity by wearing their previously worn college T-shirts — included Katelyn Lam '25 and Carter Watts '25. 
"It is personally important for me to participate, as it encourages an engagement with the people and the City around me. The cleanup initiative behind the Great Broadway Sweep is a way to contribute back to the spaces that I revolve around," said Lam, an inaugural STEAM in the City fellow majoring in cognitive science. "Barnard's participation speaks volumes for what the College and community stands for. It is a foundational event to be involved in as we think about our collective action for a sustainable future." 
Watts, an urban studies major and Senior STEAM SEED member in CEI, also spoke about the importance of coming together, even as a busy working student. "I know I have found myself forgetting that I am in New York City and that there is so much for me to be a part of," she said. "In a City where millions of people feel like me — hustling to the next appointment or to the grocery store — it is important to slow down to come together. This is [also] a great way to start off the school year by being a good neighbor." 
At Barnard, caring for the City's streets and garbage goes beyond just taking out the trash; it's an opportunity to reinforce the College's connection to the City and to respond to the climate crisis by reinforcing sustainable practices.