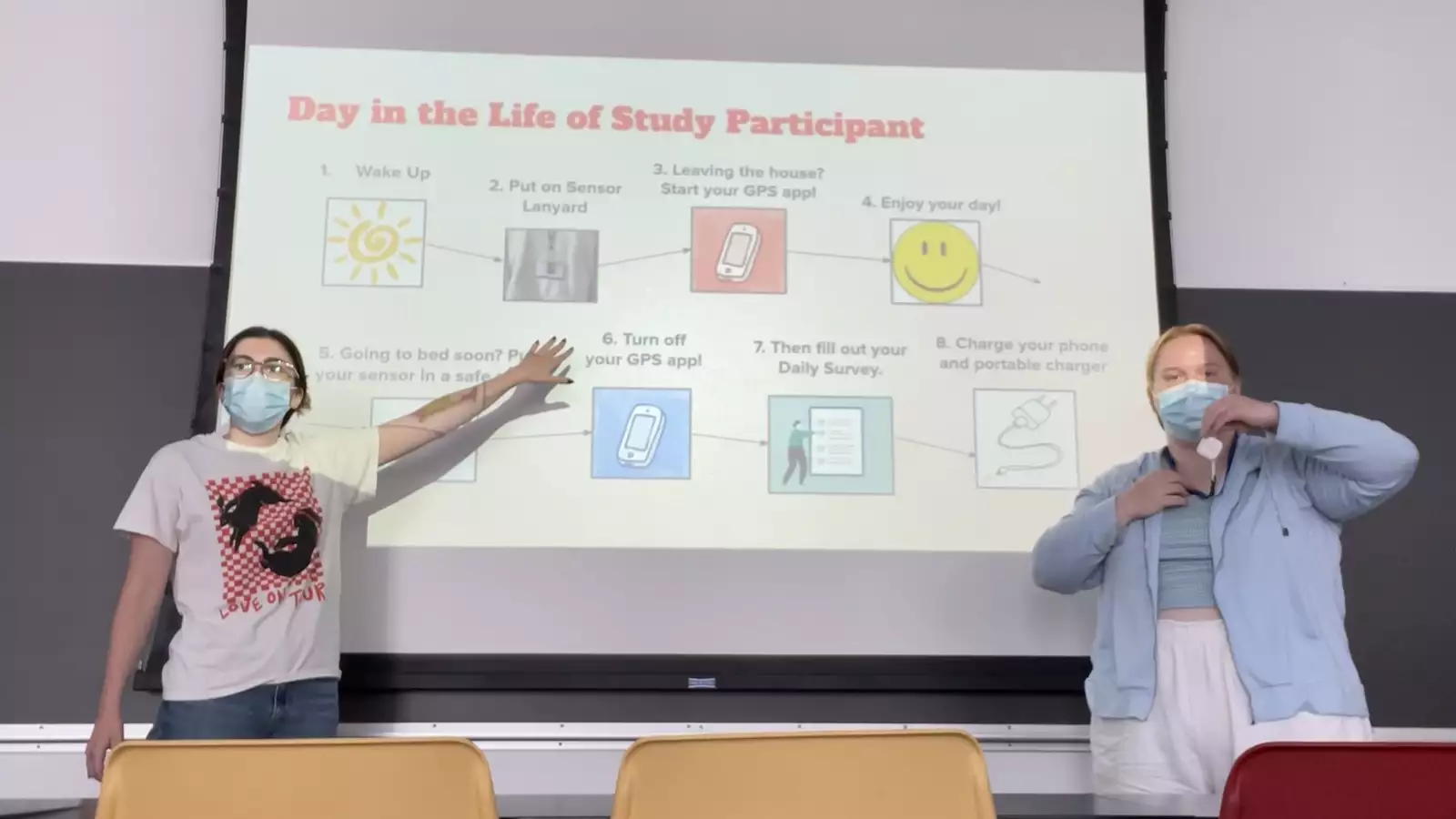 Delaney Wellington '23 is a senior who has spent much of her time at Barnard thinking about sustainability. As an environment and sustainability major within the Department of Environmental Science, Wellington researched over the spring and summer of 2022 how individuals experienced a heat wave in northern Manhattan. Sadly, as temperatures in the City hovered over 90 degrees for 10 consecutive days in July, Wellington and her research partner, Lauren Zakari '23, had plenty to work with.
As many children in the City turned to fire hydrants to stay cool — as young New Yorkers often do — older residents did not have that luxury. Nor did they have adequate access to cooling centers, according to an August report from the City's comptroller, with 83% of the centers "listed as being closed" during one of the heat wave's hottest days. 
With the help of Barnard's Summer Research Institute, Wellington was able to expand her spring research on high heat in the City's cooling deserts into the summer and collect live data from residents who used a GPS app to track the changing heat indexes as they moved from neighborhood to neighborhood. What Wellington discovered and described as "not surprising" was that the majority of people surveyed experienced extreme heat within their homes with little reprieve or access to comfortable and healthy temperatures. As heat waves increase in length and intensity in NYC and across the country, Wellington is motivated to learn more about how the City can improve systems for all residents, regardless of their economic status. 
Learn more about Wellington's research in northern Manhattan, perfectly timed for Climate Week NYC (September 19-23), in the Students Share essay below.
Delaney Wellington '23: Studying sustainability at Barnard was an easy choice for me. There's a tangible science to the earth's processes, and it's exciting to study the systems that humans are completely reliant on, yet time and time again we are subject to the intensity and unpredictability of these systems. While this interest makes each of my difficult assignments and labs feel a little more worthwhile, it's something much deeper that inspires my studies. 
In spring 2022, I took one of my major's capstone classes — Workshop in Sustainable Development. In the class, we assisted a local organization, WE ACT for Environmental Justice, in preparation for a research project on extreme heat and its effect on environmental justice areas in New York City. ("NYC's environmental justice law defines 'Environmental Justice Areas' as low-income or minority communities located in the City of New York, based on US Census data," according to the Mayor's Office of Climate and Environmental Justice.) My class and I spent an entire semester analyzing pilot data, creating inclusive outreach materials, and painting a detailed picture of how the study should be executed during the summer. I applied to continue the study as a Summer Research Institute participant under Professors Elizabeth M. Cook and Logan Brenner [in the Department of Environmental Science]. 
When I was offered the position, I was excited to be a part of a project I cared about. Over the course of the semester, it quickly became evident that the extreme heat problem was complex. One cannot simply look at the weather forecast to assess how high temperatures will affect a community. There must be a robust understanding of the factors that increase populations' vulnerability and the accessibility of resources that can effectively alleviate that vulnerability. After my classmates and I spent hours mulling over what the study would look like, it was time to execute it. 
My research partner, Lauren Zakari '24, and I set out to give a small group of northern Manhattan residents heat sensors to place in their home, directly outside their home, and to wear on their person. With this data, we could create a detailed picture of one's individually experienced heat stress. In tandem with the sensors, we used a GPS app to track differences in temperatures throughout the city and daily surveys to record heat stress symptoms and perceived heat readings. WE ACT's team recruited 10 study participants for us; five resided in East Harlem, four in central Harlem, and one in Washington Heights, with ages ranging from 21 to 54 years old. Six days of the seven-day data collection period were classified as within a heat wave, with temperatures averaging 90 degrees Fahrenheit and above. 
The results were not surprising. 
Only one participant's home sensor averaged below NYC's recommended home temperature of 78 degrees Fahrenheit, based on safety and energy conservation. The home with no air conditioning (A/C) averaged at 94 degrees for five days [out of the six] of the heat wave. Based on the location of windows, building type, air circulation, and access to an A/C and fans, home temperatures varied greatly. In a post-study survey, all 10 participants denoted the cost of an A/C as a deterrent from installing it or keeping it on for longer periods of time. A home is supposed to be safe and comfortable, but these things become a luxury for many during NYC's sweltering summer months. Participant-focused research is incredibly important to find equitable solutions to climate change.
I learned that scientists have to become better communicators, not only in delivering their findings but in preparing their participants to collect data. The answer to the extreme heat issue doesn't have one definitive solution, but one thing is clear: Those who are most vulnerable to extreme heat [must] have access to resources while we refrain from putting additional stress on the City's power grid. Lastly, I learned that we cannot be paralyzed by the complexity of climate change, especially in urban areas, because of the urgency. While my goal as a student and researcher is to think critically and test what solutions are most effective, I care more about the urgency at hand and the communities who were and continue to be affected by climate change every day. 
For more on how the College actively acknowledged Climate Week NYC, check out this feature on Barnard's climate symposium, and this Q&A on leveraging circularity with Sandra Goldmark, Director of Campus Sustainability and Climate Action.