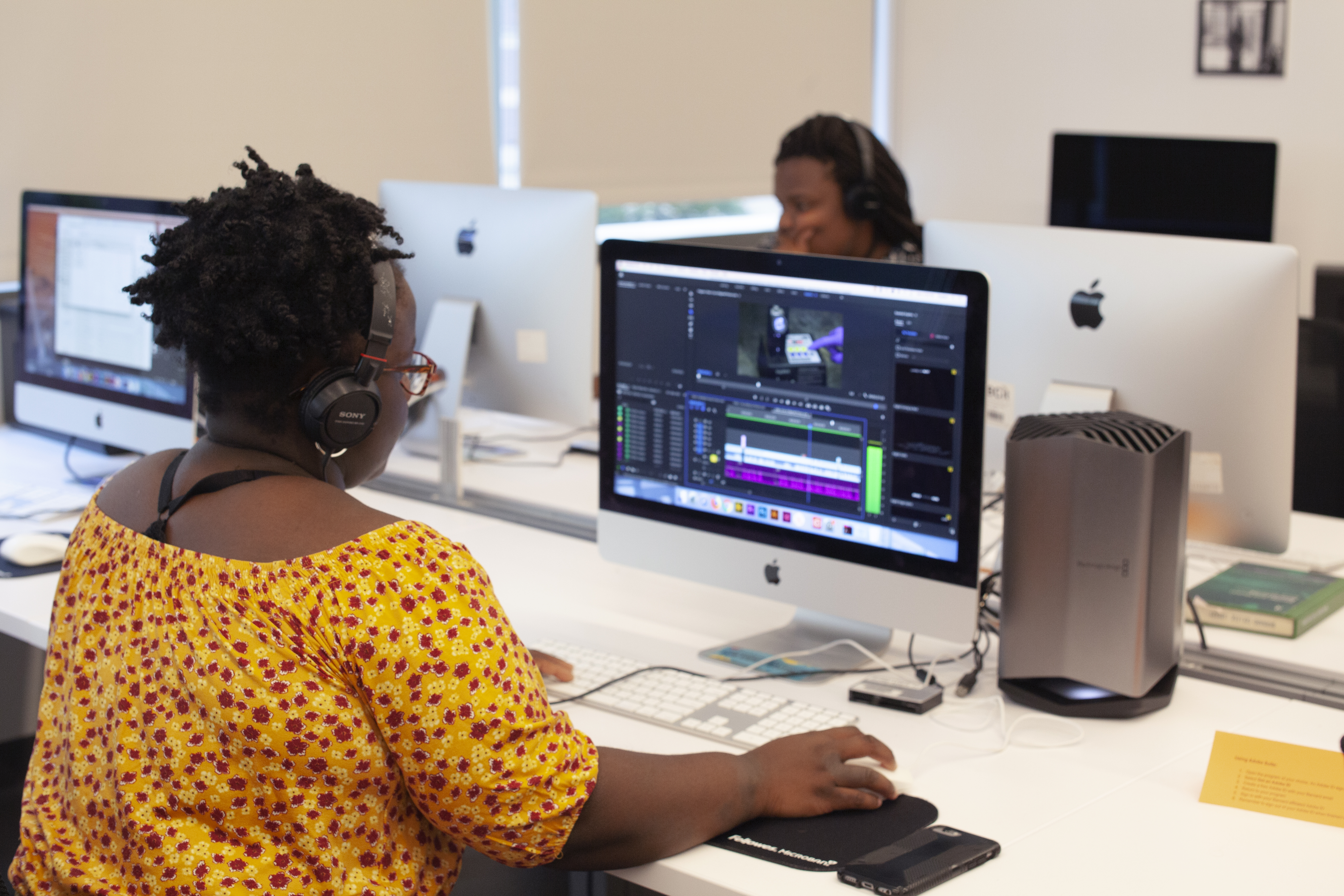 Our post-production computer lab features Adobe Software, including Premiere, Photoshop, Illustrator, InDesign, and AfterEffects; DaVinci post-production software; Hindenburg; AutoCAD; Sketch; and Rhino. Barnard and Columbia students can drop-in to use whenever the space is open, however, check the calendar as it is sometimes reserved for courses and workshops. No food is allowed, and beverages must be in a sealed container. Graphics and post-production work is prioritized for use in the space.
To use our Post-Production lab, you may drop in without a reservation during Milstein Center Building Hours. Additionally, you can access Graduate Assistant Help Hours Virtually (book below). So if you're working with creative software at home or in the lab, someone can be there to troubleshoot with you!
Lab Hours: 
Monday - Friday 8AM - 12AM
Saturday - Sunday 10AM -12AM
Community Guidelines
Please sign in on the ipad or via our QR code, this helps us with keeping the lab up-to-date for student needs as well as addressing any necessary contact tracing.
Our spaces are meant to be accessible and open regardless of skill level or physical ability.
Priority for these spaces is given to currently enrolled undergraduate students.
Priority for these spaces is given to users who are working on creative media projects.
Please save your work on a personal hard drive as these computers are wiped on a weekly basis.
During high-traffic times (end of semester) please refrain from 'claiming' a workstation to hold while you are not actively working in the space.
The post-production lab is meant to be a quiet space for working, studying, research, collaboration, and consultations.
Please use headphones, refrain from taking phone calls, and keep conversations at a low to normal volume.
Users are welcome to lower the window shades if sunlight glare presents a visibility issue on the computer screens.
This lab is open whenever the building is open. You are welcome to be here unless the room is reserved for a class (calendar is posted on the front door as well as our website.)
Per the Barnard College campus COVID-19 guidelines, please wear your mask at all times in this space, even if you are the only person working here. Masks are available at the IMATS window on the second floor.
If you'd like, sanitizing wipes are available by the front door for your use.
Help us take care of the space. Food is not permitted. Drinks must be in sealed containers.
Please notify Media Center staff if equipment or software is not working properly or needs attention. If there is not a Media Center staff member in the space, email mediacenter@barnard.edu.
All accessories (cables, headphones, card readers, etc) must remain in the room. If you need to unplug or move something, please return the station to its original configuration when you are finished.
Together, we create and uphold a welcoming and positive space of innovation, anti-oppression, inclusivity, and user privacy.
For any questions or concerns, please contact Media Center staff: mediacenter@barnard.edu