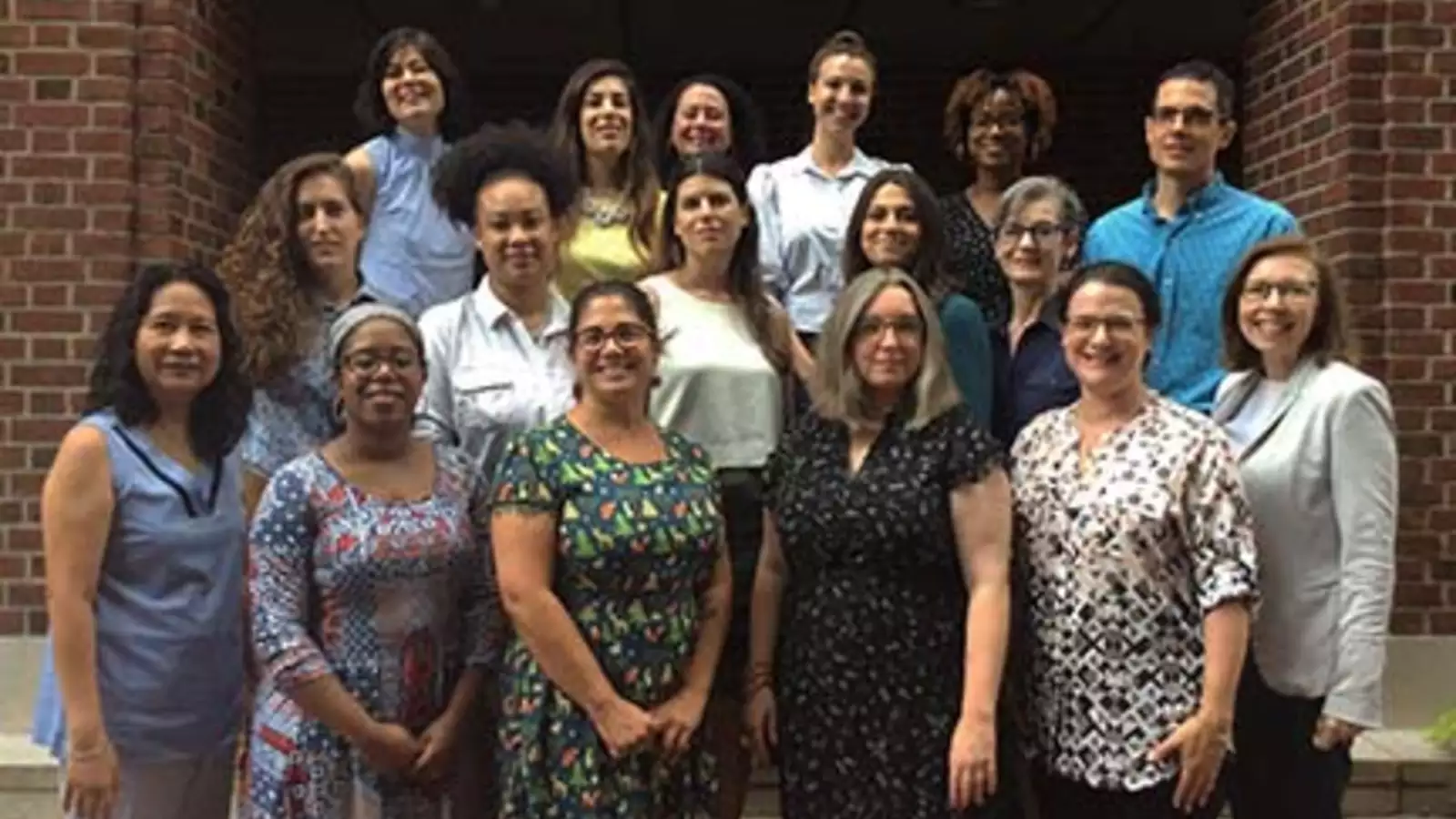 Furman Counseling Staff 2020 - 2021
The Furman Counseling Center staff is made up of psychologists, psychiatrists, social workers, and interns in these fields.   As a group, we represent a wide variety of professional interests and specializations, including multicultural issues, wellness, sexual identity, women's issues, eating disorders, and social justice. All of us are committed to providing services in ways that recognize, respect, and value the diversity of Barnard students.
Mary Commerford, Ph.D., Director, Furman Counseling
mcommerf@barnard.edu
Education History:
Ph.D. Clinical Psychology, Fordham University
M.Div. Ministry, Yale University Divinity School
A.B. Theology, Philosophy, University of Notre Dame
Professional Interest and Specialties:
Eating Disorders
Psychoanalysis
Spirituality/Religion
Women and Young Adult concerns
LGBTQ
Hilary Colenso, Ph.D., L.C.S.W., Associate Director and Training Director
Education History:
Ph.D. New York University
M.Sc. University of Oxford, England
B.A. University of Leicester, England
Professional Interest and Specialties:
Interested in a broad range of women's psychological and relationship issues including the loss and transitions, affective disorders, substance use, trauma and abuse.
Research Interests:
Women's Substance Abuse and Treatment
Drew Bianchi, M.D., Staff Psychiatrist
Education History:
Fellowship in Child and Adolescent Psychiatry, New York University
Residency in Psychiatry, Mount Sinai School of Medicine
M.D. University at Buffalo School of Medicine
B.A. Psychology, University at Albany
Professional Specialties:
Evaluation and treatment of psychiatric illness in adolescents and young adults
Mindfulness and meditation
Spirituality
Research Interests:
 Clinical applications of mindfulness and spirituality in psychiatry
Elizabeth Hantman, M.D. Staff Psychiatrist
Education History:
Residency in Psychiatry, New York State Psychiatric Institute and Columbia University
Fellowship in Child and Adolescent Psychiatry, New York Presbyterian Hospital of Columbia and Cornell Universities
M.D.Columbia University, College of Physicians and Surgeons
B.A. Psychology, Rutgers College, Rutgers University
Professional Interest and Specialties:
Child and Adolescent Psychiatry
Evaluation and treatment of psychiatric illness
Psychological development throughout childhood and adulthood
Research Interests:
Pain symptoms, stress, and psychiatric illness
DeShaunta Johnson, Ph.D., Staff Psychologist
Education History:
Postdoctoral Fellowship: Columbia University Counseling and Psychological Service
Predoctoral Fellowship: Yale University School of Medicine
PhD, Clinical Psychology, Graduate Center, City University of New York
BA, Dance and Postcolonial studies,  Sarah Lawrence College
Professional and Research Interests:
Complex trauma
Restorative Justice and Liberation Psychology
Psychology of oppression
Transgenerational transmission of trauma
Depression in Sub Saharan Africa
Anna Lin, Ph.D., Staff Psychologist / Trauma Specialist
Education History:
Ph.D. Clinical Psychology, Adelphi University
Ph.D. Chemistry, University of Michigan, Ann Arbor
B.S. State University of New York at Stony Brook
Professional Interest and Specialties:
Trauma
Sexual violence response
Multiculturalism and diversity
Self-regulation skills including mindfulness
Young adult challenges in identity and career development
Marisa Mabli, LCSW, Coordinator, Alcohol and Substance Awareness Program 
Education History:
Post Graduate Certificate in Spirituality and Social Work, New York University
MSW, Simmons College
BA, Social Sciences Interdisciplinary, SUNY Stony Brook
Professional Interests and Specialties:
Young Adults Alcohol and Substance Abuse Treatment
Spirituality
Outreach and Campus Alcohol and Substance Prevention
LGBTQ
Kathleen Niegocki, Ph.D., Staff Psychologist, Eating Disorder Specialist
Education History:
Postdoctoral Fellowship, Counseling and Psychological Services, Princeton University 
Predoctoral Fellowship, Counseling and Psychological Services, University of Pennsylvania
Ph.D.,  Counseling Psychology, Ball State University
M.A., Clinical Mental Health Counseling and Social Psychology, Ball State University
B.A., Psychology, Earlham College
Professional and Research Interests:
Eating and body image concerns
Trauma recovery
Concerns related to relationships, adjustment, and life transitions
Cultural and identity concerns
Positive psychology, mindfulness, and self-care
Christy Dabreo-Otero, M.A., Psychotherapist and Outreach Coordinator
Education History:
Predoctoral Internship, Kings County Hospital Center
Ph.D. Candidate Clinical Psychology, St. John's University
M.A., Clinical Psychology, St. John's University
B.A., General Psychology, Baruch College- City University of New York (CUNY)
Professional Interest and Specialties:
Women's concerns and issues
Identity development
Emotion regulation and coping with anxiety
Establishing connections and managing relationships
Emerging adulthood
Doctoral Interns: none this academic year
Doctoral Externs:
Kayla Wong, M.A., Doctoral Candidate
Social Work Interns: none this academic year
Administrative Staff:
Norinda Del Fierro, B.A., Office Coordinator/Admin. Asst.
Cachaundra Tarvin, Receptionist