Whether you are a current or potential Barnard employee, the Office of Human Resources is here to provide you with clear and accurate information and the best possible service. We hope that you find the site useful and will feel free to email any of the HR staff directly with questions or suggestions. We look forward to working with you.
The mission of Barnard College to provide the highest quality liberal arts education to promising and high-achieving young women depends on the support and commitment of diverse, informed, and engaged staff. The mission of the Barnard Staff Advisory Council is to provide a voice for all levels of staff at Barnard College and a direct line of communication to the President and College leadership.
Barnard Staff Advisory Council
The Staff Council will advise, bring attention to, and address issues that impact the culture and climate for College staff, and create programming that seeks to celebrate and recognize the many contributions of the staff as critical and valued stakeholders of the College community.
What Is BSAC?

In 2017, Barnard's Presidential Task Force on Diversity & Inclusion released a set of recommendations to the administration and Board of Trustees, including the formation of a staff council to provide a more formal mechanism for communication between all levels of staff and the senior leadership of the College.

From September 2017 through March 2018, a group of College staff, invited to participate at the recommendation of their department heads, met regularly as a steering committee to create the framework for the newly created Barnard Staff Advisory Council. Many of these initial participants then chose to serve as Council members. Moving forward, members will rotate off the Council after a period of 12-18 months of service, at which point new members will be chosen.
Duties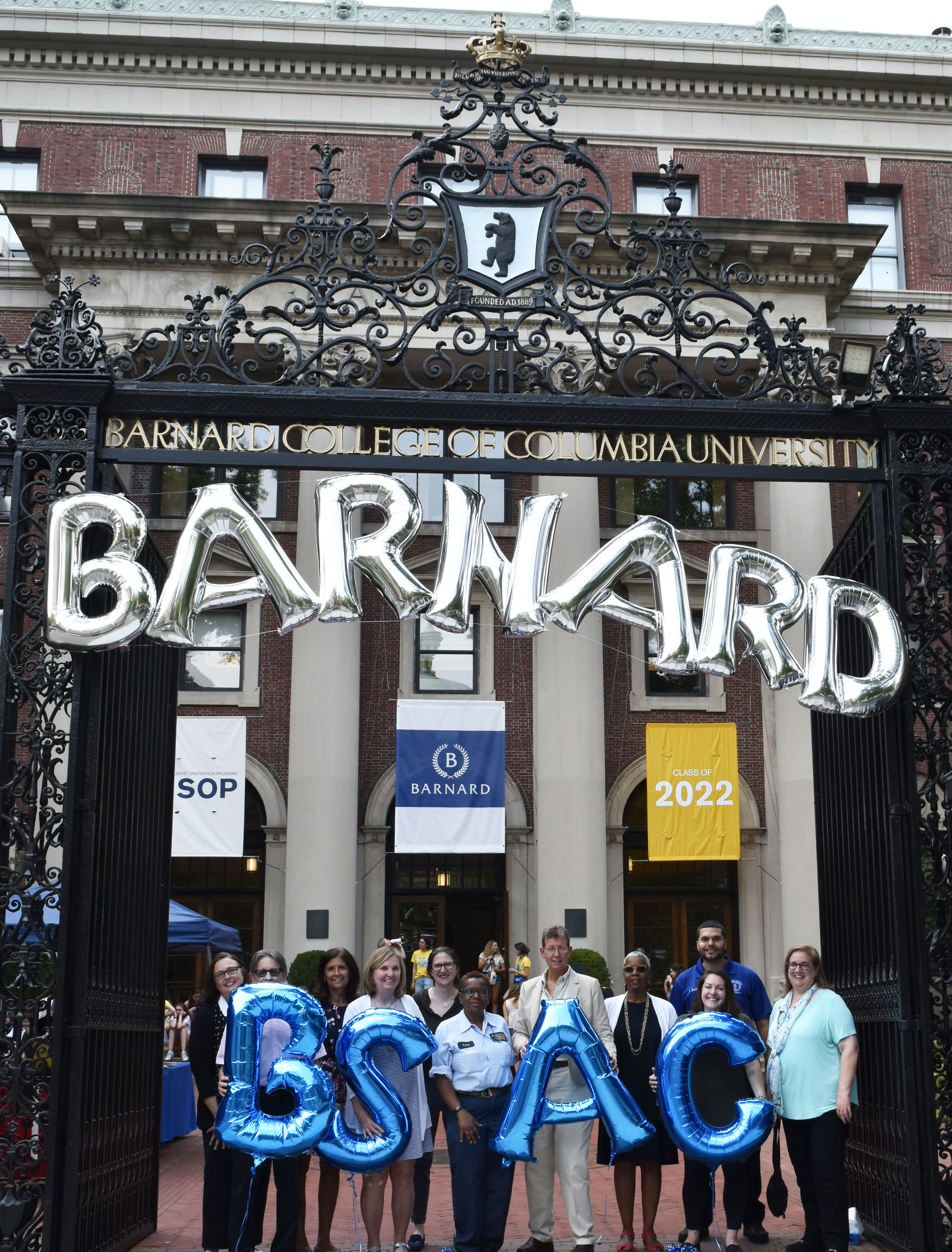 BSAC is the advisory body of the staff of Barnard College and advocates for the staff members' interests as stakeholders at Barnard College. Specifically, the objectives of BSAC shall be to:

- Provide a channel of communication between staff and the President and administration;

- Provide referrals for concerns to appropriate College resources or administrators;

- Conduct regular public meetings, forums, surveys, etc., to exchange information and determine topics of staff interest;

- Promote a sense of community through initiatives to enhance the staff experience.

BSAC is not a forum for any discussion of any employee grievances, wages, hours of employment, benefits, bonuses, health and safety rules, health care coverage, employment policies or any topic related to the terms and conditions or that are covered by any Collective Bargaining Agreement with the College.

View our bylaws.
Meetings
BSAC meetings typically take place on the second Monday of each month, from 12:00-1:00pm. If you would like to attend, please email bsac@barnard.edu to RSVP.
I.D. CARDS
Faculty & Staff
All new employees are issued a temporary I.D. card by the Office of Human Resources. Take this card to Public Safety (Lobby, Barnard Hall) to receive an authorization form that is then brought to the I.D. Center in 204 Kent Hall, Columbia.
For I.D. card renewals, please visit Public Safety with the expired employee I.D. card in order to receive an authorization form that is then brought to the I.D. Center in 204 Kent Hall, Columbia.
I.D. cards should be carried at all times and must be presented when using College facilities.
Medical Emergencies
In the event of an emergency, including medical emergencies, employees should contact Public Safety (x43362). Public Safety, in turn, will contact the appropriate authorities. To summon security urgently, touch 88 on any campus phone or use the Emergency Call boxes placed around campus.
Public Safety will then determine what the appropriate disposition for the injured/sick person will be and will be able to most effectively guide emergency medical services (EMS) if necessary.
Please do not call either 911 or Barnard Primary Care Health Services directly -- that may delay the response to the emergency and adversely affect the outcome.
Lost and Found
Public Safety serves as the College's Lost and Found Service. Losses should be reported to Public Safety.
Problems Resolution
General College policies are available on the Human Resources website. Questions regarding work assignments, job policies and procedures, hours, lunch, and breaks should be directed to an employee's immediate supervisor. The supervisor is also available to discuss other concerns which may emerge in the work place. Questions or problems which are not resolvable at the department level may be directed to the Office of Human Resources.