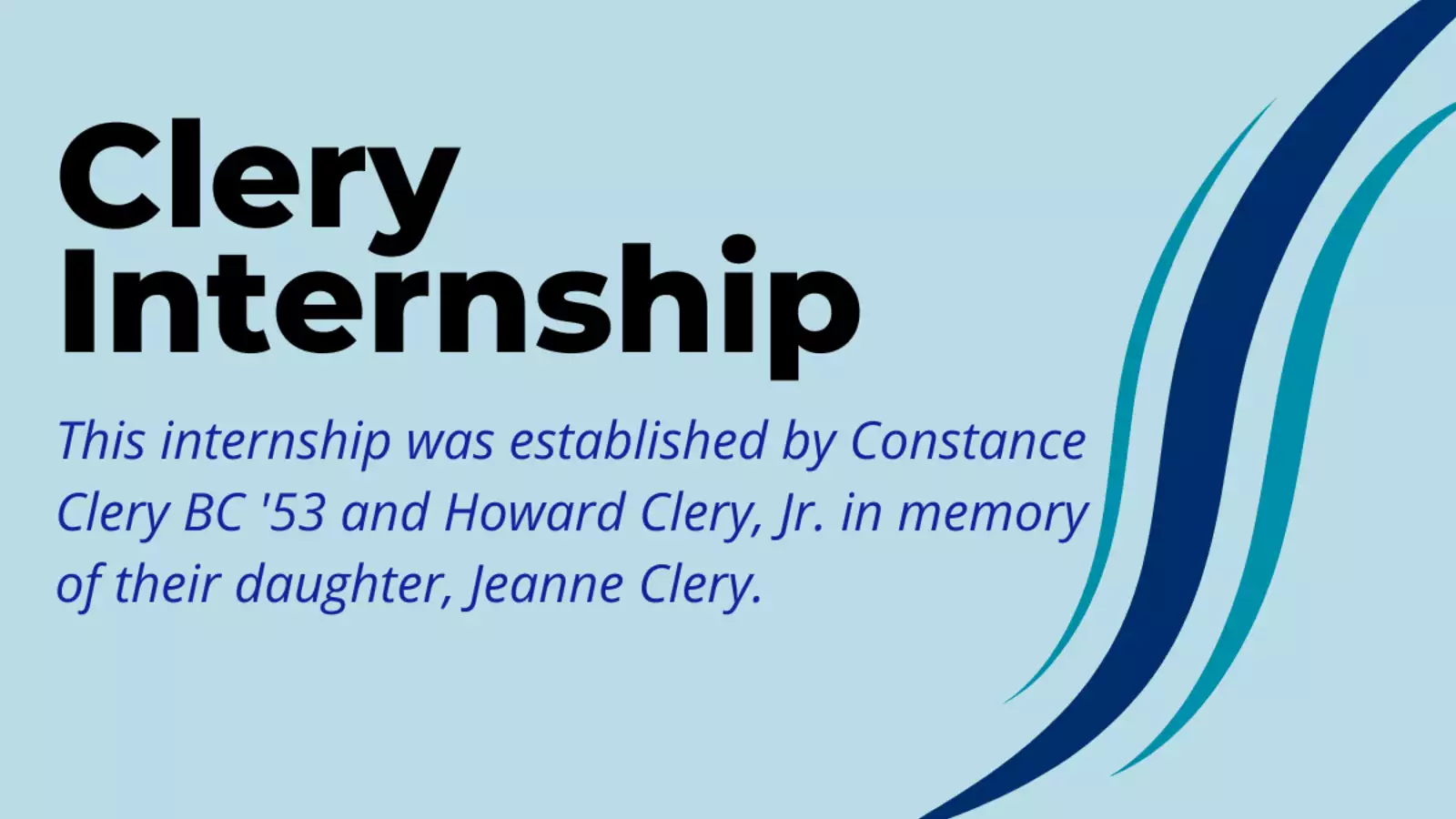 17th Annual Clery Lecture Series:
-
Hybrid - James Room (4th Floor Barnard Hall) & Zoom
Sexual and relationship violence is far too prevalent and has long-lasting impacts on those who have experienced it directly and indirectly. Barnard strives to change and dismantle the culture of violence in the world. By strengthening and uplifting our community of students, faculty, staff, administrators, and alumni through educational workshops, bystander intervention, and connection resources.
The Clery intern supports campus power and gender-based violence awareness and prevention efforts. Efforts lead to dismantling a culture of violence in the world through educational workshops, bystander intervention, and promoting consent. Also involved in these efforts is raising awareness of campus and community resources, such as Being Barnard, Barnard's violence prevention program, and Columbia Health Sexual Violence Response. 
In memory of their daughter, Jeanne Clery, alumna Constance Clery (BC'53) and her husband Howard K. Clery designed The Jeanne Clery Internship to support these efforts. The Jeanne Clery Internship is designed to support Barnard students who would like to participate in meaningful gender-based violence prevention work experiences and may not otherwise be able to do so without funding.
As a result of Mrs. Clery's generosity and commitment to violence prevention, we are honored to be able to support and empower students to make changes within the campus community and beyond.
---
Eligibility
To be eligible for the Clery Internship, you must be:
A current Barnard student in good academic and judicial standing

Able to commit 1 academic calendar year to the role

Available to work in person with a hybrid flexibility schedule of up to 10 hours per week in the Fall and Spring semesters
The internship is a 1 year paid opportunity funded by Barnard alum Constance Clery (Barnard '53) and her husband Howard Clery in memory of their daughter Jeanne Clery.
---
Responsibilities
Responsibilities include but are not limited to:
Increase the visibility of the wide variety of resources available to the Barnard community through independent and collaborative outreach with campus partners 

Conduct outreach education to the campus community

Coordinate educational workshops and events throughout the academic year

Coordinate the Annual Jeanne Clery Lecture Series as part of Sexual Assault Awareness Month in April

Develop at least one social media campaign each academic year in relation to sexual violence, relationship violence, and/or resources available

Conduct independent research on prevention strategies and conversations relevant to the experiences of college students and power-based violence

Attend weekly meetings with internship supervisor(s) to discuss goals and progress within the internship

Assist with general office duties
---
Application Process
Applications are currently open for the Fall 2022-23 calendar year. Interested eligible applicants must submit a Clery Internship application no later than Friday, September 23, 2022. 
Timeline:
Sept. 16th: Application period open 

Sept. 23rd: Application due.

Sept. 27th: Interviews take place

Week of Oct. 3rd: Internship training
To apply complete the following Google Form 
---
Frequently Asked Questions
Absolutely! While experience planning events is preferred, we welcome all experience levels. Training and weekly supervision will provide ongoing support to selected interns
While we appreciate the enthusiasm, no late submissions will be accepted.
Academic credit is not an opportunity for this internship at this time. We invite you to contact Beyond Barnard to learn about other internships where you can receive academic credit.
In addition to gender-based violence prevention, the Clery Center focuses on hazing, and campus fire safety. To learn more about the Clery Center, click here
Swiping Safely: Don't Get Swindled
Spring 2021-Spring 2022 Clery Intern, Mary Bence presents an interactive discussion on online dating safety. A recent survey shows that 91% of college students are using dating apps. As Netflix shows such as The Tinder Swindler and Bad Vegan gain popularity, digital protection becomes just as important as in-person protection. Drop by the table in Diana to identify the red flags and green flags for your own dating profile and others. On your way out, drop by the Stuf'd food truck for some FREE sliders. 
15th Annual Jeanne Clery Lecture Series: Navigating Relationships & Sex During COVID
This much-needed conversation will feature sex educators, Francisco Ramirez and Bianca Laureano, in discussion around how to best navigate relationships and sex during this significant moment in our collective history. 
Together, we will explore communication strategies for strengthening our relationships, what consent looks like – both in person and from a distance, ways to promote respect, and how to take care of our mental health during this challenging time.
The Jeanne Clery Lecture Series was established by Constance Clery BC '53 and Howard Clery, Jr. in memory of their daughter, Jeanne Clery. 
14th Annual Jeanne Clery Lecture Series - Body Sovereignty and Kids: How We Can Cultivate a Culture of Consent
Given the rates and gendered nature of interpersonal violence, we must start talking about consent as early as possibly if we hope to shift the trajectory of young adults before they reach campus.
Join speaker Monica Rivera, Sexual Violence Response, and Barnard College for the 14th Annual Jeanne Clery Lecture as we discuss education and cultivating a culture of consent.
The Jeanne Clery Lecture Series was established by Constance Clery BC '53 and Howard Clery, Jr. in memory of their daughter, Jeanne Clery.