When should a student begin preparing for life after college? According to the team at Beyond Barnard, Day 1 is not too early, and it's never too late to think about post-graduate options.
Beyond Barnard supports all students and alumnae of the College as they define, pursue, and achieve success in their careers and communities. Areas of focus include careers, experiential education (student jobs, internships, civic engagement, and post-baccalaureate programming), fellowships and research, as well as advising on graduate and professional school. Whether a student or an alumna is interested in academia or industry, nonprofits and the government or the arts, Beyond Barnard is here to help. 
And Beyond Barnard is already proving successful. Since the office launched in the spring, the team has held more than 2,500 one-on-one advising appointments, hosted 125 events, and has brought job recruiters to campus for 167 on-campus interviews. The Beyond Barnard team has posted nearly 16,000 jobs and internships. It provides graduate, medical, and professional school preparation; connects students and alumnae with internships, research opportunities, and competitive fellowships; and offers a lifetime commitment to alumnae. 
---
Read The New York Times article on Beyond Barnard.
---
Unlike similar programs at other colleges and universities, Beyond Barnard draws on the expertise of faculty to complement the academic mission of the institution. At Barnard, students have access to a menu of faculty-driven programs, such as the Summer Research Institute (SRI), the Post-Baccalaureate Fellowship Program, and the Mellon Mays Undergraduate Fellows.
Resources for Students in STEM
To help students and alumnae pursue all things STEM, the College launched the Beyond Barnard STEM Network, which helps facilitate connections among students, faculty, alumnae, and employers, to promote knowledge about post-college opportunities for STEM majors. Competitive national and international fellowships fund students' work while they receive training to discern their specific intellectual passions. Examples include the David L. Boren Scholarship, which has an eight-week summer initiative specific to STEM students; the Barry M. Goldwater Scholarship to support students who are interested in engineering, mathematics, or careers in the natural sciences; the Microfluidics STEM Scholarship, which supports students majoring in STEM with academic expenses; and the Woodrow Wilson Teaching Fellowship, which grooms undergraduates with backgrounds in STEM to work in high-need secondary schools in Georgia and New Jersey.    
In addition to national STEM opportunities, the most popular STEM program for Barnard students is the College's own Summer Research Institute (SRI). SRI broke its own record this year by hosting 161 students. Josephine McGowan '16, who spoke at this year's SRI alumnae panel and is currently enrolled in a neurobiology and behavior Ph.D. program at Columbia, gives credit to SRI for inspiring her to begin a career in neuroscience, even though she originally enrolled at Barnard on a writing track. "I was able to see, hey, women could do science, and this is a really creative career; I can still do writing, and still do the things I love, while still being a scientist," she says.
Resources for Students Preparing for Graduate & Professional School
For students and alumnae who need support when considering graduate or professional programs in business, law, medicine, health, and social work, Beyond Barnard offers guidance to help make choosing the right path less daunting. For example, anyone interested in health professions can gain experience in the field, obtain help completing applications, attend a pre-health overview session, and join a listserv to have pertinent information delivered directly to their inboxes. 
Students whose interests lie in engineering can complete both a Bachelor of Arts from Barnard and Master of Science degree from Columbia University's Fu Foundation School of Engineering and Applied Science (Columbia Engineering) in one of Barnard's 4 + 1 pathways — making Barnard one of the first colleges for women to offer an opportunity of this kind. Students can complete the Bachelor and the Master of Science in five years. Other 4 + 1 pathways are with Columbia's School of International and Public Affairs, Columbia's Graduate School of Arts and Sciences Quantitative Methods in the Social Sciences, and Columbia's Harriman Institute Program.
Beyond Barnard also offers support with the Hertz Fellowship, which assists students seeking a Ph.D. in global health and development; the National Physical Science Consortium, which supports doctoral study; the National Science Foundation Graduate Research Fellowship Program, which supports up to three years of research-based graduate study; and the Knight-Hennessy Scholarship, which offers full funding to pursue any graduate degree offered at Stanford University, including for a J.D. or M.D. 
Other opportunities for Barnard scholars include the James Madison Fellowship, which supports master's-level study in teaching constitutional history and government; the Rhodes Scholarship to support postgraduate study at Oxford University; the Thomas R. Pickering Graduate Foreign Affairs Fellowship, which offers study toward a master's degree for the purpose of pursuing a foreign service career in the U.S. Department of State; and the Rabin-Shvidler Post-Doctoral Fellowship in Jewish Studies at Columbia.
The Mellon Mays Undergraduate Fellowship program encourages students with a demonstrated commitment to racial diversity to pursue academic careers. It provides opportunities for talented students to work with faculty mentors in research and other activities designed to encourage the pursuit of a Ph.D. in the humanities and sciences. Aneliza Ruiz '19, a Mellon Mays Undergraduate Fellow, credits the program with helping her gain confidence to apply to Ph.D. programs in the areas of American, Chicanx, and Women's, Gender, and Sexuality Studies. "Mellon has supported my journey to a Ph.D. every step of the way by giving me the resources to understand what to look for in a program and how to seek mentorship and research opportunities, while also enabling me to conduct a research project of my own that focuses on Mexican and Chicana women in art and gang/subculture communities in Los Angeles," Ruiz says. "My trajectory as a student would have been very different had Mellon not helped me reach new heights."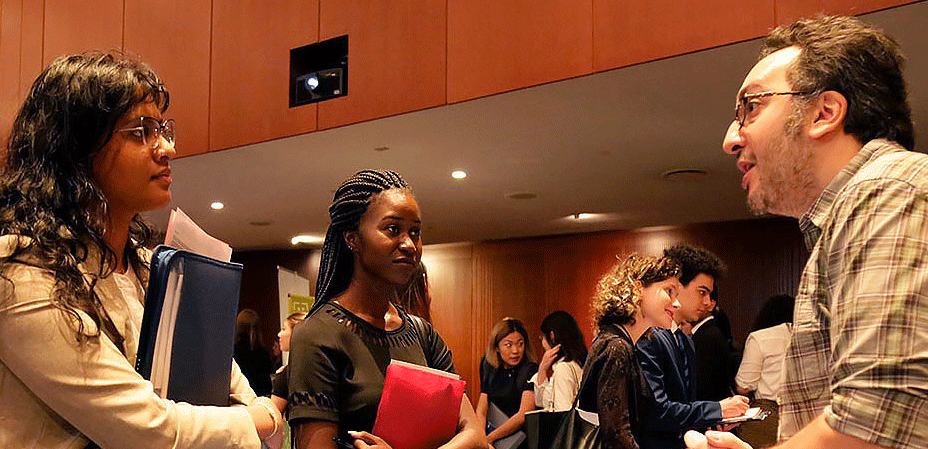 Internships & Job Opportunities
The right employment fit goes beyond finding the right job, as Barnard's goal is to help students and alumnae realize or reinvent their career ambitions. Both students and alumnae can obtain one-on-one advising, in addition to information about events, programs, and online resources. Beyond Barnard connects students and alumnae to employers — such as The Washington Post, Mount Sinai Medical Center, American Museum of Natural History, and Microsoft — who hire students, offer internships and externships, and participate in on-campus career fairs. 
The Con Edison Summer Internships in Science for low-income and underrepresented, full-time undergraduate women students (African American, Latina, or Native American) offer a funded grant and summer internship in New York City or Westchester County. Barnard's own externship program, the Post-Baccalaureate Fellowship, is a one-year, career-learning experience for recent alumnae who report to a faculty director. With various placements, Fellows enhance their technical and workplace skills while also working in new technologies, digital scholarship, and creative writing. 
This summer, economics and human rights major Laura Robert-Rivera '20 put her passion for nonprofits to use as an intern at Girl Scouts in the global and fund development departments, while Annika Mukherjee '20, a Tow Special Professional Opportunity Awardee who interned at the U.S. Mission to the United Nations, focused on the social sciences. "One of the projects I worked on that I'm really proud of is a toolkit I've developed for disaster relief that I'm sharing with Girl Scouts in Puerto Rico," Robert-Rivera said. "After the hurricane impacted my hometown [in PR], I think it's important that people are prepared moving forward, and the Girl Scouts have given us the tools to be able to do that." 
Mukherjee says, "I got to sit in on the Security Council on important meetings and then see them on the news the next day. [This internship] has blown open a network of career opportunities for me."
Resources for Alumnae
Whether they are recent grads just beginning their job search, in the middle of a career and in need of a professional surge, or senior-level executives looking for a career change, alumnae around the world can take advantage of Beyond Barnard's lifelong career services for alumnae. Those interested in pursuing new or extended academic opportunities can choose among several fellowships such as the Alumna Fellowship For Graduate Study, James C. Gaither Junior Fellows Program, Luce Scholars Program, Mortimer Hays-Brandeis Traveling Fellowship, and Payne Usaid International Development Graduate Fellowship Program.
In addition, Beyond Barnard assists alumnae with résumés, career advisement, and opportunities to share their expertise by mentoring current students or recent grads. (To date, more than 700 alumnae volunteer in the Beyond Barnard Mentoring Program, in addition to Alumnae On Call, who are available to answer on-demand student questions about their careers.) The full-circle effect was evident on September 7 at the Beyond Barnard Opportunities Fair. More than 540 students and representatives from 65 diverse corporations attended, alongside the flagship sponsor Bank of America. The event kicked off with a panel discussion featuring alumnae and Nikki Youngblood Giles, associate dean for Beyond Barnard, as moderator. President Sian Leah Beilock told the crowded room of young professionals, employers, faculty, and staff that "Beyond Barnard is based on two key principles: First, that your major does not dictate your career path. We teach our exceptional young women to think across disciplines. The second idea is that it's really a false dichotomy that you need one set of skills to go into industry and you need to go get a Ph.D. to go into [academia]. It's the same skillset."  
Theo Balcomb '09, managing producer of The New York Times podcast The Daily, and Aubri Juhasz '18, an intern at National Public Radio, have been meeting since before Juhasz's graduation. Balcomb touts mentoring as a necessary Barnard rite of passage. "I think every Barnard woman should be mentored or be a mentor because we're all standing on the shoulders of the women who came before us," Balcomb says. "It's been important for me to connect with [Aubri] about career, life, and our dreams for the future." 
As a new alumna, Juhasz echoes her mentor's sentiments. "Barnard is great at providing those skills that help you to be successful professionally, but mentorship is that final piece of the puzzle that helps you translate what you learned in the classroom to a professional environment." 
---
For questions about Beyond Barnard, contact beyondbarnard@barnard.edu.