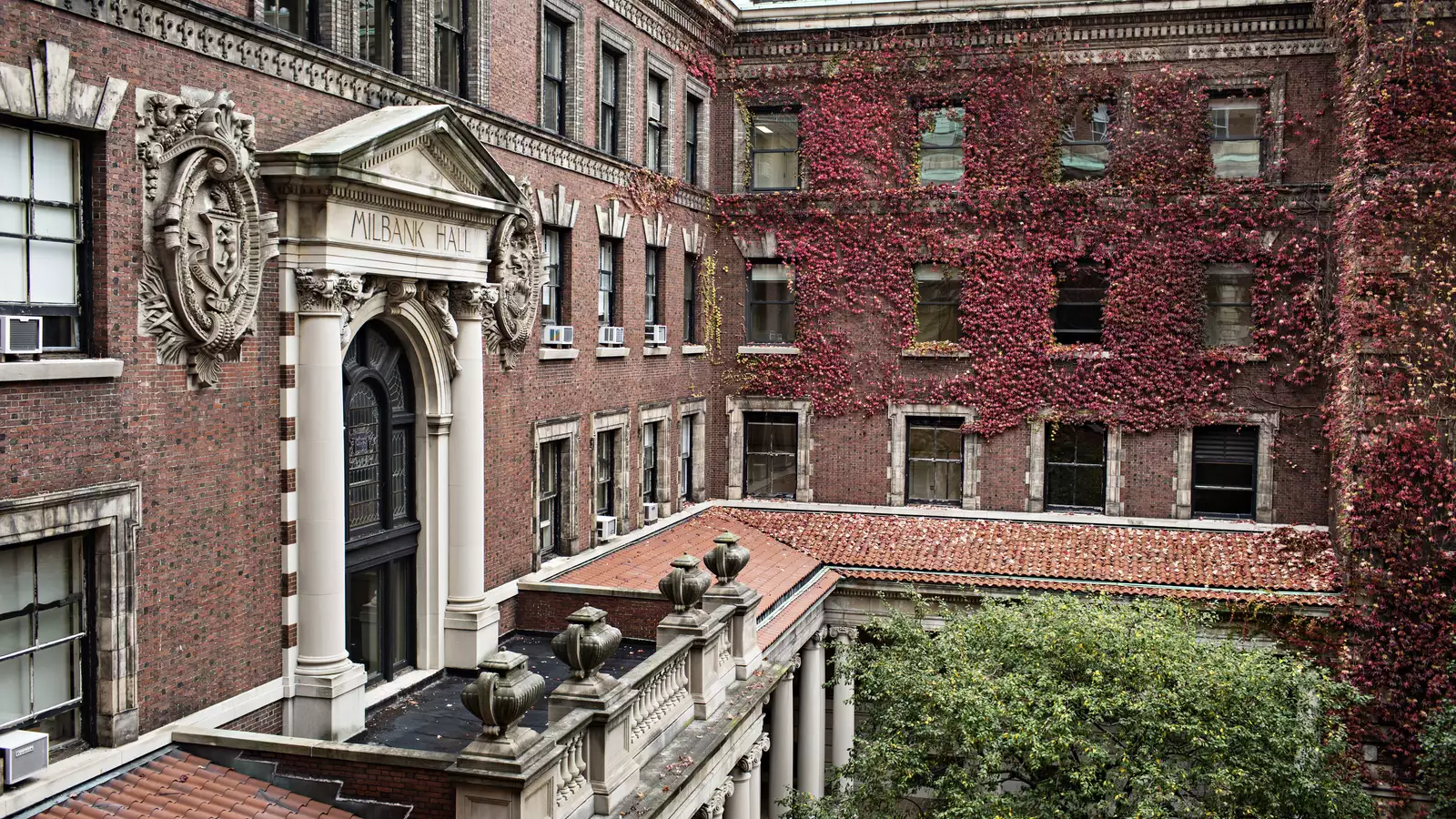 Schedule of Events - Friday, October 23
Times vary: VIRTUAL ACADEMIC CLASSES
Zoom links provided to registered guests via e-mail.
The following classes are available for registered guests to attend on Friday, October 23rd:
MUSI-BC3139-01, Introduction to Vocal Repertoire, with Jean-Paul Bjorlin (12:10-1:55 PM)

SPAN-UN2101-21, Intermediate Spanish I, with Javier Perez-Zapatero (2:40-3:55 PM)

SPAN-UN2101-23, Intermediate Spanish I, with Javier Perez-Zapatero (4:10-5:25 PM)
If you would like to sit in on a virtual class but have not yet signed up, please email familyweekend@barnard.edu. Please include your student's name and class year as well as the class you would like to attend. Please note that we may not be able to accommodate requests submitted shortly before the class time.  (For additional classes prior, please see detailed program page for October 22.)
Attendees are asked to please "arrive" five minutes prior to class start time and to remain muted, unless otherwise asked by the instructor.  
  
To learn more about some of the classes offered this semester and the innovative ways Barnard faculty have approached virtual learning, please visit the Fall 2020 Welcome to Class videos. 
At your convenience: GET TO KNOW THE CENTER FOR TODDLER DEVELOPMENT

The Center for Toddler Development, founded in 1973 and led by renowned toddler expert Tovah Klein, is an integral part of the Barnard Psychology Department. Not only does the Toddler Center provide a community program with an initial group social experience for toddlers, the Center also serves as a unique learning opportunity for undergraduate students, a research lab for faculty and student researchers, and an observational facility for professionals from all over the world.
The toddler years are foundational for children's social, emotional, and cognitive learning, and the Center's approach is based on the philosophy that children learn by doing and by developing a basis of security and trust — in both themselves and others. Children learn through active exploration with their environment and relationships with the people in it. The Center provides a nurturing environment to support each child's unique needs, promote development of a healthy sense of self, and support their participation in early peer relationships. Simultaneously, parents and caregivers gain access to developmental research-based guidance and discussion groups by participating in the program. You may learn more about the Toddler Center — and see its usual digs — in the Fall 2019 Barnard Magazine article "Serious About Play." 
Like so much else, the Center for Toddler Development went online when the pandemic arrived in New York in March. This video showcases the creativity and adaptability of the Toddler Center team, who thought outside of the box to transform the Center's programs for a virtual world, while even helping toddlers — and their parents! — adjust to some of the changes in daily routines caused by COVID-19. 
Toddlerhood is one of the last frontiers of science to be studied, with much still to be understood. Parents who enroll their children at the Center agree to participate in our research, which aims to understand the foundations of healthy social and emotional development. The Toddler Center created the only studies focused on this young age in the aftermath of the September 11 attacks. An ongoing collaboration with Professor Nim Tottenam of Columbia University investigates early emotional learning, while other lines of research include how toddlers use play to process and learn emotions as well as an examination of the parent experience, including the challenges of work and family — a new study will address these issues during COVID-19. 
Barnard undergraduates can engage with the Toddler Center by enrolling in courses like "Introductory Psychology"; "Developmental Psychology," during which students conduct observational studies and learn behavioral coding; and the year-long "Seminar in Toddler Development," a weekly research and theory seminar taught in conjunction with fieldwork at the Center. This unique course allows students to take a deep dive into the developmental underpinnings of the social, emotional and cognitive development of children while watching it unfold in-person with 13 toddlers each week. Barnard students may also gain experience as research assistants for the Center, and many continue on to graduate studies in psychology and related fields. 
 
10:00-11:00 AM EDT: A VIRTUAL TOUR OF THE ARTHUR ROSS GREENHOUSE
Zoom meeting link provided to registered guests via e-mail.
Join Nick Gershberg, Greenhouse Administrator, who will provide a detailed virtual tour of this remarkable campus facility and answer your questions.
The Arthur Ross Greenhouse, atop Milbank Hall on Barnard's campus, provides a rare NYC opportunity to enjoy nature and study plants. The previous greenhouse was built in 1928 and was replaced by the current 3,400 square foot state-of-the-art plant growth facility in 1998.
The conservatory has about 800 different species of plants from varied climate zones and is utilized as a research and teaching facility as well as a public space. One of our most exciting moments came this past May, when our endangered corpse flower bloomed, captivating the entire Barnard community. And to stay up to date with what's growing on campus, be sure to follow @barnardgreenhouse on Instagram. 
12:00–1:00 PM EDT: OPEN HOUSE – STUDENT SERVICES (Part II)
Click here to access event details. 
Our outstanding student services staff support students with all facets of life at Barnard. During this Open House, you may join staff from select areas to learn more about what they do and how they are operating virtually this semester. You may submit questions for each student services area in advance using the links below; you will also be able to ask questions during the Open House. 
1:00–2:00 PM EDT: PRESIDENT'S STATE OF THE COLLEGE ADDRESS
Zoom webinar link provided to registered guests via e-mail.
Join President Sian Leah Beilock as she reflects on her time at the College thus far and Barnard's exciting future. Following her address, there will be an opportunity for a Q&A.   
3:00–4:00 PM EDT: PANEL DISCUSSION ON THE STUDENT EXPERIENCE
Zoom webinar link provided to registered guests via e-mail. 
Every student's experience at Barnard is different, and through this panel we hope to share just a few of the innumerable paths our students forge during their time at the College. Where have you found community? How are you cultivating your passions — through clubs, extracurriculars, research, internships, or other means? How have you approached preparing for life after Barnard? And what advice do you have for students — and their families — following in your footsteps?
Joining us are: 
Jenna Zucker '21

Danielle Hopkins '21

Amber Chong '21
Moderated by: Nikki Youngblood Giles, Vice Dean for Campus Life
Please submit any questions you may have for the panel in advance using this form. You will also be able to submit questions during the program.