Fact Sheet
Barnard College | Columbia University
Barnard provides a singular educational experience, as a world-renowned college with the academic resources of Columbia University and the City of New York as an extended classroom. Founded in 1889, Barnard was one of the few colleges in the nation where women could receive the same rigorous and challenging education available to men. Today, Barnard is one of the most selective academic institutions in the country and remains devoted to empowering extraordinary women to become even more exceptional.
The idea was bold for its time.
Founded in 1889, Barnard was the only college in New York City, and one of the few in the nation, where women could receive the same rigorous and challenging education available to men. The College was named after educator, mathematician, and 10th president of Columbia College Frederick A.P. Barnard, who argued unsuccessfully for the admission of women to Columbia University. The school's founding, however, was largely due to the rallying efforts of Annie Nathan Meyer, a student and writer who was equally dissatisfied with Columbia's stance and staunchly committed to the education of women. She joined forces with a small group of her peers to petition the University Trustees for an affiliated self-sustaining liberal arts women's college and in two years accomplished what she had set out to do.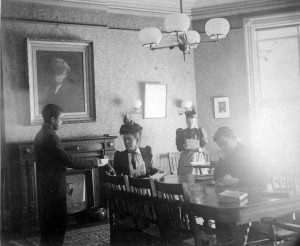 Inside 343 Madison Avenue
The first Barnard class met in a rented brownstone at 343 Madison Avenue, just blocks from Grand Central Station; there was a faculty of six and 14 students in the School of Arts. Nine years later, the college moved to its present site in Morningside Heights. One of the original Seven Sisters, Barnard was, from the beginning, a place that took women seriously and challenged them intellectually.

In 1900, Barnard was included in the educational system of Columbia University with provisions unique among women's colleges: It was governed by its own trustees, faculty, and dean, and was responsible for its own endowment and facilities, while sharing the instruction, the libraries, and the degree of the university. Somewhat ironically, when Columbia College finally went co-ed in 1983, as Frederick A.P. Barnard had wished nearly a century before, one might have thought Barnard would easily be subsumed. Instead, then-President Ellen Futter fought for the College to remain independent and worked toward a new and lasting agreement with Columbia in light of their decision to admit women.

Today, under President Sian Leah Beilock, Barnard's place in higher education is undeniably sound and strong. Over the course of 128 years and 12 great women leaders — from winning the right to hire our own faculty in 1900 through the pivotal protests of 1968, to the historic admission of transgender women in 2016 and the opening of the Milstein Center in 2018 — Barnard continues to flourish and excel.
Barnard College is an affiliated institution of Columbia University, a university community that is academic home to more than 45,000 students from around the world. Through Barnard's unique and historic partnership with Columbia University, students can register for more than 1,500 courses, use a system of more than 20 libraries, get involved with more than 450 organizations and attend high-profile events. Barnard is the only women's college where students can participate in NCAA Division I athletics. Graduates' degrees are conferred by Columbia University.
Barnard College is one of the most selective colleges in the United States.
Admissions Profile, Admitted Class of 2022:

Number of applications: 7,897
Acceptance rate: 13.9 percent
Class size: 605

Academic Profile, Entering Class of 2022:

SAT/ACT (Middle 50 percent):

SAT R Reading & Writing: 670-740
SAT R Math: 660-760
ACT Comp: 30–33

Nearly half of first-year students attended public schools
84% graduated in the top ten percent of their class
Barnard is a need-blind institution and meets full demonstrated need for all U.S. citizens and permanent residents who apply as first-year students.
Almost half of the student body receives some form of financial assistance to pay for college, including financial aid from Barnard, outside merit scholarships, and other sources.
Almost 40% of students receive need-based aid from Barnard.
37 percent of students receive Barnard College Grants; the average grant is $42,681
16 percent of students receive Pell Grants
More than 90 percent of students live in on-campus housing, and students entering as first years are guaranteed housing for all four years.
2,635 degree-seeking undergraduate students
38 percent of domestic students identify as American Indian, Asian-American, Black/African-American, Hispanic/Latinx, Native Hawaiian/Pacific Islander, and/or multiracial
Students hail from 39 states, and Washington D.C., Puerto Rico, and the U.S. Virgin and Northern Mariana Islands
10 percent international students, coming from 58 countries
13 percent of students are first-generation college students
Barnard offers Bachelor of Arts (A.B.) degree with more than 50 major areas of study. Students can also minor, double major, design their own majors, or pursue special degree programs in cooperation with Columbia University, The Juilliard School, List College of The Jewish Theological Seminary or the Manhattan School of Music. All students must participate in capstone projects or the writing of a final thesis, synthesizing theories and ideas while exploring their own original arguments. The top ten majors for the Class of 2018 are:
Economics
Psychology
English
Political Science
History
Biological Sciences
Neuroscience and Behavior
Art History
Sociology
Urban Studies
In addition to the more than 50 fields of study, Barnard is also home to innovative academic centers, which include the Athena Center for Leadership, the Barnard Center for Research on Women, the Barnard Center for Toddler Development, a unique center for research on early childhood development and parenting, the Center for Translation Studies, the Center for Engaged Pedagogy, the Empirical Reasoning Center, the Digital Humanities Center, the Design Center, the Elsie K. Sloate Media Center, the Movement Lab, and the Vagelos Computational Science Center.
Barnard has an esteemed tradition in the humanities and the arts and is raising its eminence in math, science and technology. More than one-third of the most recent graduating class were science and math majors (as compared to 21% nationally) and the proportion of science majors has trended upward each year since 2009. In recent years, between seven and eight percent of our graduates go on to medical school each year.
New Curriculum
Barnard proudly builds on its more than 125-year history with a new curriculum, titled Foundations, which launched with the matriculation of the entering class of 2016 (the Class of 2020). Honoring the College's commitment to the liberal arts and its strong mission and strategic plan, Foundations is modern, ambitious and flexible—all to meet the rapidly evolving needs of students in today's world. With Foundations, Barnard will be the first liberal arts college among its peers with a pure technology requirement.
Global Programs
Barnard's global footprint reaches more than 65 countries through study, research, work and volunteer experiences, as well as programs, partners, research collaborations and alumnae around the world.
In addition to being leading scholars, researchers and innovators in their fields, Barnard faculty members are first and foremost teachers and mentors. Faculty members are tenured at both Barnard College and Columbia University, and faculty members—not graduate students—teach all Barnard courses.
240 full-time faculty and 115 part-time faculty
62 percent of Barnard's full-time faculty is female
Student-to-faculty ratio is 9:1
More than 70 percent of Barnard's classes have 19 or fewer students
6-Year Graduation Rate: 92 percent
6-Year Graduation Rate for Pell Grant Recipients: 91 percent
All statistics current as of October 15 of the calendar year, unless otherwise noted.