On April 30, 2019, Barnard alumnae, students, friends, and family gathered at the Plaza Hotel in New York City for the College's Annual Gala. Each year, proceeds from this event help to underwrite student financial aid at Barnard and sustain the College's enduring commitment to empowering extraordinarily talented young women, regardless of their financial means, through education.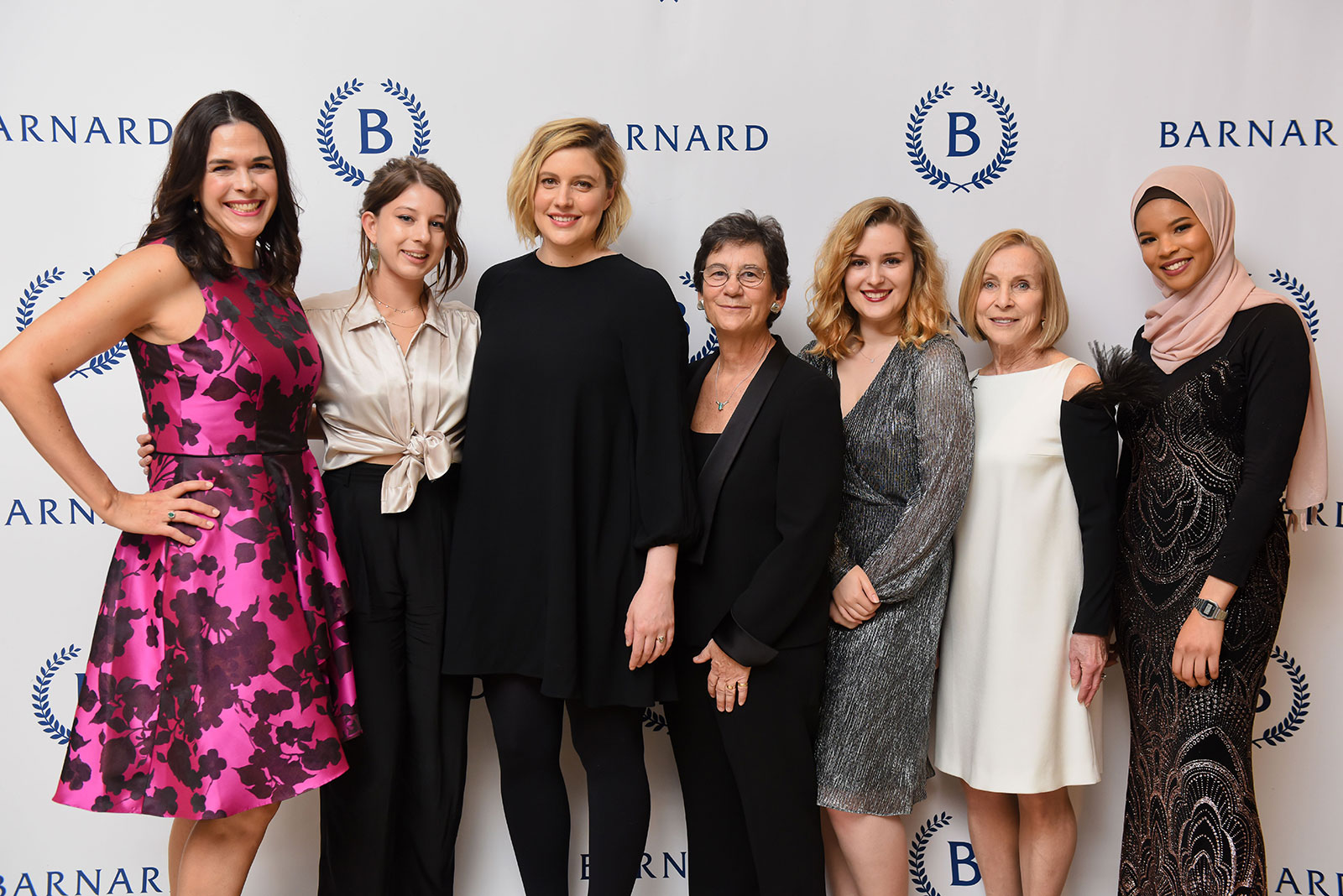 This year's event, co-chaired by Nina Rennert Davidson '95 and Caroline Bliss Spencer '09, raised nearly $3 million toward this endeavor, and honored Greta Gerwig '06, Kathryn Kolbert, and Lois Champy '67 (MArch '71, MIT) for their work to inspire women—at Barnard and beyond.
Melissa Silverstein, founder and publisher of Women and Hollywood and co-founder and artistic director of the Athena Film Festival, presented Greta Gerwig '06 with the Joan Rivers '54 Trailblazer Award. This award's honoree exemplifies the boldness, creativity, courage, and strength of character that were integral to Joan Rivers' groundbreaking career. Gerwig is only the fifth woman to be nominated for an Academy Award in the Best Director category, and the first to be nominated for a directorial debut. 
Kathryn Kolbert was honored with the Frederick A.P. Barnard Award. An illustrious women's rights advocate, Kolbert argued the 1992 landmark case Planned Parenthood v. Casey before the Supreme Court and was involved in every reproductive rights case the Court considered from 1985 to 1998. She served as the founding Constance Hess Williams '66 Director of the Athena Center for Leadership at Barnard and currently serves as the producing director of the Athena Film Festival, which she co-founded. 
Lois Champy '67 also received the Frederick A.P. Barnard Award for her service to both Barnard and the world of architecture. Champy became a licensed architect at a time when women represented less than 5% of the profession. She has been on the Board of Trustees of Barnard College since 2006, serving on the Executive, Campus Life, and Development Committees. She has served as the chair of the Buildings, Environment, and Technology Committee since 2011, and was instrumental in the planning and design of The Cheryl and Philip Milstein Center for Teaching and Learning.
"We are grateful to have these exemplary women in our community," President Sian Leah Beilock said. "They have opened doors for women everywhere." 
In her opening remarks, President Beilock expressed her gratitude for the night's attendees, saying, "We simply cannot do what we do, or look ahead to even bigger and better things, without your contributions and your dedication."
President Beilock also covered some key Barnard highlights from this academic year, including the opening of The Milstein Center for Teaching and Learning, Barnard's record-breaking participation and fundraising totals from Giving Day 2018, the introduction of more 4+1 Pathways for Accelerated Graduate Study in partnership with Columbia, and information on the admitted Class of 2023—the most selective and diverse cohort in the College's 129-year history.