2020 Athena Film Festival Sizzle from Athena Film Festival on Vimeo.
The 10-year anniversary of the Athena Film Festival wrapped on Sunday, March 1, with the evening screening of Sarah Gavron's film Rocks capping a decade of hosting more than 35,000 attendees at Barnard College's signature annual event. Activists, directors, actors, and writers of all backgrounds came together to celebrate the festival's milestone and commitment to showcasing the work of underrepresented filmmakers in partnership with the Athena Center for Leadership and Women and Hollywood. 
"Every year I watch a screening at the Athena Film Festival, and I leave all the more inspired by the strong female characters and women behind the camera," said Connie Cai '21, a history major who attended the screening of Samantha Buck and Marie Schlingmann's Sister Aimee. "I am all the more proud of my fellow women and my own womanhood. The festival reminds me to take the time to pay tribute to the women that come before me, support the women in my generation, and encourage the future women of the world."
This year's festival lineup presented more than 50 events, including narrative, documentary, and short films; Q&As and panels; workshops and master classes; and more New York and international premieres than ever before — 22 total — as well as screening Golden Globe and Sundance prizewinners and Academy Award nominees over the course of the weekend-long event. 
"I'm a data person, so I was fascinated to learn that 70% of all of the films ever screened at Athena have been directed by women, with 64% written by women," said Barnard College president Sian Leah Beilock. "And all of these films center on strong women leaders, leading in different places and spaces throughout time and around the world. In contrast, just 25% of the films at top international festivals in the past three years have been from women directors."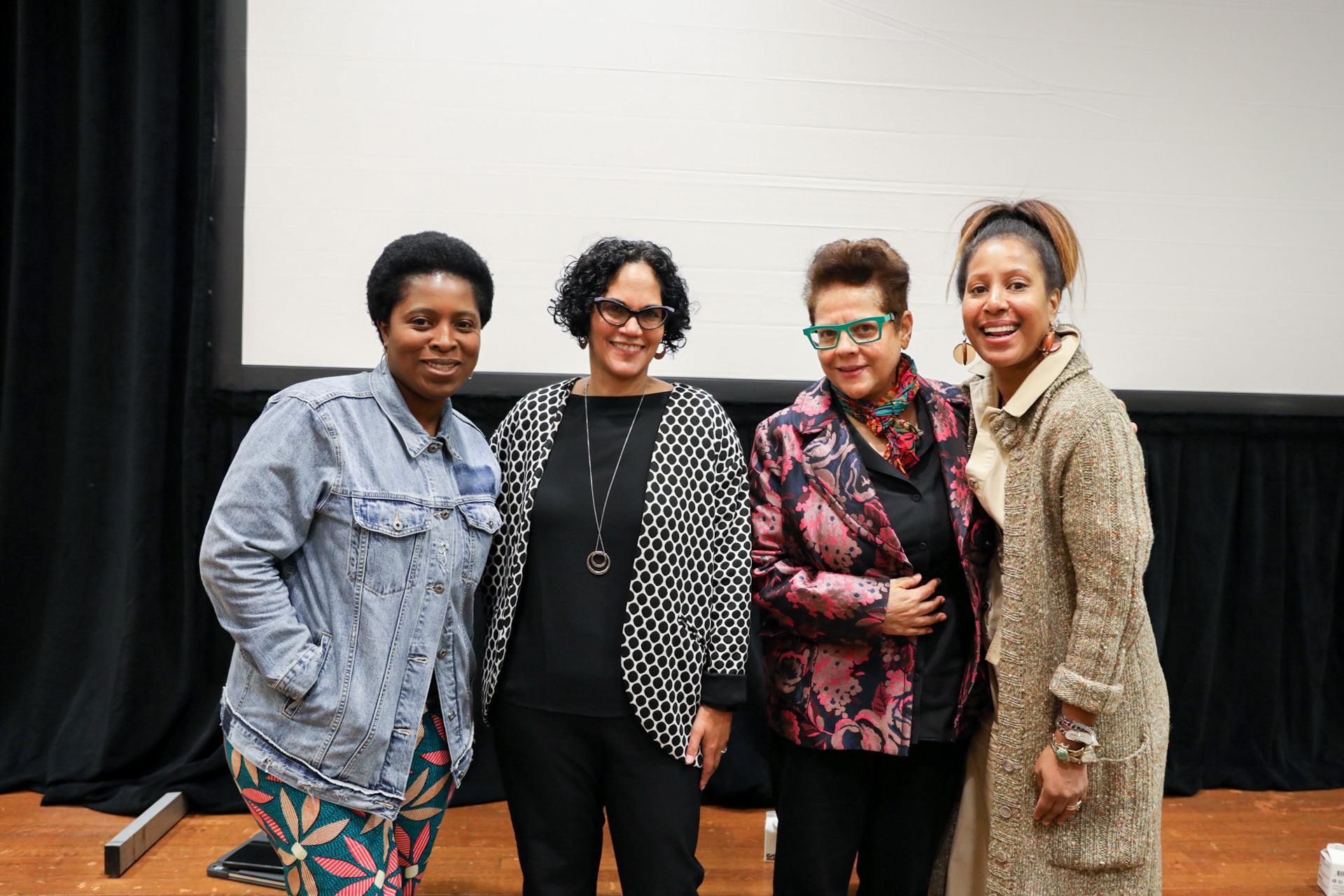 In addition to screening more than 200 narrative, documentary, and short films that feature diverse stories of ambition, courage, and resilience, the festival worked with sponsors like the Alfred P. Sloan Foundation and Netflix to offer writing labs for women writers in TV and film, such as master classes and works in progress programs for filmmakers, and other skill-building panels and opportunities for creatives who are breaking into film. The College's faculty participated as well, attending screenings with students for classroom discussions and also through panels on topics such as women in science, which featured professor of physics and astronomy Janna Levin, and art and activism, with professors of English and Africana studies Monica Miller and Yvette Christiansë, following The Pieces I Am, a documentary about Toni Morrison.
Jenna Zucker '21, a women's, gender, and sexuality studies major who attended Gabrielle Zilkha's Queering the Script, Jo Ardinger's Personhood, and the Discovering Girlhood Shorts Program, added, "The films at the Athena Film Festival really capture Barnard's mission and bring out the issues that students are discussing in our everyday lives both inside and outside of the classroom." Zucker continued, "[The festival] brings Barnard students together with members of wider feminist communities in New York and elsewhere."
Awards Night
On Wednesday, February 27, the Athena Awards 2020 honored Golden Globe-nominated actress Beanie Feldstein (Booksmart), producer and CEO of Gamechanger Effie T. Brown, director Unjoo Moon (I Am Woman), and filmmaker Jennifer Kaytin Robinson (Someone Great) in the Diana Center. Moon was honored with both the opening night film slot (her directorial debut, the Helen Reddy biopic I Am Woman) and the Athena Breakthrough Award, sponsored by Netflix, which provides $25,000 to a first- or second-time woman filmmaker whose project has not yet secured U.S. distribution. 
Reception guests included Gloria Steinem, filmmaker Lorraine Toussaint, Netflix vice president of inclusion strategy Vernā Myers '82, and director Paul Feig, among the many industry and activism luminaries in attendance. Academy Award-nominated director Greta Gerwig '06 presented Feldstein with an Athena Award in what became an onstage Lady Bird reunion for the two friends.
"Over the past decade, Athena has become a signature event for Barnard and, more widely, for the entertainment industry — creating a name for itself as the premiere film festival dedicated to women's leadership," said President Beilock to the evening's guests assembled in the Event Oval. 
This year's Athena Awards were covered by The Hollywood Reporter, Yahoo Entertainment, People, and Popsugar.
I Am Woman
On Thursday, February 27, the festival officially kicked off with an opening night reception hosted by President Beilock before the New York premiere of Unjoo Moon's biographical drama I Am Woman. Her film follows singer Helen Reddy and her hit song "I Am Woman," which became an anthem amid the second-wave feminist movement of the 1970s. A Q&A with Moon took place after the screening, and many members of the Helen Reddy fan club flew from as far as New Zealand to attend the premiere.
"This is the epitome of Barnard, where young women develop into the fierce and fearless women leaders we need now, the likes of whom you'll see in films and panels all throughout the weekend," President Beilock told festival-goers in Miller Theatre at Columbia University. "It's a particular point of pride for me to have three films directed by Barnard alumnae included in the festival this year: Little Women [Greta Gerwig '06], Black Christmas [Sophia Takal '07], and the short film Welcome Back [Tiffany Kontoyiannis '16]."
Art and Activism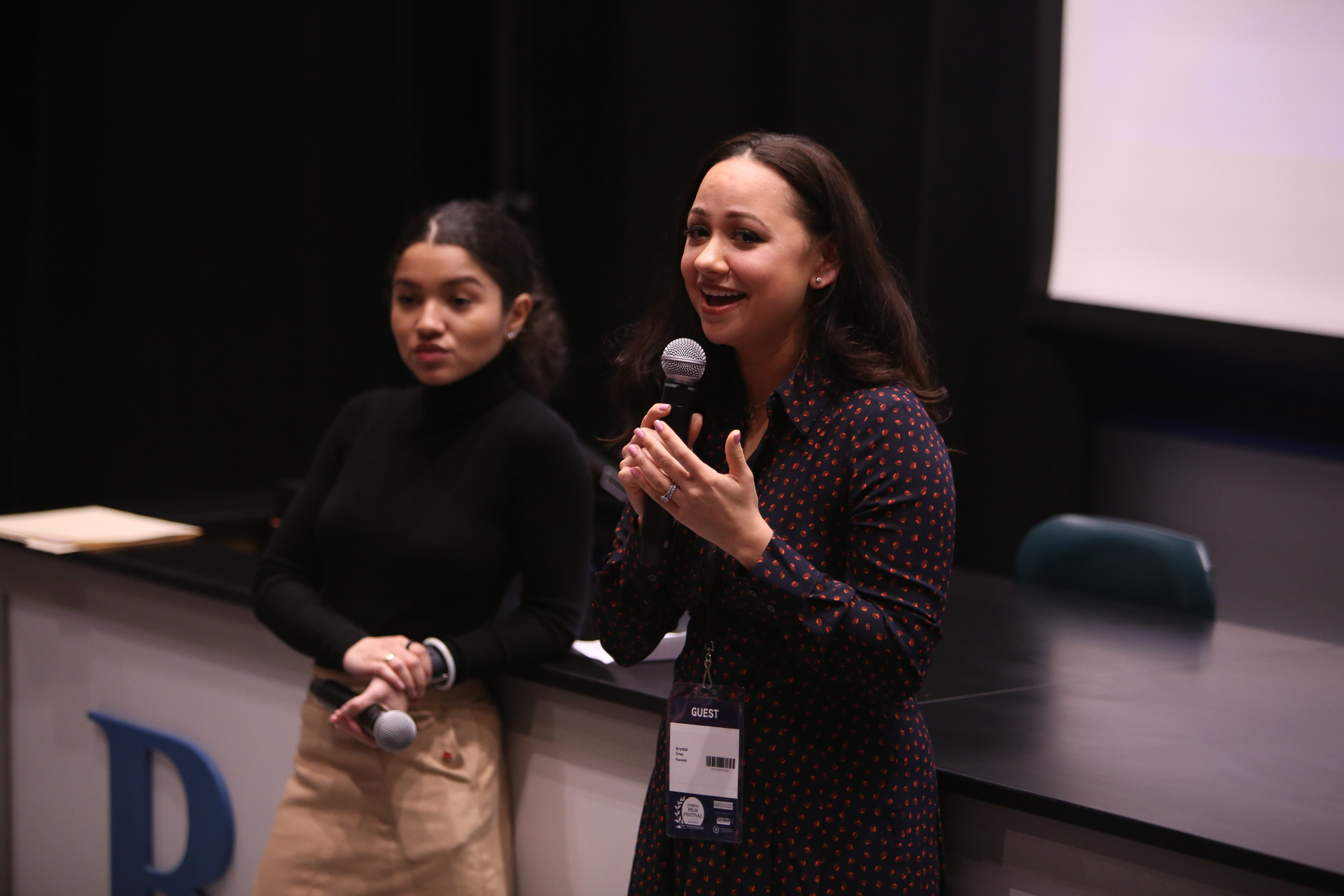 Yu Gu's documentary A Woman's Work: The NFL's Cheerleader Problem screened on Friday night, followed by a Q&A with former New York Jets cheerleader Krystal Cruz, New York Assemblywoman Nily Rozic, and Rozic's chief of staff, Meagan Molina. The film takes a closer look at the imbalance of salaries between NFL cheerleaders and the football players, highlighting the mistreatment of the cheerleaders and lawsuits against their teams.
On Saturday, Disney's Frozen II gathered students, staff, families, and children dressed as their favorite characters to see the animated feminist tale. The screening was preceded by "The Present and Future of Women in Animation," a Walt Disney Studios-sponsored panel moderated by award-winning animation veteran Jinko Gotoh. The panelists, Nickelodeon's senior vice president of animation development Claudia Spinelli, School of Visual Arts BFA animation chair Hsiang Chin Moe, award-winning animator Candy Kugel, and SVA professor Ellen Su, discussed one of the few entertainment fields where women have made great progress — but not enough.
"We waited to watch this film so we could see it at the festival," said Umbreen Bhatti '00, who attended the Frozen II screening with her two children. Bhatti returned to the College last April as the Constance Hess Williams '66 Director of the Athena Center for Leadership and introduced Athena Center's next chapter at the beginning of February. Its next phase emphasizes more flexible opportunities to participate that focus on collaboration, a hands-on approach to solving problems, learning to lead by doing, and building resilience, creativity, and confidence along the way. 
"I knew [Frozen II] would be a treat for the kids and us to see it with other families on campus," Bhatti said. "It did not disappoint!" 
Silence Breakers Take the Spotlight
In what was a powerful and profound discussion, Hollywood Reporter journalist Tatiana Siegal moderated the "Silence Breakers" panel on Saturday afternoon in the James Room, with music producer Drew Dixon, writer Sheri Sher, actress Sarah Masse, and writer Jasmine Lobe as panelists. During the panel, Dixon and Sher discussed breaking their silence against hip-hop mogul Russell Simmons, while Masse and Lobe discussed coming forward to describe their experiences with the former Hollywood media giant Harvey Weinstein.
Collectively, the panelists expressed their shock at the news of Weinstein's being found guilty of rape on February 24. "I felt relief," Masse recalled. The others agreed. "It's a new era," Sher said. Dixon added, "It's a game changer. The idea that a powerful, famous, well-connected, rich, white man was being cuffed and incarcerated was unfathomable to me as a black woman and a rape survivor for whom justice didn't seem to be in the realm of possibility."
The four are now advocating together to further the employment of sexual survivors in Hollywood, via the #HireSurvivorsHollywood initiative, spearheaded by Masse. "This is an inclusion issue. Sexual assault survivors are traditionally a sidelined group," Masse stated. "As an actor, writer, and filmmaker, it is important for me to let fellow artists know that this is an issue in our industry right now and how they can be a part of changing it." 
Moving forward, Dixon advised, "What we can all do is if you see something, say something. Call it out, draw the line, and we close these pockets of darkness where predators maneuver."
The panel wrapped with an audience Q&A and a standing ovation for the panelists.
For more coverage on the festival's "Silence Breakers" panel, see The Hollywood Reporter.
Women and STEM 
"Barnard sits at the intersection of STEM fields and female narrative[s]," said screenwriter Mary Elder. As the festival reached the decade milestone, it celebrated by featuring more STEM-focused films and events than ever before, through its partnership with the Alfred P. Sloan Foundation, a nonprofit organization founded in 1934 that awards grants to research in science and technology. Via the festival, the foundation bolsters a parity pipeline through screenwriting labs and STEM-focused films that feature women at the forefront of creative development and on screen. It's a partnership that builds on Barnard's fast-growing eminence in science: One-third of Barnard's students major in STEM fields, and the College is one of the top producers of women STEM doctoral graduates. 
Among the lineup of films this year, four centered on women in STEM fields: Neasa Hardiman's Sea Fever, Marie-Sophie Chambon's Stars by the Pound, Todd Thompson's Woman in Motion, and Jack Thorne's Radioactive. The latter two made their New York premieres at the festival.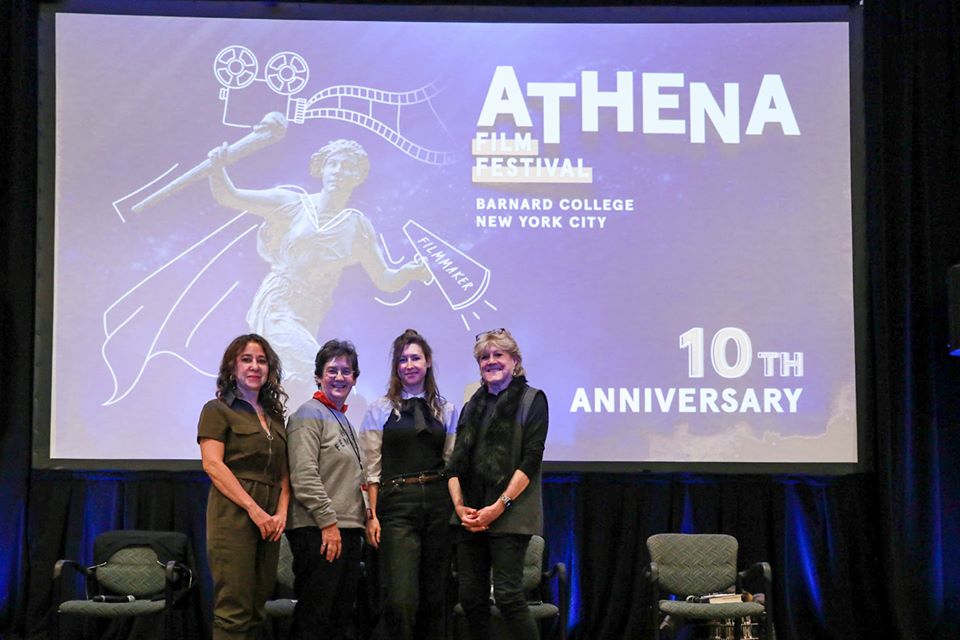 Following the screening of Women in Motion on Sunday afternoon, the "Women in Space" panel took place as part of the Alfred P. Sloan STEM showcase, moderated by festival co-founder Kathryn Kolbert, with broadcast journalist Lynn Sherr, astrophysicist Ruth Angus, and Barnard physics and astronomy professor Janna Levin serving as panelists. 
"The most radical activism I've participated in is teaching physics at Barnard," said Levin.
"With research showing how important it is for girls to 'do science,' as opposed to 'being scientists,' it's critical that films represent women doing science and achieving their dreams," said President Beilock. "I'm proud as an educator, leader, cognitive scientist, and mother of a young daughter to say that the Athena Film Festival is leading the way toward truly representative art that empowers and inspires audiences of all backgrounds." 
For more coverage of the 2020 Athena Film Festival, see Forbes, Refinery 29, The New York Times, and IndieWire.
—STEFANI SHOREIBAH '21
The Athena Film Festival would like to thank its founding sponsor, Artemis Rising Foundation, and its CEO and founder, Regina K. Scully, alongside a broad network of other sponsors, honorary host committee members, co-chairs, friends of the festival, volunteers, and staff, who make this festival possible. Please save the date for the 11th annual Athena Film Festival: February 18-21, 2021.