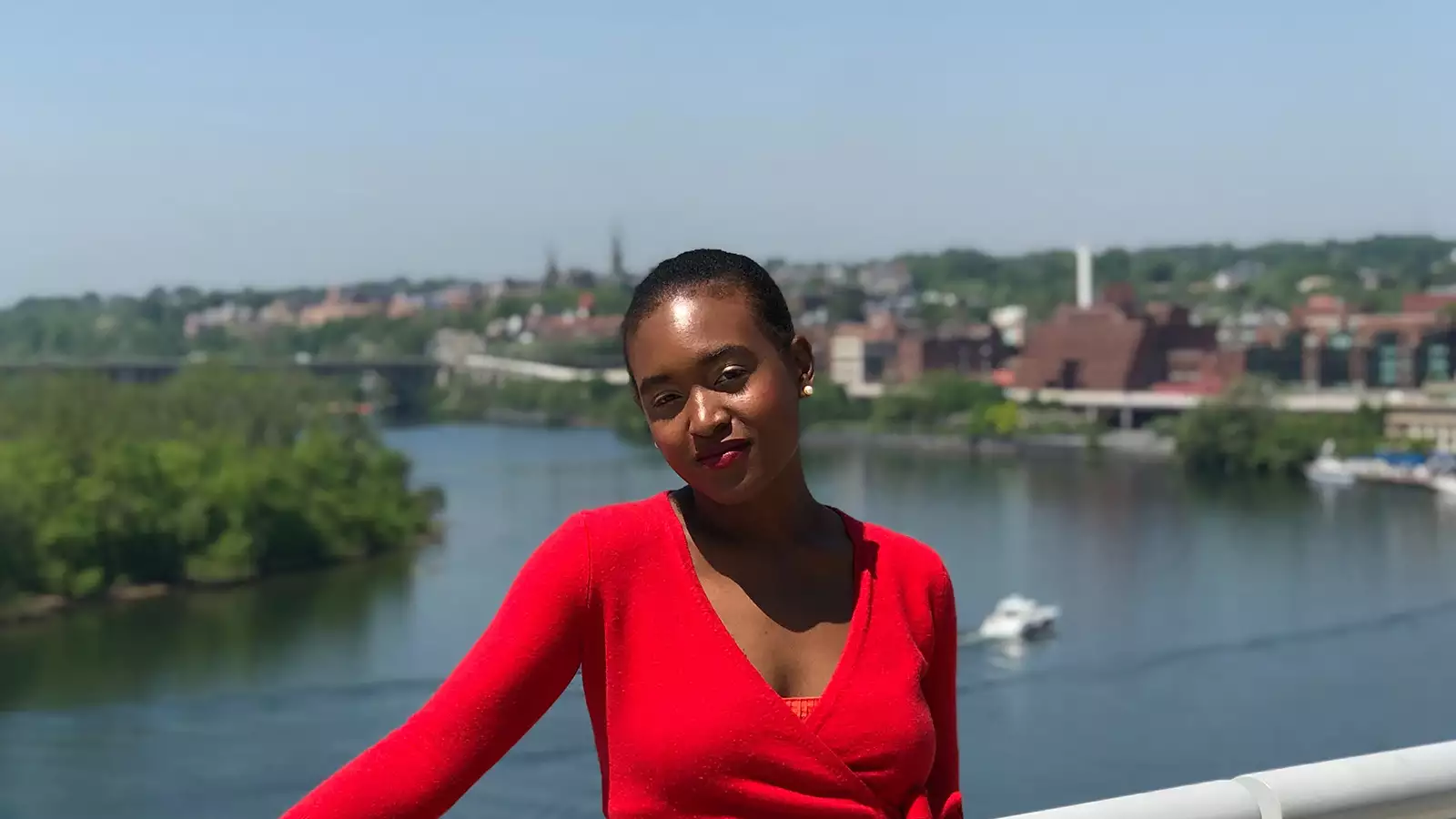 It was December 2020 — that first bleak, isolated pandemic winter — when Phanésia Pharel '21, then a senior at Barnard, initially crossed paths with Jean Lichty '81. In the aftermath of their virtual meeting, they forged a mentorship and partnership that is bringing Pharel's playwriting prowess from Barnard to off-Broadway. 
"We had a Zoom call, and I fell in love with her," said Lichty, about the meeting during which she was looking for Barnard interns for a streamed performance of Tennessee Williams' The Night of the Iguana she was staging for her La Femme Theatre Productions. Though the logistics did not ultimately pan out, they crossed paths again at a 2021 Reunion event that led to a powerful personal and professional reconnection. 
Pharel, currently an MFA candidate at the University of California, San Diego, is the author of Black Girl Joy, a play she began to write during college. It was performed at a workshopped reading in April 2022, directed by actress and playwright Regina Taylor and will go into full production in the 2024-25 theatre season.
"We [La Femme] are as excited about Black Girl Joy as we are about Night of the Iguana — that's the truth," Lichty said, during a conversation in which the two women regularly digressed into exclamations of mutual respect and fondness. In April 2023, La Femme, which is dedicated to exploring and uplifting women's experiences, received a National Endowment for the Arts grant for Black Girl Joy.
Black Girl Joy was inspired by Pharel's experiences of grief and loss as a young Black woman raised in Miami.
"I wanted to write a play about grief and sisterhood and really ask the question — the hashtag was everywhere, #BlackGirlJoy — what does 'Black girl joy' really mean?" Pharel said. 
Pharel described the play — about a group of young women and nonbinary friends in Miami grappling with a death — as a "coming-of-age through grief." Beyond its narrative throughline, the play also explores these themes by incorporating poetry and art. At the April 2022 reading, Lichty said the inclusion of a beatboxer amplified the play's emotional resonance.
Black Girl Joy also pulls from Pharel's personal experiences of grief. Her family lost their home to a fire when she was 13, leading to years of harrowing housing insecurity, which she coped with through writing — initially stand-up routines and then, with encouragement from a high school drama teacher, playwriting. She also grappled with multiple gun deaths of young acquaintances in her childhood community. 
These losses were compounded at Barnard when two beloved mentors, legendary playwright Ntozake Shange '70 and Deputy Dean Alicia Lawrence, passed away during her time on campus.
"Here I am at college, and now I've lost two women who are really important to me," Pharel said. "We never make space for grief, particularly for young Black girls. When I go back to the 'about' of this play and I'm circling around it, that's really what I want to access and parse out." 
Lichty described Black Girl Joy as imbued with the "soul of Phanésia."
"I found that the play really revealed a lot about her," Lichty said. "As Sondheim said, personal is universal. There is something that was very universal about her, about her writing."
"That means the world," said Pharel. "The last three years, Jean has mentored me and has taught me. This is a lifelong relationship. You never know how long you have somebody, but I'm very grateful."
As La Femme prepares its production of Black Girl Joy, Pharel is also at work on Lucky. The play was written when she was at Barnard and is the story of a waitress's journey of survival during a war on the Caribbean island of Quisqueya (Haiti and the Dominican Republic).
"I wrote Lucky in three weeks, and I have been revising it ever since," said Pharel. "It is an ever-evolving love letter to the Haitian women who have raised me and an attempt to honor one of my favorite quotes from Edwidge Danticat '90."
Lucky received the Kennedy Center Latinx Playwriting Award and the Rosa Parks Playwriting Award along with a Distinguished Achievement citation in the Lorraine Hansberry Award competition in April. "Rosa Parks was one of the first women I wanted to be as a child," said Pharel. "These honors from the Kennedy Center are encouragement to continue trying to tell stories that honor my community."