[Main photo: Hana Kaur Mangat CC'22 and Areej Qadeer '23]
Over the past year, health professionals have documented that different communities across the United States have been unequally impacted by the COVID-19 pandemic, further highlighting the country's racial and health disparities at a time when the reckoning over structural racism has led many to describe 2020 as a year of "twin pandemics."
Motivated by these disparities, Hana Kaur Mangat CC'22 and Areej Qadeer '23 wanted their education to focus on enacting change. Mangat, a junior studying education and urban studies, and Qadeer, a sophomore studying urban studies and public health on the pre-med track, joined history professor Premilla Nadasen's Pandemic Tales: Curated Conversations with Migrant Workers course, part of the Barnard Engages New York: Collaborative Partnerships to Promote Sustainable Change initiative funded by the Andrew W. Mellon Foundation. Mangat, Qadeer and nine other students in the seminar collaborated with the New York City-based community organization Damayan Migrant Workers Association to uplift the stories of NYC's Filipino migrant workers who have struggled during the pandemic with hardships like cut hours, layoffs, and a lack of governmental financial relief due to their undocumented status. As a capstone to the course, students created a report that will be published and shared at a public virtual event on April 17.
"This class is a model of campus-community engagement that is not extractive, one in which our community partners take the lead and we are able to learn from them," Nadasen said. "We have to continue to find ways to bridge the academic-activist divide, to find ways to put our expertise and skills to use. It helps us keep everything in perspective."
 
In this Q&A, Mangat and Qadeer share what they learned during the course and what they are looking forward to in their public event. 
What drew each of you to take the Pandemic Tales course?
Hana Kaur Mangat: What stuck out to me was the subject matter of the pandemic. I think that because COVID-19 [has] uprooted everyone's lives, and particularly had such a big impact on New Yorkers, I was really excited that I could take a class that wouldn't ignore that or have that on the periphery but that would [make it] the main subject matter of the course. I was also lucky to have taken a previous course that was also [part of] Barnard Engages, and I really liked that students partnered with an organization that the professor has a long-standing relationship with. I felt like the type of learning that was occurring in that environment was incredible and [something] I couldn't find in many other places. 
Areej Qadeer: I came into college [wanting] to study health equity and how healthcare disparities function differently in urban environments specifically. Then the pandemic happened, and all these statistics came out [about COVID-19 health disparities] — which I also [discuss] in my global health podcast. When I saw that Barnard was offering this class, specifically about real-life experiences and how a minority group was disproportionately affected by the pandemic, I knew it was something I would be super interested in [taking]. I remember on the application for this class, one of the questions was, How do you practice decentering yourself? I could tell [from this question] that the class would be a community partnership. 
What have you learned in this course, and how do you think you'll be impacted, moving forward, by partnering with Damayan?
Qadeer: From the collaborative nature of the class, I've learned so much about how to work on a project where all of the parties involved are equal. Riya Ortiz and Jules Grifferty, who are the leaders of Damayan, attend pretty much all of our classes. They're always present in any decision that we make, whether it's how we want the report to run or pursuing a side project that a student wants to do. It really feels like there's no hierarchy in the work that we're doing, and we're all just trying to support each other and center the voices of the migrant workers. 
Mangat: I've learned so much about the power that Barnard and Columbia have in terms of telling the stories of New Yorkers and putting out policy recommendations. Recognizing that has been really great for me, especially as I'm going into my senior year, and I'm glad I'm realizing this while I'm still here. The [Filipino migrant] community has been rendered invisible for so long, when they are essential workers, they are New Yorkers, they have their own stories. It's so crushing to hear and to realize that this community has been silenced, but then to also get to witness their resilience, watch their community organizing, and be able to amplify it in any way has been a privilege.
How do the curated conversations that are a part of your project center the voices of people who have been disproportionately affected by COVID-19, and what have you learned about the pandemic's impact on migrant workers in NYC from your interviews?
Qadeer: Prior to the interviews, we had lessons on how to conduct an interview, because the goal here is not just to extract information and publish it. We had a professional storyteller come to our class to teach us how to have meaningful conversations without [critiquing] what the other person is saying and moderate the conversation properly. The interview team worked with our professor to create a guide of questions that everybody could ask in their 30-minute interviews, questions on how [migrants'] housing, food, and [other aspects of daily life] were impacted. We coordinated interviews in group chats with the interviewee and with people who work at Damayan so that it felt more like a partnership. 
What were some of the most challenging and/or rewarding parts of creating this project?
Mangat: I think we are in the middle of a challenge right now, because we're the final event team, and we're planning this very large-scale event in the midst of our final exams. But I would say one of the most rewarding parts has been our community partnership with Damayan. I feel like Riya and Jules have acted as mentors, since they've taught us their community organizing and event planning skills. I also think of the relationships we were able to establish, with both Damayan members and our interviewees. My interviewee was so vulnerable with me that she was able to openly tell me about some of the most challenging parts of last year for her. To have that level of trust, communication, and partnership with Damayan and its members has been so rewarding.
Qadeer: I agree that the main challenge right now is that this is a really high-stress class because there's so much work to do, and I don't mean that in a bad way. My stress is towards [making sure] the event is good because everybody has poured their hearts and souls into it, and I want to make sure that nobody's story is mishandled or misinterpreted. I wouldn't even call [Pandemic Tales] a class; I feel like it's a professional experience because I have learned so much. In every meeting, I learned so much from [the Damayan leaders] on how to be a leader and a community organizer, and if you call yourself a leader, what your obligations are to your team. 
What is the goal of the report and the upcoming event?
Mangat: The main goal of the report is to tell the stories of Filipino migrant workers and how they've been impacted by the pandemic. It's also to document, quantify, and celebrate the work that Damayan has been doing and to look at it as an impact report of Damayan's work in the community. Specifically during the pandemic, but also thinking about it in the larger context of Filipino resistance and resilience. 
Qadeer: The report is the culmination of our [work this] semester, but the goal of the event is also to spotlight what Damayan has already done and what they're planning to do in the future. In addition to centering the report, we're also going to have some of the interviewees tell their stories during the presentation. So the event highlights the collaborative relationship between our class and Damayan, as well as what Damayan does on a larger scale, even outside of the pandemic. 
*Responses have been edited for length and clarity. Click here to read the full report.
– SOLBY LIM '22
Damayan Food and Financial Distribution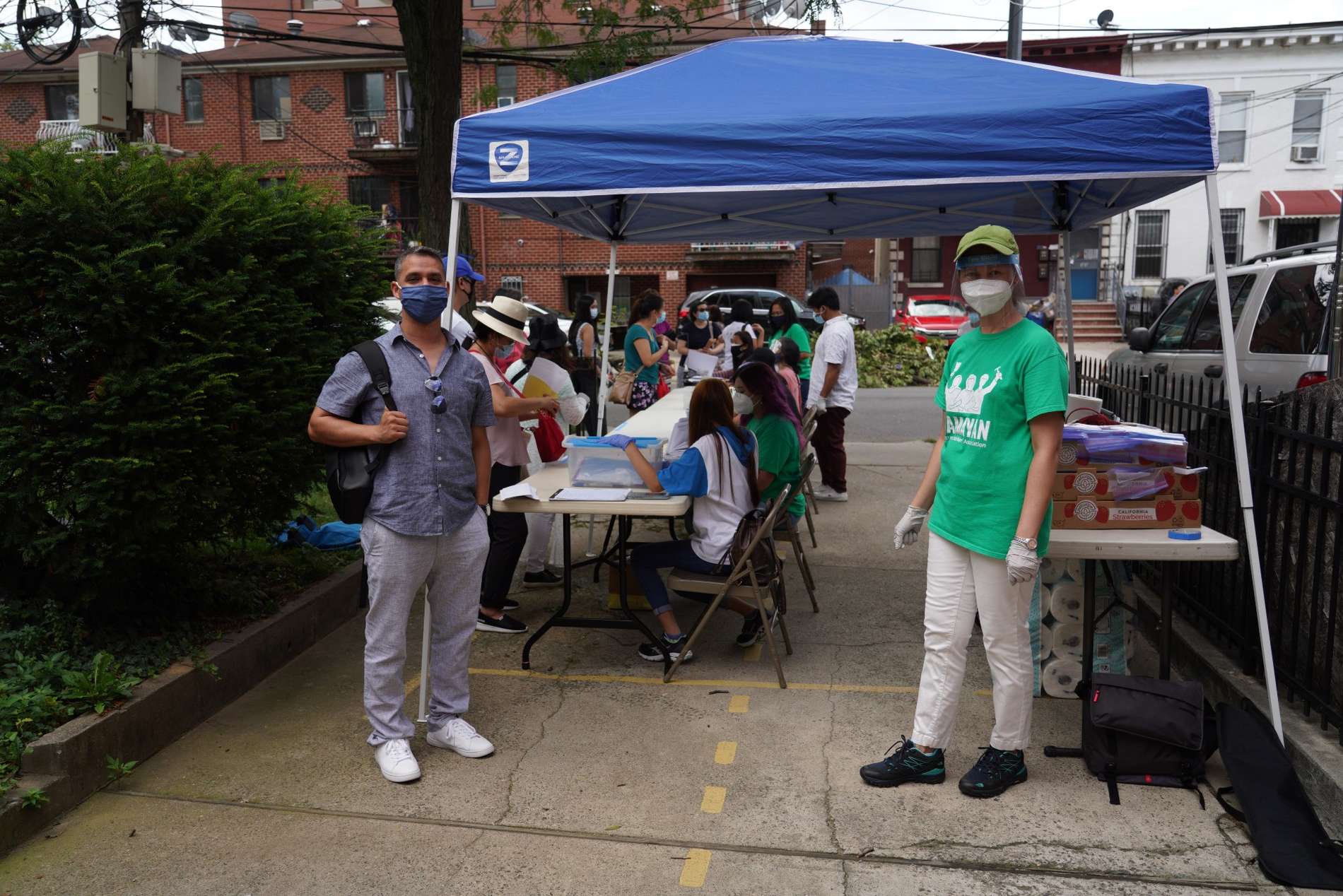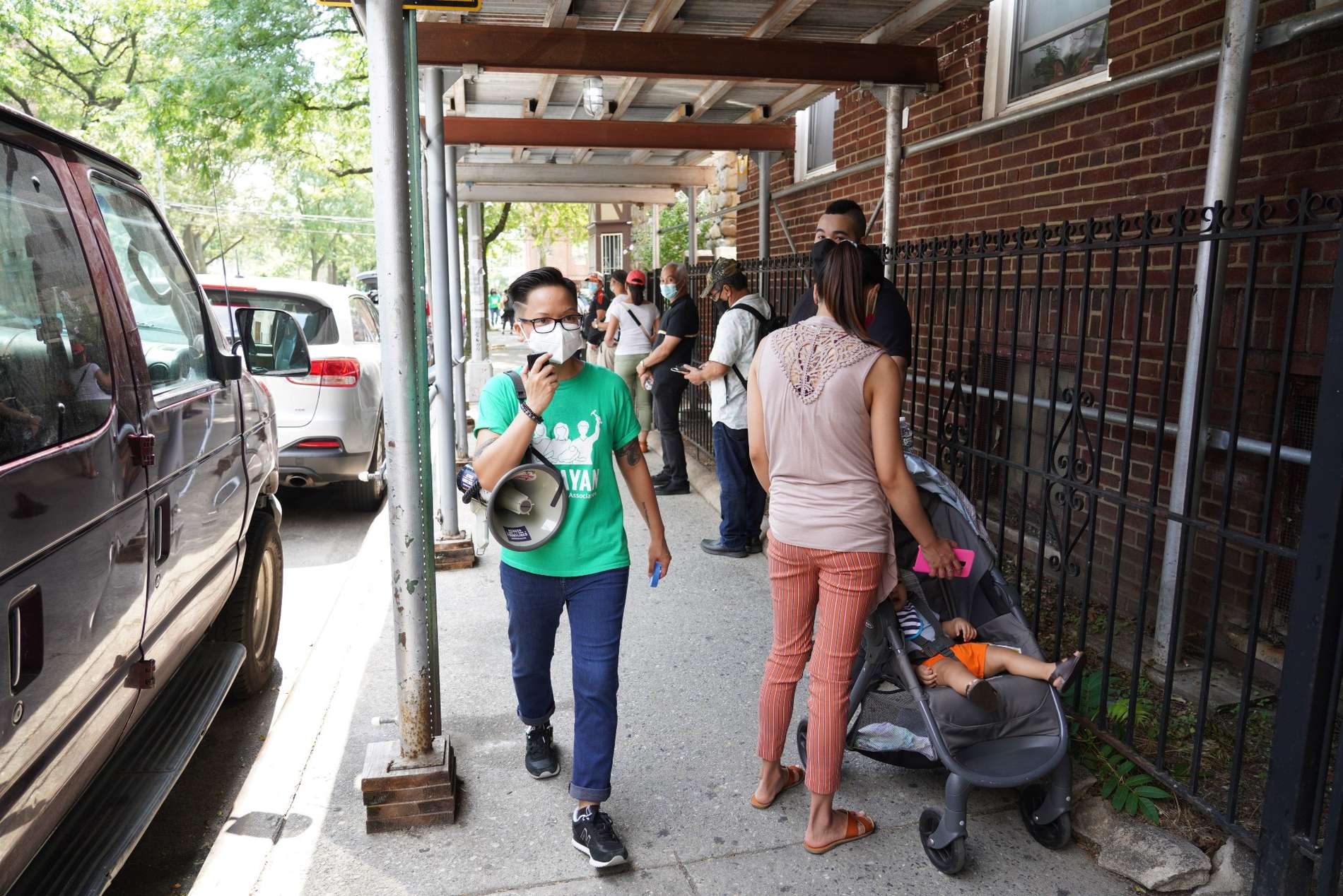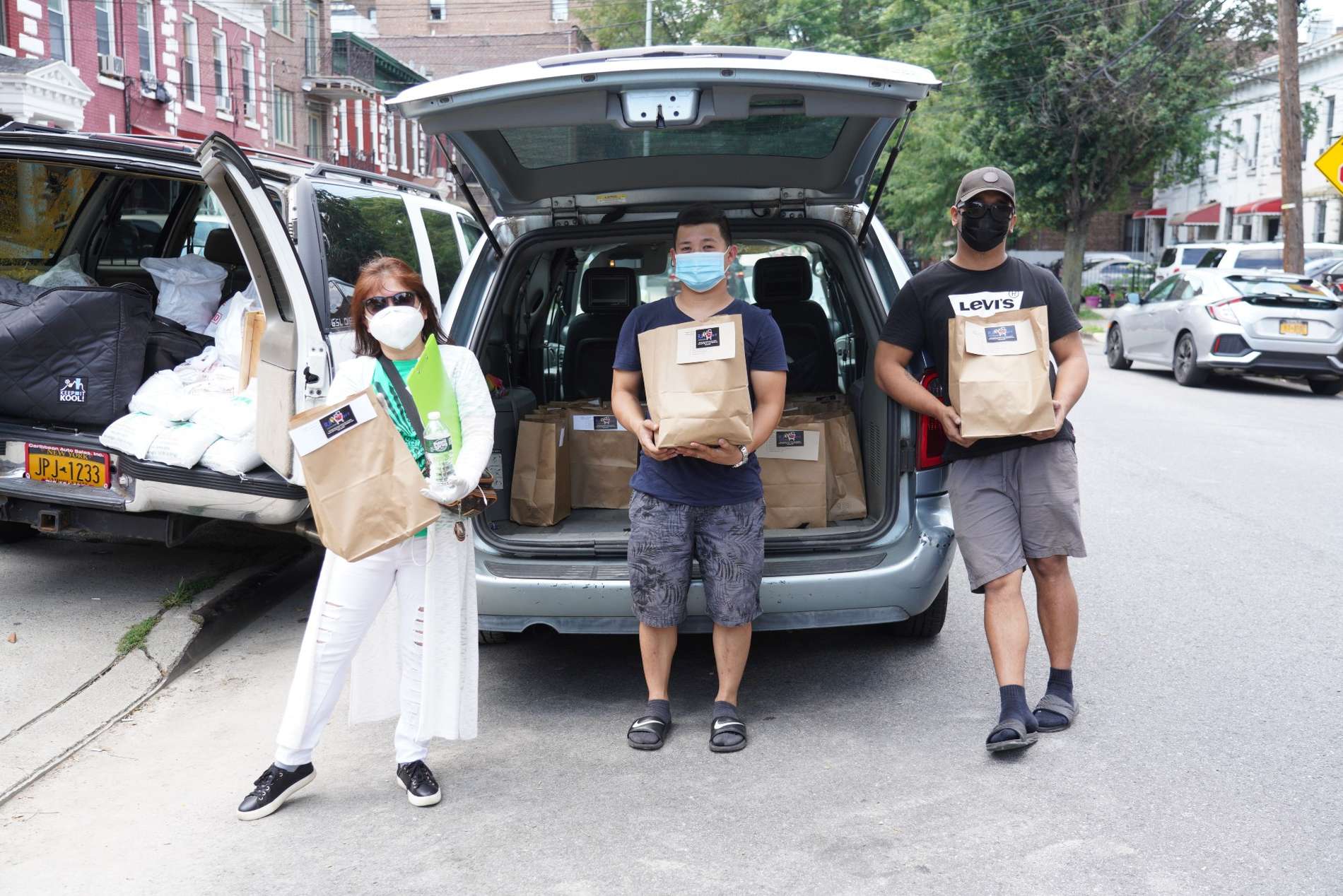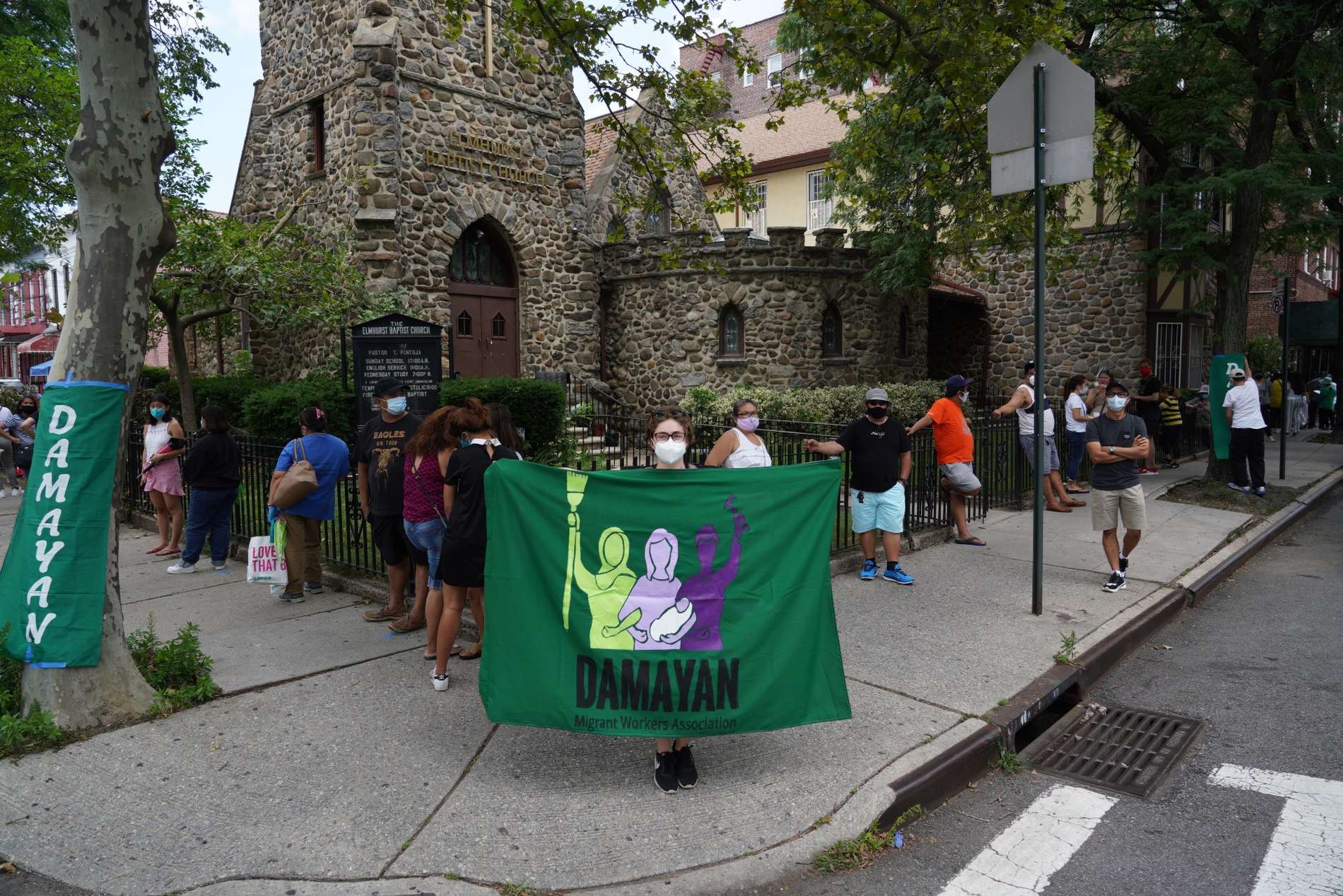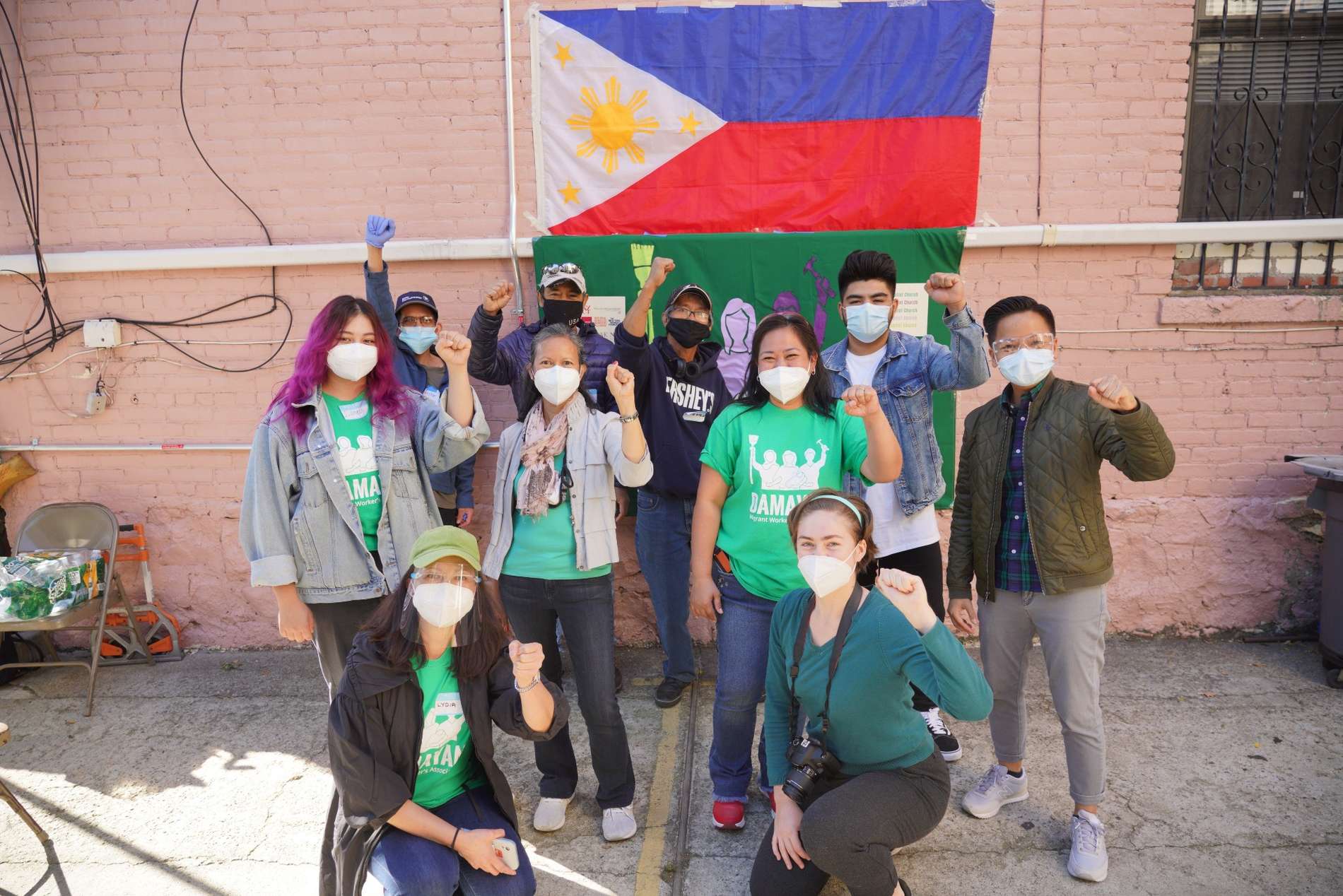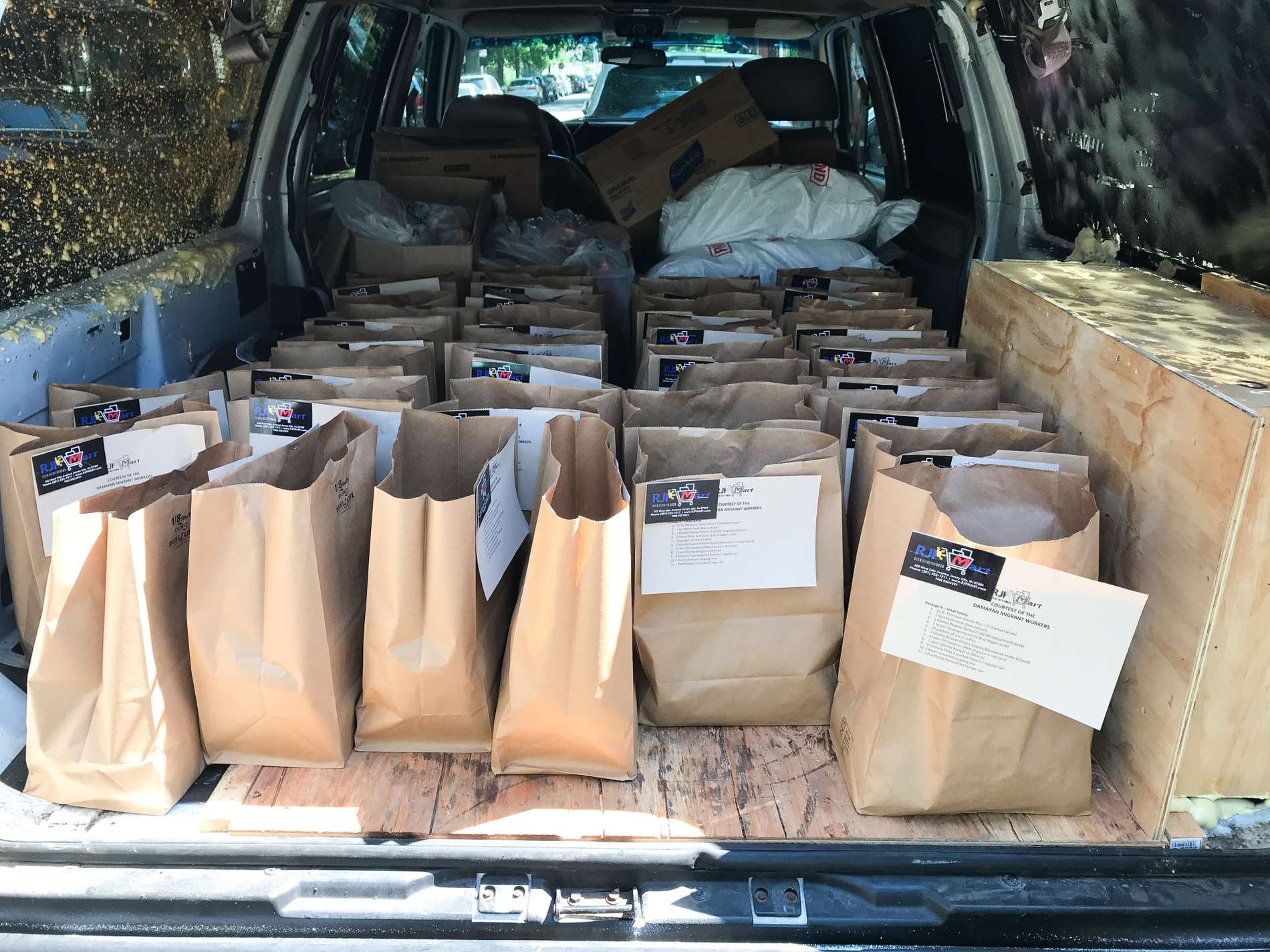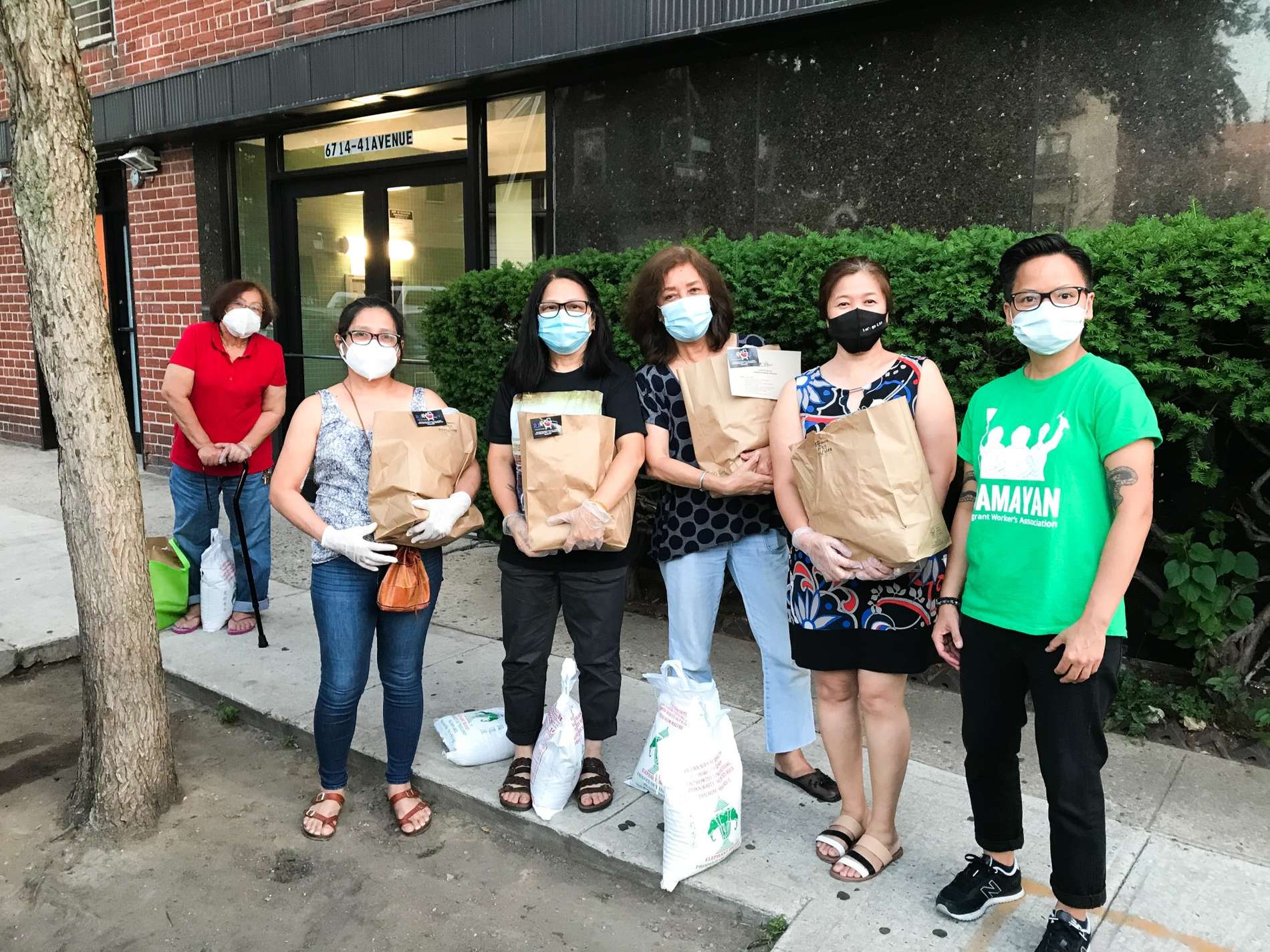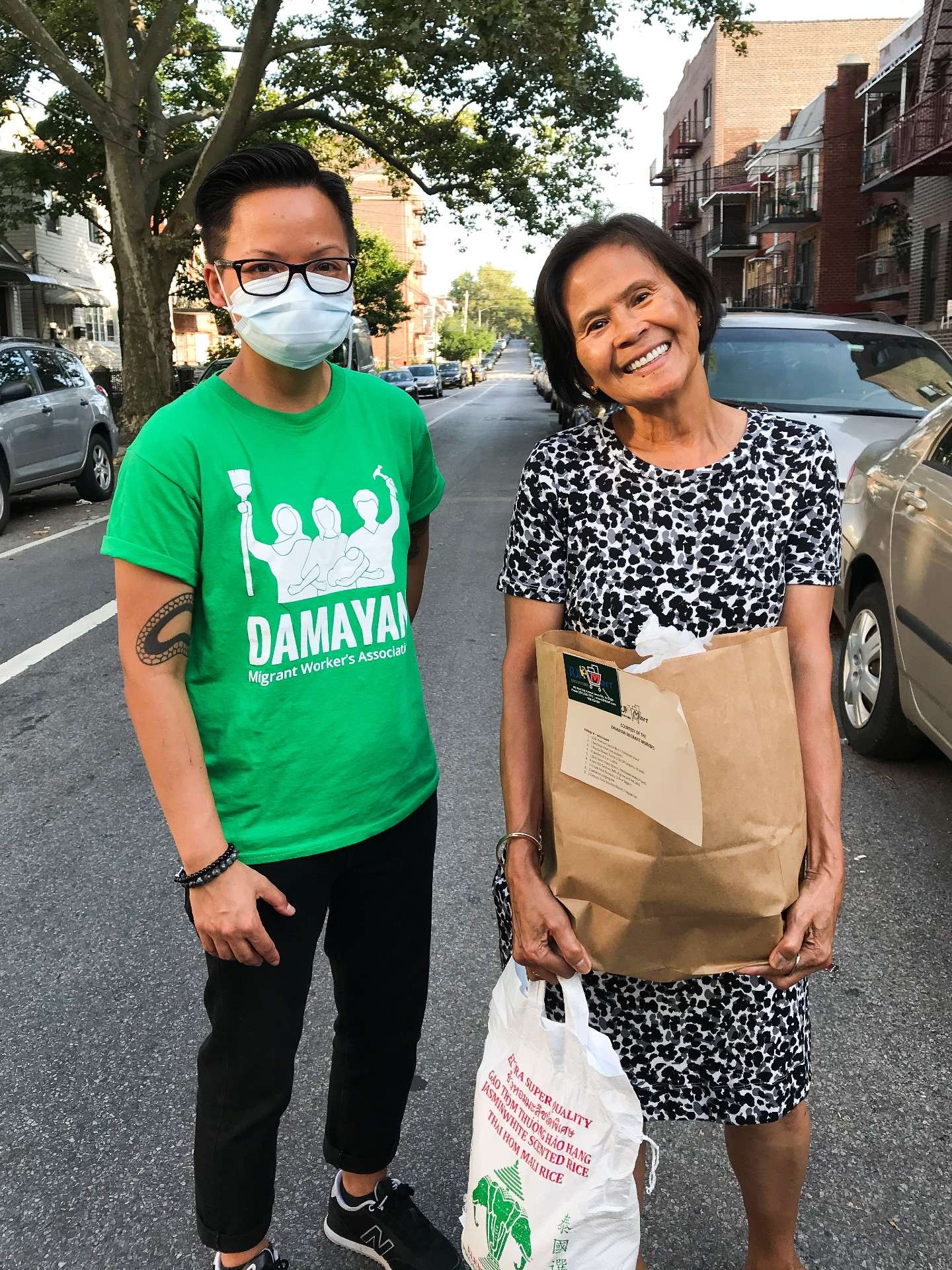 Damayan holding an in-person food and financial distribution for Filipino community members in the backyard of Elmhurst Baptist Church in Queens, NYC. Around 100 confirmed to receive food and financial assistance but about 300 showed up. Photo credit: Damayan Migrant Workers Association
Damayan lead organizer Riya Ortiz giving instructions to Filipino community members waiting to receive food and financial assistance in the backyard of Elmhurst Baptist Church in Queens, NYC. Photo credit: Damayan Migrant Workers Association
Damayan volunteers waiting to distribute food assistance to Filipino community members in the backyard of Elmhurst Baptist Church in Queens, NYC. Photo credit: Damayan Migrant Workers Association
Damayan Communications Coordinator Jules Grifferty holding a Damayan flag in front of Filipino community members waiting to receive food and financial assistance in the backyard of Elmhurst Baptist Church in Queens, NYC. Photo credit: Damayan Migrant Workers Association
Damayan organizers and volunteers posing after the food and financial distribution for Filipino community members in the backyard of Elmhurst Baptist Church in Queens, NYC, in September 2020. Photo credit: Damayan Migrant Workers Association
Food packages waiting to be delivered to Filipino community members who lived in Queens, NYC, when it was the global epicenter of the pandemic. Photo credit: Damayan Migrant Workers Association
Damayan lead organizer Riya Ortiz delivering food packages to Filipino community members who lived in Queens, NYC, when it was the global epicenter of the pandemic. Photo credit: Damayan Migrant Workers Association
Damayan lead organizer Riya Ortiz delivering a food package to an elderly Filipina community member in Queens, NYC, when it was the global epicenter of the pandemic. Photo credit: Damayan Migrant Workers Association