From first-year students looking to chart a course for their career to well-established alumnae considering a career change, Barnard College's Beyond Barnard program has spent the past two years steadily working to build its offerings and services to present an impressive menu with equally impressive results.
"The response from the Barnard community has been incredible," said Dean Nikki Youngblood Giles, who works in tandem with Dean A-J Aronstein to lead the Beyond Barnard team of 17 to provide advising and resources for career exploration and development, opportunities for experiential education, preparation for graduate and professional school, and support for applications to competitive national and international fellowships.  
When the College launched Beyond Barnard on February 5, 2018, its mission was to support all students and alumnae as they define, pursue, and achieve success in their careers and communities. President Sian Leah Beilock later recalled to The New York Times about the program's genesis how "one thing I realized right off the bat was that we really needed a one-stop shop where [they] could go to think about their experiences at Barnard … and a pathway from that to what was next." 
Success Stories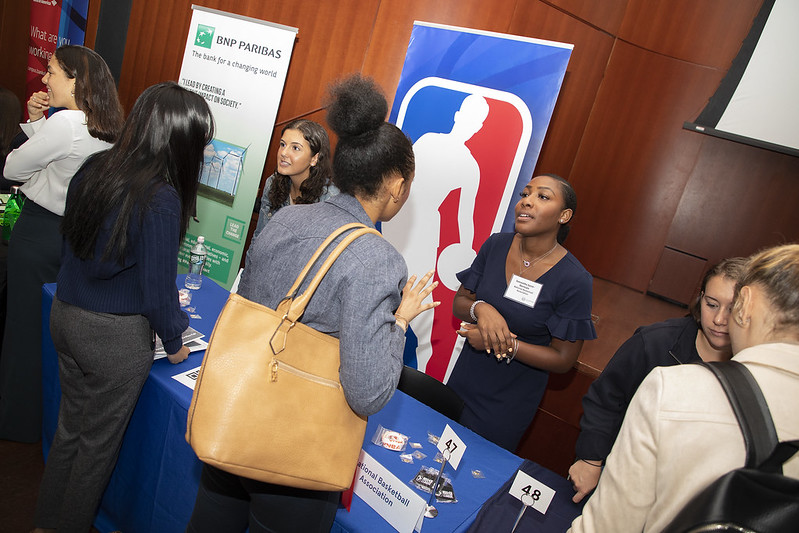 Now looking back on the results since its launch, Beyond Barnard has enjoyed a successful "career" thus far. The following numbers are a testament to the program's growing popularity, whether it's assisting recent graduates with job opportunities, preparing current students for job interviews, or offering alumnae lifelong career services:
More than 90% of the Classes of 2019 and 2018 started their careers in the workforce or had enrolled in graduate school just six months after Commencement
More than 8,000 individual advising appointments were logged since 2018
More than half of all enrolled students visited Beyond Barnard for advising at least once during the 2018-2019 academic year 
More than 60% of first-generation/low-income students used Beyond Barnard in 2018-19
More than 100 student internships were supported with stipends of $4,000 in summer 2019
More than 200 employers and graduate institutions attended events hosted on campus
$8 million was raised to support internships and summer research opportunities for students
The Summer Research Institute grew to support 187 students in 2019 (from 161 in 2018)
More than 250 alumnae were invited to campus as distinguished speakers and advisors
Annually, 160 employer partners come to campus to recruit students
More than 1,500 users were added to Barnard Connect, a virtual mentoring platform
The number of 4+1 Pathways expanded to nine in partnership with the faculty and Columbia University that allow Barnard students to complete a bachelor's degree at Barnard and a master's at Columbia in five years
Tools of the Trades
"We had both an opportunity and a responsibility to show the value of our distinctive liberal arts education," said President Beilock. "Providing our students and alumnae with the tools they need to put their education into practice — whether in academic, industry, government, the arts, or nonprofit roles, while currently enrolled or long after graduation — was and continues to be a priority. By more effectively connecting classroom experiences with co-curricular activities such as internships or research and field placements, we empower Barnard graduates to achieve their goals after college and throughout their lives."
The tools Beyond Barnard provides cover a wide range — everything from assistance with cover letters to law school applications, applying for research grants and post-Baccalaureate fellowships, and, of course, help with internships. Thanks to generous donors — such as the Lida Orzeck '68 Poster Session, the Summer Research Institute's capstone event — Beyond Barnard has increased grant support for unpaid internships to 250 annually. 
Support for paid internships, through the Beyond Barnard Internship Program, has also increased for semester-long internships (from $800 to $1,000 per award) and summer internships (from $2,000 to $4,000 per award), making these opportunities more attractive to students from low-income backgrounds who otherwise may not have been able to take advantage of them, according to  Aronstein.
 
"This stuff isn't interesting if it's all about résumé fonts and cover-letter formats, which we do, sure," said Aronstein. "But we're also helping students and alumnae ask what they want out of their education, what matters to them, and what relationship their intellectual commitments have to their work and sense of purpose. And we're bringing thoughtfulness to questions about how our work aligns with the academic mission of the College and how an education at Barnard translates into a purposeful life."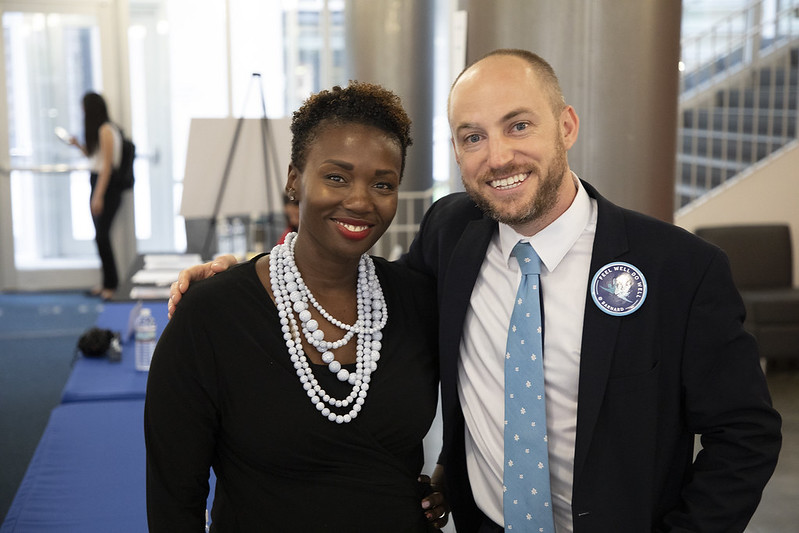 Advanced Degrees
Beyond Barnard also provides administrative and programmatic support for the College's increasing number of combined opportunities with Columbia University. Students now have more options to pursue graduate degrees at Columbia, thanks to new 4+1 pathways and deferred enrollment options like the newly launched 2+2 program at Columbia Business School. 
There are now a remarkable 16 different pathways for students to graduate in five years with a bachelor's degree from Barnard and a master's degree from Columbia. Students can pursue multiple tracks toward a master's degree in public health; engineering; quantitative methods in social sciences; Russian, Eurasian, and East European studies; or public affairs. The most recently added options connect Barnard's Physics Department and year-old Computer Science Department with the Fu Foundation School for Engineering and Applied Sciences. 
"The 4+1 Pathways make it possible for students to combine their liberal arts education at Barnard with a graduate degree from one of the world's leading research universities," said Youngblood Giles. Students can also apply for admission to Columbia Business School or Columbia Law School as seniors, and upon acceptance, defer their enrollment for two years. "Doing so provides time for Barnard's newest graduates to pursue professional training in the workplace before returning to Morningside Heights for their professional degrees," added Youngblood Giles. 
'Opportunities' to Grow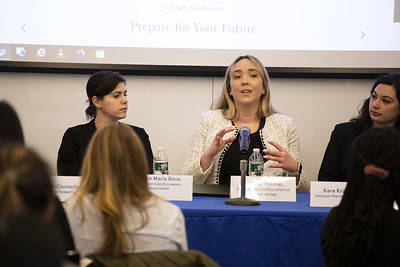 Every spring and fall, the department welcomes more than 150 employers to the College to meet students, conduct interviews, and host events at Opportunities Fairs. 

The most recent fair, on January 24, 2020, focused on "Diversity, Equity, and Inclusion: Challenges and Opportunities in Recruitment and Advancement," hosted 350 students and more than 50 alumnae (who contributed their time to talk to students), and brought in 55 organizations — including government offices, corporations, and nonprofit organizations — to recruit students.

Beyond Barnard partnered with Holly Tedder, director of the Office of Disability Services, for a conversation about disability and difference in the workplace. Ariana González Stokas, the College's inaugural vice president for diversity, equity, and inclusion, agreed that these are necessary discussions.

"The workforce was designed for a very narrow category of human experience, mostly male, mostly white, mostly single workers … and the needs of work have changed," said González Stokas.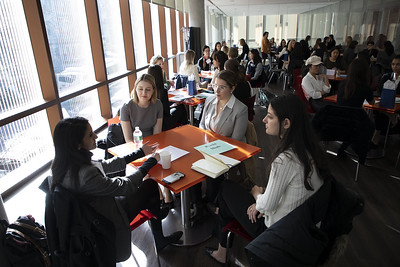 It is this kind of campus-wide engagement that has helped Beyond Barnard to grow and flourish. "We have gotten great ideas for programs and resources from students, alumnae, and faculty but also from employers, parents, community partners, and so many other friends of the College," said Youngblood Giles. "I think the best measure of our success is that people leave our office feeling confident in their trajectory, no matter their major, background, or life stage."
Bright Futures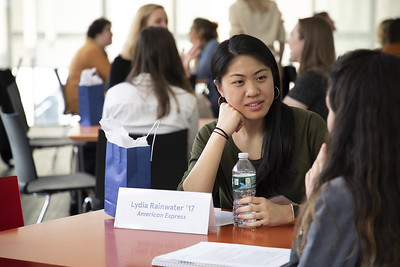 "Our colleagues at Beyond Barnard work exceptionally hard on behalf of students and alumnae every single day, and we constantly feel the positive energy and optimism that they bring to the office," said Aronstein. That positive energy translates to a whirlwind of planned activities in the current semester and well into 2020, including: 
A new "Career Insights" series to connect students with panels of alumnae, produced in collaboration with the "Mentor-in-Residence" program, which brings distinguished alumnae to campus during the academic year for small group conversations about their careers. This spring semester will see more than 50 events and programs, including a new multievent series on law school and nonprofits.
In March 2020, Beyond Barnard will travel to Los Angeles for a conversation with alumnae and Netflix chief inclusion officer Vernā Myers '82 about media and entertainment, a key industry of interest for the Class of 2019.
In March 2020, Beyond Barnard will host 16 students in Cambridge, Massachusetts, for discussions with alumnae about innovation, tech, and biotech. The Field Trip Program offers students opportunities to meet with alumnae in New York and around the country, and to build meaningful connections with a wide range of individuals, with zero out-of-pocket costs to participants.  
The selection of Beyond Barnard's Alumnae Circle — a group of distinguished alumnae committed to helping to foster the growth of Beyond Barnard — will soon be announced. 
 
For students looking for tips on how to prepare questions for Beyond Barnard, an Opportunities Fair, or potential employers, see the video below:
To learn more about Beyond Barnard and how it supports all students and alumnae of the College as they define and pursue their purpose, watch the video below, featuring Beyond Barnard's Aronstein and Youngblood Giles: