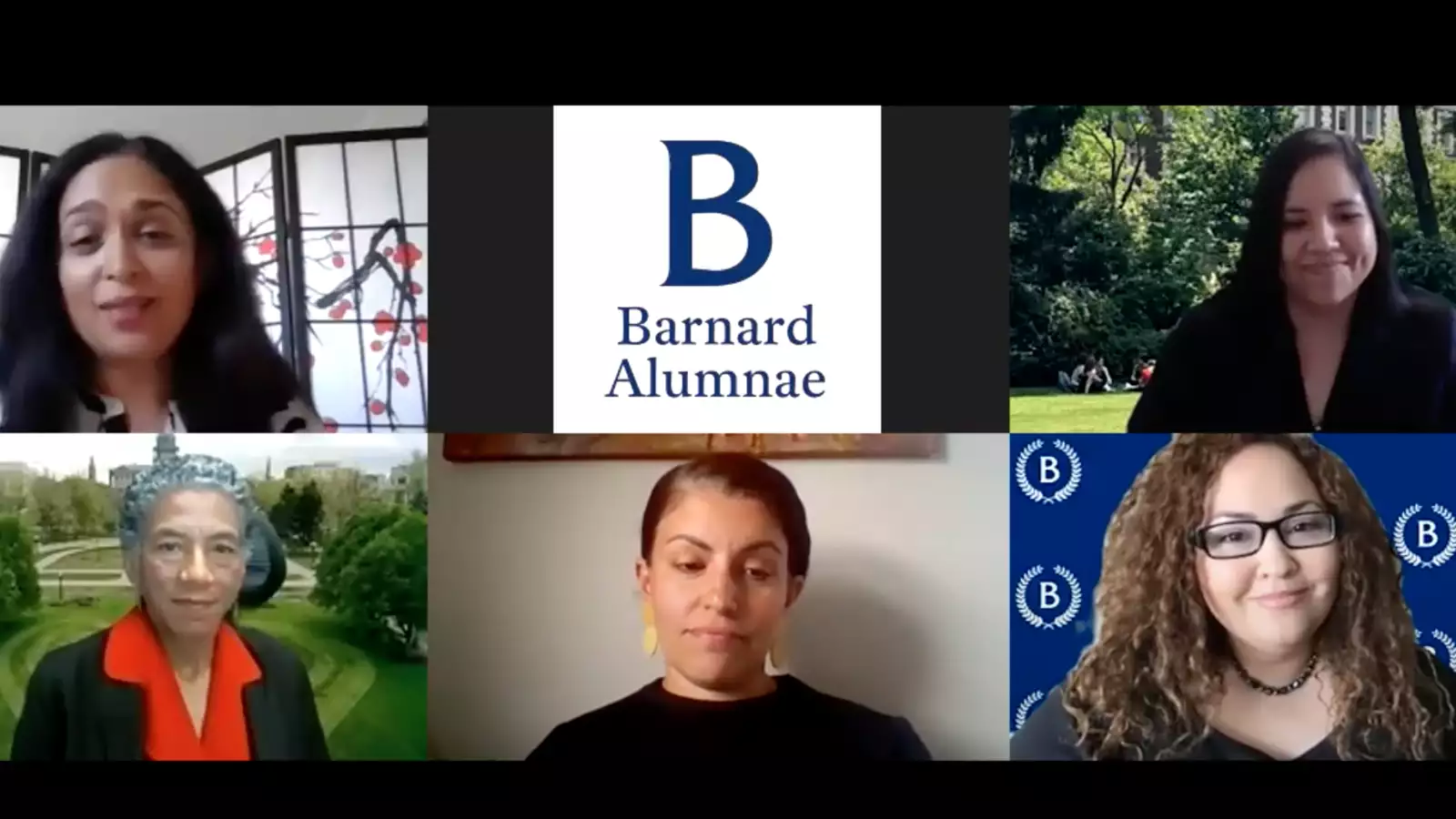 "I know this isn't the Reunion we all expected," said Rona Wilk '91, chair of the AABC Reunion Committee. "I know this isn't the Reunion we wanted. It is the Reunion we have, to celebrate the amazing Milestone classes and gather together the global community that is Barnard. Barnard strong means helping each other through this."
Watch Wilk's Welcome Address from the Reunion Committee below:
With the College practicing social distancing due to COVID-19, about 900 alumnae from 17 countries came together online for Reunion Reimagined (June 1-5). From Zoom webinars and cocktail hours to academic presentations and conversations, the community recognized both the current moment and Barnard's enduring legacy of connection.
"The prospect of a virtual Reunion was a type of special we hadn't anticipated," said Jo Ann Engelhardt '75. "I feel it was a success. It brought me closer to my classmates and the entire Barnard community, and I didn't even have to take a plane or book a hotel."
Classmates who had passed away since the last Milestone Reunion were remembered during the online memorial service. "Connecting with other people enables transcendence," said Reverend Anna Keller Pearson '88. "Compassion engenders trust, which pulls us towards heaven, however we may conceive it. This is made more clear by the quarantine crisis, rather than less."
The weekend's activities honored the need to connect, celebrate, and reflect, and addressed the year's challenges and political events as well.  "With everything going on in the country and the world, it's more important than ever to gather," said President Sian Beilock in her State of the College address. "This hasn't been an easy year for Barnard and the world. Barnard denounces in the strongest possible terms anti-Black violence and rhetoric and calls on all of us to be our best selves."
Alumnae were invited to attend a series of workshops and lectures, many pertaining to the current pandemic and political climate, including the "Conversation on Women and Power," hosted by the Alumnae of Color Dinner Committee. The event featured Allegra "Happy" Haynes '75, executive director of Denver Parks & Recreation and a 2020 Distinguished Alumna award recipient, and Ariana González Stokas, Vice President for Diversity, Equity, and Inclusion.
"Periods of dislocation are when women make the greatest strides towards opportunity," said Haynes. "We need to see our collective grief and rage channeled as women leaders toward constructive change."
To tackle issues around the economy, some sessions offered alumnae guidance about careers and finances. In the "Financial Planning During a Crisis" webinar, Cinneah El-Amin '16, creator of the lifestyle blog Flynanced, provided strategies on how alumnae at all stages could become debt-free and build wealth. "It's about how to have your money align with your values," she said. "We all have personal finance journeys we're on. Personal finance is personal and political." 
Similarly, in "Career Path Check-in: Pivoting During a Crisis," Christine Valenza Shin '84, Beyond Barnard senior associate director of advising and programs, urged alumnae to practice confidence during times of uncertainty.. "Every career transition is an opportunity to assess and explore what you really want to be doing next, even in an environment like this."
Another major focus at Reunion Reimagined  was to highlight Barnard's distinctive history and contributions to society at large. "Preserving Barnard History," a conversation between Wilk and College archivist Martha Tenney, explored why the archives matter. 
"It's not just about the past but how we can imagine a future," said Tenney. "There's a reparative framework, where we actively confront the histories of people who've been excluded."
President emerita and anthropology professor emerita Judith Shapiro joined professor of history Mark C. Carnes, as well as some members of the Class of 2000, to celebrate the 25th anniversary of Carnes' signature course Reacting to the Past. The class, which uses role-playing games to explore pivotal moments in history, has since been adopted by more than 500 colleges and universities.
"[The course was about] solving problems together," said Carnes. "What happened in that class changed my life and changed our education."
The "Over the Rainbow" seminar — celebrating the legacy of the groundbreaking choreopoem for colored girls who have considered suicide when the rainbow is enuf, by Ntozake Shange '70 — was led by Kim F. Hall, Lucyle Hook Professor of English and professor of Africana studies; Monica Miller, associate professor of English and Africana studies; and Nia Ashley '16, program coordinator for the Shange Magic Project. The Shange Magic Project was made available through an Inclusion Grant, sponsored by the Council on Diversity, Equity, and Inclusion in January 2020, to create an  installation that featured excerpts from her work on walls around the Milstein Center.
"Ntozake broke through," Hall said. "She speaks to the soul of colored women and what it means to be a Black woman."
To close out the week of online events, the Moth storytelling event returned for a milestone 15th year in a row, hosted for the second time by writer-comedian JiJi Lee '01 and introduced by Cyndi Stivers '78. The four alumnae storytellers — Agathe Nadai '55, Vivien Li '75, Sonia Taitz '75, and Kieren Van den Blink '95 — reflected on a pivotal experience at Barnard that transformed their lives.
"Barnard formed me with its supportive, collaborative environment," said Taitz. "It's where I came to life. It's the shining confidence this College gave me and all of us."
For anyone who was unable to join Reunion Reimagined, or would like to revisit any of the virtual programs, they are available here.