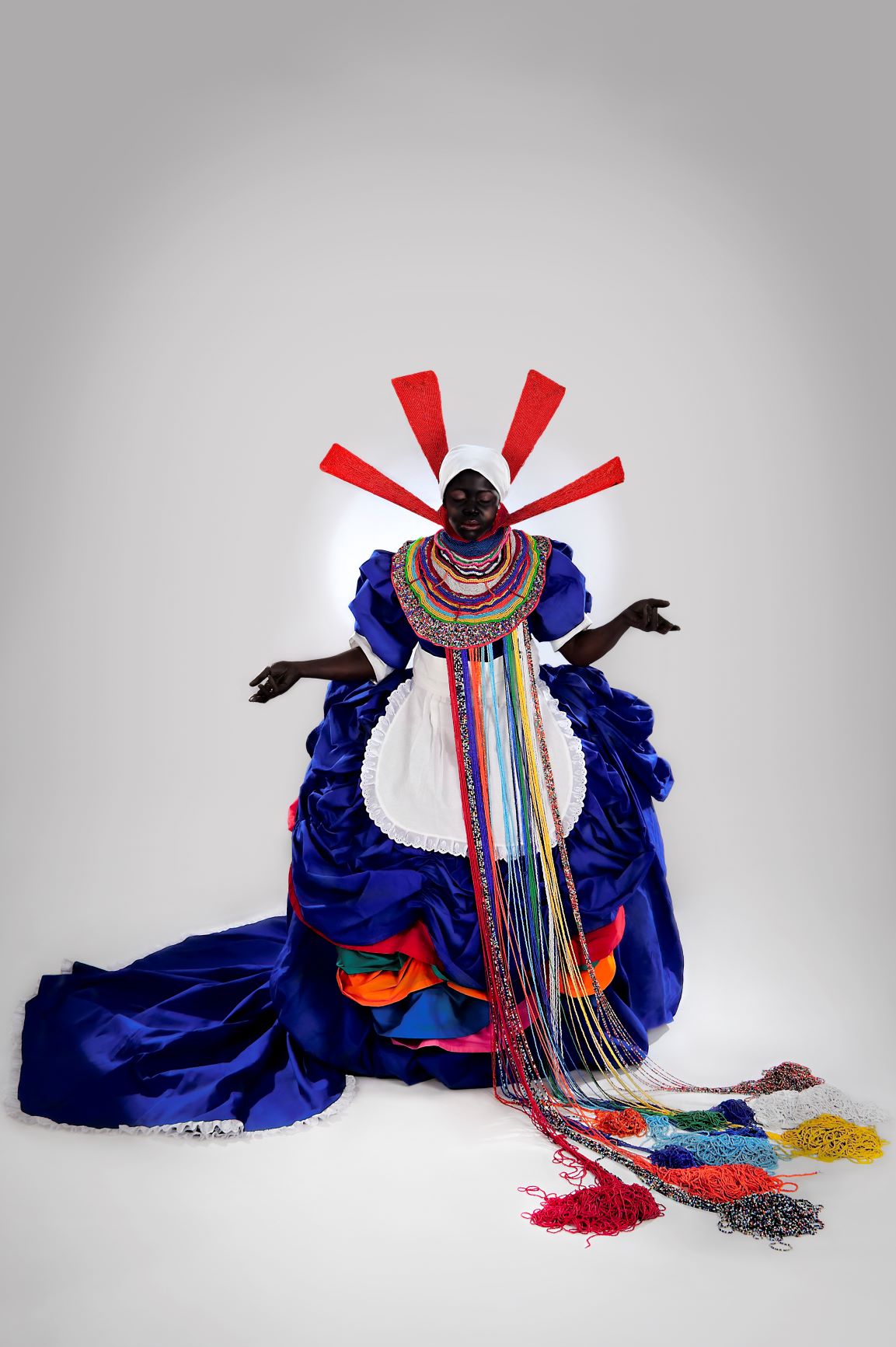 South African artist Mary Sibande's striking portraits and sculptures make people stop and wonder at her portrayal of black women dressed in regal, post-colonial domestic worker clothing, set in a story of empowerment — reining in a horse, conducting a silent symphony, knitting a Superman cape. The wonderment of her work is now on display at Columbia's Leroy Neiman Gallery, and their creator has been sharing her inspiration in an extended conversation with Barnard College. 
At the "Art and Equity" campus event in early 2018, an idea was hatched following Sibande's talk with visual artist Toyin Ojih Odutola, last year's Lida A. Orzeck '68 Distinguished Artist-in-Residence. Professor of art history Anne Higonnet and professor of Africana studies and English literature Yvette Christiansë then invited Sibande — one of the most significant contemporary South African artists and a major voice in the dialogue about the intersection on race, culture, and labor — to be this year's Virginia C. Gildersleeve Professor. 
"Mary Sibande's life-size figures of women in monumentally over-life-size clothing are such a witty, spatially bold, and meta-feminine expression of how gender, race, and class intersect when it comes to domestic labor, and nothing could be more in the spirit of the Gildersleeve Professorship," said Higonnet. "We wanted an artist who could teach those issues visually and verbally, so the combined format of a big talk, an exhibition, and some fundamental teaching seemed the right combination."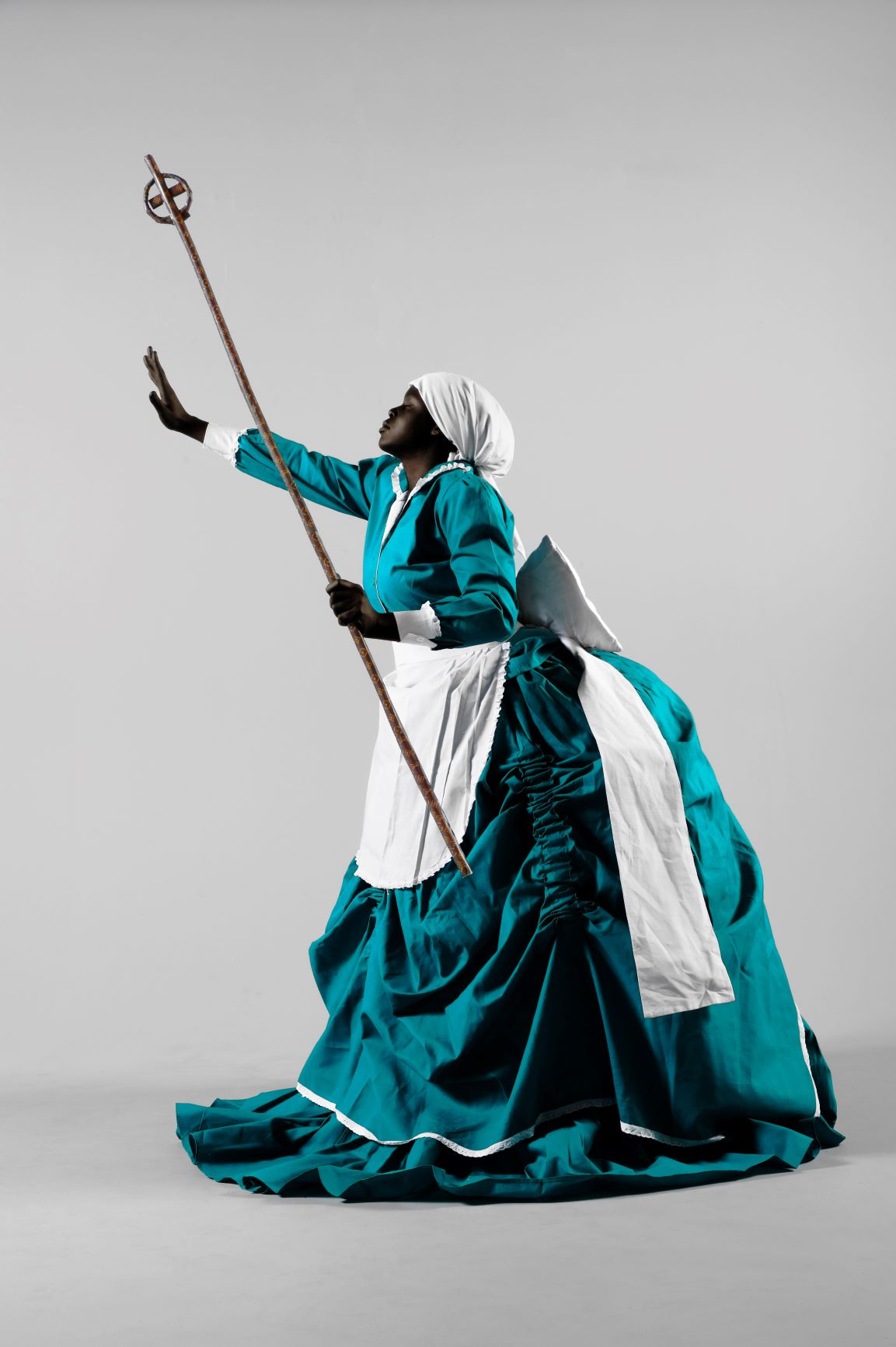 See Sibande's Art
To coincide with Sibande's appointment at Barnard, the Leroy Neiman Gallery is hosting her first solo exhibition in New York. The gallery is showing six works from two series, Long Live the Dead Queen (2007-2011) and The Purple Shall Govern (2013-present), through May 1, 2019. Nearly 150 students from Barnard's Introduction to Art History course will view the exhibition and talk with Sibande about the practice of creativity and how she uses her art to push past stereotypes of black women's body and space.
"The diversity of her work is grounded in the kind of radical interventions that restages 'blackness,' the domestic labor of black women, and the conscripted, militarized labor of black soldiers under apartheid," said Christiansë. "Bringing her into our space of collective learning invites all of us to see differently, as her presence facilitates closer curricular bonds between Africana studies and art history, particularly in our work with students around identity — how we express identity, whether racial, ethnic, sexual, religious, national, for example — and the modes in which we do so."
Sibande's exhibition was curated by Columbia graduate student and curatorial assistant at Dia Art Foundation Sally Eaves Hughes '19GSAS; curatorial advisor was Kellie Jones, professor of art history and archaeology at Columbia. The exhibition was sponsored by the Barnard College Department of Africana Studies, the Institute for Research in African-American Studies, Columbia University School of the Arts, and the Collaborative to Advance Equity through Research at Columbia University, the Ford Foundation, and a Humanities New York Action grant.
Hear Sibande Speak
On April 25, 2019, Sibande will be the keynote speaker at Columbia's Institute for Research in African-American Studies 25th anniversary weekend conference celebration. Sibande will hold pre-exhibition talks and then conversations at the gallery, exploring the conference's theme of "Free to Be Anywhere in the Universe: An International Conference on New Directions in the Study of the African Diaspora." 
More About Sibande
Sibande's notable awards include the 2017 Smithsonian National Museum of African Arts Award and the Johannesburg Alumni Dignitas Award in 2014. Sibande has exhibited her work extensively, including in Made Visible: Contemporary South African Fashion and Identity, on view at the Boston Museum of Fine Arts through May 12, 2019; Like Life: Sculpture, Color, and the Body at the Metropolitan Museum of Art in 2018; South Africa: The Art of a Nation at the British Museum in London in 2016; and Desire: Ideal Narratives in Contemporary South African Art at the 54th Venice Biennale, as part of the South African Pavilion in 2011. Sibande's work is in prominent public and private collections, including the Smithsonian National Museum of African Art in Washington D.C., the Museum of Contemporary Photography in Chicago, and the Toledo Museum of Art in Toledo, Ohio.
—N. JAMIYLA CHISHOLM