Introduction
Student Experience & Engagement (SEE) creates spaces for students to engage with peers both formally and informally outside of the classroom. Community Programs specifically looks at ways we can bring the Barnard community together to celebrate & collaborate. We also are continuously looking for opportunities to grow to provide spaces and resources for specific student communities, as well as for our campus wide community. Specific initiatives include:
Hosting small and large-scale programs that focus on self-care, community support, and connecting students to SEE.  

Serving as the agent for Millie the Bear. Interested in having her at your event? Complete the Millie request form.
Barnard Bold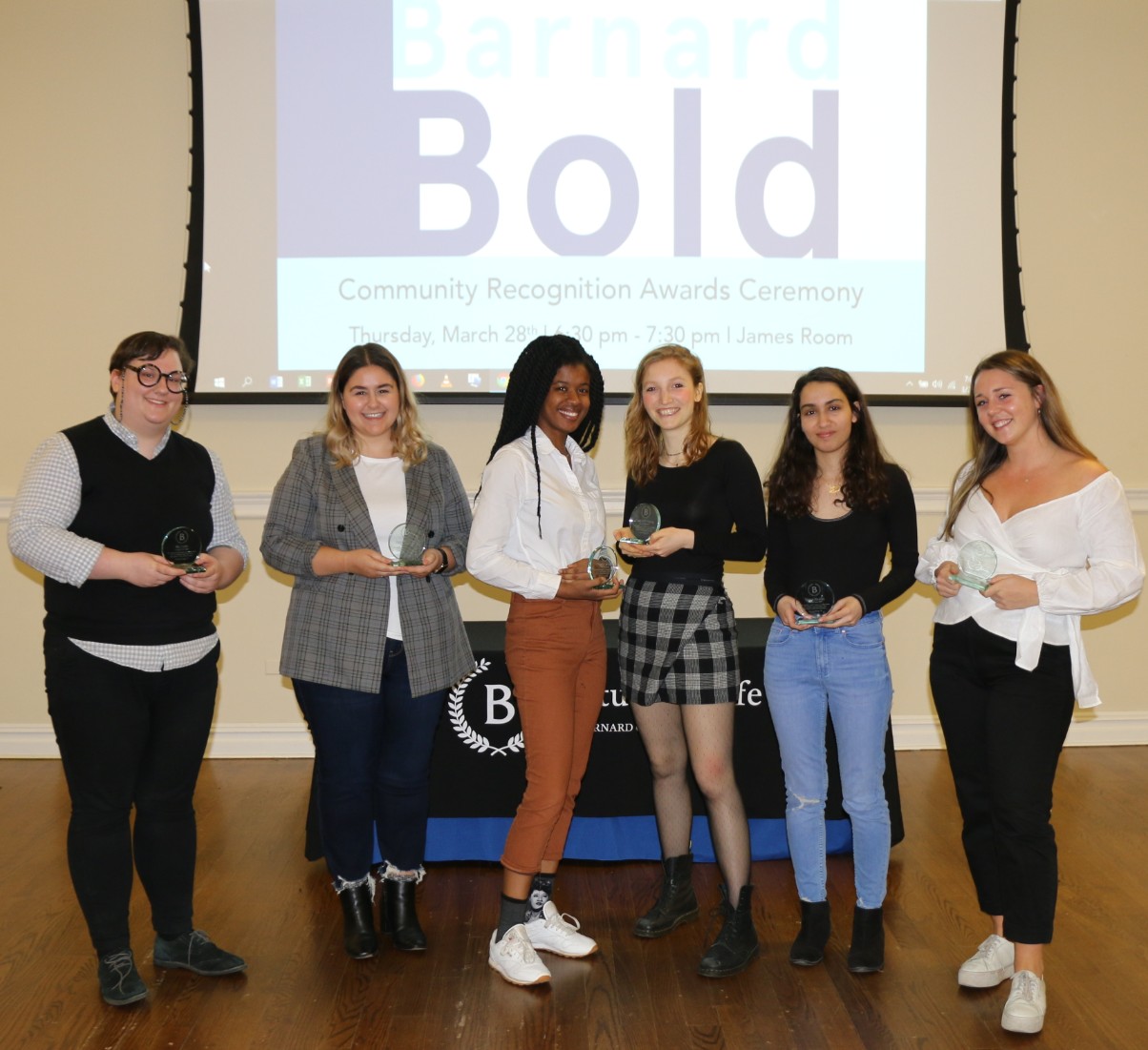 Check out this year's 2020 Barnard Bold Recipients 
Grace Lee Boggs '35 once said: "We urgently need to bring to our communities the limitless capacity to love, serve, and create for and with each other."
As a Barnard community, we come together in moments of celebration and support each other during times of struggle and growth. Barnard Bold intends to recognize students and student organizations that embody the dedication to community that Grace Lee Boggs exemplifies. 
The award categories showcase a range of causes for which students and organizations can be recognized for their approach, contributions, and impact. Recipients are being celebrated and highlighted for the following awards:
Bold Award for Dedication to Community Care + Uplift
Focuses on creating a more caring and healthy campus community.
Demonstrates acts of resilience in face of adversity.
Recognized for their work around community healing, self-care, and self-advocacy practices.
Bold Award for Coalition Building
Demonstrates outstanding and consistent dedication to coalition building on or off campus.
Facilitates the bringing together of communities/groups with intentionality.
Generates cross-collaboration project for the enrichment of educational outcomes or heightened sense of awareness and intersectionality of issues/causes.
Bold Award for Dedication to Intersectional Feminism
Contributes toward raising consciouness around gender identity and expression, gender equality, and women's issues on/off campus.
Advocates for women's rights and gender equality on/off campus.
Encourages and practices intersectional and inclusive feminism.
Bold Award for Civic Engagement 
Volunteers their time, skills, knowledge and enthusiasm to promote the quality of life in the Barnard Community
Develops the combination of knowledge, skills, values and motivations to make a difference in the civic life of the Barnard Community and other communities at-large
Promotes the quality of life in the Barnard Community through both political and non-political processes.
Bold Award for Visionary + Radical Leadership
Demonstrates thoughtful and effective leadership.
Does trailblazing work that has impacted both the Barnard community and beyond.
Shows ingenuity and radical approach to addressing institutional and systemic issues affecting the on/off campus community.
Shifts the paradigm and understanding of conventional leadership to one that serves the known needs of the community.
Millie the Dancing Bear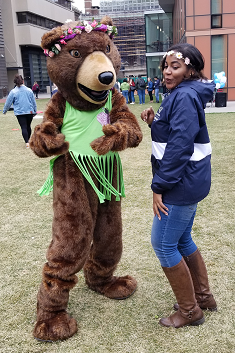 She's bold, she's playful, she's furry, and rumor has it that she has some of the best dance moves around town! This magical being is better known as Millie the Dancing Bear. Millie helps spread school spirit, is the center of attention at student events posing for selfies and group photos, and is, of course, always willing to lend a hug. Students' reactions to Millie are quite varied - some giggle and wave hello, some scream and run into hiding, some ask all of the questions possible to figure out who wears the costume, and others run towards her in excitement and with much Barnard pride.

Millie is named in honor of Barnard's first President Millicent McIntosh and has been around in mascot form for over 15 years. Millie is a highly regarded member of the Barnard community and is probably the closest thing we have to tapping for a secret honor society. Perhaps not the best analogy but it is in fact a tip top secret. Before her appearances Millie needs to find the perfect, secluded place to go from their normal being and transform into full Millie character -- no talking, no laughing, just all dancing!

Millie's popularity and significance knows no bounds. She is requested to attend major campus events, gets to wear all the cool t-shirts, and has a manager who makes sure she gets the treats and giveaways at every event.  To be Millie is an honor for those who get selected and her reveal is much anticipated at every year's graduation when members of the graduating class wonder if the Millie of their Barnard experience is also one of their classmates. 
So where can you find Millie? Millie tries to participate in large campus traditions and has joined in on the sandwich madness at Big Sub, takes pictures with fun props at Founders Day, warms up with blankets and hot cocoa during Fall Fest, dances around the Benefits Fair, and enlivens the frigid crowd waiting to get into Midnight Breakfast this past Fall. If you still have not met her, be sure to keep an eye out for a friendly bear walking around campus from time to time.
If are having an event and want her to join please complete this request form at least 2 weeks in advance.