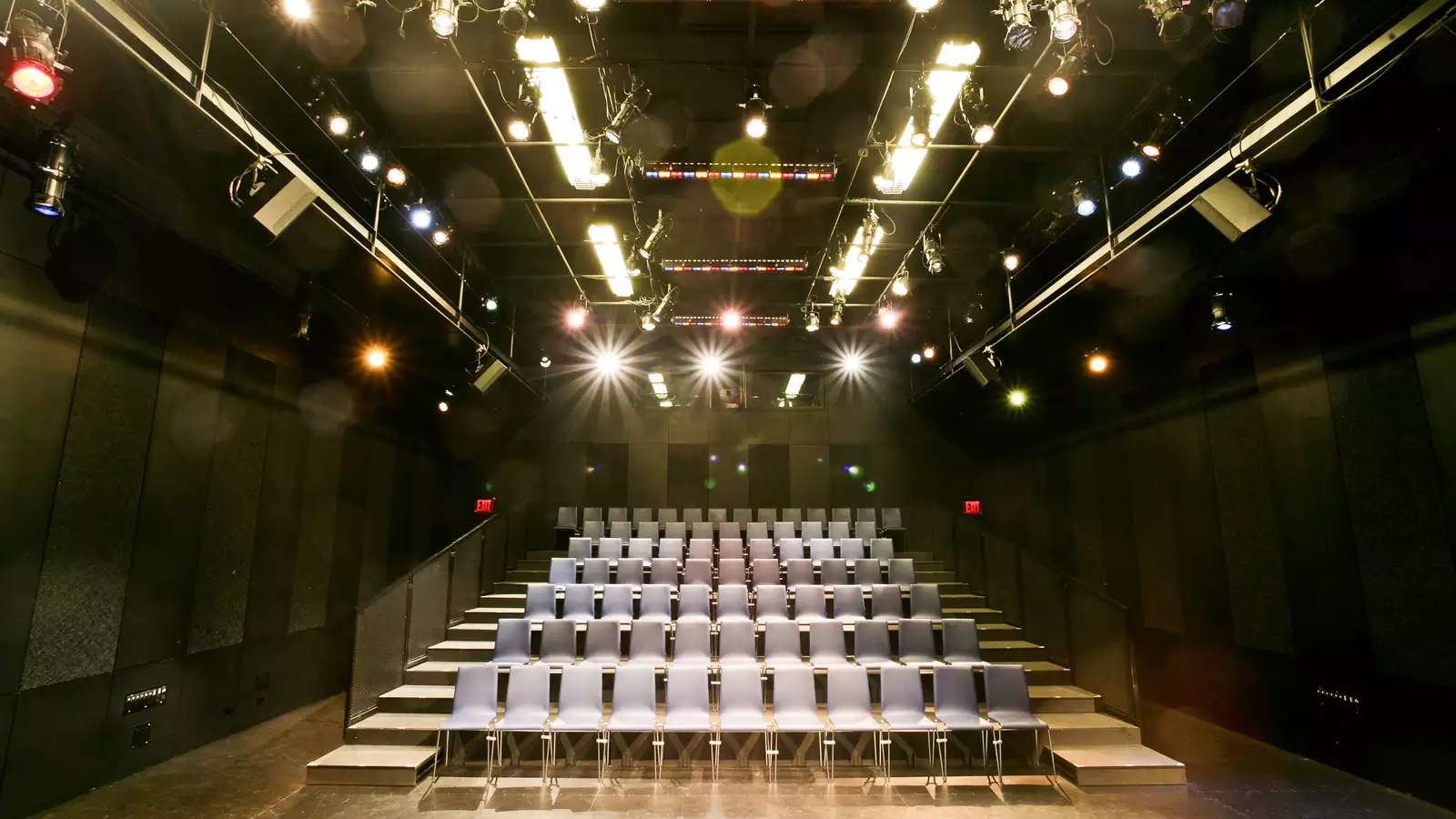 Arts Education
Arts Education strives to create spaces for students of all backgrounds to engage with art in ways that are meaningful to their own lives and interests. This area is staffed by professional arts practitioners who can provide meaningful connections and exploration opportunities unique to the Barnard Experience.
The Art Education Program Area also supports a number of extra-curricular activities including the following areas:
Clubs/Club Advising
Under the area of Arts Education in Student Experience & Engagement (SEE), arts-related student clubs who are recognized through the Governing Board of Barnard receive a dedicated advisor to help them navigate club leadership on campus.  The advisor helps student leaders problem-solve and guides them through best practices in the Arts.
Glicker-Milstein Theatre (GMT)
The Glicker-Milstein Theatre (GMT) is a blackbox space dedicated to student performances on campus offering student productions a safe place to explore their ideas and develop theatre techniques under the guidance of professional staff.
Each year, the GMT mounts over 50 events including theatrical productions, dance performances, film screenings, play readings, panels, and workshops. 
The GMT employs 8 student technicians who work an average of 9 hours per week supporting the productions hosted in the space. Student technicians learn a variety of skills through their work in the GMT. This includes training and hands-on experience with audio, lighting, carpentry, and other vital areas of production.
The GMT prides itself on being a space where students feel comfortable to try new practices and learn about theatre and themselves. The GMT has the capacity to host a wide variety of events varying in levels of production value. Student productions and events have access to the GMT stock props and set pieces and the support of our professional staff and student technicians to help bring their vision to life. 
The GMT also offers technical theatre workshops, open to anyone in the student body, introducing students to various technical theatre disciplines ranging from basic stagecraft to advanced lighting control and many areas in between. No previous technical theatre experience is necessary and all are welcome to attend. 
The GMT also offers its space as a rental venue. Please see the Rentals section below for further detail.
B'scursions
Arts Education hosts free trips for students to venture out into the NYC cultural scene. Each B'scursion attendee is selected based on a lottery and includes a catered discussion following each excursion. Past B'scursions have included tickets to Sleep No More and Hamilton, as well as a trip to the Spyscape Museum. The B'scursions program aims to promote a greater connection between Barnard students and the expansive artistic community of New York City.
GMT Radio Hour
The GMT Radio Hour (which is neither on the radio nor an hour long) is a weekly podcast run by Glicker Milstein Theatre student technicians. By collecting and sharing arts resources and by uplifting and supporting artists (from both within and outside of the Barnard/Columbia community), the GMT Radio Hour aims to create a virtual community for students and other listeners through the arts. Past episodes have featured: upcoming SEE events, play reviews, mutual aid funds, and upcoming virtual performances. The podcast can be found and listened to on gmtradiohour.podbean.com
Arts Week
Hosted by the Arts Education area of SEE, Arts Week is an annual celebration of arts that strives to bring free arts programming (and food!) to Barnard students of all backgrounds. It serves as an opportunity to celebrate art in all forms both within the Barnard community and throughout New York City. Each day features different students or local artist(s), with past events including: a keynote address by Alex Guarnaschelli (BC '91), salsa lessons, and an Instagram Live event featuring international artist Juan Andres Ospina.
Student Worker Opportunities
The Arts Education department has opportunities for students to work and contribute in a variety of ways towards shaping arts programming at Barnard. Student-workers are an integral part of the SEE staff, working as technicians, graphic designers, photographers and community assistants to create content with their peers in mind.
Production in Residence Program
The Arts Education area of SEE offers a Production In Residence Program for current students or alumni who are looking for a space to develop a new production. The program is application-based and on-site dates are limited when academics are not in session. Interested arts productions/events may reach out to GMT@barnard.edu for more information. 
With all of these functional areas of Arts Education, SEE truly provides students with tools, resources, and experiences to assist in the exploration of their identities, examine social structures, and develop a strong sense of self.
Rentals
Individuals and organizations outside of the university are able to rent the Glicker-Milstein Theatre, a truly versatile space, for a variety of occasions. The space is ideal for intimate engagements. Rental clients may also utilize the cozy lobby for receptions or other pre- or post- event needs. To learn more about the Glicker-Milstein's rental opportunities, please visit our Rentals Page.