Social Justice Education
Student Experience & Engagement (SEE) offers a holistic approach to foster a respectful and inclusive community on campus, as well as opportunities for students to explore identities and develop leadership skills.  Valuing the development of all students,  we provide co­curricular workshops, dialogues, community spaces, and resources to promote self­ knowledge and growth within a larger community and social context. We work alongside students to empower them as leaders, critical thinkers, community builders, and social change agents.
Looking for a space on campus where you can be surrounded by great texts, amazing company, and more? Come visit the Social Justice Resource Room. The SEE Social Justice Resource Room, located in 304 Diana. is a newly renovated cozy student space​ featuring an extensive social justice​ library, hot water for tea, comfortable furniture for reflection, and chalk boards for community brainstorming. We believe knowledge, community, and wellness to be the core pillars of a social justice pursuit and intend this Resource Room to be a place where Barnard students can find all three.  The Social Justice Resource Room is open for community use Monday-Friday ​from 9am­-5pm and available for reservation after hours (5pm-12am/midnight). To submit an after-hours reservation, please ​complete this form: http://goo.gl/forms/lWXmsvyp6i
Barnard Blue
The Barnard BLUE Series includes workshops, dialogues, and a summit around leadership development and social justice education. This series is aimed to engage students in intentional dialogues to explore their identities and what it means to foster inclusive communities. All incoming students are required to attend the Discover Barnard BLUE session during NSOP as an introduction to the series and to begin the conversation about what equitable and inclusive communities mean. Our Collective, workshops, and summit exist to further that conversation during a students times at Barnard.
Discover Barnard BLUE
Every incoming student is required to attend this session during the New Student Orientation Program. Discover Barnard BLUE (DBB) replaced what was "Perspectives on Diversity" and serves as an interactive session to assist students in defining what is an equitable and inclusive community, and what there are hopes are for their time at Barnard. We specifically explore the many identities that all students bring to campus and discuss how these identities impact how we all uniquely contribute to and intersect with the larger Barnard community. Discover Barnard BLUE is facilitated by SEE staff and NSOP Orientation Leaders.
BLUE Chats
Cohort meeting times: Bi-weekly Fridays from 6pm-8pm, Diana Center Rm. 302
Did you know that the average young adult spends a mind boggling NINE hours a day on social media? Whether you think that's a good, bad or both, we're here to talk about it with you! BLUE Chats is a sharing space, intentionally and specifically designed to unpack exactly what we're taking in and how it influences the people we aspire to become and our actions on a daily basis. Also, not only will we explore how it influences us but how do we influence it? If you are a fan of discussing things that pop up on your Twitter or Instagram timelines and their implications on your daily lives in a fun, low-stakes but still impactful manner, we invite you to BLUE Chats.
Flow Retreat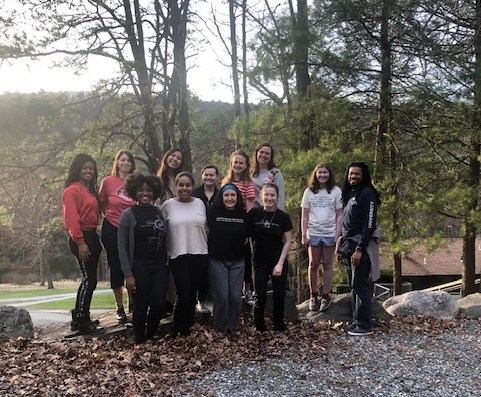 Application is open until Tuesday, March 17th. To apply visit:   https://tinyurl.com/flowretreat2020
The FLOW (Flourishing in Our Wellness) Retreat is sponsored by Student Experience & Engagement (SEE) in collaboration with Well Woman. This off-campus retreat embodies a holistic approach to how we navigate wellness through a social justice lens. The FLOW Retreat is open to ALL Barnard students of all identities and with all understandings of wellness! We look for a broad variety of students who are open to sharing with and learning from others during the retreat weekend on March 27th-28th, 2020.
Who attends the FLOW Retreat?
The FLOW Retreat is open to ALL Barnard students, ALL identities and ALL types of leaders! Campus or student organization leadership experience is not required to participate. We are looking for a broad variety of students who are open to sharing with and learning from others during the retreat weekend.
When are we leaving?
The retreat experience begins at Barnard with a pre-departure meeting. We will meet at 11AM (location TBA) for a delicious lunch and general meet and greet before we start the journey upstate to the camp facility. Make sure you bring your luggage to this meeting; the bus will leave campus at 1:00pm immediately following the lunch! Our bus will depart from the Barnard main gate at W117th and Broadway.
Where are we going?
YMCA Camp Bernie
What should I pack?
Your meals, towels/wash cloths and bed linens will be provided by the site. You should bring: toiletries/ personal hygiene items, comfortable clothing that you can layer, walking shoes, an umbrella, music, and any fun games or activities to share with the group. A more extensive packing list will be provided to participants closer to the departure.
What are we going to be doing at the retreat?
All workshops and sessions will be facilitated by Barnard students and administrators who make up the FLOW Retreat Leadership Team. These activities will focus on identity exploration, intersectionality, personal growth and development, leadership skills, and ways to positively impact the Barnard community. Past retreats have included topics such as: exploring the Barnard student identity, developing a web of support as a leader, and a seminar which explores body image and self- esteem. There will also be time to get to know each other, play games, and hang out together!
Will I have time to do homework or complete assignments?
While there are scheduled breaks built into the retreat schedule, that time should be spent making meaningful connections with other retreat participants. There will be time during the bus ride that you can use to read or study, but we strongly encourage you to complete assignments prior to retreat departure.
Will my special dietary needs be met during the retreat?
Absolutely! Be sure to tell us about your dietary needs on your FLOW Retreat application, and we will be sure to accommodate them during the retreat weekend.
When will we return?
The bus will return to campus by 1:30pm on Sunday afternoon.
Am I required to pay a non-refundable deposit to confirm my spot on the FLOW Retreat?
While this Flow Retreat is free for students, the associated costs (travel, lodging, meals, workshop materials, etc.) are paid by the College. Since this is a large, non-refundable commitment that we are investing your development, we kindly ask that you keep this in mind before confirming that you will join us. Please help us to have this event in the future by respecting your commitment when confirming your attendance.
If you have any additional questions, please email Deshawn Cook at (dcook@barnard.edu).
Barnard Equity in Action
Barnard Equity in Action is a new two-part series hosted by Student Experience & Engagement (SEE). The goal of the program is to build skills and deepen knowledge around issues of social justice. Participants will receive a recognition placard after completing Introduction session + 1 advanced session. 
It is open to all students, faculty, and staff.
Advanced Sessions
Open to participants who complete an Introduction session. Participants will receive a recognition placard after completing Introduction session + 1 advanced session.
* More advanced sessions will be announced in the fall semester.
Events & Opportunities
Each semester Student Experience & Engagement (SEE) sets aside a portion of financial resources to assist Barnard students who wish to pursue individual or group leadership development opportunities through conference/workshop attendance. For consideration, an application must meet the following requirements: Only Barnard students (in good standing) are eligible to apply, the leadership experience must directly relate or contribute to the personal development of the Barnard student(s) who attend, The SLDG may not be used to fund research or academic programs/conferences, strong preference will be given to applications which highlight how the knowledge gained will be applied on campus, and all Leadership Development Grant applications must be received at least 4 weeks before the conference/workshop is scheduled to take place.
We recommend looking into Creating Change, the Social Justice Training Institute, or other outside opportunities/conference that would contribute to ones growth as an activist, advocate, and/or ally.
Other Barnard Resources:
Social Justice House (Residential Life)
Barnard Center for Research on Women