Exceptional leaders who have shaped sports, LGBTQ rights, mathematics and computer science, climate justice, and literature celebrated the Class of 2018 at Barnard's 126th Commencement on Wednesday, May 16, at Radio City Music Hall. Abby Wambach, the soccer champion and activist for pay equity and LGBTQ rights, delivered the keynote address before an audience of more than 4,000 people, including Barnard's 619 graduates along with faculty, trustees, staff, family, and friends.
Keynote Address by Abby Wambach
Wambach delivered a rousing speech to the Class of 2018, encouraging the graduates to follow the lead not of Little Red Riding Hood but of the Big Bad Wolf. In the famous fairy tale, the protagonist is warned to stay on the path, keep her head down, not say much, and stay out of trouble—otherwise bad things will happen to her. Wambach shares that when she followed these rules herself, she ended up with a smaller paycheck than her male peers. She learned the hard way that following the rules of femininity keeps women down. What if, she wondered, she had emulated the wolf rather than the girl?
In the mid-1990s, Wambach continued, wolves were brought into Yellowstone National Park after having been absent for 70 years. In the years of their absence, the deer population skyrocketed, wreaking havoc on the ecosystem. Although wolves were feared by some as a threat when they were reintroduced into the park, it turned out that they saved it.
"Barnard women, are you picking up what I'm laying down here? Women are feared as a threat to our system—and we will also be our society's salvation," Wambach declared. A wolf, in Wambach's metaphor, is someone who goes after what they want and deserve—without apology.
Wambach continued that Barnard graduates should not only emulate wolves but also should tend to their wolf packs, or fellow women. Using her own life as a living example, she discussed times when her gratitude for what she possessed eclipsed her desire for equity and fairness, and the lessons she learned about the costs of keeping silent. Wambach proclaimed that women should demand the same ball, job, pay, promotion, microphone, and Oval Office that men always get. They should demand, "Give me the respect I've earned, and give it to my wolf pack, too."
Media coverage of Wambach's commencement speech has included Time, CNN, The New York Times, The Washington Post, The Chicago Tribune, ABC's Good Morning America, ESPN, Quartz, The Nation, and NPR Boston.
Medals of Distinction
Wambach received the Barnard Medal of Distinction, the College's highest honor, together with three other honorees: mathematician and computer scientist Katherine Johnson, who was instrumental in charting U.S. space travel; Rhea Suh '92, president of the Natural Resources Defense Council; and Anna Quindlen '74, the novelist and Pulitzer Prize–winning journalist who is a former chair of the Board of Trustees of Barnard College. Read the citations for Johnson, Suh, Quindlen, and Wambach. Katherine Johnson was presented with her medal on February 4 in Newport News, Virginia.
Address by President Sian Leah Beilock
The Medals of Distinction were presented by Barnard President Sian Leah Beilock, who presided over the ceremony. In her remarks, President Beilock encouraged the graduates to embrace uncertainty and to remember that "it's okay to not know everything about what is yet to come. That's the beauty of life. The effort and passion and drive combined with the uncertainty keep things interesting." Barnard has provided a solid foundation of knowledge and the tools to take the next steps in life, and it's now up to the graduates to experience the process of living "remarkable lives." Read a transcript of President Beilock's speech.
Additional speakers at Commencement included Provost Linda A. Bell, who offered greetings on behalf of the faculty. Senior Class President Ambika Mookerjee '18 gave the "Charge to the Class of 2018," and Aku Acquaye '18 was awarded the Frank Gilbert Bryson Prize. Alexa Pinsky '18 and Armoni Moody '18 shared reflections on the academic and student experiences, respectively. Senior Fund Co-Chairs Gabrielle Bullard '18 and Grace Ebach '18 announced a senior class gift of $25,000, 75% of which will support the Bear Essentials Fund, which provides essential items not covered by traditional aid packages. The remaining 25% will support the newly endowed Bridge Fund, which supports students whose financial circumstances change during their time at Barnard.
Remarks by Members of the Barnard Community
Jolyne Caruso-FitzGerald '81, who has served the College as a Trustee for 18 years and has been Board Chair for eight years, likewise encouraged the Class of 2018 to "embrace the unexpected. Accept the difficulties and the challenges. Seize every opportunity and unique experience. But know that the one constant in life will be your connection to Barnard. Wherever life takes you, Barnard will be there for you."
Baccalaureate Service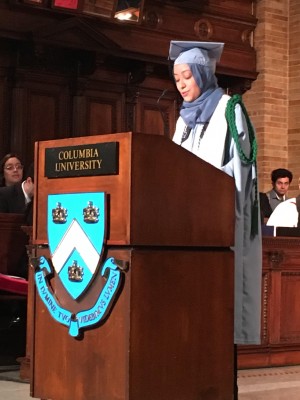 Maryam Rostoum '18, who delivered remarks at the Baccalaureate Service earlier in the week, highlighted the activism of the student body and noted that Barnard students tend to be "selfless" in their activism because they push for change that will help future students rather than themselves. After Barnard, Rostoum said, "we still have a responsibility to the Barnard women who come after us. We must continue to mentor, advise, and give back to the community that has given us so much."