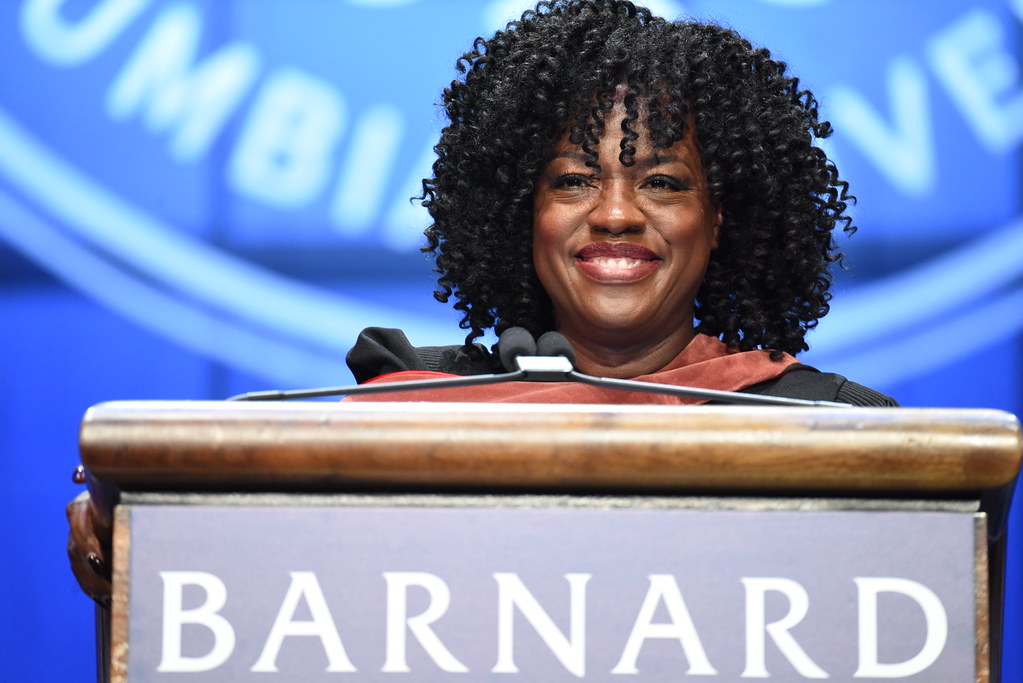 The Class of 2019 — Barnard's largest ever — gathered with distinguished leaders in entertainment, literature, and civil rights activism at Radio City Music Hall on Monday, May 20, for the College's 127th Commencement. Award-winning actress, producer, and humanitarian Viola Davis delivered the keynote address before an audience of nearly 6,000 people, including faculty, trustees, staff, family, and friends celebrating Barnard's 678 new graduates.
Photos from Barnard's 127th Commencement, including celebrations on campus and at Radio City Music Hall. 
Keynote Address by Viola Davis
Viola Davis, star of ABC's critically acclaimed "How to Get Away with Murder," called the audience to action in a powerful, rousing keynote address that pointed to America's complicated history and current events, as well as her own difficult story of childhood poverty, as examples of why it's important to take an honest inventory of ourselves as a whole — the good and the bad — in order to "own it!" and find the fuel that will serve as an "elixir" that inspires empathy and the courage to fight for change.
Davis is the first African American actress to win an Oscar, Tony, and Emmy, and also an outspoken advocate for human rights. She advised graduates that "power concedes nothing without a demand" and offered alarming statistics about "women being under siege," placing emphasis on reproductive rights, equal pay, and rising rates of maternal mortality, particularly among women of color. 
"You are graduating from a school whose mission it is to not just hand you a diploma, but a sword," Davis intoned. "You either start wielding it or you put it away as a conversation piece," she said in a speech punctuated by heart-rending moments that brought tears and ultimately a standing ovation from the audience. Read the transcript of Davis' keynote address. 
Media coverage of Davis's commencement speech has included Business Insider, The Guardian, Good Morning America, NBC Sports, Shondaland, and People.
Medals of Distinction
Davis received the Barnard Medal of Distinction, the College's highest honor, together with three other honorees: Shirley Adelson Siegel '37, a dedicated civil rights and fair housing activist, who received a standing ovation from the crowd gathered at Radio City Music Hall; Sana Amanat '04, who co-created Marvel's first Muslim superhero; and internationally recognized poet, essayist, and playwright Cherríe Moraga. Read the citations for Davis, Adelson Siegel, Amanat, and Moraga. 
Address by President Sian Leah Beilock
The Medals of Distinction were presented by Barnard President Sian Leah Beilock, who presided over the ceremony. In her remarks, President Beilock charged graduates to push past fear, stating that "whether you are bound for graduate school, starting a job, spending time traveling, or still unsure of what is next, you can find ways to reassure yourselves that you authentically deserve to be where you are." One of the easiest ways, besides writing down fears and remembering past accomplishments, is to "tap into the network of tens of thousands of stellar alumnae." Read a transcript of President Beilock's speech.
Additional speakers at Commencement included Provost and Dean of the Faculty Linda A. Bell, who offered greetings on behalf of the faculty. Senior Class President Rhea Nagpal '19 gave the "Charge to the Class of 2019," and Alicia Simba '19 was awarded the Frank Gilbert Bryson Prize. Samanta Dalchand '19 and Charlotte Voelkel '19 shared reflections on the academic and student experiences, respectively. Senior Fund Co-Chairs Demme Durrett '19 and Surbhi Lohia '19 announced a senior class gift of more than $20,000, which will be split evenly to support the Bear Essentials Fund, which provides essential items not covered by traditional aid packages; the Tisch Scholarship for Refugee Women, an endowed scholarship fund established to fully support a student displaced from an area of conflict; Barnard's FLIP Library, which provides textbooks and other course materials for low-income and/or first-generation students; and the Bridge Fund, to support a student whose financial circumstances have changed unexpectedly while at Barnard. 
Remarks by Members of the Barnard Community
Cheryl Glicker Milstein '82 P'14, Chair of the Barnard Board of Trustees, reminded graduates, "You will always be tethered to the College because of the strong ties you made during your years here, the connections with faculty from whom you gained so much, the individual growth and change that inevitably happened. You get to keep and cherish all of it."
Baccalaureate Service
Noa Shapiro '19 and Emma Smith '19, who delivered remarks at the Baccalaureate Service earlier in the week, highlighted the importance of religion and community. Shapiro said that while at Barnard, "It became clearer that there are different kinds of communities: some defined and some less so; some formal and some informal; some you find and some you create; and some that you have the privilege to influence." Smith read excerpts from "The Prayer of St. Francis" and from "Romans."
— Veronica Suchodolski '19, with additional reporting by N. Jamiyla Chisholm and Liz Galst