Celebration for 2020-2021
In recognition of the hard work and major achievements of recent alumnae, the College community, family, and friends gathered at the United Palace Theatre in a ceremony for 2020 and 2021 graduates.
Image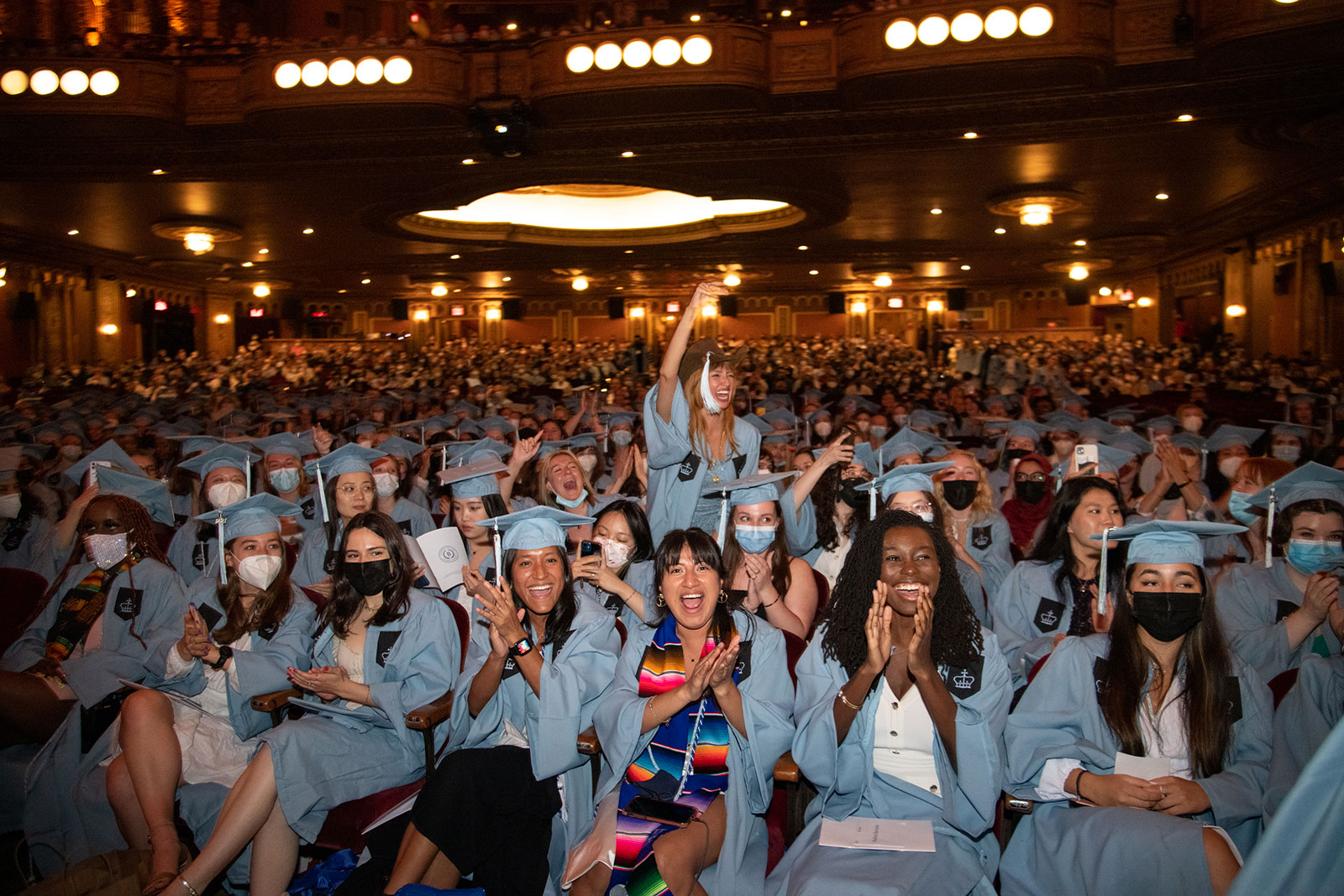 The Classes of 2020 and 2021 faced challenges no Barnard graduates ever had before, but their determination got them through countless Zoom meetings and to the finish line. Their stellar achievements were celebrated at the United Palace Theatre on May 19, at a gathering of leaders in literature, science, and the arts. Among those in attendance were the classes' Distinguished Speakers: Paola Ramos '09 — an author, journalist, and Latinx advocate — and award-winning actress Cynthia Nixon '88, whose speech on being personally proactive to improve communities and the country invigorated the audience of more than 700 honorees.
Below are photos from the day:
Watch a video of personal reflections from alumnae:
Watch a video below of the full ceremony:
Remarks by Paola Ramos '09
One of the most distinctive things about a Barnard education is that it prepares graduates to excel in numerous fields. And the career of Paola Ramos '09 is a testament to this. Ramos is an author, journalist, and on-air TV news contributor who was also the deputy director of Hispanic media for Hillary Clinton's 2016 presidential campaign and a political appointee during the Obama administration. Her debut book, Finding Latinx: In Search of the Voices Redefining Latino Identity, was published in October 2020, and she is currently completing a book on radicalized right-wing Latino voters.
"Do not ever underestimate the immense blessing and privilege that you hold in your hands. Six or seven years ago, Barnard saw a leader in you. They saw something in you and here you are, fast forward, that's exactly what you've become: extraordinary leaders," Ramos said in her remarks to the Classes of 2020 and 2021. "What it means is that you will dream bigger than ever before; it means that you will search for the answers people are scared to face; it means that you will challenge norms." Read the full transcript of Ramos' remarks.
Watch the video featuring Ramos' remarks:

Remarks by Cynthia Nixon '88
Best known for her role as Miranda on the groundbreaking HBO series Sex and the City, Cynthia Nixon '88 has appeared in more than 40 plays, scores of films and television shows, and won two Emmys, two Tonys, and a Grammy Award. She made her film debut in Little Darlings at age 12 and, two years later, her Broadway debut in The Philadelphia Story. Nixon currently stars in And Just Like That, a sequel to Sex and the City, as well as in the HBO series The Gilded Age. 
"The world is waiting for you. It needs to hear what you think. It may not always want to hear what you think. It may not always make it cozy or comfortable for you to express yourself. In fact, often quite the opposite. But on the most basic level, the world needs it. We need it. We need you. Now more than ever," Nixon told the honorees. 
Like many of her fellow alumnae, Nixon's interests and talents are varied, and in 2018, she ran for governor of New York, making issues of economic, racial, and gender equality a central component of her campaign. "Women who come from matriarchal families — and let's be clear, Barnard is herself a matriarchal family — know what the world can look like when powerful women create it," said Nixon. "And I want to live in the world created by Zora Neale Hurston. And Margaret Mead. And Maria Hinojosa. And Jhumpa Lahiri. And Greta Gerwig. And Sheila Abdus-Salaam. And Paola Ramos. And Twyla Tharp. And Suki Kim. And Joan Rivers. And June Jordan. And Dean Spade. And Laurie Anderson. And Ntozake Shange. And by all of you." Read the full transcript of Nixon's remarks.
Watch a video of Nixon's remarks below:

Leslie Grinage, the Dean of the College, presided over the celebration. Addressing the unique challenges that these two classes faced — and the stellar way that they met them — she said, "This celebration is a true reflection of Barnard's ability to adapt, collaborate, and engage across the College to create a meaningful and joyful experience for all." 
Additional speakers included Barnard's president, Sian Leah Beilock, who commended the classes on their ability to "take risks, to fail, and to emerge from failure stronger and smarter than before." (Read the full transcript of President Beilock's remarks.) Provost and Dean of the Faculty Linda A. Bell congratulated the Classes of 2020 and 2021 on behalf of Barnard's faculty. Gabi Garcia, former Class of 2020 president; Aliza Lifshitz, alumnae Class of 2020 president; Norah Hassan, former Class of 2021 president; and Julia Betancourt, alumnae Class of 2021 president, each shared reflections about their time at Barnard and what the future holds as graduates. 
Remarks by Members of the Barnard Community
Cheryl Glicker Milstein '82, P'14, Chair of the Barnard Board of Trustees, told graduates, "As you have already begun new and exciting chapters in your lives, you may have become aware of how Barnard has had an effect on you — this will come in different forms and in different stages throughout your life, and if you're like me, you will always be grateful."
Amy Veltman '89, President of the Alumnae Association of Barnard College and an Alumnae Trustee, officially welcomed the recent alumnae to their larger association, saying, "You are part of Barnard's international, intergenerational community of over 36,000 alums." 
Bacchante helped to conclude the celebration by leading everyone present in the singing of the alma mater, "College on the Hilltop."