The Science of Art Conservation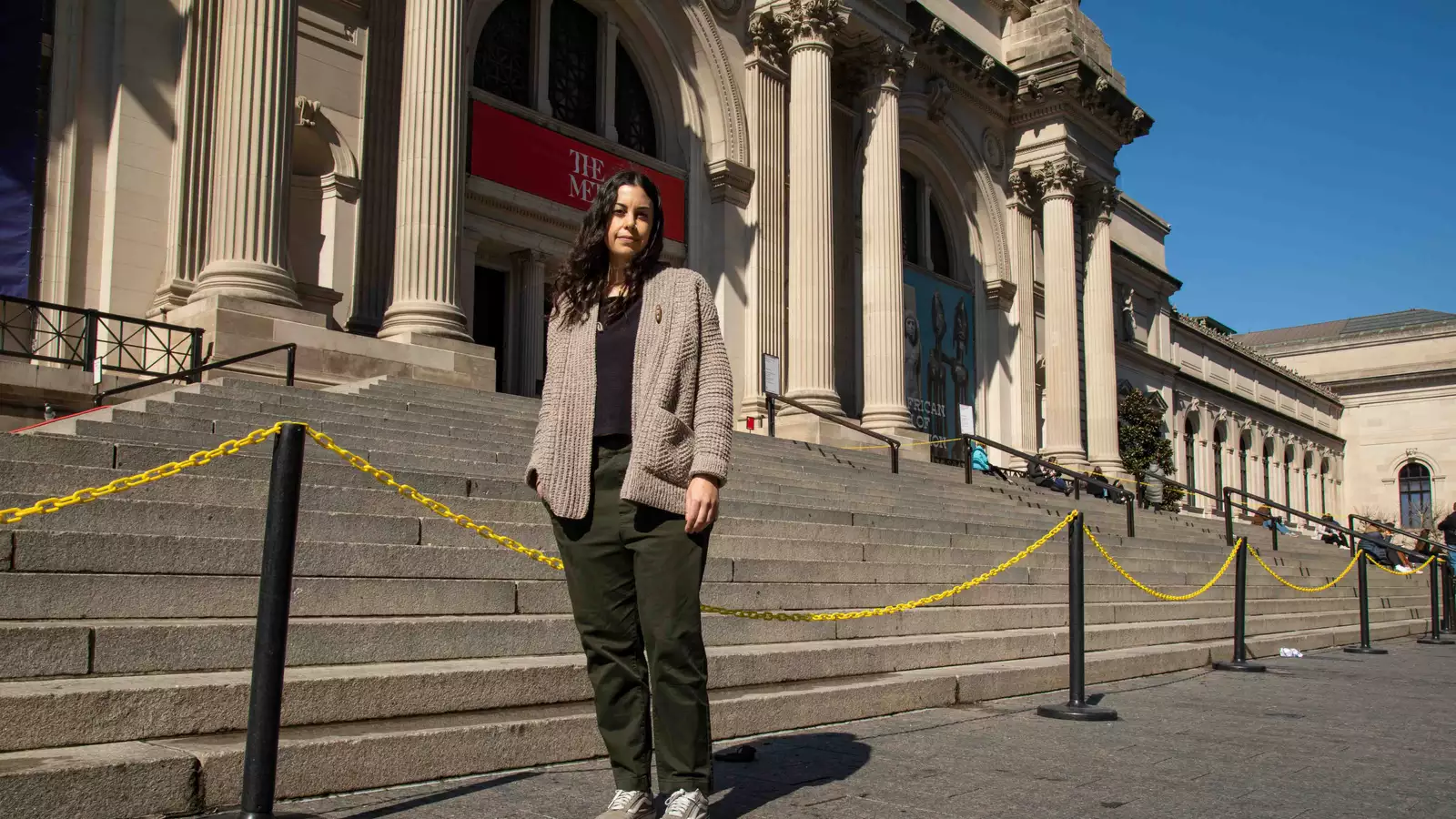 For decades, Barnard professors — particularly those in the Art History Department — have taken full advantage of the College's proximity to the Metropolitan Museum of Art. "It's our backyard. Or we're in their backyard," jokes Joan Snitzer, co-chair and director of visual arts. Since joining the faculty in 1986, Snitzer has made countless visits to the Met with her students to explore the museum's vast collection. "It's frequently on the syllabi that one has to visit something or reproduce an image from the Met," she says. "It's very exciting to walk into that building — the architecture, the collections, the whole ambience is inspiring."
While the Met has been a major resource for Barnard, the museum has also benefited from a long pipeline of student interns who have, in some cases, gone on to become full-time employees there — at least 15 alumnae are currently employed by the Met. Art conservator Rebecca Capua '03 is one example. She began her journey to the Met with an internship while she was a student at Barnard more than a decade ago. She now serves as associate paper conservator in Paper Conservation.
Vital to Capua's work is a solid command of both art history and science knowledge. Read how she is leveraging chemistry to support the museum's expansive conservation department.
Pathway to the Met
Capua's entrée into art conservation took place even before she stepped foot on Barnard's campus. In high school, she worked with a private art restorer who taught her the tricks of the trade. By the time she arrived at Barnard in 1999, Capua knew she wanted to go into art conservation. She declared an art history major and took several chemistry courses to fulfill the requirements for graduate school. These science courses, Capua says, were essential. "When we're accepting interns into our lab we ask, 'Have you started your chemistry yet?'"
One of the most influential classes Capua took at Barnard was a class on connoisseurship led by Maryan Ainsworth, the former Álvaro Saieh Curator of European Paintings at the Met. This was part of a larger collaborative series in which Met curators taught Barnard students, primarily at the museum on Fifth Avenue. "It was a really interesting introduction to the museum by way of art history," she says. 
During her senior year, Capua secured an internship in the paper conservation lab. After graduation, she went on to New York University to earn an M.A. in art history and an Advanced Certificate in Conservation before returning to the Met to work in the same department in 2009. "I realized that it was a place I wanted to work just because of the collection, which is really unparalleled and the art objects you have the chance to work on," she says. "[I chose paper conservation] because of the opportunity to work on so many different objects, with so many cultures, time periods, different materials — it can't be matched anywhere."
Conservation: The Nexus of Science and Art
As a conservator in the paper lab, Capua treats prints and drawings from many different eras: Egyptian papyrus, medieval manuscript illuminations, Indian and Islamic world manuscript illuminations, and European and American portrait miniatures on ivory, to name a few. She employs different solubilities and treatments to tackle stains, discoloration, wrinkles, flaking paint, general degradation, and other issues or irregularities.
Capua says that chemistry plays a critical role when it comes to washing prints and removing discoloration, especially in regards to the "surface interactions between water and the paper," and explains that "how the water affects the chemical structure of the paper, in terms of the fibers and their chemical bonding to each other, is really important."
Another example of where chemistry is employed with paper is with lead white paint. When lead white paint from carbon black or pen and ink drawings are exposed to the pollutant sulfur dioxide, they turn black. While Capua and her team cannot chemically change the lead back to its original form, they can convert it to another different form of lead that is also white. A great deal of the time, the treatment she does is aesthetic, Capua says, but she and her team also stabilize paper to protect against future damage.
Although Capua spends only about 15% of her time in the paper conservation lab, it is undoubtedly her favorite part of the job. In one year, as many as 50 artworks can pass through her hands for treatment. Outside of the lab, much of Capua's work revolves around the loan and exhibition program at the museum. She handles about 200 loans a year.
For Barnard students who want to view any of the hundreds of pieces of prints and papers that Capua has restored, they need only to head across Central Park, just a stone's throw away from campus.