The Vienna Experience: Culture, History, Language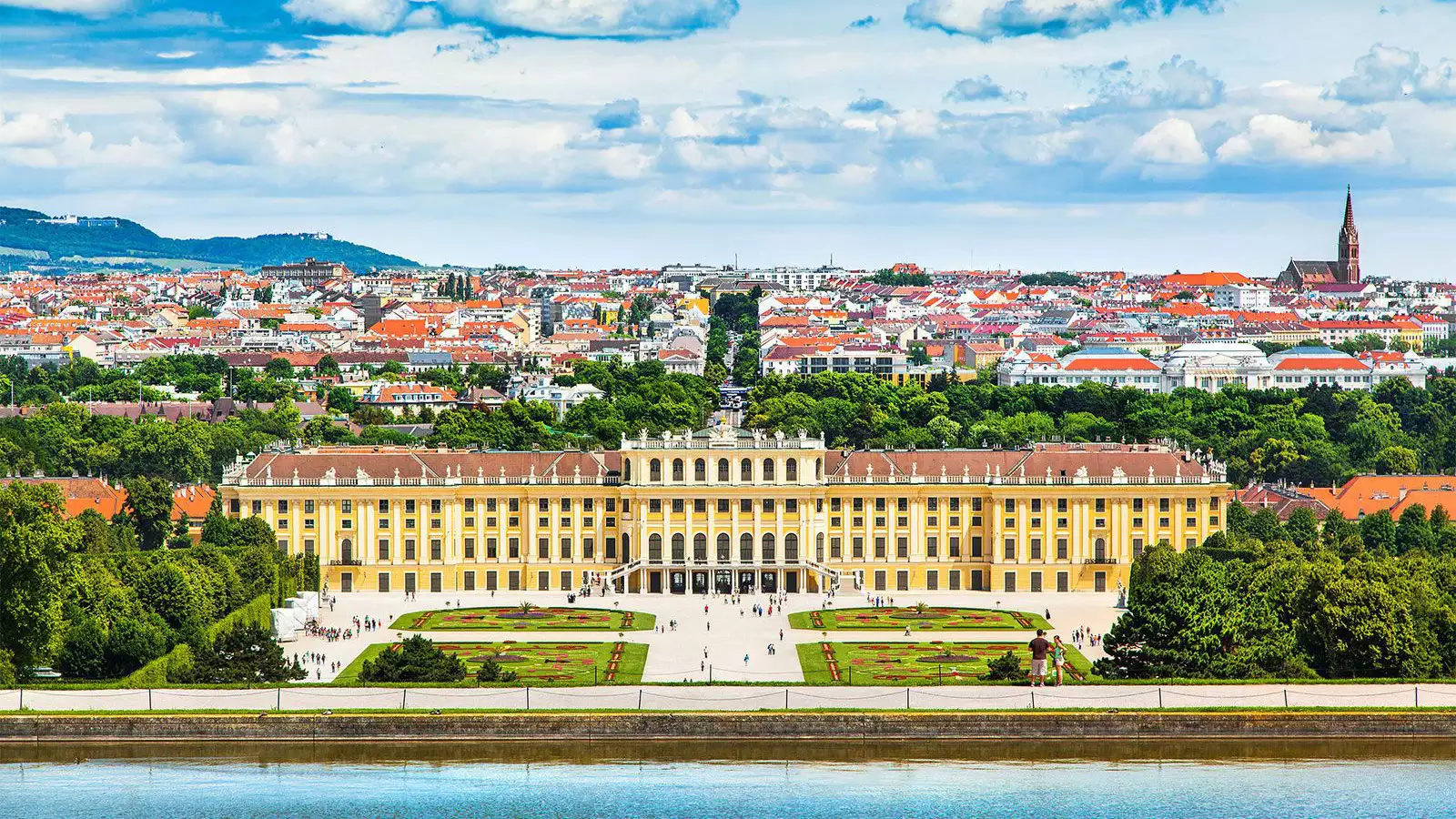 Study German language while exploring Austrian culture, history, and politics
| | |
| --- | --- |
| Location: Vienna, Austria | Dates: Cancelled for Summer 2020 |
| Faculty Director: Irene Motyl-Mudretzkyj, German Department | Program length: 4 weeks |
| Language of Instruction: German | Term: Summer |
| Pre-requisites: 3 semesters of college-level German or the equivalent | Credits: 3 |
| Class standing: Rising Sophomores, Juniors, or Seniors | Application deadline: March 16, 2020 |
| Enrollment: Limited to 12 students |   |
Program Description
In this intensive four-week study abroad language and culture course students on the B1 and B2 levels of the European Framework (3 semesters of College German or equivalent) will practice and expand their German-language skills by exploring Austrian culture, history and politics in one of Europe's most diverse cities.  Students will experience language and culture first-hand by getting to know different "sites of memory" that have defined Vienna and engage in research and field projects.
Academics
This team-taught course is offered in cooperation with Webster University Vienna and will take place on Webster University's campus in the heart of the city. During the four weeks in Vienna, students will meet for three hours four times a week both inside and outside of the classroom. During their time in Vienna, students will expand and practice their German-language skills through classroom activities, site visits, guest lectures, as well as integrated excursions and research projects. Extra-curricular theater, movie, museum and music event visits will complement the experience of language and cultural learning. In their free time students will have the opportunity to apply and practice their skills and explore the city and its cultural offerings on their own.
Students on the B1 and B2 level of the European Framework will work with the same cultural content, but assignments will be adjusted to the appropriate proficiency levels. In addition, both students on the B1 and B2 levels will be given appropriate topics for their projects that reflect their linguistic proficiency levels.
Application Procedures
To apply, submit the program application by Friday, March 16, 2020.  Applications may be emailed to summerstudy@barnard.edu or hand delivered to the Barnard Global offices located in 202 and 211 LeFrak, Barnard Hall.
A complete application includes the following:
Personal Statement (see details in the Application Form)
Study Abroad Approval Form from an academic dean or study abroad advisor (for visiting students)
Academic Transcripts. You may submit an unofficial transcript with your application. If admitted, Columbia and visiting students must submit an official transcript. Transcripts may be sent electronically to Barnard College, Provost's Office, attn. Giorgio DiMauro, 3009 Broadway, New York, NY  10027; summerstudy@barnard.edu
Students will be notified of the results of their application within two-three weeks of the deadline, and will be required to pay a tuition deposit at that time to hold their place in the program.
Application Timeline
| | |
| --- | --- |
| March 16, 2020 | Application deadline |
| April 8 | Confirmation of enrollment due |
| May 6 | Tuition due |
Eligibility and Application Review
General eligibility requirements for the Barnard Summer Study programs are outlined below:
The summer study classes are open to Barnard and Columbia students as well as students from other U.S. accredited colleges and universities.  
Individuals who have completed at least one year of college but who are not currently enrolled in school are not eligible to apply.
The completion of at least two full-time semesters of college is required and intending to return to home institution for at least one more full-time semester (students in their last semester of college are ineligible to apply).

Be at least 18 or older prior to beginning of summer term.
Most students who are admitted have earned a G.P.A. of at least 3.0.
Be in good academic standing at your home institution.
It is expected that students selected to participate in the course will have completed at least the Introductory level, as well as one semester of Intermediate German.
Application Review
1. A review of a student's academic records
2. A personal statement (2 pages double spaced)
3. Letter of recommendation by the student's current German Instructor, reflecting on:
Level of language proficiency (speaking, writing, reading, listening)
Class participation (attendance, homework, preparedness for class)
Participation in group work
Interest in culture and language of German-speaking countries
Maturity for study abroad program  
Notification
Once an admission decision has been reached, the applicant will be notified of the decision by email, within 2-3 weeks of the stated application deadline. Only completed applications will be reviewed. If an application is missing a required component (i.e. transcript, personal statement) it will not be reviewed until the missing material is received.
Location, Accommodations, and Meals
Students will be housed in the Milestone dormitory near the Webster University campus in an apartment-style single room with a bed, desk, kitchenette, private bathroom, closst, and shelf storage.  A kitchen starter set will be provided, so students can cook their own meals.  There is also a safe, internet, onsite cleaning service, fitness room, study lounge, and a rooftop terrace. See the Milestone Student Apartments brochure for more information. 
Financial Information & Scholarships
| | |
| --- | --- |
| Undergraduate Tuition | $4.500 |
| Program & Activities Fee | $300 |
| Milestone Dormitory | $988 |
| Administrative Fee for visiting students | $150 |
PLEASE NOTE: Students will be responsible for their own airfare and for meals and personal expenses while in Austria.
Scholarships
Competitive scholarships are available for Barnard students enrolling in Barnard faculty-led summer programs.  Funding decisions are based on a combination of financial need and academic merit.  The deadline for consideration for first-round funding is February 28, 2020.  The deadline for second-round funding is March 16, 2020.  The Barnard student scholarship application is available here. 
Students from other colleges should check with their home institutions about financial aid and scholarships.
Program Policies
Confirmation of Enrollment-Reservation Deposit:
Admitted students who intend to enroll must confirm their intention to participate by submitting a non-refundable tuition deposit of $500. This fee must be paid within two weeks of acceptance notification and will count toward tuition payment. Enrollment is not guaranteed until this payment is received.
Withdrawal/Cancellation:
After students have been accepted to the program and paid the required tuition deposit, they are considered an enrolled participant in that program. By making such payment they are expressing their intention to participate in the program, and acknowledge that the deposit is non-refundable. Payment in full is due May 6th. If a student cancels participation between May 6th and May 15th, tuition and fees are refundable, minus the $500 deposit. After May 15th, tuition and fees are non-refundable.
Should a program cancellation become necessary prior to the start, for reasons such as safety or under-enrollment, Barnard will refund tuition to the participants. Unrecoverable program expenses (e.g., airline deposits, housing fees) cannot be refunded.
For unrecoverable expenses, you may wish to consider purchasing trip cancellation insurance that can be obtained through many travel agents or insurance companies. Policies vary on what triggers trip cancellation, so you should check with travel insurance providers for more details.
Transfer of Credits:
Students who are not enrolled at Barnard should consult their home college/university to find out if their school will accept the transfer credits. Barnard is accredited by the Middle States Association of Colleges and Schools but each institution may have specific policies dictating what classes are transferable from outside institutions. Please consult with the professor for individual course syllabi.
Students with Disabilities:
Students with disabilities who are requesting accommodations during a Barnard Summer Study Program must contact the Barnard Disability Services Office to discuss reasonable accommodations. Students are encouraged to contact the office prior to applying and should register with the office as soon as they receive notification of their acceptance to a program.
Health and Safety while Traveling Abroad:
All students traveling internationally will be required to register through Barnard/Columbia's Travel Registry: ISOS travel.
It is essential that students have adequate medical insurance coverage to participate in one of our Summer Study Programs. If you have the Barnard student health insurance plan, it will cover you domestically and abroad on an out-of-network basis. If you have other insurance, make sure that it will cover you (especially abroad) abroad for routine and emergency care, mental health, pre-existing conditions. Be prepared to pay up-front for care and submit receipts for reimbursement.
Other resources:
Honor Code:
The Honor Code is a vital part of the Barnard community because it helps to shape the character of Barnard College. The "Honor System" refers to the combination of the Honor Code, the Honor Board, and the members of the entire Barnard community who together strive toward building a community of academic integrity. All students on one of Barnard's summer study programs are expected to adhere to our honor code. https://barnard.edu/dos/honorcode
Contact Information
If you have general questions about your application or procedures, email summerstudy@barnard.edu for assistance. Students may also reach out directly to Professor Irene Motyl-Mudretzkyj at imudretz@barnard.edu for details about the course.