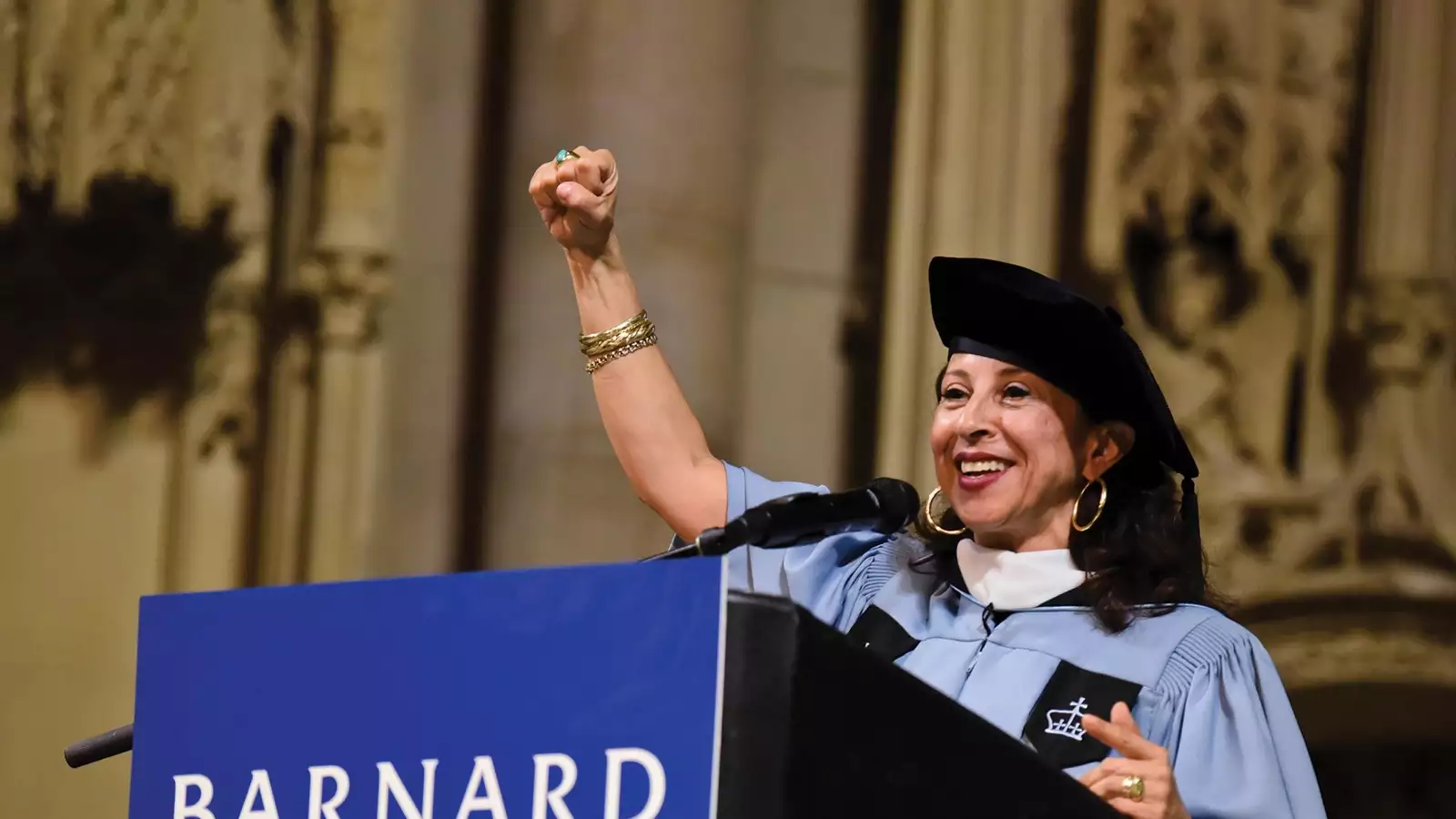 For 133 years, "majoring in unafraid" has been a prerequisite for all students at Barnard — and it's an ethos they happily lean into. With a mission to provide an unparalleled liberal arts education that empowers young women on campus and beyond the College's gates, Barnard has produced many alumnae who have turned their creative passions into extremely successful careers. As a testament to the affection that graduates have for their alma mater, alumnae often return to campus to share their knowledge with and support for the community's newest members, Barnard students.
For the Class of 2026, and for returning students who are thinking about their majors and what life after Barnard might look like for them, six alumnae who have forged successful careers in the arts shared some sage advice.
Sana Amanat '04 | Comic Book Developer
Sana Amanat co-created the first Muslim superhero, Kamala Khan, when she debuted her own comic book series, Ms. Marvel, in 2016. This past summer, the superhero-loving, crime-fighting teenager from Jersey City garnered a whole new set of fans when the live-action series premiered on Disney+. Becoming a comic book creator wasn't part of Amanat's original plan — as she told a Barnard audience in 2018, when she spoke with Hussein Rashid, adjunct faculty in the Department of Religion, as part of the College's "Being the First" series (see the video below) — but Ms. Marvel is a career project that has led many Pakistani women to praise it for highlighting their strengths instead of rehashing stereotypes. 
Watch the video of Amanat below, on how she became a comic book developer.
Jamie Babbit '93 | Film and Television Director and Executive Producer
When Jamie Babbit graduated from Barnard in 1993, the film industry had few women directors. However, Babbit, who began her career as Martin Scorsese's intern on the feature The Age of Innocence (1993), went on to make two award-winning independent films and catapulted into prestige television. Her TV credits include the new Amazon series A League of Their Own, The Marvelous Mrs. Maisel, Russian Doll, and Silicon Valley. In July, she received Emmy Award nominations for executive producing and directing Hulu's Only Murders in the Building, starring Steve Martin, Martin Short, and Selena Gomez. In the video below, Babbit offers insight on what it takes to become a successful director of TV and movies.
Theo Balcomb '09 | Audio Journalist
If you listen to news podcasts or NPR, chances are you know Theo Balcomb's work. The award-winning audio journalist started out at NPR and rose through the ranks to become its youngest supervising producer of All Things Considered. 
In 2017, Balcomb joined The New York Times to co-create The Daily. Under her direction, the podcast grew its audience to more than 4 million listens per day and remains the top podcast in the country. Late last year, Balcomb left The Times to launch her own independent audio news production company. Here, Balcomb — who says her mission "is to create a more informed and caring world" — shares her tips for those who aspire to speak truth to the world.
Edwidge Danticat '90 | Award-Winning Novelist
From the moment Edwidge Danticat published her first book, the short-story collection Krik? Krak!, in 1995 — making her, at 26, the youngest author ever nominated for a National Book Award — she's been a beacon of creative light for other writers growing their voices, on Barnard's campus and beyond. Since her debut, Danticat has kept her Haitian heritage front and center through her writing — which includes more than a dozen books and essays — and other creative projects, such as the 2020 Girl Rising documentary series. A 2009 MacArthur "genius grant" Fellow, Danticat, has returned to Barnard several times over the years to discuss her work with students.
Watch the video below, from a 2021 panel event on campus titled "First-Generation Writers Talking About Learning their Art," in which Danticat talks about how to find one's writing voice.
Mary Gordon '71 | Professor Emerita of English
An award-winning novelist, Mary Gordon '71, who retired from Barnard as the Millicent C. McIntosh Professor in English and Writing after 32 years of teaching, is an expert storyteller. "With story, change is never abstract, never impersonal," she explained in 2017, 10 years after her election to the American Academy of Arts and Letters. Gordon has exercised this malleability of creativity over her four-decade career by publishing seven bestselling novels, two collections of stories, a book of essays, two memoirs, a biography of Joan of Arc, and Reading Jesus: A Writer's Encounter With the Gospels. Her most recent novel, 2020's Payback, takes readers into the world of a reality TV host in search of revenge.
In a review of Payback, The Washington Post called Gordon an "expert at creating characters of clear moral, intellectual and what might be called aesthetic goodness — then testing that goodness in a clarifying, often life-altering way."
Click on the video below, in which Gordon shares how she sees the art of storytelling.
Maria Hinojosa '84 | Pulitzer Prize-Winning Journalist
News media entrepreneur, innovator, and Barnard's first Journalist-in-Residence, Maria Hinojosa '84 has dedicated much of her career to telling the stories of often-overlooked communities and populations. Hinojosa's desire to present independent, multimedia journalism that explores and gives a critical voice to the diverse American experience drove her to create the Futuro Media Group, an independent, nonprofit organization based in Harlem. Along the way, Maria has reported for PBS, CBS, WNBC, CNN, and NPR, and anchored the WGBH talk show Maria Hinojosa: One-on-One, which has won many awards, including four Emmys, a Peabody Award, and the Pulitzer Prize. She is also the author of two books. In the video below, she explains the guts and grit it takes to be a journalist and why it matters now more than ever.