STEAM in the City: The Power of Experiential Learning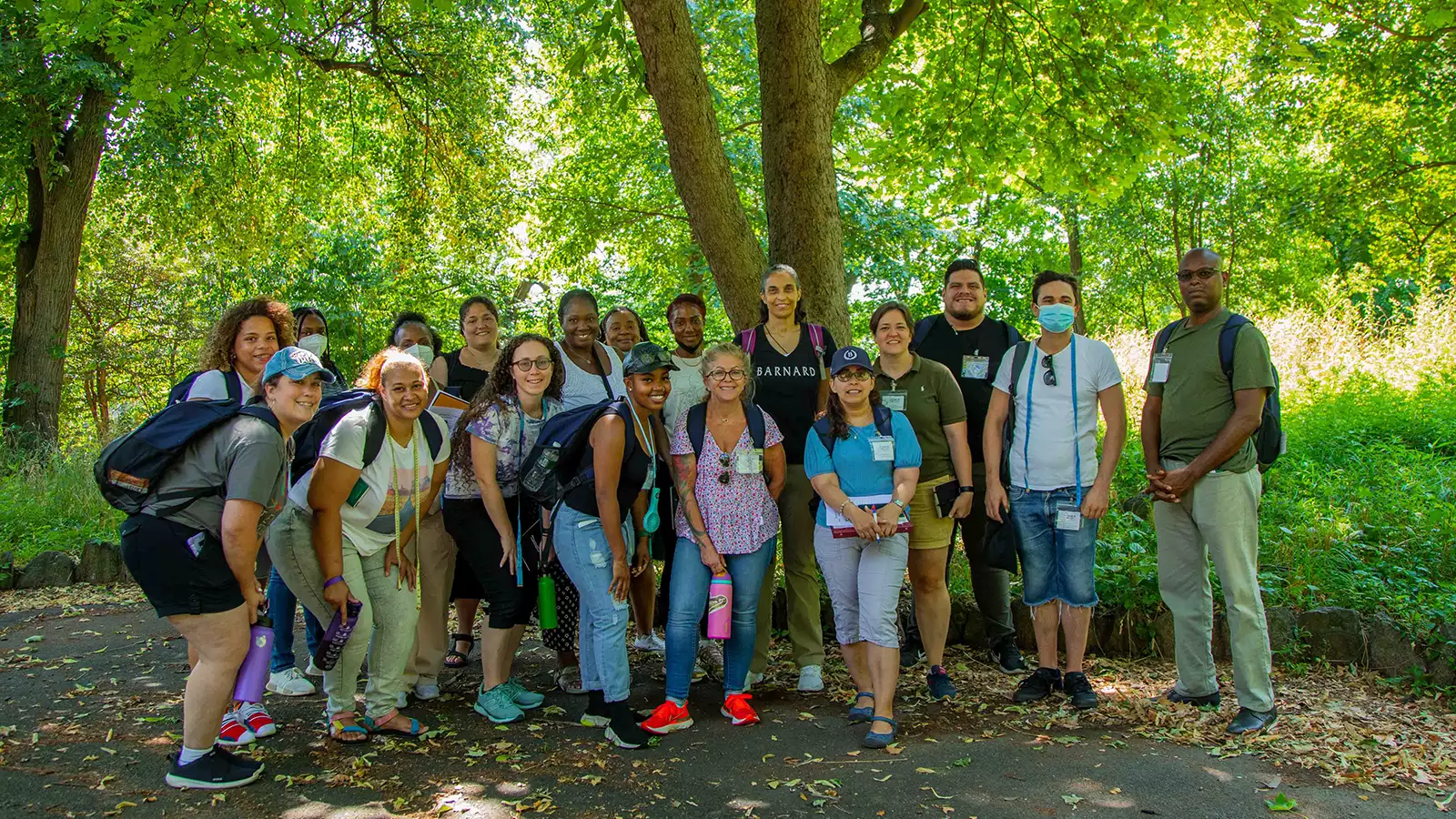 When Barnard launched STEAM in the City last summer, in collaboration with the Stavros Niarchos Foundation (SNF), the goal was to create a weeklong living laboratory for K-8 public school teachers in the Harlem and Morningside Heights neighborhoods. Guided by the College's faculty in science and technology, local educators learned how to build a science, technology, engineering, the arts, and mathematics (STEAM) curriculum that leverages the city's ecosystem — parks and public spaces — as experiential environmental and design learning sites. This year, from July 11 to July 15, Barnard expanded the program's reach to welcome a new cohort of K-12 educators from across the City.
"We are proud to have participants who support students' learning experiences from a variety of different roles," said STEAM in the City program coordinator Yuval Dinoor '21, who also works in the Office of Community Engagement and Inclusion. This year's cohort included 19 teachers, department heads, paraprofessionals, principals, and after-school educators, as well as, for the first time, schools from District 75, which predominantly caters to students who have physical, emotional, or sensory challenges. 
The way Emma Wolfe '01, Senior Advisor to the President for External Relations and Leadership Development, sees it, STEAM in the City is a win for everyone. "Over those five days, not only are the teachers enriched, but we have Barnard College students, who are Teaching Fellows as part of the program; they're enriched. Our community partners are as well," said Wolfe. "And you see over the coming months, teachers take these lessons that they're learning here at the College and they incorporate that into their classrooms and curricula." 
Even though this is only the second year for the program, it has shown to be a success with the City's teachers, as well as a much-needed initiative. After completing the fellowship last year, Erin LeGendre, a third-grade teacher at East Harlem's P.S. 206, said that she found it so beneficial she sent her two co-teachers to join this year's cohort.
"SNF continues to be incredibly proud to partner with Barnard on STEAM in the City. With its vast scholarly resources, inspiring spaces, and deep pedagogical experience, Barnard was a natural partner for empowering public school teachers in the Harlem and Morningside Heights neighborhoods with practical STEAM lessons and trainings," said Casey Russo, co-chief programs officer at SNF. "Over the past two years, the program has demonstrated how teachers can turn the city into a living laboratory that sparks students' curiosity and incubates habits of inquiry that will last a lifetime."
The summer program also leveraged the expertise of Barnard faculty who represent an array of STEAM disciplines, such as Maria Rivera Maulucci '88, Ann Whitney Olin Professor of Education; Mark Santolucito, assistant professor of computer science; and returning rooftop honey bee researcher and associate professor of biological sciences Jon Snow, who led programs on Barnard's campus and in the neighborhood's Morningside Park. Staff members from the Center for Engaged Pedagogy (CEP), the Design Center, and Barnard's Arthur Ross Greenhouse also stepped in as program supporters.
"Throughout the school year, we hope to offer professional development sessions in more locations across the city," said Dinoor. This would surely be a bonus for the City's K-12 educators, considering the robust projects and workshops they were able to participate in, which included such activities as building prototypes in the Design Center, conducting creative investigations in computer science and math, making mini greenhouses and solitary bee habitats, and learning how to identify tree species in Morningside Park.
Much as these activities will help students, participating educators confirmed they've learned new techniques and new ways to address STEM subjects. "A program such as this allows us to have a cohort of teachers who come together and pick up from each other what our skill sets are and how to implement what works from their classrooms into our classrooms," said Yamaly Peralta, of P.S. 028 The Wright Brothers School.
To learn more about this summer's STEAM in the City classroom, watch the video above.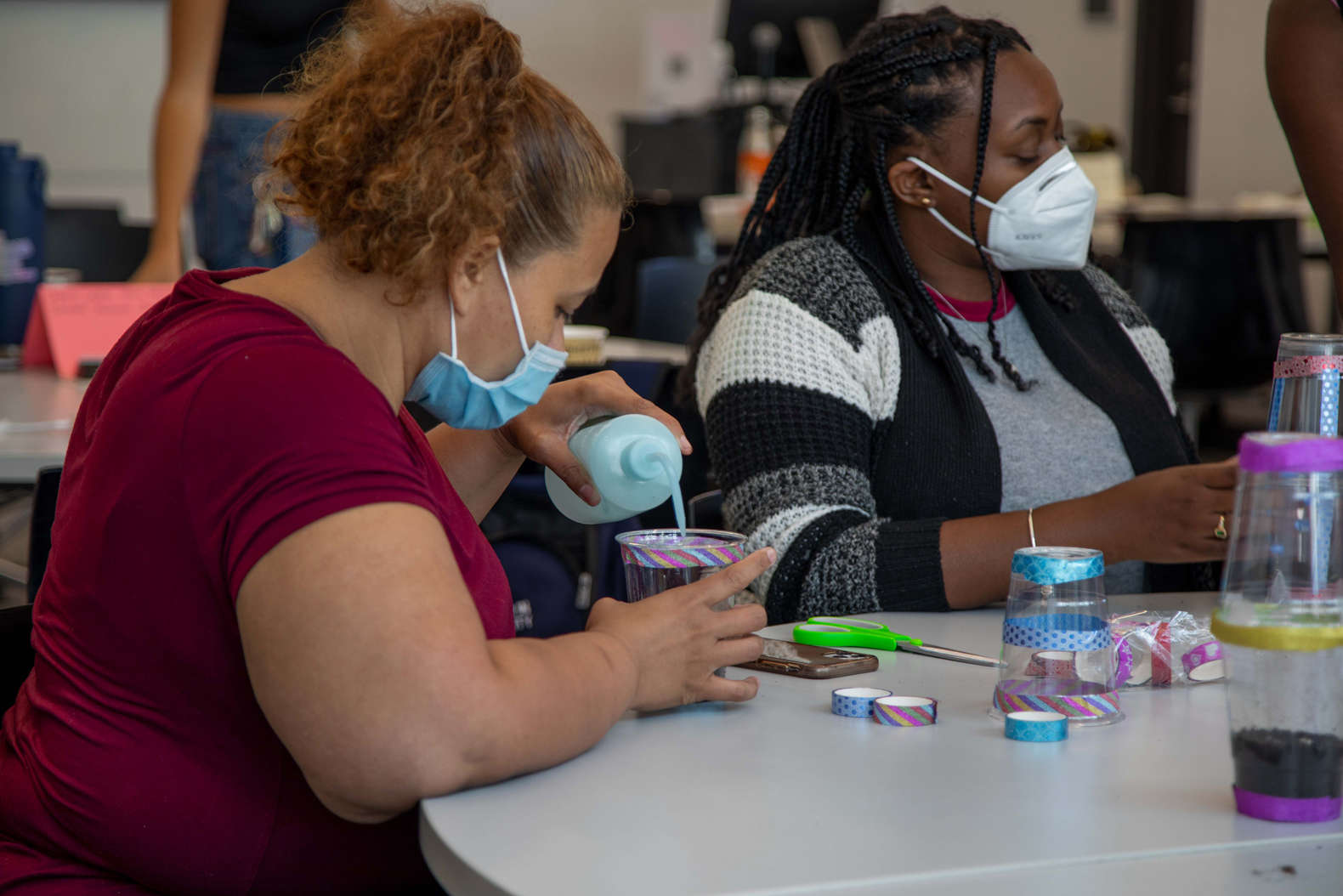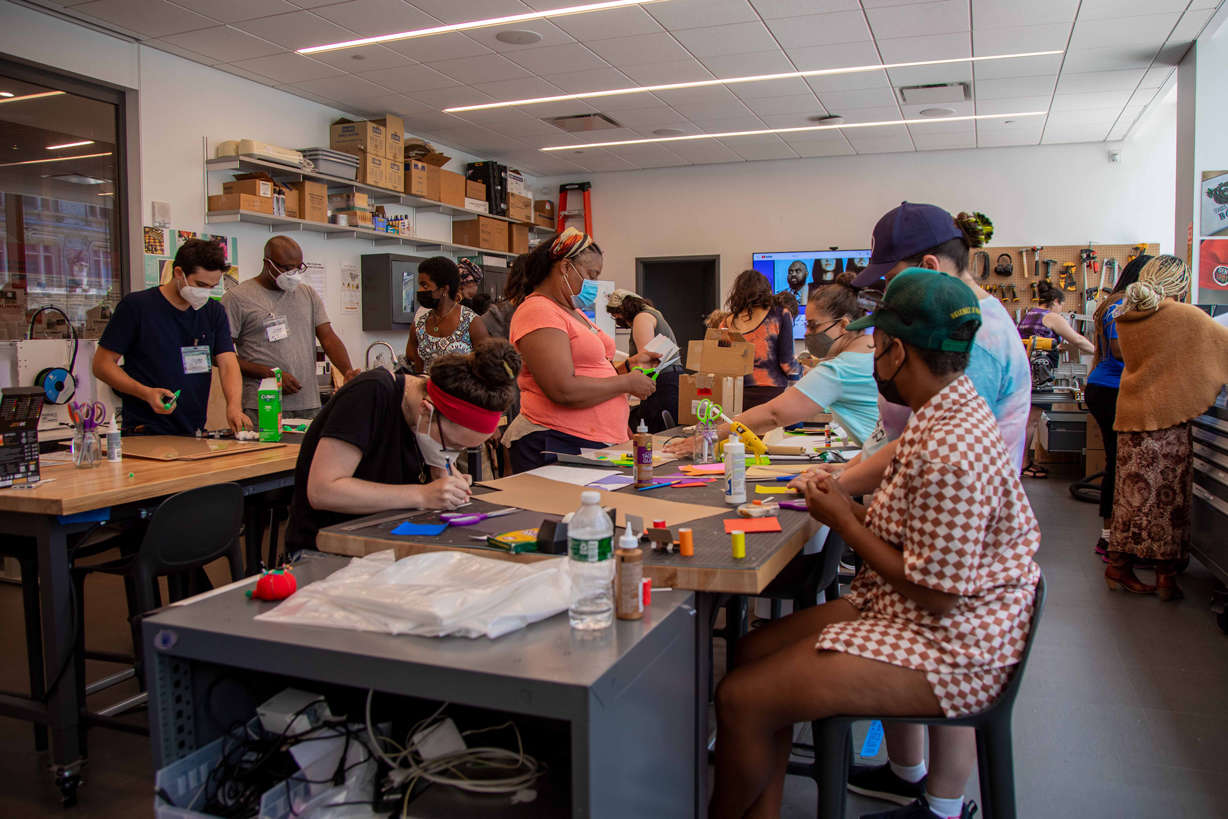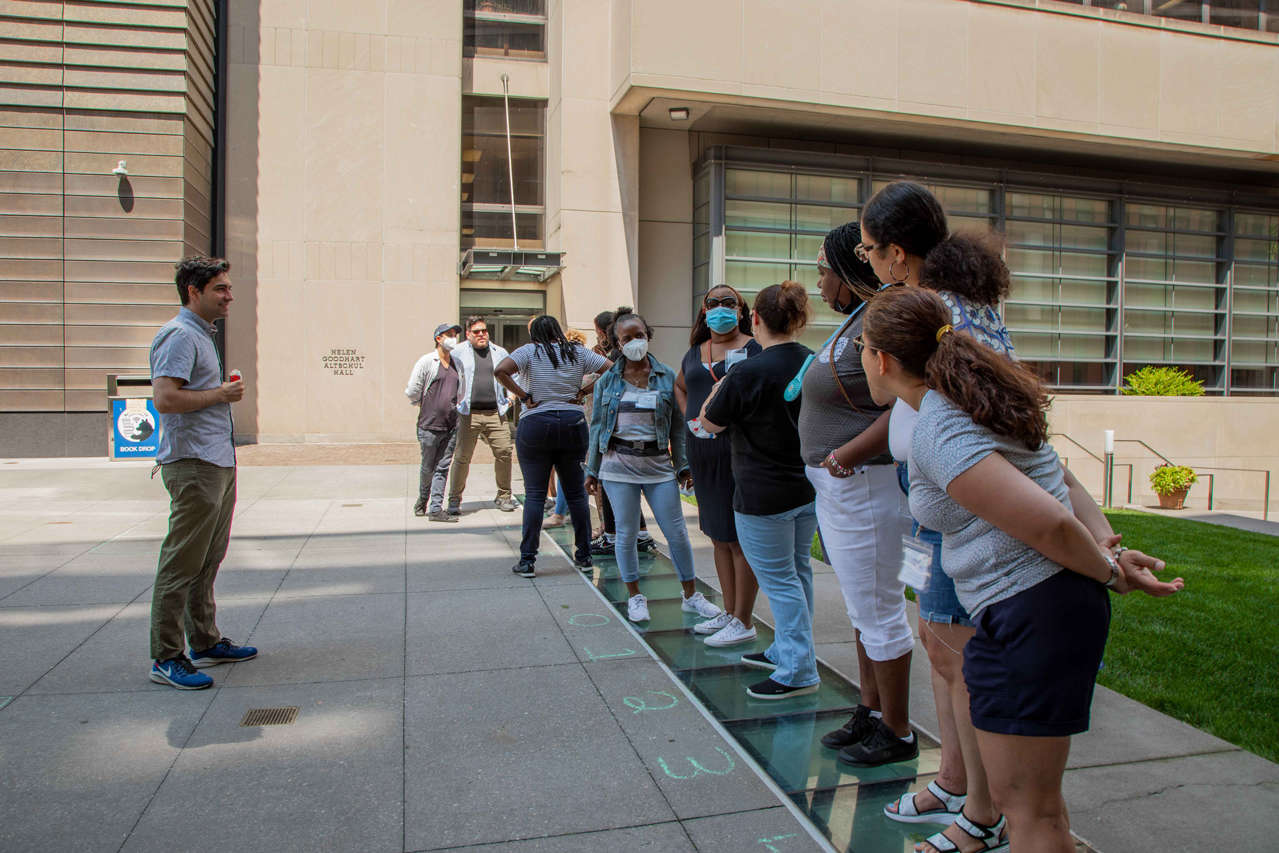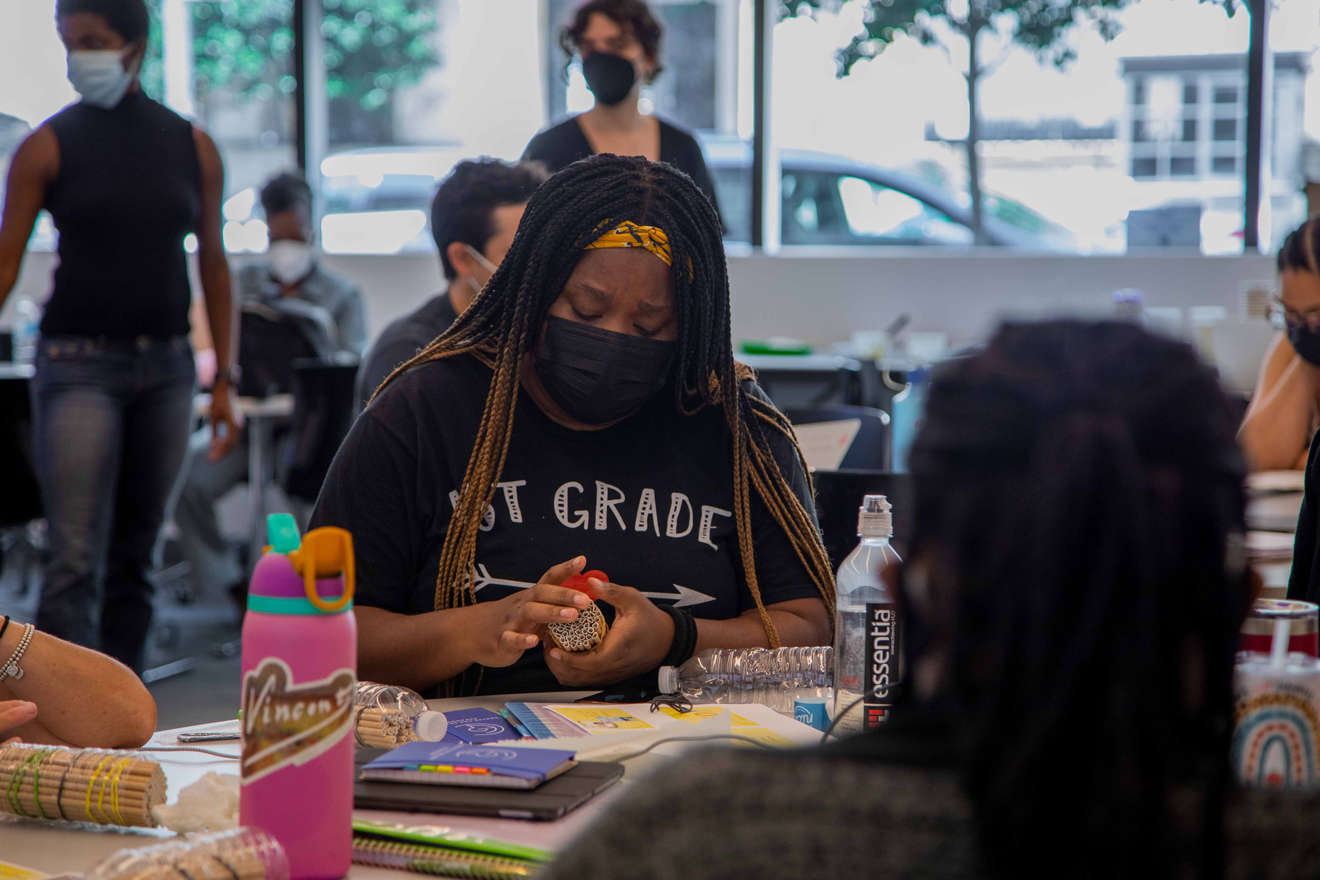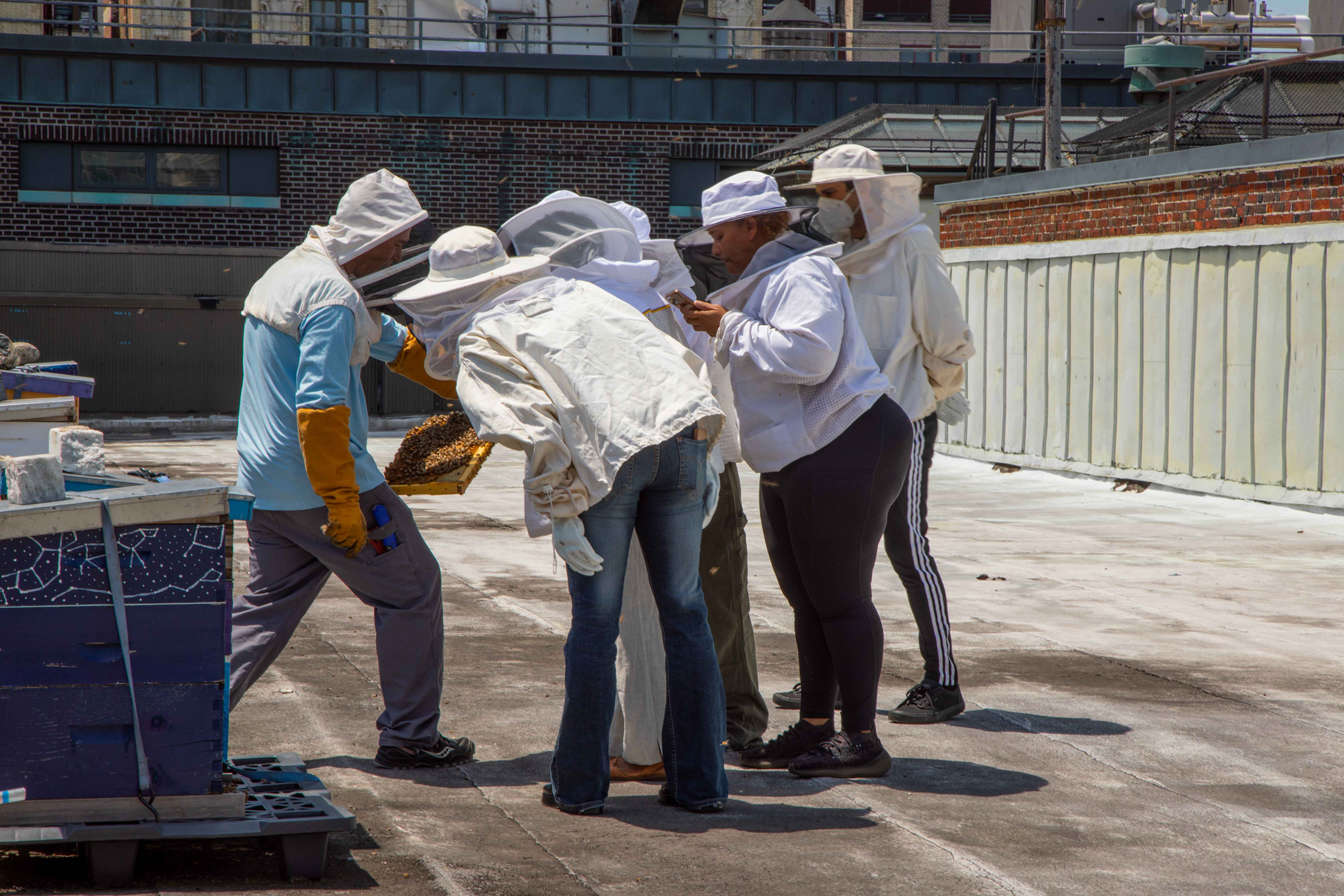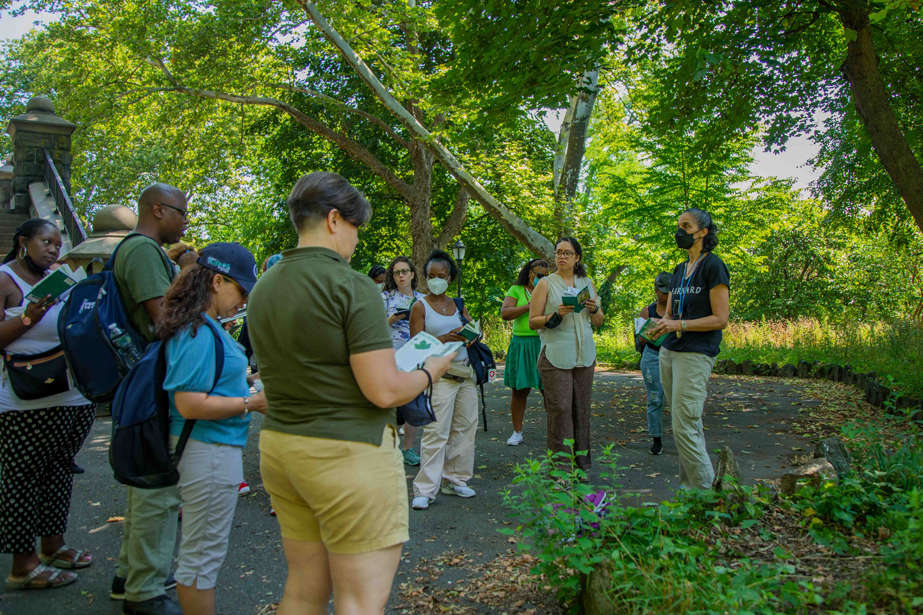 Building prototypes in Design Center
Professor Mark Santolucito leading a creative investigation into computer science and math workshop
Making solitary bee homes
Rooftop honey bee hive inspection with Professor Jon Snow
Professor Maria Rivera Malucci leads a class in Morningside Park