The Rosemary Furman Counseling Center
Consistent with public health measures to minimize the spread of COVID-19 and to protect providers and students, all mental health services will be provided remotely by telephone.

SUMMER HOURS INFORMATION: Effective May 22, 2020 

Furman Counseling Center is open by appointment via telehealth Monday through Friday from 9:00 am – 4:00 pm except holidays for Administrative Services, Consultations & Referrals. There is no psychiatry services available.

          For appointment: Call 212-854-2092 

Clinician On-Call Service is suspended during the summer months

In case of Psychological Emergencies: 

If you are living on campus, please call Public Safety at (212) 854-3362 

If you are not living on campus, please call 9-1-1 or go to your nearest psychiatric emergency room.

The Furman Counseling Center promotes the social and emotional development of Barnard students to facilitate their richest experience of College Life. We offer therapy, groups, workshops and medication to assist students in maintaining emotional and mental health. We support the College's commitment to diversity, raising awareness of systems of oppression and unequal access to resources, and work to promote social justice.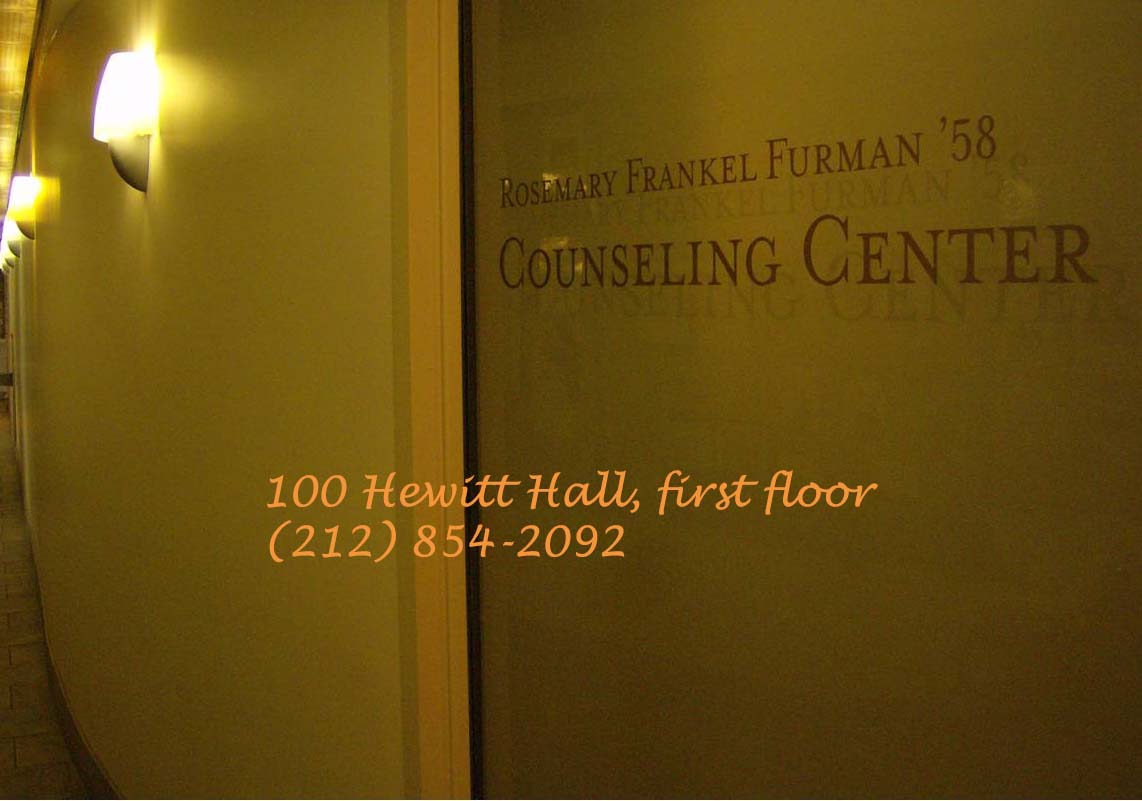 Community Emergency Contacts
 

| | |
| --- | --- |
| Crisis Text Line | Text HOME to 741741 |
| Student of Color Crisis Text Line | Text STEVE to 741741 |
| Trevor Project Crisis Text Line (LGBTQ) | Text START to 678678 |
| Samaritan Help Line | Call or Text ( 877) 870-4673 |


The world is currently facing a crisis, and our Barnard community is being impacted in many ways. While there is a lot of uncertainty right now, Furman counselors are available and committed to supporting Barnard students. In our efforts to offer remote psychological services to students, we have outlined some information to help you access additional resources and support:
Online Support for Barnard Community
Feel Well, Do Well coping with Covid-19 video
Being able to name and unpack our many different emotions can help us manage them as we go through this pandemic and isolation. This video describes our multiple emotional states and offers a number of strategies to cope with the challenges we're facing.
  Apps for Coping and Self-Care
Download a free app to help manage your emotions:
Resources for Stress, Trauma, and Coping
Resources for Those Managing Eating Disorders During COVID-19
Inside:
Hours of regular operation:
Monday through Friday from 9am to 5pm (closed on weekends and holidays)
| | |
| --- | --- |
| Plimpton Hall, First floor | Closed until further notice |
| Elliott Hall, First floor | Closed until further notice |