The Rosemary Furman Counseling Center
The Furman Counseling Center promotes the social and emotional development of Barnard students to facilitate their richest experience of College Life.  We offer therapy, groups, workshops and medication to assist students in maintaining emotional and mental health.  We support the College's commitment to diversity, raising awareness of systems of oppression and unequal access to resources, and work to promote social justice.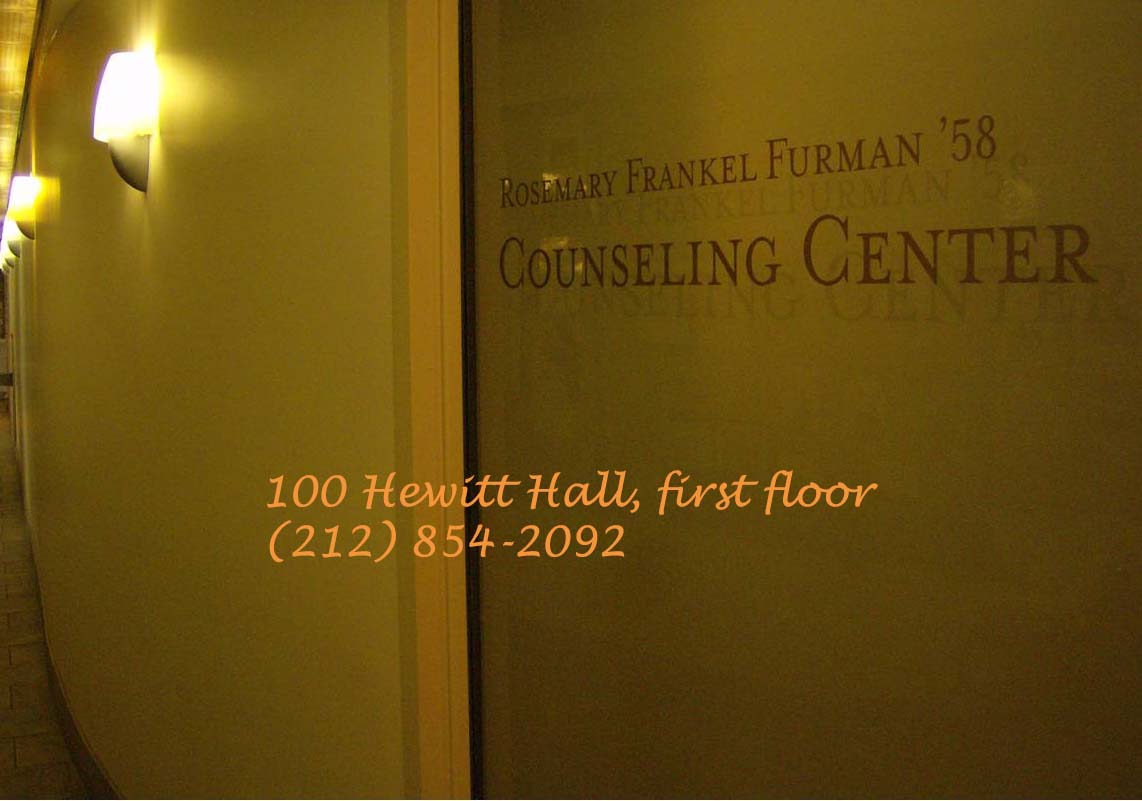 Furman Counseling Center is located at 100 Hewitt Hall, First Floor
Phone: (212) 854-2092                Fax: (212) 854-8727
Campus Emergency Contacts:
After-Hours Psychological Emergency Line:  (855) 622-1903
 Public Safety: (212) 854-3362
     

Community Emergency Contacts
 

| | |
| --- | --- |
| Crisis Text Line | Text HOME to 741741 |
| Student of Color Crisis Text Line | Text STEVE to 741741 |
| Trevor Project Crisis Text Line (LGBTQ) | Text START to 678678 |
| Samaritan Help Line | Call or Text ( 877) 870-4673 |
Inside:
WINTER BREAK INFORMATION
The Furman Counseling Center will close for winter break at 5pm on Friday, December 20 and will reopen for administrative purposes (consultations/referrals) on Thursday, January 2nd by appointment from 10am until 4:30pm.
The After-hours psychological services is temporarily suspended until Sunday, January 12.
There is no Psychiatry Services and Listening Hours during the winter break.
Regular clinical hours will resume at 9am on Tuesday, January 21, 2020.
In case of After-hours psychological emergency go to the nearest emergency room. In the Barnard area, the nearest emergency room is St. Luke's Mount Sinai Hospital at 113th and Amsterdam Avenue. If you are on campus and you need immediate assistance call the Public Safety at (212) 854-3362.
Hours of regular operation:
Monday through Friday from 9am to 5pm (closed on weekends and holidays)
Pre-scheduled evening appointments:  Monday - Thursday 5pm - 7pm
| | |
| --- | --- |
| Plimpton Hall, First floor | Mondays 7pm - 8:45pm |
| Elliott Hall, First floor | Thursdays 7pm - 8:45pm |