The Rosemary Furman Counseling Center
Telepsych Services at Furman Counseling Center

In response to the COVID-19 Pandemic, all appointments will be virtual.

HOURS OF SERVICES: SPRING 2021

 Monday - Thursday 9am until 8pm

Friday 9am until 6pm  ( closed on weekends and holidays)

PLEASE NOTE:  Furman Counseling Center is open on Monday, January 4th at 9am  until Jan 8 for administrative services only. Clinical hours will resume Monday, January 11th at 9am. 

To schedule an appointment:

Call the office at (212) 854-2092 or email counseling@barnard.edu

Monday - Thursday:  9am until 7pm and on Friday 9am - 4:30 pm.

For urgent concerns: Student can speak with the clinician between the hours of 9am – 5pm and indicate "urgent" for same day appointment.

Psychological Emergencies:

9am - 5pm, call (212) 854-2092

Emergencies After 5pm, If you are living on campus :

call the After-hours psychological Services at (855) 622-1903 or the community Safety at (212) 854-3362

If you are not living on campus:

call the After-hours psychological  Services at (855) 622-1903, 

call 9-1-1 or go to your nearest psychiatric emergency room.

The Furman Counseling Center promotes the social and emotional development of Barnard students to facilitate their richest experience of College Life. We offer therapy, groups, workshops and medication to assist students in maintaining emotional and mental health. We support the College's commitment to diversity, raising awareness of systems of oppression and unequal access to resources, and work to promote social justice. 
     Listening Hours:
Image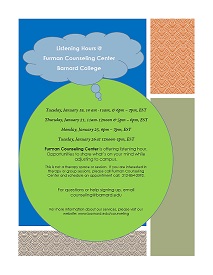 Furman Counseling is offering listening hour opportunities to share what's on your mind while adjusting to campus. This is not a therapy space or session.
Dates: Tuesday, 1/19 at 10-11am & 6-7pm EST
             Thursday, 1/21 at 11am-12n & 5-6pm EST
             Monday, 1/25 at 6-7pm
             Tuesday, 1/26 at 12n - 1pm EST
For questions or help signing up, email counseling@barnard.edu
Community Emergency Contacts
 

| | |
| --- | --- |
| Crisis Text Line | Text HOME to 741741 |
| Student of Color Crisis Text Line | Text STEVE to 741741 |
| Trevor Project Crisis Text Line (LGBTQ) | Text START to 678678 |
| Samaritan Help Line | Call or Text ( 877) 870-4673 |
| Trans Life Line Peer Support Hotline | Call 877-565-8860 |


The world is currently facing a crisis, and our Barnard community is being impacted in many ways. While there is a lot of uncertainty right now, Furman counselors are available and committed to supporting Barnard students. In our efforts to offer remote psychological services to students, we have outlined some information to help you access additional resources and support:
Online Support for Barnard Community
Feel Well, Do Well coping with Covid-19 video
Being able to name and unpack our many different emotions can help us manage them as we go through this pandemic and isolation. This video describes our multiple emotional states and offers a number of strategies to cope with the challenges we're facing.
Apps for Coping and Self-Care
Download a free app to help manage your emotions:
Resources for Stress, Trauma, and Coping
Resources for Those Managing Eating Disorders During COVID-19
Image

The realities of racial injustice, anti-blackness, and racial disparities have plagued our society long before the COVID-19 pandemic. Below are some resources to promote healing, advocacy, and self-care during a time of ongoing uncertainty and unrest.
Healing Spaces
Inside: