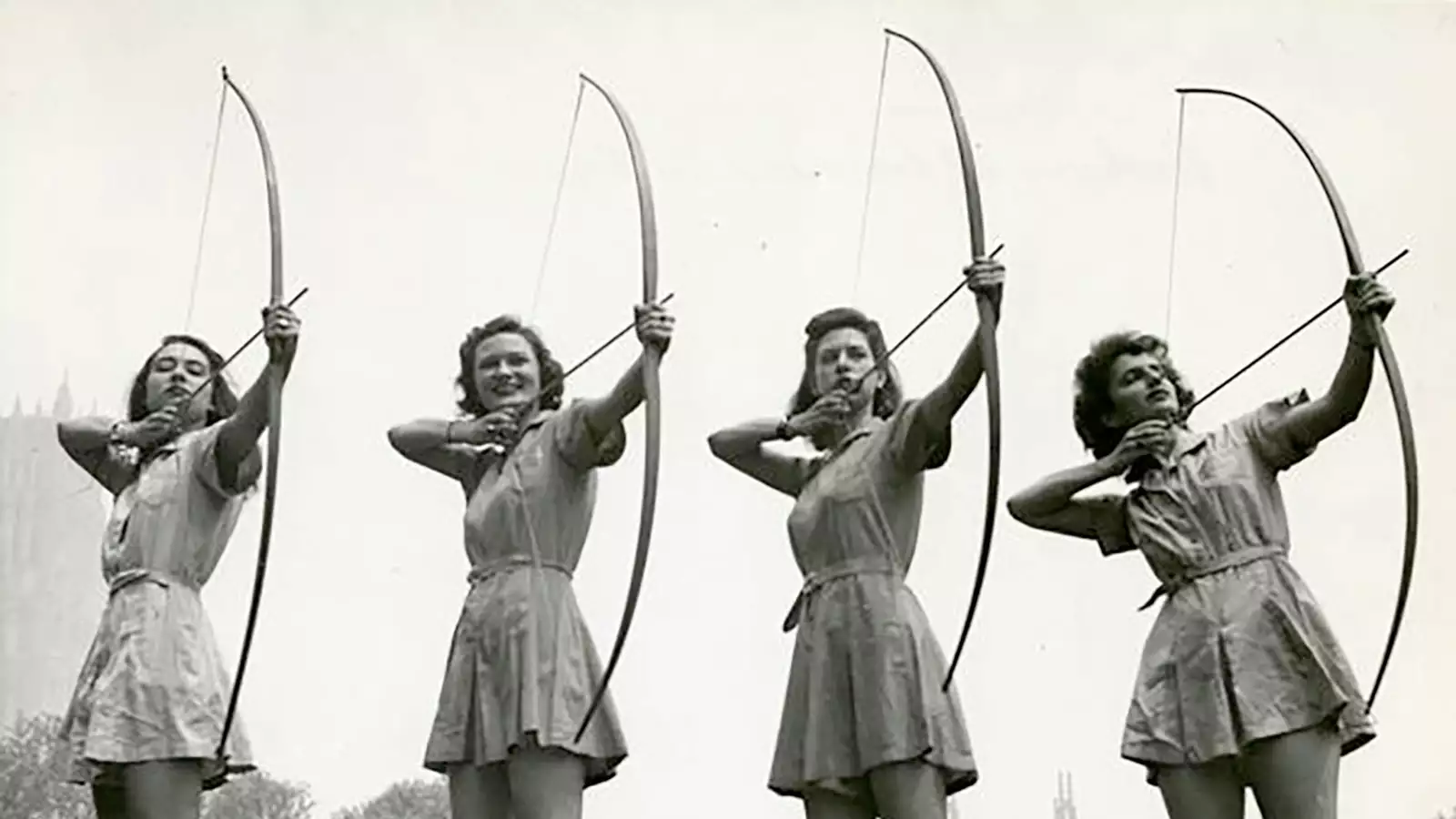 Fifty years ago on June 23, the Title IX of the Education Amendments of 1972 was enacted by Congress to prohibit all types of sex discrimination, "in any education program or activity receiving federal financial assistance." And though single-sex private undergraduate institutions, like Barnard, are exempt, the College had already embodied the spirit of Title IX by empowering women with academic and athletic opportunities equal to their male counterparts long before President Richard Nixon signed the amendment into law. 
In September 1974, during the first planning meeting for the Scholar and Feminist Conference, participants discussed what the Amendment meant moving forward. By 1975, Barnard had its first athletic director in Marian Rosenwasser, who served as the tennis coach until 1981. After Columbia's decision to go co-ed but before the 1983 Columbia-Barnard Athletic Consortium — allowing Barnard students to compete with Columbia undergraduates in NCAA Division I athletics via the Ivy League Athletic Conference — Barnard had its own program, called Barnard Intercollegiate Athletics, which consisted of eight varsity sports: archery, basketball, cross country running, fencing, swimming and diving, tennis, track and field, and volleyball. Thanks to pressure from three Barnard student-athletes — former tennis team captain Valerie Schwarz Mason '80, tennis's Lynn Moffat Wray '78, and basketball's Diana Wood Kutlow '80 — who fought for better funded athletic programs throughout the 1970s, Columbia quickly launched a women's athletic program. Today, Barnard students compete in 15 different sports, including lacrosse, rowing, and squash.
"We built such a great foundation for what was to come," Mason, a political science major who wrote her thesis on Title IX, told Barnard Magazine in 2009. 
Every year during Women's History Month (March), Barnard and Columbia bring the worlds of women's athletics and politics together via Beyond the Game, a panel discussion centered around women, athletics, and leadership on campus. This year, in celebration of Title IX's 50th anniversary, Keia Clarke, CEO of the New York Liberty women's basketball team, hosted a discussion with three former Barnard and Columbia athletes — Lisa Carnoy CC'89, Co-Chair of the Columbia University Board of Trustees; Philippa Portnoy '86, Barnard Trustee and Barnard and Columbia tennis player; and Liz Cheung-Gaffney CC'98, 2016 Columbia Athletics Hall of Fame inductee — on how competing in collegiate athletics impacted their trajectories after leaving college. 
"The Columbia-Barnard Athletic Consortium is truly a unique arrangement between Barnard and Columbia that has produced such amazing athletes," President Sian Leah Beilock said in her opening remarks at the event in March. "I think one theme that's going to come out is how special athletics is to their lives and to so many of our lives. As a former athlete myself, I can say some of my wins — and of course, my losses — on the playing field really shaped who I am today."
Take a look, below, at Barnard alumnae, administrators, and events from the years following Title IX's passing to present, who have helped to make the playing field more equal:
SIAN LEAH BEILOCK | BARNARD COLLEGE PRESIDENT
A former college athlete, Barnard's eighth president, Sian Leah Beilock, has steadily increased the College's support for its student-athletes by growing the number of Barnard recruits and total number of Barnard student-athletes. She also initiated the yearly Coaches Breakfast each fall at Barnard and collaborated with Peter Pilling to create the annual Beyond the Game panel discussion to celebrate women, athletics, and leadership, hosted on Barnard's campus. President Beilock is a leading expert on the science behind "choking under pressure" — whether in business, education, or sports — and is the author of the critically acclaimed books Choke (2010) and How the Body Knows Its Mind (2015). Her research has been featured in The Wall Street Journal, Time Magazine, CNN, The Washington Post, and The New York Times. She has published more than 100 papers and has received funding from the National Science Foundation (including a CAREER award), the Department of Education, and several foundations, and she has won eight major awards from national and international societies devoted to psychology, sport psychology, and education, including the 2017 Troland Award from the National Academy of Sciences.
BEYOND THE GAME 2022: CELEBRATING WOMEN, ATHLETICS, AND LEADERSHIP ON CAMPUS
Beyond the Game 2022 was one example of how the College recognized the 50th anniversary of Title IX and athletics. From the start of Women's History Month (March 1) until the June 23 anniversary, Columbia highlighted 50 individuals — Barnard women included — who have made an impact on athletics at the University. 
ANNE CEBULA '20 | FENCING
On March 24, 2019, Anne Cebula became Barnard's first student-athlete to win an NCAA Championship title in the 35 years since the Columbia-Barnard Athletic Consortium was established. She also made history as the first women's epéeist at Columbia to claim the title. Over her three-year fencing career at Columbia, from 2017 to 2020, she earned two All-American honors and compiled an 89-42 overall dual-match record, a 21-8 Ivy League record, and a 34-12 NCAA Northeast Regional record. She was awarded the 2020 Karen Blank Award for most accomplished graduating senior student-athlete at Barnard College.
BELLA ZIONTS '19 | LIGHTWEIGHT ROWING
A four-year men's lightweight rowing coxswain who led her team to first place in the Grand Finals at the IRA National Championship in 2018, Bella Zionts is the first woman to be selected to the U.S. Rowing Men's Camp and the first female national champion in rowing in Columbia history. Zionts earned the Karen Blank Award in 2019, which honors the top senior Barnard student-athlete who exemplified the qualities of academic success, athletic achievement, strong sporting behavior, and commitment to community. 
​​TRUDI PATRICK '17 | SWIMMING
The highlight reel of Trudi Patrick's college swimming career began during her first year on the Columbia team when she broke the school record in the 200-meter butterfly and was part of the first team in the swimming program's history to go undefeated in the dual-meet season. Patrick was selected to attend the Ivy League swimming championships during each of her four years, competed at the 2014 Commonwealth Games and the 2015 Pan Am Games, and served as team captain her senior year. 
JUDIE LOMAX '10 | BASKETBALL
Judie Lomax was a two-time NCAA Division I rebounding champion and the first Columbia women's basketball player to be named Ivy League Player of the Year. Lomax is also the first NCAA Division I women's basketball player to lead the nation in rebounding in consecutive seasons. She averaged 14.3 boards per game as a sophomore in 2008-09 and 14.2 the following year as a junior. From 2009 to 2010, Lomax received six Ivy League Player of the Week selections, was named First Team All-Metropolitan Basketball Writers Association, and garnered an Associated Press All-American Honorable Mention. 
ERINN SMART '01 | FENCING
A two-time All-American for Columbia in women's foil, Erinn Smart twice reached the finals at the NCAA Championships. Smart also won the U.S. National Championship in 1998, 2002, 2004, and 2008. In 2008, while fencing for the U.S. women's foil Olympic team, she won a silver medal in her second straight Olympics appearance and became the first Black Olympic medalist in the history of the Columbia-Barnard Athletic Consortium. Smart was inducted into the Columbia University Athletics Hall of Fame in 2010.
BOLA BAMIDURO-OSAKWE '01 | LACROSSE
The women's lacrosse team first competed the year before Bola Bamiduro-Osakwe walked through Barnard's gates, and by her senior year, she was elected team captain and named the team's most valuable player. In addition to athletics, Bamiduro-Osakwe served as the Vice Chair, then Chair of the Division I Student-Athlete Advisory Committee (SAAC) to the NCAA, making her the first Ivy League student-athlete to hold this position.
ULA LYSNIAK '87 | BASKETBALL
In Ula Lysniak's first year, she played volleyball and basketball, but then turned her attention exclusively to basketball during her sophomore year until graduation. During the 1986 season, the Lions were a highly dominant Division III team, posting a 21-6 record with three tournament championships, including the New York State crown, receiving the program's only NCAA bid. Lysniak was the first woman to score 1,000 points in her career at Columbia, finishing with a total of 1,447 points, which reigned as the University record until 2017 when it was broken by Camille Zimmerman. Lysniak was inducted into the Columbia Athletics Hall of Fame in 2006. 
PHILIPPA FELDMAN PORTNOY '86, '90BUS | TENNIS
Philippa Feldman Portnoy competed on and served as captain for Columbia's first two women's tennis teams, in 1984-85 and 1985-86. She earned the program's Women's Tennis Award in 1985 and 1986 and helped lead the Lions to a combined 13-15 overall record. Portnoy is a member of the Barnard and Columbia Alumni Association boards and is a loyal supporter of Columbia Athletics. She was the first woman president of the Varsity C Club — an alumni volunteer organization that supports Columbia Athletics through promotion and fundraising and by providing advice, financial support, and career development opportunities to student-athletes. Portnoy is also a founding member of the Athena Center for Leadership. In 2009, she was named one of the 25 Most Influential Alumnae in the history of the Columbia-Barnard Athletic Consortium.
HELEN DOYLE YEAGER '85 | BASKETBALL
The Columbia-Barnard Athletic Consortium was founded in Helen Doyle Yeager's junior year, with Yeager serving as the female student representative on the inaugural committee. She also has the distinct honor of being the first team captain under the Columbia-Barnard title. That year, as a junior, she tallied 217 points, averaging 11 per game, including a game-high 28 points and 13 rebounds against Smith in the Seven Sisters Invitational. Yeager went on to be named to the Seven Sisters All-Tournament Team.
ARI BROSE '84 | TRACK & FIELD
A former member of the Barnard College Board of Trustees, Ari Brose competed on the varsity cross country and track and field teams for Barnard in 1982-1983 and for Columbia, after the Consortium, in 1983-1984 — and was named captain of both squads as a senior. Brose has been one of the top 100 women finishers in the New York City Marathon and won the Nantucket 10-Miler in 1988. In 1996, she was the youngest donor at the time to set up an endowed scholarship fund for Barnard and later won the Columbia University Medal for Service and the Columbia Varsity Athletics Alumni Award.
CHERYL GLICKER '82, P'14 | CHAIR OF THE BOARD OF TRUSTEES 
A 2006 recipient of the Athletics Alumni Award at the 85th Annual Varsity C Celebration, Cheryl Glicker Milstein was also one of the co-chairs of the Silver Anniversary Celebration of the Columbia-Barnard Athletic Consortium in 2008-2009, which raised $50,000 in support of the Cristina Teuscher Women's Sports Endowment at Columbia. As part of the Columbia Campaign for Athletics: Achieving Excellence, Glicker Milstein and her husband, Philip Milstein, were among the first benefactors to the athletics renewal effort. Their contributions made possible the development of the Campbell Sports Center at the Baker Athletics Complex. 
CHRISTINA "TINA" STECK '80 | DIVING
In 1977, Tina Steck won the three-meter title with a score of 507.45, registering the first 500+ result in the meet's then-22-year history. A 1978 Division I All-American, Steck claimed the 1977 and 1978 Eastern Championship titles while winning back-to-back All-Ivy League accolades. Undefeated in college dual-meet competitions, she is honored through the Tina Steck Award, announced at the Varsity C Awards Dinner to the women's swim and dive team member who makes the greatest impact on the success of the program.
MARJORIE "MARGIE" TVERSKY | DIRECTOR OF ATHLETICS
​From 1978 to 1983, Margie Tversky served as Barnard College's Director of Athletics. When Columbia announced it would admit women to its undergraduate liberal arts program, Tversky led efforts to merge Barnard's existing women's program with Columbia's future athletics program for women. Her efforts resulted in the Columbia-Barnard Athletic Consortium. 
MERLE MYERSON '78 | TRACK & FIELD
Before she was a cardiologist and lipidologist, Merle Myerson was a distance runner who placed fourth in the 5,000-meter race at the Ivy Champions in Barnard's first track and field season. She credits her Barnard athletics experience with giving her the courage and discipline to return to school to earn both a doctorate and an M.D. more than 10 years after she graduated with a degree in urban studies. "Being an athlete was a dream come true and felt like a privilege to me. It provides such valuable lessons for young women," she told Barnard Magazine in 2009.
ELLEN FUTTER '71, '74LAW, BARNARD COLLEGE PRESIDENT | CC HALL OF FAME
Two years after she was officially named the fifth president of Barnard College in 1981, Ellen Futter helped to make the creation of the Columbia-Barnard Athletic Consortium a reality. When Columbia became co-ed in 1983, the University turned to President Futter to create the first-ever NCAA Division I athletic consortium of its kind. The partnership between Barnard and Columbia was perhaps the most pivotal moment for women's athletics in Morningside Heights.
For more Barnard-Columbia Title IX honorees, click here.
View the slideshow below of Barnard athletes, courtesy of Barnard Digital Collections.
Barnard Athletics From The Archives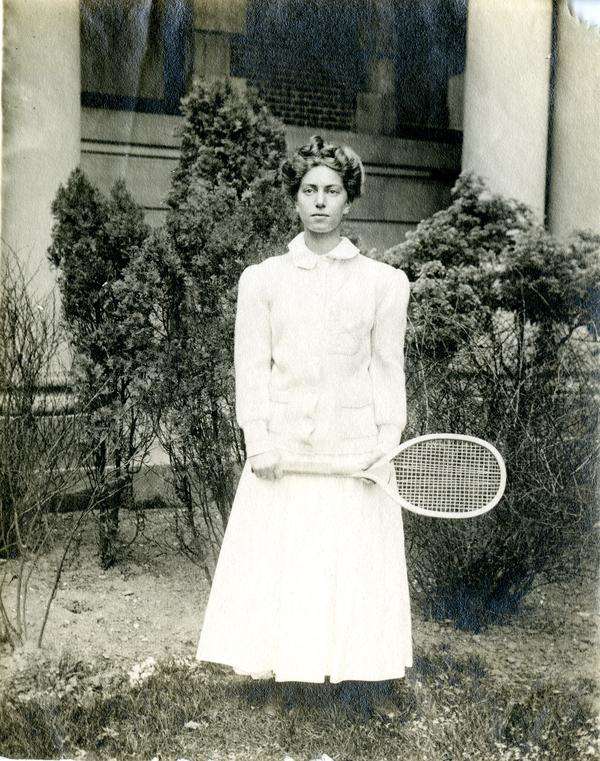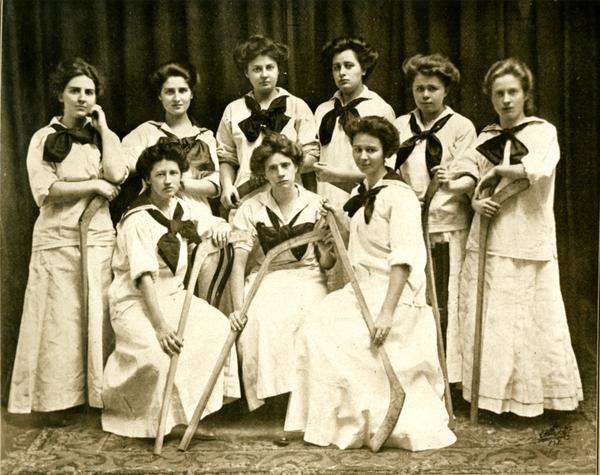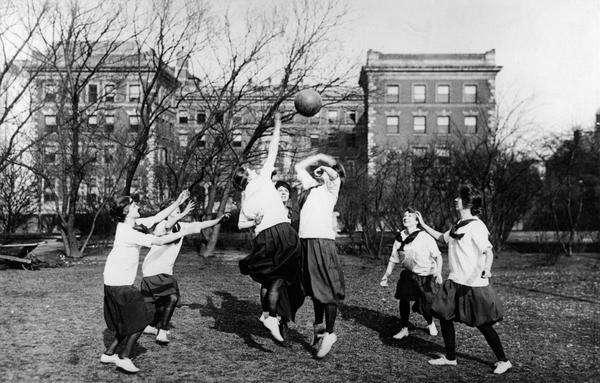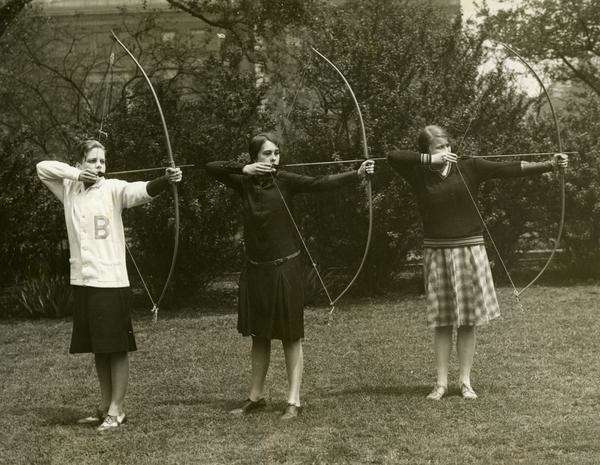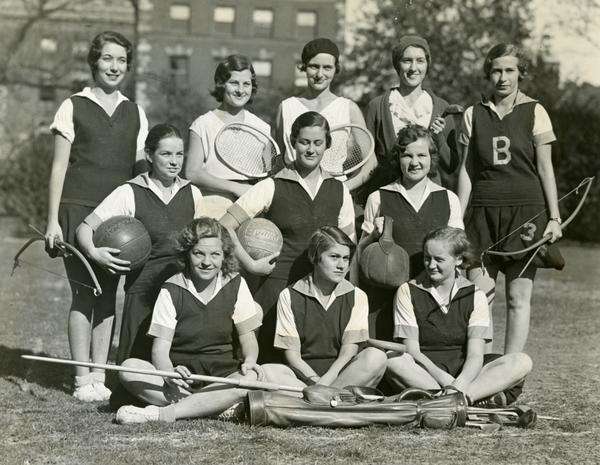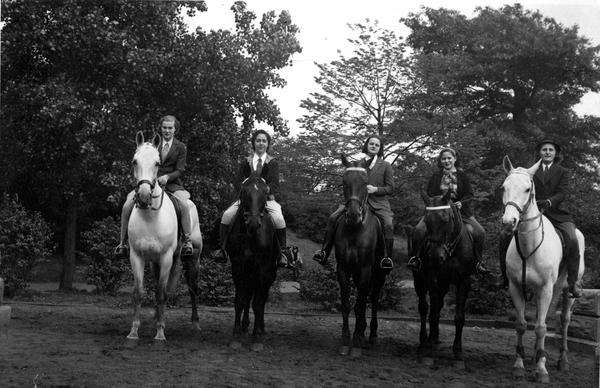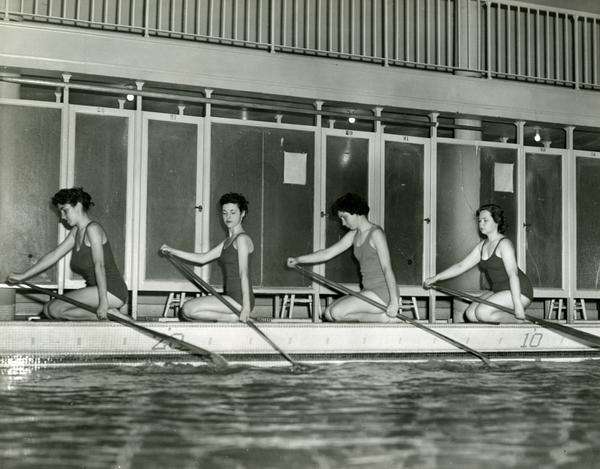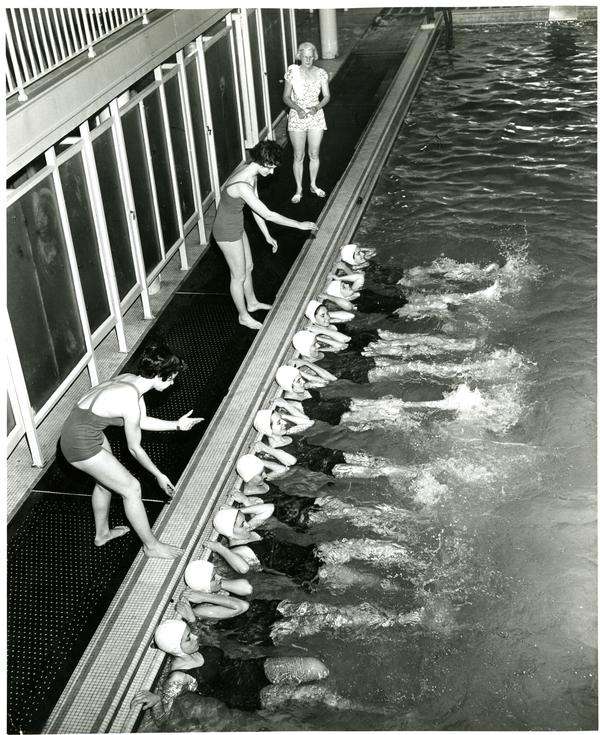 Florence Wolff, Class of 1908, holding a tennis racket, circa 1908.
Barnard College intercollege champion hockey team, 1911
Barnard College students playing basketball on Milbank Quadrangle. Depicted in center: Isabel Greenbaum, Class of 1918 (L) and Marie R. Carmody, Class of 1919 (R). 
L-R: Jean Smith, Class of 1928 Milo Upjohn, Class of 1931, and Gertrude Wylie, Class of 1931 practice archery on the Barnard lawn in spring 1928.
Some of the successful contestants from Barnard's annual Athletic Week. Seated: Esther Wassmund, Ruth Bidwell, Sally Anthony; kneeling: Sylvia McElwain, Margaret Gristede, standing: Hermione Margo, Cecelia Freedland, Edith Tompkins, Evelyn Goodman, and Eleanor Drefus. 1/24/1932
Students on horseback, spring 1938.
Four Barnard College students boating/canoeing in the pool beneath Barnard Hall. Photo taken 1944.
Taken by Jack Mitchell circa 1960s, students are seen cheering on others during a swimming lesson with Professor Fern Yates.