Barnard Year of Science 2021-22 Highlights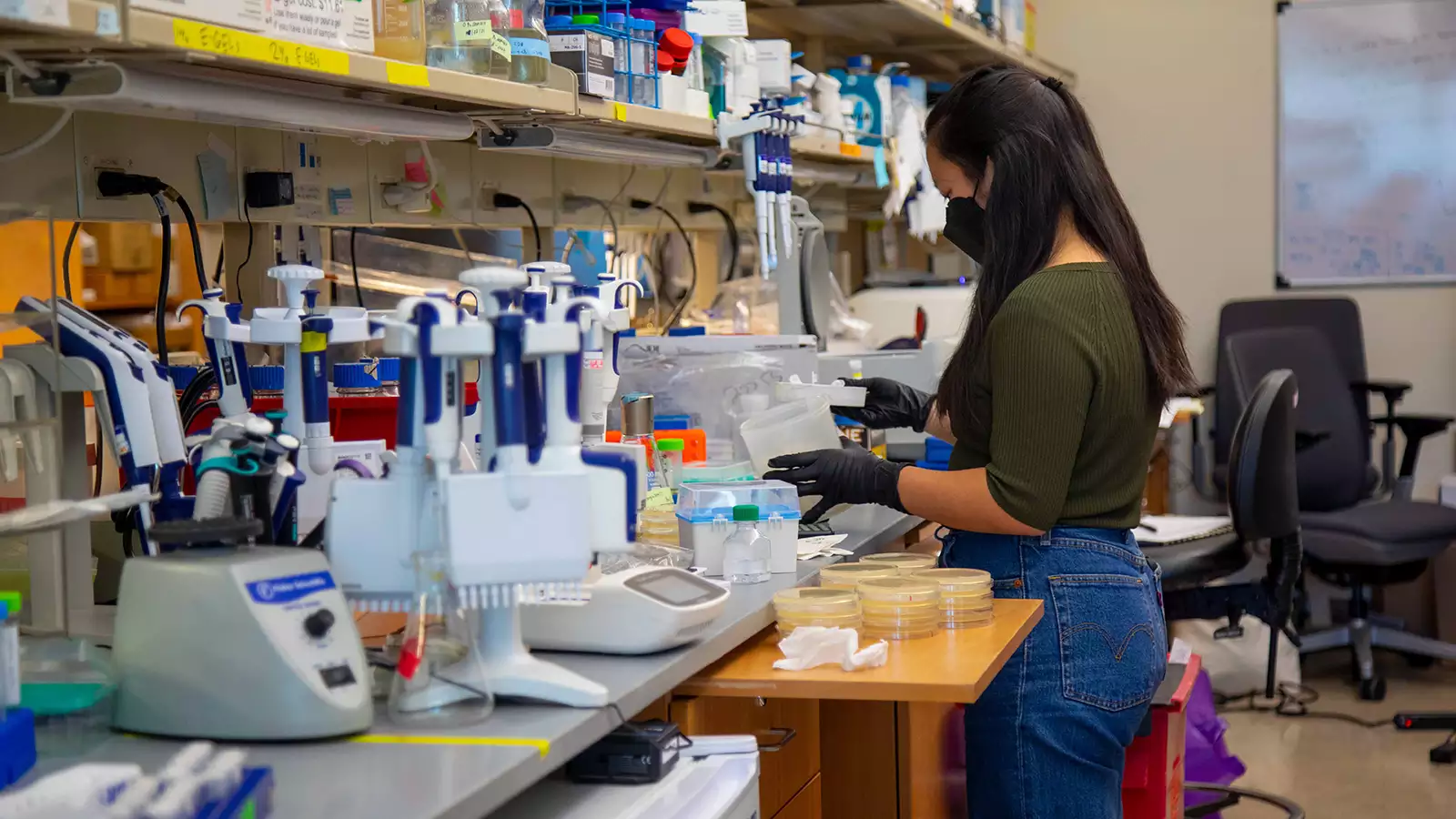 In September 2021, the College kicked off the Barnard Year of Science (BYOS), a celebration of all things related to science, technology, engineering, and math (STEM). Over the course of the academic year, leading figures in STEM, including Barnard's very own experts, came together virtually and in person to participate in a range of programming. With each month dedicated to a different discipline — from psychology and computer science to the interdisciplinaries — the BYOS provided a unique forum for students, faculty, alumnae, and renowned guests to share ideas and engage in meaningful conversations while showcasing the scholarship, research, and innovation that happens inside Barnard's classrooms, labs, and beyond. 
Needless to say, it was a packed year of events and happenings. As the BYOS comes to a close, we're sharing our top 10 highlights, from panel discussions and art exhibitions to the College's successful campaign to fund the renovation and expansion of the Roy and Diana Vagelos Science Center (formerly Altschul Hall). 
2021 Convocation
Each year, Convocation brings together all four Barnard classes at Riverside Church to celebrate the start of the academic year. At the fall 2021 ceremony, President Sian Leah Beilock announced the official start of the Barnard Year of Science, reiterating the importance of STEM in everyday life and on Barnard's campus. Nim Tottenham '96, professor of psychology at Columbia, delivered the keynote speech.
Art Meets Science
While the year focused on STEM, the College also amplified the interdisciplinary nature of the arts and sciences. This connection was physically on display with the Weecha sculpture (above), on loan to the College from August 2021 to August 2022. Created by glass artist Henry Richardson in honor of his geology professor, Maria Luisa "Weecha" Crawford, from Bryn Mawr, Weecha stands 8 feet tall and weighs 800 pounds. Senior art history students also emphasized the arts-sciences connection in their senior theses with "Ecological Imaginary," an on-campus exhibit that featured 23 different projects.
Social Media Series
The #StudentsInStem Instagram campaign, launched in September 2021 to celebrate our burgeoning population of steminists, featured 15 students majoring in fields ranging from neuroscience and behavior to medical anthropology. Students took us inside their dynamic lives at Barnard and shared their research projects, what career paths they planned to pursue, the benefits of studying STEM at an all-women's institution, and more. Meet some of them here. (Above: Neuroscience and behavior major Ausra Pranevicius '22 was featured in the series in October 2021.) Across the College's social media platforms, there were over 350 #BarnardYearOfScience posts. To learn more about the many alumnae who studied or currently work in STEM, visit the Office of Development and Alumnae Relations' #STEMSaturdays series.
Signature Events
With the help of the College community's most renowned experts from the worlds of psychology and environmental science, Barnard hosted over a dozen panels and lectures, including two huge events that addressed timely topics: Parenting and the Science Behind the Teenage Brain and The Urgency of Water. Moderated by Dr. Marina Catallozzi, Vice President of Health and Wellness and the College's inaugural Chief Health Officer, December 2021's parenting event — which was co-sponsored by Princeton University Press — looked at young people's ability to remain resilient in the face of compounding academic, personal, and societal stressors. March 2022's water event took place on World Water Day and offered hybrid programming for hundreds of attendees to explore the water access imperative and how it applies to the lives of women and girls. Check out the many events produced throughout the year here. 
Newly Launched Web Series
Sometimes the best stories are the ones that may not yet have been told. From Research Reflections — which gave students, alumnae, and faculty an opportunity to discuss their research, accomplishments, and the work that goes into it — to highlighting alumnae who broke ground in STEM that You Oughta Know, each series showcased how Barnard community members, past and present, tackled their passions and blazed new paths in their fields. In total, more than 50 web articles were published to highlight all things STEM-related from the Barnard community and how many of the College's professors successfully mentor students and alumnae through publishing their first papers, presenting at conferences, and more. Curious about a DNA pioneer or the growing field of cancer art? Need to know more about the professor emerita who joined ​​the National Academy of Sciences' largest-ever cohort of new female members at age 94? There's an article.
Barnard Magazine's Winter 2022 "BYOS" Issue
Last winter, Barnard Magazine produced a special "BYOS" issue, shining a spotlight on the many ways in which Barnard's students, faculty, and alumnae are contributing to today's scientific opportunities while actively working to solve some of the most pressing questions of our time. In the issue, readers learned about Grey Matter CU, a joint Barnard and Columbia student publication on neuroscience, Miami's first chief heat officer Jane Gilbert '87, and two Barnard graduates who are helping to diversify STEM. And Barnard faculty from a range of disciplines — including JJ Miranda, assistant professor of biological sciences, and Belinda Archibong, assistant professor of economics — weighed in on big questions like "How can human beings thrive?" Read their answers here. 
The Roy and Diana Vagelos Science Center
In March, Barnard celebrated the exciting announcement that the College had received a $55 million gift from Diana T. Vagelos '55 and Dr. P. Roy Vagelos to fund the renovation and expansion of Altschul Hall, home to its principal science facilities. The gift, more than double the size of any previous single donation in Barnard's history, will elevate the College as a leader in preparing young women and underrepresented voices for careers in STEM fields. The updated, state-of-the-art building — newly named the Roy and Diana Vagelos Science Center — will create an environment that fosters collaboration, encourages interactions with the College's Harlem and Morningside Heights neighbors, and showcases key programs.
Athena Film Festival 
Also in March, at ​​the 12th annual Athena Film Festival, co-founded by Barnard's Athena Center and Women and Hollywood, the College presented an array of films produced by women filmmakers, including the Alfred P. Sloan STEM Showcase film Exposure, which ​​follows 10 novice women explorers, from the Arab world and the West, as they journey on a physically and emotionally demanding expedition to the North Pole. The screening was followed with a panel discussion on the everyday impacts of climate change, moderated by Barnard assistant professor of environmental science Logan Brenner.
Commencement 2022
On May 18, Barnard returned to Radio City Music Hall, where thousands of graduating seniors, family, friends, and faculty commemorated the Class of 2022, alongside leaders who have shaped fields in STEM, the arts, and athletics. Margot Lee Shetterly, the author of the 2016 New York Times bestseller Hidden Figures: The American Dream and the Untold Story of the Black Women Mathematicians Who Helped Win the Space Race, gave the keynote address. Shetterly and four other honorees were awarded medals of distinction. 
Barnard's 2022 Gala 
After two years of virtual events — alumnae, students, family, and friends gratefully gathered in person at New York City's American Museum of Natural History (AMNH), under the iconic giant whale in the Milstein Family Hall of Ocean Life, for the College's Annual Gala. Co-chaired by Barnard Trustees Karlie Kloss and Caroline Bliss Spencer '09, the STEM-themed event raised nearly $2.6 million to help underwrite student financial aid at Barnard and to ensure that current and future generations of Barnard students continue to receive a world-class education. The event honored all Barnard alumnae and current faculty who are members of the National Academies of Sciences, Engineering, and Medicine.